Press translations [Japan]. Economic Series 0089, 1945-11-21.
translation-number: economic-0427
call-number: DS801 .S81
---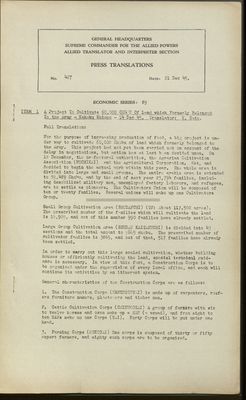 (View Page Image)
GENERAL HEADQUARTERS

SUPREME COMMANDER FOR THE ALLIED POWERS

ALLIED TRANSLATOR AND INTERPRETER SECTION

PRESS TRANSLATIONS

ECONOMIC SERIES: 89

ITEM 1 A Project To Cultivate 60.000 CHOBU Of Land which Formerly Belonged To the Army - Kahoku Shimpo - 14 Dec 45. Translator: K. Sato.
Full Translation:

For the purpose of increasing production of food, a big project is under way to cultivate 60,000 Chobu of land which formerly belonged to the Army. This project had not yet been carried out on account of the delay in negotiations, but action has at last been decided upon. On 18 December, the prefectural authorities, the Agrarian Cultivation Association (NOCHIKAI) and the Agricultural Corporation. Met, and decided to begin the actual work within this year. The whole area is divided into large and small groups. The entire arable area is extended to 59,489 Chobu, and by the end of next year 23,794 families, including demobilized military men, unemployed factory laborors, and refugees, are to settle as pioneers. The Cultivators Union will be composed of ten or twenty families. Several unions will make up one Cultivators Group.

Small Group Cultivation Area (SHODANCHI) (TN: About 117.500 acres). The prescribed number of the families which will cultivate the land is 19,909, and out of this member 990 families have already settled.

Large Group Cultivation Area (SHUDAN KAITAKUCHI) is divided into 43 sections and the total amount to 9665 chobu. The prescribed number of cultivator families is 3865, and out of that, 517 families have already been settled.

In order to carry out this large scaled cultivation, whether building houses or efficiently cultivating the land, special technical guidance is necessary. In view of this fact, a Construction Corps is to be organized under the supervision of every Local office, and each will continue its activities by an itinerant system.

General characteristics of the Construction Corps are as follows:
The Construction Corps (KENSETSUTAI) is made up of carpenters, roofers furniture makers, plasterers and timber men.
Cattle Cultivation Corps (CHIKUKOTAI) A group of farmers with six to twelve horses and oxen make up a HAN (a squad), and from eight to ten HANs make up one Corps (TAI). Forty Corps will be put under one head.
Farming Corps (NOKOTAI) One corps is composed of thirty or fifty expert farmers, and eighty such corps are to be organized.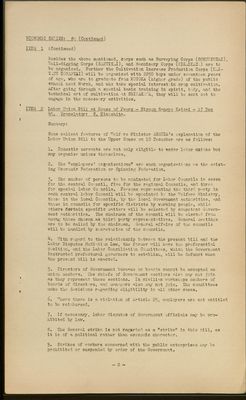 (View Page Image)
ECONOMIC SERIES: 89 (Continued)
Besides the above mentioned, corps such as Surveying Corps (SOKURYOTAI), Well-digging Corps (SAKUITAI), and Machinery Corps (KIKAIKATA) are to be organized. Further the Cultivation Increase Production Corps (KAITAKU ZOSANTAI) will he organized with 2250 hoys under seventeen years of age, who are to graduate from KOTOKA (higher grade) of the public school next March, and who take special interest in crop cultivation. After going through a special basic training in spirit, body, and the technical art of cultivation at SHIRAKAWA, they will be sent out to engage in the necessary activities.

ITEM 2 Labor Union Bill at House of Peers - Nippon Sangyo Keizai - 17 Dec 45. Translator: S. Kinoshita.
Summary:

Some salient features of Welfare Minister ASHIDA's explanation of the Labor Union Bill to the Upper House on 10 December are as follows:
Domestic servants are not only eligible to enter labor unions but may organize unions themselves.
The "employers' organizations" are such organizations as the existing Economic Federation or Spinning Federation.
The number of persons to be nominated for Labor Councils is seven for the central Council, five for the regional Councils, and three for special labor Councils. Persons representing the third party in each central labor Council will be appointed by the Welfare Ministry, those in the local Councils, by the local Government authorities, and those in councils for specific districts by working people, while others certain specific matters will be selected by competent Government authorities. The chairman of the council will be elected from among those chosen as third party representatives. General meetings are to be called by the chairman. General affairs of the councils will be handled by secretaries of the councils.
With regard to the relationship between the present bill and the Labor Disputes Mediation Law, the former will have the preferential position, and the Labor Conciliation Committees, which the Government instructed prefectural governers to establish, will be defunct when the present bill is enacted.
Directors of Government bureaus or boards cannot be accepted as union members. The chiefs of Government sections also may not join as they represent these sections. In civilian workshops members of boards of directors, and managers also may not join. The committees make the decisions regarding eligibility in all other cases.
Where there is a violation of Article 25, employers are not entitled to be reimbursed.
If necessary, labor disputes of Government officials may be prohibited by law.
The General, strike is not regarded as a "strike" in this bill, as it is of a political rather than economic character.
Strikes of workers concerned with the public enterprises may be prohibited or suspended by order of the Government.

- 2 -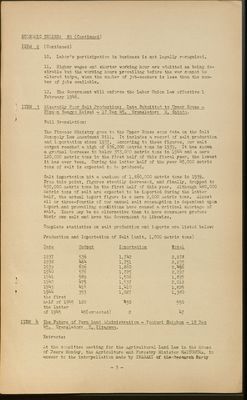 (View Page Image)



ECONOMIC SERIES: 89 (Continued)





ITEM 2

(Continued)
Labor's participation in business is not legally recognized.
Higher wages and shorter working hour are admitted as being desirable but the working hours prevailing before the war cannot be altered today, when the number of job-seekers is less than the number of jobs available.
The Government will enforce the Labor Union Law effective 1 February 1946.
ITEM 3 Miserably Poor Salt Production: Data Submitted, to Upper House - Nippon Sangyo Keizai - 17 Dec 45. Translator: H. Shindo.
Full Translation:

The Finance Ministry gave to the Upper House some data on the Salt Monopoly Law Amendment Bill. It includes a record of salt production and importation since 1937. According to these figures, our salt output reached a high of 636,000 metric tons in 1939. It has shown a gradual decrease to below 353,000 metric tons in 1944 and a mere 120,000 metric tons in the first half of this fiscal year, the lowest it has ever been. During the latter half of the year 45,000 metric tons of salt is expected to be produced.

Salt importation hit a maximum of 1,860,000 metric tons in 1939. From this point, figures steadily decreased, and finally, dropped to 430,000 metric tons in the first half of this year. Although 480,000 metric tons of salt are expected to be imported during the latter half, the actual import figure is a mere 2,000 metric tons. Almost all or three-fourths of our annual salt consumption is dependent upon import and prevailing conditions have caused a critical shortage of salt. There may be no alternative than to have consumers produce their own salt and have the Government do likewise.

Complete statistics on salt production and imports are listed below:

Production and Importation of Salt (unit, 1,000 metric tons)

| | | | |
| --- | --- | --- | --- |
| Date | Output | Importation | total |
| 1937 | 536 | 1,742 | 2,278 |
| 1938 | 484 | 1,751 | 2,235 |
| 1939 | 636 | 1,860 | 2,496 |
| 1940 | 576 | 1,725 | 2,297 |
| 1941 | 589 | 1,506 | 1,895 |
| 1942 | 475 | 1,537 | 2,012 |
| 1943 | 415 | 1,410 | 1,852 |
| 1944 | 353 | 1,027 | 1,380 |
| the first half of 1945 | 120 | 430 | 550 |
| the latter of 1945 | 45(expected) | 2 | 47 |
ITEM 4 The Future of Farm land Administration - Yomiuri Shimbun - 18 Dec 45. Translator: T. Kitagawa.
Extracts:

At the committee meeting for the Agricultural Land Law in the House of Peers Monday, the Agriculture and Forestry Minister MATSUMURA, in answer to the interpellation made by INAGAKI of the Research Party

- 3 -

(View Page Image)
ECONOMIC SERIES: 89 (Continued)
(KENKYU-KAI), is reported to have stressed three major points for guard-independent farmers from becoming tenants.

His attention, he said, will he focussed, first, on the stabilization of prices of agricultural products; second, on the promotion of the agricultural industry; third, on the encouragement of the scientification of farm towns. He, however, didn't say anything about ensuring the tenant's right of cultivation, the revision of tenants' fee, or stabilization of tenants' position in general. The Gist of his speech is as follows:

"Stabilization of the price of farm products - The steady price of farm products is of utmost necessity for the protection of independent farmers. The current double price system for staple foods will be abolished, thereby allowing for more reasonable prices and lessening the burden of the budget for the country. The price of food will be fixed, considering the cost of production, the price index, and the cost of living. The price of rice will be well protected from the fluctuations liable to be caused by the foreign market situation after JAPAN has entered into world trade again.

While farmers will be urged to cultivate as intensively as before, they will be requested, for their own additional income, to engage milling or manufacturing goods from rural waste material. Application of the scientific method of cultivation will increase productivity, and this method of scientific farm management is eagerly encouraged.

DISTRIBUTION "X"

- 4 -