Press translations [Japan]. Economic Series 0088, 1945-12-20.
translation-number: economic-0424
call-number: DS801 .S81
---
(View Page Image)
GENERAL HEADQUARTERS

SUPREME COMMANDER FOR THE ALLIED POWERS

ALLIED TRANSLATOR AND INTERPRETER SECTION

PRESS TRANSLATIONS

ECONOMIC SERIES: 88

ITEM 1 Rise in Prices; Decrease in Savings - Provincial Paper Kahoku Shimpo (SENDAI) - 13 Dec 45. Translator: Z. Konishi.
Summary:

How are those earning fixed salaries getting along? Since the abolishment of price control, the prices of daily necessities have increased remarkably. On this account, most salaried men are having a hard time making a living. Under the present abnormal economic situation, no matter how salary men struggle, their postal savings are only reduced. Moreover, their savings have now reached their limit owing to continual withdrawing. At the present time in the TOHOKU district, however, a figure for savings is indicated at about 63 per cent of the 980 million yen scheduled for 1945's saving amount. Most of these depositors generally consist of people who live in farm and fishing villages and are not affected by the present food crisis or by black markets. Most of the urban people have been scarely able to manage without hugh withdrawal from the bank. Particularly, in the cities of SENDAI and AOMORI, which were affected by air raids, there can be seen this tendency. Actual figures of withdrawal and deposits could be seen through an usher's window of the SENDAI Central Post Office. The bank accounts totalled 221,000 yen in July, 1945; however, by the end of war, withdrawal of money was suddenly increased, and in November bank accounts fell to less than 186,000 yen. This December, the bonus' season of the year, there cannot be expected that a large amount will be set aside for saving, according to the Post Office authorities.

Salaried men are obliged now to sell their clothes for a living. In SENDAI city, to obtain cash for living, many people are intending to sell their clothes to old clothes dealers.

Why is the pay less in JAPAN? Of course, it is because of the economical situation in JAPAN, but also the Pay Control Bill, which aimed at a policy of low prices during the war. We can take an example from one officer who has been working for ten years, (ever since he graduated from college) At present he has four in the family. According to that bill, his available income is only 140 yen a month against 300 yen for expenditures because of a stringent food situation. In the present crisis, salaried men are having a most difficult time.

ITRM 2 Conversion of airfield into salt field Blamed by Chairman of the United Towns Association in YAMAGUCHI-KEN - Provincial Newspaper, Bocho Shimbun, Yamaguchi - 13 Dec 45. Translator: H. Shindo.
Full translation:

The conversion of a former army airfield, located in BOFU city in YAMAGUCHI-KEN, into a salt field has been approved by the Monopoly Bureau. The rights to the field have been granted to the Dai Nippon Salt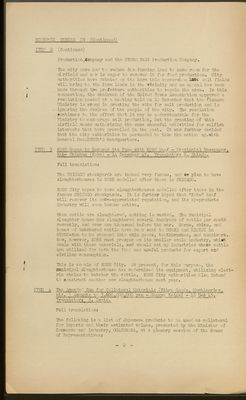 (View Page Image)
ECONOMIC SERIES 88 (Continued)
Production Company and the MYOKO Salt Production Company.

The city once had to reduce its farming land to make room for the airfield and now is eager to recover it for food production. City authorities have debated on the harm this conversion into salt fields will bring to the farm lands in the vicinity and an appeal has been made through the prefecture authorities to regain the area. In this connection, the chairman of the United Towns Association approved a resolution passed at a meeting held on 10 December that the Finance Ministry is wrong in granting the site for salt production and is ignoring the desires of the people of the city. The resolution continues to the effect that it may be understandable for the Ministry to encourage salt production, but the granting of this airfield means authorizing the same shameful activities for selfish interests that have prevailed in the past. It was further decided that the city authorities be persuaded to take the matter up with General MacARTHUR'S Headquarters.

ITEM 3 KOBE Hopes to Recover its Fame with KOBE Beef - Provincial Newspaper, Kobe Shimbun (Kobe) - 14 December 45. Translator: H. Shindo.
Full translation:

The CHICAGO stockyards are indeed very famous, and we plan to have slaughterhouses in KOBE modelled after those in CHICAGO.

KOBE City hopes to have slaughterhouses modelled after those in the famous CHICAGO stockyards. It is further hoped that "Kobe" beef will recover its once-appreciated reputation, and its by-products industry will soon become active.

When cattle are slaughtered, nothing is wasted. The Municipal slaughter house has slaughtered several hundreds of cattle per month recently, and over one thousand before the war. Horns, skins, and bones of butchered cattle have been sent to OSAKA and HIMEJI in HYOGO-Ken to be changed into skin goods, toothbrushes, and handiwork. Now, however, KOBE must prosper on its smaller scale industry, which deals with these materials, and should set up industries where cattle are utilized for both the food and useful products for export and civilian consumption.

This is an aim of KOBE City. At present, for this purpose, the municipal slaughterhouse has modernized its equipment, utilizing electric chains to butcher the cattle. KOBE City authorities also intend to construct another new slaughterhouse next year.

ITEM 4 The Amended Sum for Collateral Materials (Fibre Goods, Machineries, etc.) Amounts to 3,600,000,000 yen - Sangyo Keizai - 16 Dec 45. Translator: S. Iwata.
Full translation:

The following is a list of Japanese products to be used as collateral for imports and their estimated values, presented by the Minister of Commerce and Industry, OGASAWARA, at a plenary session of the House of Representatives:

- 2 -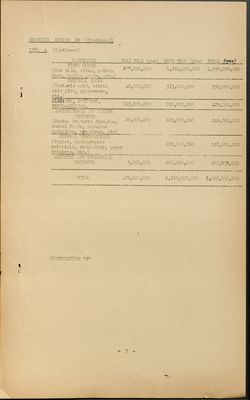 (View Page Image)
ECONOMIC SERIES 88 (Continued)
| | | | |
| --- | --- | --- | --- |
| MATERIALS | THIS YEAR (yen) | NEXT YEAR (yen) | TOTAL (yen) |
| FIBRE GOODS (Raw silk, silks, cotton yarn, cotton goods, etc.) | 287,000,000 | 1,321,000,000 | 1,599,000,000 |
| CHEMICAL GOODS (Tartaric acid, citric acid pith, glass-ware, etc.) | 46,000,000 | 313,000,000 | 359,000,000 |
| FLATIMTUM, ANTIMONY, FERRO-SILICOM. | 113,000,000 | 316,000,000 | 429,000,000 |
| AGRICULTUR AND MARINE FRODUCTS (Marine Products furs, tea, canned foods, Japanese isinglass, pyrethrum, etc) | 26,000,000 | 223,000,000 | 249,000,000 |
| GENERAL MERCHANDISED (Toyies, photographic materials, stationary, paper trinkets, etc.) | | 157,000,000 | 157,000,000 |
| ARTISTIC AND INDUSTRIAL PRODUCTS | 5,000,000 | 200,000,000 | 205,000,000 |
| TOTAL | 478,000,000 | 2,525,000,000 | 3,003,000,000 |
DISTRIBUTION "X"

- 3 -