Press translations [Japan]. Economic Series 0083, 1945-12-20.
translation-number: economic-0405
call-number: DS801 .S81
---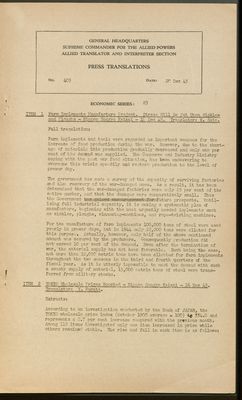 (View Page Image)
GENERAL HEADQUARTERS

SUPREME COMMANDER FOR THE ALLIED POWERS

ALLIED TRANSLATOR AND INTERPRETER SECTION

PRESS TRANSLATIONS

ECONOMIC SERIES: 83

ITEM 1 Farm Implements Manufacture Project. Stress Will Be Put Upon Sickles and Ploughs - Nippon Sangyo Keizai - 16 Dec 45. Translator: K. Sato.
Full translation:

Farm implements and tools were regarded as important weapons for the increase of food production during the war. However, due to the shortage of materials this production gradually decreased and only one percent of the demand was supplied. The Commerce and Industry Ministry coping with the post war food situation, has been endeavoring to overcome this crisis speedily and restore production to the level of prewar day.

The government has made a survey of the capacity of surviving factories and also recovery of the war-damaged ones. As a result, it has been determined that the war-damaged factories were only 25 per cent of the entire number, and that the damages were comparatively small. Thus the Government has gained encouragement for future prospects. Mobilizing full industrial capacity, it is making a systematic plan of manufacture, beginning with the most urgently needed implements such as sickles, ploughs, winnowing-machines, and rope-twisting machines.

For the manufacture of farm implements 100,000 tons of steel were used yearly in prewar days, but in 1944 only 22,000 tons were alloted for this purpose. Actually, however, only half of the above mentioned amount was secured by the producers. Consequently production did not exceed 10 per cent of the demand. Even after the termination of war, the material supply has not been favorable. Such being the case, not more than 10,000 metric tons have been allotted for farm implements throughout the two seasons in the third and fourth quarters of the fiscal year. As it is utterly impossible to meet the demand with such a scanty supply of material, 15,000 metric tons of steel were transferred from military stocks.

ITEM 2 TOKYO Wholesale Prices Boosted - Nippon Sangyo Keizai - 16 Dec 45. Translator: Y. Kurata.
Extracts:

According to an investigation conducted by the Bank of JAPAN, the TOKYO wholesale price index (October 1900 average = 100) i.e 554.0 and represents a 0.7 per cent increase compared with the previous month. Among 110 items investigated only one item increased in price while others remained stable. The rise and fall in each item is as follows: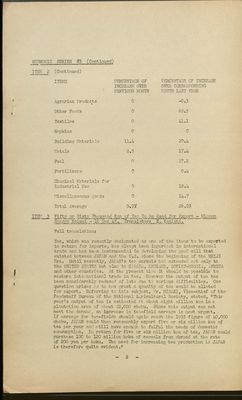 (View Page Image)
ECONOMIC SERIES 83 (Continued)
| | | |
| --- | --- | --- |
| ITEMS | PERCENTAGE OF INCREASE OVER PREVIOUS MONTH | PERCENTAGE OF INCREASE OVER CORRESPONDING MONTH LAST YEAR |
| Agrarian Products | 0 | -0.3 |
| Other Foods | 0 | 65.5 |
| Textiles | 0 | 41.1 |
| Napkins | 0 | 0 |
| Building Materials | 11.4 | 20.4 |
| Metals | 8.5 | 17.4 |
| Fuel | 0 | 27.2 |
| Fertilizers | 0 | 0.4 |
| Chemical Materials for Industrial Use | 0 | 18.4 |
| Miscellaneous goods | 0 | 14.7 |
| Total Average | 0.7% | 26.0% |
ITEM 3 Fifty or Sixty Thousand Kan of Tea To Be Used for Export - Nippon Sangyo Keizai - 16 Dec 45. Translator: Z. Konishi.
Full translation:

Tea, which was recently designated as one of the items to be exported in return for imports, has always been important in international trade and has been instrumental in developing the good will that existed between JAPAN and the U.S. since the beginning of the MEIJI Era. Until recently, JAPAN'S tea markets had extended not only to the UNITED STATES but also to CANADA, ENGLAND, SOVIET-RUSSIA, AFRICA and other countries. At the present time it should be possible to restore international trade in tea. However the output of tea has been considerably reduced of late due to various difficulties. One question arises as to how great a quantity of tea would be allotted for export. Referring to this subject, Mr. HISAKI, Vice-chief of the Foodstuff Bureau of the National Agricultural Society, stated, "This year's output of tea is estimated at about eight million kan in a plantation area of about 22,000 chobu. Since this output can not meet the demand, an increase in tea-field acreage is most urgent. If acreage for tea-fields should again reach the 1935 figure of 40,000 chobu, JAPAN could then reasonably export five or six million kan of tea per year and still have enough to fulful the needs of domestic consumption. In return for five or six million kan of tea, JAPAN could purchase 100 to 120 million koku of cereals from abroad at the rate of 200 yen per koku. The need for increasing tea production in JAPAN is therefore quite evident."

- 2 -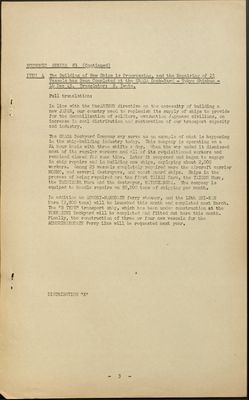 (View Page Image)
ECONOMIC SERIES 83 (Continued)
ITEM 4 The Building of New Ships is Progressing, and the Repairing of 25 Vessels has Been Completed at the URAGA Dock-Yard - Tokyo Shimbun - 16 Dec 45. Translator: S. Iwata.
Full translation:

In line with the MacARTHUR directive on the necessity of building a new JAPAN, our country need to replenish its supply of ships to provide for the demobilization of soldiers, evaluation Japanese civilians, on increase in coal distribution and restoration of our transport capacity and industry.

The URAGA Dockyard Company may serve as an example of what is happening in the ship-building industry today. This company is operating on a 24 hour basis with three shifts a day. When the war ended it dismissed most of its regular workers and all of its requisitioned workers and remained closed for some time. Later it reopened and began to engage in ship repairs and in building new ships, employing about 2,000 workers. Among 25 vessels completely repaired were the aircraft carrier HOSHO, and several destroyers, and coast guard ships. Ships in the process of being repaired are the first TAIKAI Maru, the TAIGEN Maru, the TACHIBANA Maru and the destroyer, HATSUZAKURA. The company is equiped to handle repairs on 50,000 tons of shipping per month.

In addition an AOMORI-HAKODATE ferry steamer, and the 12th SEI-KAN Maru (2,800 tons) will be launched this month and completed next March. The "B TYPE" transport ship, which has been under construction at the YOKKAICHI Dockyard will be completed and fitted out here this month. Finally, the construction of three or four new vessels for the ADMORIHAKODATE Ferry Line will be requested next year.

DISTRIBUTION "X"

- 3 -