Press translations [Japan]. Economic Series 0082, 1945-12-19.
translation-number: economic-0398
call-number: DS801 .S81
---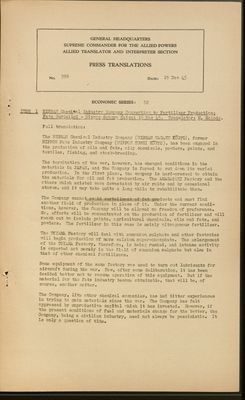 (View Page Image)
GENERAL HEADQUARTERS

SUPREME COMMANDER FOR THE ALLIED POWERS

ALLIED TRANSLATOR AND INTERPRETER SECTION

PRESS TRANSLATIONS

ECONOMIC SERIES: 82

ITEM 1 NISSAN Chemical Industry Company Converting to Fertilizer Production; Fats Curtailed - Nippon Sangyo Keizai l6 Dec 45. Translator: H. Shindo.
Full translation:

The NISSAN Chemical Industry Company (NISSAN KAGAKU KŌGYO), former NIPPON Fats Industry Company (NIPPON YUSHI KŌGYO), has been engaged in the production of oils and fats, oily chemicals, powders, paints, and textiles, fishing, and stock-breeding.

The termination of the war, however, has changed conditions in the materials in JAPAN, and the Company is forced to cut down its varied production. In the first place, the company is hard-pressed to obtain the materials for oil and fat production. The AMAGASAKI Factory and the others which existed were devastated by air raids and by occasional storms, and it may take quite a long while to rehabilitate them.

The Company cannot avoid curtailment of fat products and must find another field of production in place of it. Under the current conditions, however, the Company will be allowed no freedom of preference. So, efforts will be concentrated on the production of fertilizer and will reach out to include paints, agricultural chemicals, oils and fats, and powders. The fertilizer in this case is mainly nitrogenous fertilizer.

The TOYAMA Factory will deal with ammonium sulphate and other factories will begin production of more calcium super-phosphate. The enlargement of the TOYAMA Factory, therefore, is being rushed, and intense activity is expected not merely in the field of ammonium sulphate but also in that of other chemical fertilizers.

Some equipment of the same factory was used to turn out lubricants for aircraft during the war. Now, after some deliberation, it has been decided better not to resume operation of this equipment. But if the material for the fats industry become obtainable, that will be, of course, another matter.

The Company, like other chemical companies, has had bitter experiences in trying to gain materials since the war. The Company has felt oppressed by unproductive capital which it has invested. However, if the present conditions of fuel and materials change for the better, the Company, being a civilian industry, need not always be pessimistic. It is only a question of time.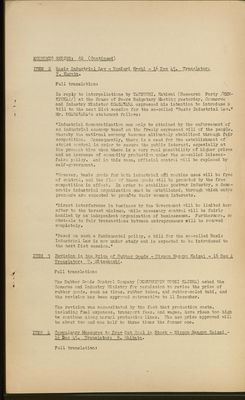 (View Page Image)
ECONOMIC SERIES: 82 (Continued)
ITEM 2 Basic Industrial Law - Yomiuri Hochi - l6 Dec 45. Translator: Y. Kurata
.
Full translation:

In reply to interpellations by TAKEUCHI, Kakicai (Research Party /KEN-KYUKAI/) at the House of Peers Budgetary Meeting yesterday, Commerce and Industry Minister OGASAWARA expressed his intention to introduce a bill to the next Diet session for the so-called "Basic Industrial Law." Mr. OGASAWARA's statement follows:

"Industrial democratization can only be attained by the enforcement of an industrial economy based on the freely expressed will of the people, whereby the national economy becomes ultimately stabilized through fair competition. Consequently, there is a need for the establishment of strict control in order to secure the public interest, especially at the present time when there is a very real possibility of higher prices and an increase of commodity production under the so-called laissez-faire policy. And in this case, official control will be replaced by self-government.

"However, basic goods for both industrial and routine uses will be free of control, and the flow of these goods will be promoted by the free competition in effect. In order to stabilize postwar industry, a democratic industrial organization must be established, through which entrepreneurs are expected to promote their common interests.

"Direct interference in business by the Government will be limited here after to the barest minimum, while necessary control will be fairly handled by an independent organization of businessman. Furthermore, an obstacle to fair transactions between entrepreneurs will be removed completely.

"Based on such a fundamental policy, a bill for the so-called Basic Industrial Law is now under study and is expected to be introduced to the next Diet session."

ITEM 3 Revision in the Price of Rubber Goods - Nippon Sanyo Keizai - l6 Dec 4 Translator: T. Mitsuhashi.
Full translation:

The Rubber Goods Control Company (GOMUSEIHIN TOSEI KAISHA) asked the Commerce and Industry Ministry for permission to revise the price of rubber goods, such as tires, rubber tubes, and rubber-soled tabi, and the revision has been approved retroactive to 11 December.

The revision was necessitated by the fact that production costs, including fuel expenses, transport fees, and wages, have risen too high to continue along normal production lines. The new price approved will be about two and one half to three times the former one.

ITEM 4 Compulsory Measures to Draw Out Coal in Stock - Nippon Sangyo Keizai - 16 Dec 45. Translator: R. Shibata.
Full translation:

- 2 -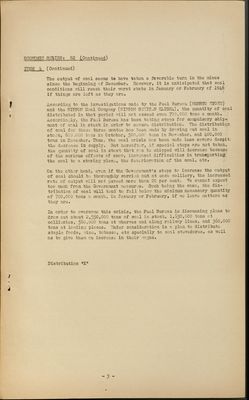 (View Page Image)
ECONOMIC SERIES: 82 (Continued)
The output of coal seems to have taken a favorable turn in the mines since the beginning of December. However, it is anticipated that coal conditions will reach their worst state in January or February of 1946 if things are left as they are.

According to the investigations made by the Fuel Bureau (NENRYO KYOKU) and the NIPPON Coal Company (NIPPON SEKITAN KAISHA), the quantity of coal distributed in that period will not exceed even 700,000 tons a month. Accordingly, the Fuel Bureau has been taking steps for compulsory shipment of coal in stock in order to secure distribution. The distribution of coal for these three months has been made by drawing out coal in stock, 600,000 tons in October, 500,000 tons in November, and 400,000 tons in December. Thus, the coal crisis has been made less severe despite the decrease in supply. But hereafter, if special steps are not taken, the quantity of coal in stock that can be shipped will decrease because of the serious effects of snow, increased difficulties in transporting the coal to a storing place, the deterioration of the coal, etc.

On the other hand even if the Government's steps to increase the output of coal should be thoroughly carried out at each colliery, the increased rate of output will not exceed more than 20 per cent. We cannot expect too much from the Government measures. Such being the case, the distribution of coal will tend to fall below the minimum necessary quantity of 700,000 tons a month, in January or February, if we leave matters as they are.

In order to overcome this crisis, the Fuel Bureau is discussing plans to draw cut about 2,550,000 tons of coal in stock, 1,630,000 tons at collieries, 560,000 tons at wharves and along railway lines, and 360,000 tons at loading places. Under consideration is a plan to distribute staple foods, wine, tobacco, etc specially to coal stevedores, as well as to give them an increase in their wages.

Distribution "X"

- 3 -