Press translations [Japan]. Economic Series 0078, 1945-12-19.
translation-number: economic-0386
call-number: DS801 .S81
---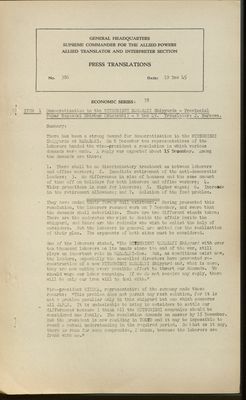 (View Page Image)
GENERAL HEADQUARTERS

SUPREME COMMANDER FOR THE ALLIED POWERS

ALLIED TRANSLATOR AND INTERPRETER SECTION

PRESS TRANSLATIONS

ECONOMIC SERIES: 78

ITEM 1 Democratization in the MITSUBISHI NAGASAKI Shipyards - Provincial Paper Nagasaki Shimbun (Nagasaki) - 9 Dec 45. Translator: J. Burrows.
Summary:

There has been a strong demand for democratization in the MITSUBISHI Shipyards at NAGASAKI. On 6 December ten representatives of the laborers handed the vice-president a resolution in which various demands were made. A reply was expected about 15 December. Among the demands are these:

1. There shall be no discriminatory treatment as between laborers and office workers; 2. Immediate retirement of the anti-democratic leaders; 3. No differences in size of bonuses and the same amount of time off on holidays for both laborers and office workers; 4. Wider promotions in rank for laborers; 5. Higher wages; 6. Increase in the retirement allowance; and 7. Solution of the food problem.

They have ended their former dull existence. Having presented this resolution, the laborers resumed work on 7 December, and swore that the demands shall materialize. There are two different stands taken: There are the moderates who wish to decide the affair inside the shipyard, and there are the radicals who wish to enlist the help of outsiders. But the laborers in general are united for the realization of their plan. The arguments of both sides must be considered.

One of the laborers stated, "The MITSUBISHI NAGASAKI Shipyard with over ten thousand laborers on its hands since the end of the war, still plays an important role in NAGASAKI-Ken. But, as conditions exist now, the leaders, especially the so-called directors have prevented reconstruction of a new MITSUBISHI NAGASAKI Shipyard and, what is more, they are now making every possible effort to thwart our demands. We should wage our labor campaign. If we do not receive any reply, there will be only our iron will to deal with."

Vice-president HIZUKA, representative of the company made these remarks: "This problem does not permit any rash solution, for it is not a problem peculiar only to this shipyard but one which concerns all JAPAN. It is undesirable to bring in outsiders to settle our differences because I think all the MITSUBISHI companies should be considered one family. The resolution demands an answer by 15 December. But the president is now residing in TOKYO and it may be impossible to reach a mutual understanding in the required period. Be that as it may, there is room for some compromise, I think, because the laborers are frank with me."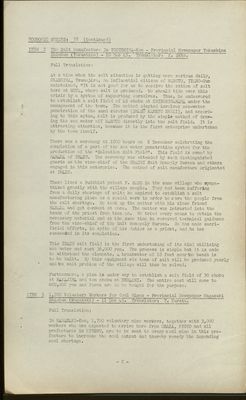 (View Page Image)
ECONOMIC SERIES: 78 (Continued)

ITEM 2 The Salt Manufacture In TOKUSHIMA-Ken - Provincial Newspaper Tokushima Shimbun (Tokushima) - 10 Dec 45. Translator: K. Sato.
Full Translation:

At a time when the salt situation is getting more serious daily, OKASHIMA, Tsunejiro, an influential citizen of NARUTO, ITANO-Gun maintained, "It is not good for us to receive the ration of salt here at MUYA, where salt is produced. We should tide over this crisis by a system of supporting ourselves. Thus, he endeavored to establish a salt field of 45 chobu at CHIDORIGAHAMA under the management of the town. The method adapted involves sea-water penetration of the sand stratum (SHASŌ KANRYU SHIKI), and according to this system, salt is produced by the simple method of drawing the sea water off NARUTO directly into the salt field. It is attracting attention, because it is the first enterprise undertaken by the town itself.

There was a ceremony at 1000 hours on 6 December celebrating the completion of a part of the sea water penetration system for the production of the "Salvation Salt Field". This field is owned by HARADA of IMAZU. The ceremony was attended by such distinguished guests as the vice-chief of the URACHI Salt Monoply Bureau and others engaged in this enterprise. The method of salt manufacture originated at IMAZU.

There lives a Buddhist priest F. SANO in the same village who sympathized greatly with the village people. They had been suffering from a daily shortage of salt; he aspired to establish a salt manufacturing place as a social work in order to save the people from the salt shortage. He took up the matter with his close friend HARADA and got consent at once. The matter was intrusted into the hands of the priest from then on. He tried every means to obtain the necessary material and at the same time he received technical guidance from the vice-chief of the Salt Monopoly Bureau. He has made sacrificial efforts, in spite of his duties as a priest, and he has succeeded in its completion.

This IMAZU salt field is the first undertaking of its kind utilizing sea water and cost 36,000 yen. The process is simple but it is made to withstand the elements. A breakwater of 18 feet near the beach is to be built. By this equipment six tons of salt will be produced yearly and the salt problem of the village will thus be solved.

Furthermore, a plan is under way to establish a salt field of 30 chobu at NAKAJIMA and ten chobu at DEMACHI. The entire cost will come to 600,000 yen and farms are to be bought for the purpose.

ITEM 3 1,700 Voluntary Workers for Coal Mines - Provincial Newspaper Nagasaki Shimbun (Nagasaki) - 11 Dec 45. Translator: Y. Kurata.
Full Translation;

In NAGASAKI-Ken, 1,700 voluntary mine workers, together with 3,000 workers who are expected to arrive here from OSAKA, KYOTO and all prefectures in KYUSHU, are to be sent to every coal mine in this prefecture to increase the coal output and thereby remedy the impending coal shortage.

- 2 -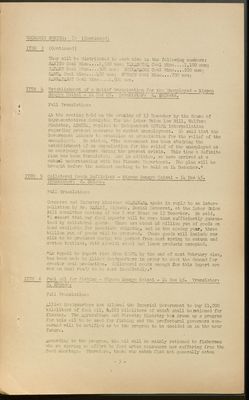 (View Page Image)
ECONOMIC SERIES: 78 (Continued)
They will be distributed to each mine in the following numbers: SAKITO Coal Mine. . . . 1,500 men; TAKASHIMA Coal Mine. . . . 1,100 men; YADAKE Coal Mine . . . . 300 men; SHIKAMACHI Coal Mine. . . . 200 men; KANDA Coal Mine. . . . 450 men; SENRYU Coal Mine. . . . 700 men; KANBAYASHI Coal Mine. . . . 1,500 men.

ITEM 4 Establishment of a Relief Organization for the Unemployed - Nippon Sangyo Keizai - 14 Dec 45. Translator: R. Shibata.
Full Translation:

At the meeting held on the evening of 13 December by the House of Representatives Committee for the Labor Union Law Bill, Welfare Minister, ASHIDA, replied to Independent KOYAMA interpellation regarding present measures to combat unemployment. He said that the Government intends to establish an organization for the relief of the unemployed. He stated, "The Government has been studying the establishment of an organization for the relief of the unemployed as an emergency measure during the present crisis. This time a definite plan has been formulated. And in addition, we have arrived at a mutual understanding with the Finance Department. The plan will be brought before the cabinet meeting to be held on l4 December."

ITEM 5 Collateral Goods Sufficient - Nippon Sangyo Keizai - l4 Dec 45. Translator: H. Shindo.
Full Translation:

Commerce and Industry Minister OGASAWARA spoke in reply to an interpellation by Mr. MASAKI, Kiyoshi, Social Democrat, at the Labor Union Bill committee meeting of the Lower House on 13 December. He said, "I assert that our food imports will be more than sufficiently guaranteed by collateral goods. There are about 46 million yen of goods on hand available for immediate shipping, and in the coming year, three billion yen of goods will be prepared. Those goods will include raw silk to be produced during the period from next spring to autumn and cotton textiles, with special steel and linen products excepted.

"An appeal to import rice from KOREA by the end of next February also, has been made to Allied Headquarters in order to meet the demand for greater coal production. Collateral goods enough for this import are now on hand ready to be sent immediately."

ITEM 6 Fuel oil for Fishing - Nippon Sangyo Keizai - 14 Dec 45. Translator: H. Shindo.
Full Translation:

Allied Headquarters has allowed the Imperial Government to buy 11,000 kiloliters of fuel oil, 6,683 kiloliters of which shall be rationed for fishing. The Agriculture and Forestry Ministry has drawn up a program for this oil to be used for fishing and the prefectural governors concerned will be notified as to the program to be decided on in the near future.

According to the program, the oil will be mainly rationed to fishermen who are sparing no effort to feed urban consumers now suffering from the food shortage. Therefore, those who catch fish not generally eaten

- 3 -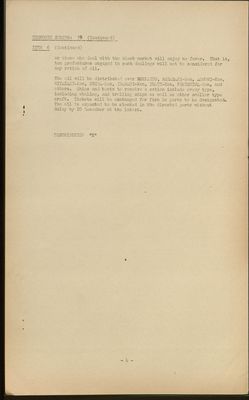 (View Page Image)
ECONOMIC SERIES: 78 (Continue)
or those who deal with the black market will enjoy no favor. That is, ten prefectures engaged in such dealings will not be considered for any ration of oil.

The oil will be distributed over HOKKAIDO, NAGASAKI-Ken, AOMORI-Ken, MIYAZAKI-Ken, CHIBA-Ken, IBARAGI-Ken, IWATE-Ken, FUKUSHIMA-Ken, and others. Ships and boats to receive a ration include every type, including whaling, and trolling ships as well as other smaller type craft. Tickets will be exchanged for fish in ports to be designated. The oil is expected to be stocked in the directed ports without delay by 20 December at the latest.

DISTRIBUTION "X"

- 4 -