Press translations [Japan]. Economic Series 0075, 1945-12-18.
translation-number: economic-0372
call-number: DS801 .S81
---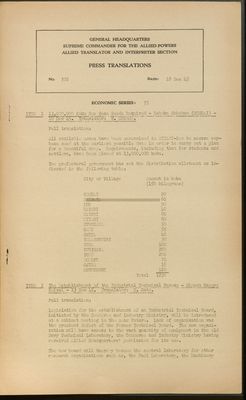 (View Page Image)
GENERAL HEADQUARTERS

SUPREME COMMANDER FOR THE ALLIED POWERS

ALLIED TRANSLATOR AND INTERPRETER SECTION

PRESS TRANSLATIONS

ECONOMIC SERIES: 75

ITEM 1 13,000,000 Koku Soy Bean Seeds Required - Kahoku Shimbun (SENDAI) - 10 Dec 45. Translator: H. Shindo.
Full translation:

All available means have been excercised in MIYAGI-Ken to secure soybean seed at the earliest possible date in order to carry out a plan for a bountiful crop. Requirements, including that for students and settlers, have boon placed at 13,000,000 koku.

The prefectural government has set the distribution allotment as indicated in the following table:
| | |
| --- | --- |
| City or Village | Amount in koku (150 kilograms) |
| SENDAI | 20 |
| SHIBATA | 60 |
| IGU | 90 |
| WATARI | 40 |
| NATORI | 80 |
| MIYAGI | 60 |
| KUROKAWA | 50 |
| KANI | 55 |
| SHIDA | 40 |
| TAMATSUKURI | 30 |
| TODA | 100 |
| KURIHARA | 200 |
| TOME | 200 |
| MOMOFU | 70 |
| OJIKA | 15 |
| MOTOYOSHI | 120 |
| | Total 1230 |
ITEM 2 The Establishment of the Industrial Technical Bureau - Nippon Sangyo Keizai - 13 Dec 45. Translator: K. Sato.
Full translation:

Legislation for the establishment of an Industrial Technical Board, initiated by the Commerce and Industry Ministry, will be introduced at a cabinet meeting in the near future. Lack of organization was the greatest defect of the former Technical Board. The new organization will have access to the vast quantity of equipment in the old Navy Technical Laboratory, the Commerce and Industry Ministry having received Allied Headquarters' permission for its use.

The new board will thereby become the central laboratory for other research organizations such as, the Fuel Laboratory, the Machinery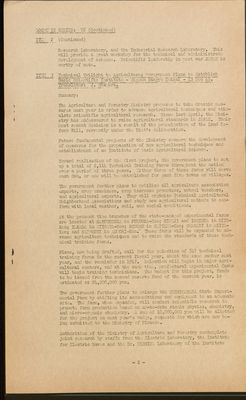 (View Page Image)
ECONOMIC SERIES: 75 (Continued)
Research Laboratory, and the Industrial Research Laboratory. This will provide a great workshop for the technical and admininistrate development of science. Scientific leadership in post war JAPAN is worthy of note.

ITEM 3 Technical Twilight to Agriculture; Government Plans to Establish Basic Scientific Institute - Nippon Sangyo Keizai - 13 Dec 45. Translator: J. Okamura.
Summary:

The Agriculture and Forestry Ministry proposes to take drastic measures next year in order to advance agricultural techniques and stimulate scientific agricultural research. Since last April, the Ministry has endeavoured to raise agricultural standards in JAPAN. Their most recent decision is a result of the promulgation of the Land Reform Bill, currently under the Diet's deliberation.

Future fundamental projects of the Ministry concern the development of measures for the propagation of new agricultural techniques and establishment of an Institute of Basic Agricultural Science.

Toward realization of the first project, the government plans to set up a total of 2,114. Technical Training Farms throughout the nation over a period of three years. Either three of these farms will serve each Gun, or one will be established for each five towns or villages.

The government further plans to mobilize all agriculture association experts, crop examiners, crop increase promoters, school teachers, and agricultural experts. They will organize Technical Agricultural Neighborhood Associations and study new agricultural methods to conform with local weather, soil, and social conditions.

At the present time branches of the state-managed experimental farms are located at HABUTOZUKA in FUKUOKA-Ken; HIMEJI and ISSINDA in MIYE-Ken; TAKADA in NITGATA-Ken; KONOSU in SAITAMA-Ken; OMAGARI in AKITA-Ken; and SAMBONGI in AOMORI-Ken. These fames will be expanded to advance agriculture techniques and to raise the standards of these technical training farms.

Plans, now being drafted, call for the selection of 547 technical training farms in the current fiscal year, about the sane number next year, and the remainder in 1947. Selection will begin in major agricultural centers, and at the same time, prefectural experimental farms will begin training technicians. The budget for this project, funds to be issued from the second reserve fund of the current year, is estimated at 94,000,000 yen.

The government further plans to enlarge the NITSHIGAHARA State Experimental Farm by shifting its accomodations and equipment to an adequate site. The farm, when expanded, will conduct scientific research to promote farm production based on up-to-date atomic physics, chemistry, and micro-organic chemistry. A sum of 10,000,000 yen will be allotted for the project on next year's budge, requests for which are now being submitted to the Ministry of Finance.

Authorities of the Ministry of Agriculture and Forestry contemplate joint research by staffs from the Electric Laboratory, the Institute for Electric Waves and the Dr. NISHINA - Laboratory of the Institute

- 2 -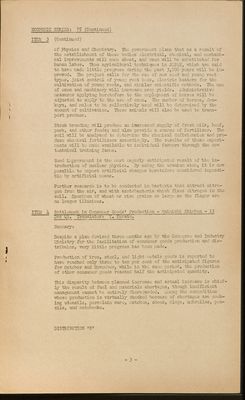 (View Page Image)
ECONOMIC SERIES: 75 (Continued)
of Physics and Chemistry. The government plans that as a result of the establishment of these bodies electrical, chemical, and mechanical improvements will come about, and oxen will be substituted for human labor. Thus agricultural techniques in JAPAN, which are said to have made little progress during the past 3,000 years will be improved. The project calls for the use of new seed and young root types, joint control of young root beds, electric heaters for the cultivation of young roots, and similar scientific methods. The use of oxen and machinery will increase crop yields. Administrative measures applying heretofore to the employment of horses will be adjusted to apply to the use of oxen. The number of horses, donkeys, and mules to be collectively used will be determined by the amount of cultivation. These animals will also be used to transport produce.

Stock breeding will produce an increased supply of fresh milk, beef, pork, and other foods; and also provide a source of fertilizer. The soil will be analyzed to determine the chemical deficiencies and produce chemical fertilizers accordingly. The results of these experiments will be made available to individual farmers through the new technical training farms.

Seed improvement is the most eagerly anticipated result of the introduction of nuclear physics. By using the uranium atom, it is now possible to expect artificial changes heretofore considered impossible by artificial means.

Further research is to be conducted in bacteria that attract nitrogen from the air, and with azotobacteria which fixes nitrogen in the soil. Specimen of wheat or rice grains as large as the finger are no longer illusions.

ITEM 4 Bottleneck in Consumer Goods' Production - Mainichi Shimbun - 13 Dec 45. Translator: Y. Kurato.
Summary:

Despite a plan devised three months ago by the Commerce and Industry Ministry for the facilitation of consumer goods production and distribution, very little progress has been made.

Production of iron, steel, and light metals goods is reported to have reached only three to ten per cent of the anticipated figures for October and November, while in the same period, the production of other consumer goods reached half the anticipated quantity.

This disparity between planned increase and actual increase is chiefly the result of fuel and materials shortages, though inefficient management cannot be entirely disregarded. Among the commodities whose production is virtually checked because of shortages are cooking utensils, porcelain ware, matches, shoes, clogs, umbrellas, pencils, and notebooks.

DISTRIBUTION "X"

- 3 -