Press translations [Japan]. Economic Series 0072, 1945-12-17.
translation-number: economic-0357
call-number: DS801 .S81
---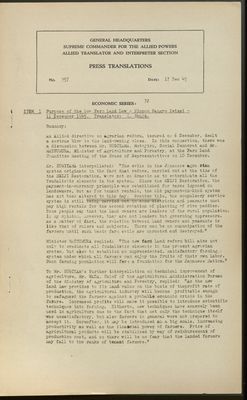 (View Page Image)
GENERAL HEADQUARTERS

SUPREME COMMANDER FOR THE ALLIED POWERS

ALLIED TRANSLATOR AND INTERPRETER SECTION

PRESS TRANSLATIONS

ECONOMIC SERIES: 72

ITEM 1 Purpose of the New Farm Land Law - Nippon Sangyo Keizai - 11 December 1945. Translator: K. Shujo.
Summary:

An Allied directive on agrarian reform, issured on 6 December, dealt a serious blow to the land-owning class. In this connection, there was a discussion between Mr. SUGIYAMA, Motojiro, Social Democrat and Mr. MATSUMURA, Minister of Agriculture and Forestry, at the Farm Land Committee Meeting of the House of Representatives on 10 December.

Mr. SUGIYAMA interpellated: "The evils in the Japanese agra
[illegible]
rian system originate in the fact that refors, carried out at the time of the MEIJI Restoration, were not so drastic as to exterminate all the feudalistic elements in the system. Since the MEIJI Restoration, the payment-in-currency principle was established for taxes imposed on landowners, but as for tenant rentals, the old payment-in-kind system has not been altered to this day. Besides this, the compulsory service system is still being carried out in some districts and peasants must pay high rentals for the second rotation of planting of rice paddies. Some people say that the land owners are leaders of the rural population. In my opinion, however, they are not leaders but governing oppressors. As a matter of fact, the relation between land owners and peasants is like that of rulers and subjects. There can be no emancipation of the farmers until such basic farm evils are uprooted and destroyed."
Minister MATSUMURA replied: "The new farm land reform bill aims not only to eradicate all feudalistic elements in the present agrarian system, but also to establish an unprecedented, satisfactory farming system under which all farmers can enjoy the fruits of their own labor. Such farming population will form a foundation for the Japanese Nation."

To Mr. SUGIYAM's further interpellation on technical improvement of agriculture, Mr. WADA, Chief of the Agricultural Administration Bureau of the Ministry of Agriculture and Forestry, replied: "As the new land law provides to fix land value on the basis of the profit rate of production, the agricultural industry will become profitable enough to safeguard the farmers against a probable economic crisis in the future. Increased profits will make it possible to introduce scientific techniques into fanning. Hitherto, new techniques have scarcely been used in agriculture due to the fact that not only the technique itself was unsatisfactory, but also farmers in general were not prepared to accept it. Hereafter, it may be introduced on a big scale, increasing productivity as well as the financial power of farmers. Price of agricultural products will be stabilized by way of reimbursement of production cost, and so there will be no fear that the landed farmers may fall to the ranks of tenant farmers."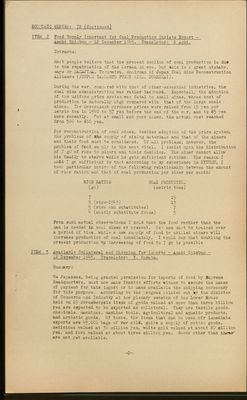 (View Page Image)
ECONOMIC SERIES: 72 (Continued)
ITEM 2 Food Supply Important for Coal Production Insists Expert - Asahi Shimbun - 12 December 1945. Translator: R Aoki.
Extracts:

Most people believe that the present decline of coal production is due to the repatriation of the Korean miners, but this is a great mistake, says Mr NAKAJIMA, Tokumatsu, chairman of Japan Coal Mine Reconstruction Alliance (NIPPON TANKOGYO FUKKO KISE, DOMEIKAI).

During the war, compared with that of other essential industries, the coal mine administration was rather backward. Especially the adoption of the uniform price system was fatal to small mines, whose cost of production is naturally high compared with that of the large scale mines. The Government purchase prices were raised from 15 yen per metric ton in 1940 to 57 yen before the end of the war, and to 85 yen more recently. But at small and poor mines, the actual cost reached from 500 to 800 yen.

For reconstruction of coal mines, besides adoption of the price system, the problems of the supply of mining materials and that of the miners and their food must be considered. Of all problems, however, the problem of food supply is the most vital. I insist upon the distribution of 7 go of rice to miners and their families. The miner cannot allow his family to starve while he gets sufficient rations. The reason I hold 7 go sufficient is that according to my experience in KYUSHU, I took particular notice of the following relationship between the amount of rice ration and that of coal production per miner per month:
| | |
| --- | --- |
| RICE RATION (go) | COAL PRODUCTION (metric tons) |
| 7 | 15 |
| 5 (rice-1943) | 15 |
| 5 (rice and substitutes) | 7 |
| 4 (mostly substitutes foods) | 5 |
From such actual observations I hold that the food rather than the man is needed in coal mines at present. New men must be trained over a period of time, while a new supply of food to skilled miners will increase production of coal immediately. I would say that doubling the present production by increasing of food to 7 go is possible

ITEM 3 Available Collateral and Shipping for Imports - Asahi Shimbun - 12 December 1945. Translator: Y. Kurata.
Summary :

We Japanese, being granted permission for imports of food by Supreme Headquarters, must now make frantic efforts either to secure the means of payment for this import or to make available the shipping necessary for this purpose. According to the program pointed out by the Minister of Commerce and Industry at the plenary session of the Lower House held on 29 November six items of goods valued at more than three billion yen are expected to be exported as collateral. They are textile goods, chemicals, machines, machine tools, agricultural and aquatic products, and artistic goods. Of these, the items that can be used for immediate exports are 45,000 bags of raw silk, quite a supply of cotton goods, medicines valued at 30 million yen, white gold valued at about 80 million yen, and furs valued at about three million yen. Goods other than these are not yet available.

-2 -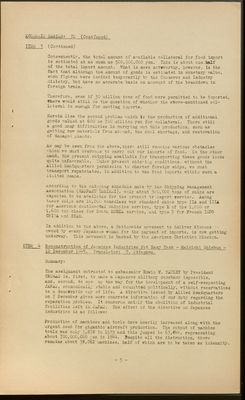 (View Page Image)
ECONOMIC SERIES: 72 (Continued)
Consequently, the total amount of available collateral for food import is estimated at as much as 500,000,000 yen. This is about one half of the total import amount. What is more noteworthy, however, is the fact that although the amount of goods is estimated in monetary value, such figures were decided temporarily by the Commerce and Industry Ministry, but have no accurate basis on account of the breakdown in foreign trade.

Therefore, even if 30 million tons of food were permitted to be imported, there would still be the question of whether the above-mentioned collateral is enough for meeting imports.

Herein lies the second problem which is the production of additional goods valued at 600 or 700 million yen for collateral. There still a good many difficulties in carrying out this production, such as getting raw materials from abroad, the coal shortage, and restoration of damaged plants.

As may be seen from the above, there still remains various obstacles which we must overcome to carry out our imports of food. On the other hand, the present shipping available for transporting these goods looks quite unfavorable. Under present shipping conditions, without the Allied Headquarters permission to charter foreign ships, we must transport repatriates, in addition to the food imports within such a limited means.

According to the shipping schedule made by the Shipping Management Association (SENPAKU UNEIKAI), only about 380,000 tons of ships are expected to be available for the present transport service. Among these ships are 10,000 tons class war standard ships type IIA and IIIA for American continental shipping service, type E of the 1,000 or 1,600 ton class for South KOREA service, and type D for French INDO CHINA and SIAM.

In addition to the above, a Nationwide movement to deliver Kimonos owned by every Japanese woman for the payment of imports, is now getting underway. This movement is backed by the American Christian Mission.

ITEM 4 Reconstruction of Japanese Industries Not Easy Task - Mainichi Shimbun - 12 December 1945 Translator: T. Kitagawa.
Summary:

The assignment entrusted to ambassador Edwin W. PAULEY by President TRUMAN is, first, to make a Japanese military comeback impossible, and, second, to open up the way for the development of a self-respecting JAPAN, economically stable and committed politically, without reservations to a democratic way of life. A directive issued by Allied Headquarters on 7 December gives more concrete information of our duty regarding the reparation problem. It concerns mainly the abolition of industrial facilities left in JAPAN. The effect of the directive on Japanese industries is as follows:

Production of machines and tools have heavily increased along with the urgent need for gigantic aircraft production. The output of machine tools was only 3,838 in 1939 and this jumped to 63,844, representing about 700,000,000 yen in 1944. Despite all the distinction, there remains about 38,062 machines, half of which are to be taken as indemnity.

- 3 -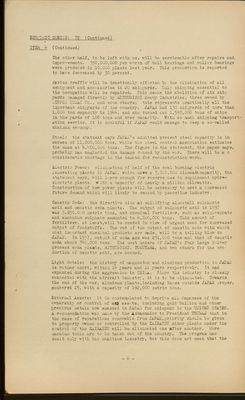 (View Page Image)
ECONOMIC SERIES: 72 (Continued)
The other half, to he left with us, will he serviceable after repairs and improvements. 350,000,000 yen worth of ball bearings and roller hearings were produced in 10,000 plants last year. This production is reported to have decreased by 30 percent.

Marine traffic will he drastically effected by the elimination of all equipment and accessories in 20 shipyards. Only shipping essential to the occupation will be repaired. This means the abolition of six ship yards managed directly by MITSUBISHI Heavy Industries, three owned by NIPPON KOKAN Co., and some others; this represents practically all the important shipyards of the country. JAPAN had 130 shipyards of more than 1,000 ton capacity in 1944, and she turned cut 1,590,000 tons of ships in the yards of 100 tons and over capacity. With so much shipping transportation service, it is doubtful if JAPAN could manage to keep a so-called minimum economy.

Steel: the statement says JAPAN'S admitted present steel capacity is in excess of 11,000,000 tons, while the steel control association estimates the same at 6,400,000 tons. The figure in the statement, the paper says, probably has neglected the damage caused by the war. There will be a
[illegible]
considerable shortage in the demand for reconstruction work.
Electric Power: elimination of half of the coal burning electric generating plants in JAPAN, which have a 3,000,000 kilowatt capacity, the statement says, will leave enough for reserve use to supplement hydroelectric plants with a capacity of nearly a million kilowatts. Construction of new power plants will be necessary to meet a increased future demand which will likely be caused by peacetime industry.

Caustic Soda: the directive aims at nullifying almostall sulphuric acid and caustic soda plants. The output of sulphuric acid in 1937 was 3,850,000 metric tons, and chemical fertilizer, such as sulphosphate and ammonium sulphate amounted to 4,000,000 tons. This amount of fertilizer, at least, will be needed in view of urgent need for increased output of foodstuffs. The cut of the output of caustic soda with which most important chemical products are made, will be a telling blow to JAPAN. In 1937, output of soda ash was 231,000 tons and that of caustic soda about 340,000 tons. The most modern of JAPAN's four large Solvay process soda plants, MITSUBISHI, TOKUYAMA, and two others for the production of caustic acid, are doomed.

Light Metals: the history of magnesium and aluminum production in JAPAN is rather short, within l4 years and 11 years respectively. It had expanded during the aggression in CHINA. Since the industry is closely connected with the aircraft industry, it is to be eliminated. Towards the end of the war, aluminum plants, including those outside JAPAN proper, numbered 15, with a capacity of 192,000 metric tons.

External Assets: it is contemplated to deprive all Japanese of the ownership or control of any assets, including gold bullion and other precious metals now amassed in JAPAN for shipment to the UNITED STATES. A recommendation was made by the Ambassador to President TRUMAN that in the case of reparations removable from JAPAN, priority should be given to property owned or controlled by the ZAIBATSU Minor plants under the control of the ZAIBATSU will be eliminated one after another. More machine tools are to be taken out of the country. The program has dealt only with the munition industry, but this does not mean that the

- 4 -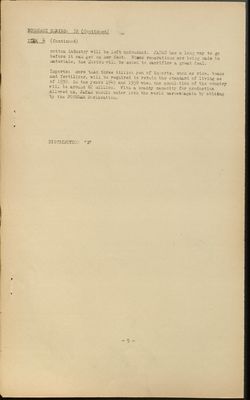 (View Page Image)
ECONOMIC SERIES: 72 (Continued)
cotton industry will be left untouched. JAPAN has a long way to go before it can get on her feet. Since reparations are being made in materials, the Nation will be asked to sacrifice a great deal.

Imports: more than three billion yen of imports, such as rice, beans and fertilizer, will be required to retain the standard of living as of 1930, in the years 1949 and 1950 when the population of the country will be around 82 million. With a scanty capacity for production allowed us, JAPAN should enter into the world market again by abiding by the POTSDAM Declaration.

DISTRIBUTION "X"

- 5 -