Press translations [Japan]. Economic Series 0066, 1945-12-15.
translation-number: economic-0327
call-number: DS801 .S81
---
(View Page Image)
GENERAL HEADQUATERS

SUPREME COMMANDER FOR THE ALLIED POWERS

ALLIED TRANSLATOR AND INTERPRETER SECTION

PRESS TRANSLATIONS

ECONOMIC SERIES: 66

ITEM 1 Mine Reinforcement Corps to Coal Mines Requested to Postpone Their Journey - Provincial Paper: Kahoku Shimpo (SENDAI) - 6 Dec 45.Translator: S. Kinoshita.
Summary:

In AKITA Prefecture, the Reinforcement Corps for Coal Mines, composed of 261 persons and preparing to go to YURARI, HOKKAIDO and several other mines, received cables on 3 December from these mines requesting them to postpone their departure. Insufficient accommodations at the mines may account for the request. As a matter of course the prefectural authorities had sent cables urging the mines to speed up the construction of houses. However, many complaints have been voiced against the bungling by mine officials in the face of such a severe coal crisis, and even the National railway may possibly be forced to stop operation.

ITEM 2 Coal Assigned for Consumption in January will be 708,000 tons, Coal Situation Reviewed - Nippon Sangyo Koizai - 10 Dec 45. Translator: T. Okamura.

Summary:

According to a recent investigation by the JAPAN Coal Company, the total amount of coal to be produced for consumption in January, 1946 will be 670,000 metric tons, and increase of 88,000 tons over that of December 1945. Coal stocked at various places will be 250,000 tons, aggregating 920,000 tons of the total 210,000 tons will be consumed by the coal mines; the remainder, amounting to 708,000 tons, will be supplied consumers, Of the letter, about 200,000 tons will be used for railway transportation, while the rest will be used in the manufacture of iron, steel, gas and coke, for consumption by the Occupation Troops, and for exportation to KOREA and HONGKONG. The estimated 200,000 tons for railway transportation is only one-third of the average monthly supply or a half of the supply assigned for December. This may well lead to the suspension of railway traffic.

The statistics which coal companies released on estimated supplies for January follow (Unit is 1,000 metric tons):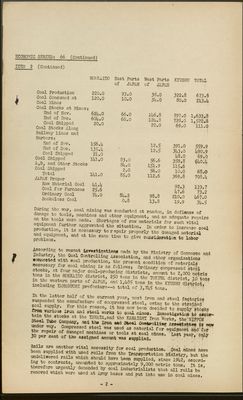 (View Page Image)
ECONOMIC SERIES: 66 (Continued)
HOKKAIDO

 

East Parts of JAPAN
West Parts of JAPAN
KYUSHU
TOTAL
Coal Production
220.0
93.0
38.0
322.8
673.8
Coal Consumed at
120.0
10.0
34.0
80.0
213.4
Coal Mines
Coal Stocks at Mines:
End of Nov.
624.0
66.0
146.8
797.0
1,633.8
End of Dec.
604.0
66.0
124.8
728.0
1,522.8
Coal Shipped
20.0
22.0
69.0
111.0
Coal Stocks Along Railway Lines and Harbors:
End of Nov.
156.4
12.5
391.0
559.9
End of Dec
135.4
12.5
343.0
490.9
Coal Shipped
21.0
48.0
69.0
Coal Shipped
141.0
83.0
56.6
359.8
640.4
A,B, and Other Stocks
84.0
151.9
115.6
Coal Shipped

 

2.0
56.0

 

10.0

 

68.0

 

Total
141.0

 

85.0
112.6
369.8
708.4
JAPAN Proper
Raw Material Coal

 

41.4

 

92.3
133.7
Coal for Furnaces

 

25.6

 

47.6

 

73.2
Ordinary Coal

 

74.0
84.2
98.8
210.0
467.0
Smokeless Coal
0.8
13.8

 

19.9

 

34.5
During the war, coal mining was conducted at random, in defiance of damage to tools, machines and other equipment, and no adequate repairs on the tools were made. Shortages of raw materials for such vital equipment further aggravated the situation. In order to increase coal production, it is necessary to repair properly the damaged material and equipment, and at the same time to give consideration to labor problems.

According to recent investigations made by the Ministry of Commerce and Industry, the Coal Controlling Association, and other organizations connected with coal production, the present condition of materials necessary for coal mining is as follows: Ordinary compressed steel stocks, at four major coal-producing districts, amount to 2,000 metric tons in the HOKKAIDO district, 250 tons in the TOKIWA district, 10 tons in the western parts of JAPAN, and 1,485 tons in the KYUSHU district, including YAMAGUCHI prefecture-a total of 3,745 tons.

In the latter half of the current year, most iron and steel factories suspended the manufacture of compressed steel, owing to the strained coal supply. For this reason, it has now been decided to supply stocks from various iron and steel works to coal mines. Investigation to ascertain the stocks at the YAWATA, and the KAMAISHI Iron Works, the NIPPON Steel Tube Company, and the Iron and Steal Controlling Association is now under way. Compressed steel was used as material for equipment and for the repair of damaged machines or tools at coal mines. Last year, only 30 per cent of the assigned amount was supplied.

Rails are another vital necessity for coal production. Coal mines have been supplied with used rails from the Transportation Ministry, but the undelivered rails which should have been supplied, since 1942, according to contracts, amounted to approximately 9,000 metric tons. It is, therefore urgently demanded by coal industrialists that all rails be removed which were used at Army bases and put into use in coal mines.

- 2 -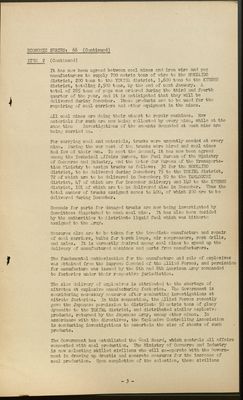 (View Page Image)
ECONOMIC SERIES: 66 (Continued)
It has now been agreed between coal mines and iron wire and peg manufacturers to supply 700 metric tons of wire to the HOKKAIDO district, 200 tons to the TOKIWA district, 1,600 tons to the KYUSHU district, totaling 2,500 tons, by the end of next January. A total of 285 tons of pegs was ordered during the third and fourth quarter of the year, and it is anticipated that they will be delivered during December. These products are to be used for the repairing of coal carriers and other equipment in the mines.

All coal mines are doing their utmost to repair machines. Raw materials for such are now being collected by every mine, while at the same time investigations of the amounts demanded at each mine are being carried on.

For carrying coal and materials, trucks were urgently needed at every mine. During the war most of the trucks were hired and coal mines had few of their own. To meet the demand, it has now been agreed among the Technical Affairs Bureau, the Fuel Bureau of the Ministry of Commerce and Industry, and the Motor Car Bureau of the Transportation Ministry to assign trucks as follows: 30 for the HOKKAIDO district, to be delivered during December; 75 to the TOKIWA district, 72 of which are to be delivered in December; 50 to the YAMAGUCHI district, 47 of which are for December delivery; and 140 to the KYUSHU district, 101 of which are to be delivered also in December. Thus the total number of trucks assigned comes to 400, of which 200 are to be delivered during December.

Demands for parts for damaged trucks are now being investigated by Committees dispatched to each coal mine. It has also been decided by the authorities to distribute liquid fuel which was hitherto assigned to the Army.

Measures also are to be taken for the immediate manufacture and repair of coal carriers, bulbs for torch lamps, air compressors, rock drills, and axles. It is earnestly desired among coal mines to speed up the delivery of manufactured machines and parts from manufacturers.

The fundamental authorization for the manufacture and sale of explosives was obtained from the Supreme Command of the Allied Forces, and permission for manufacture was issued by the 6th and 8th American Army commanded to factories under their respective jurisdiction.

The slow delivery of explosives is attributed to the shortage of nitrates at explosive manufacturing factories. The Government is considering necessary measures after conducting investigations at nitrate factories. In this connection, the Allied Forces recently gave the Japanese permission to distribute 50 metric tons of gluey dynamite to the TOKIWA district, and distributed similar explosive products, returned by the Japanese Army, among other mines. In accordance with the directives, the Explosive Controlling Association is conducting investigations to ascertain the size of stocks of such products.

The Government has established the Coal Board, which controls all affairs connected with coal production. The Ministry of Commerce and Industry is now selecting skilled civilians who will co-operate with the Government in drawing up drastic and concrete measures for the increase of coal production. Upon completion of the selection, these civilians

- 3 -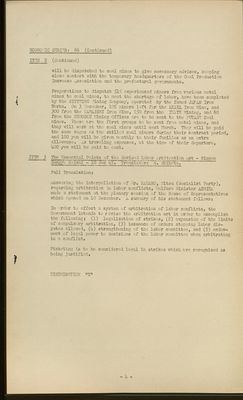 (View Page Image)
ECONOMIC SERIES: 66 (Continued)
will be dispatched to coal mines to give necessary advices, keeping close contact with the temporary headquarters of the Coal Production Increase Association and the prefectural governments.

Preparations to dispatch 515 experienced miners from various metal mines to coal mines, to meet the shortage of labor, have been completed by the NITTETSU Mining Company, operated by the famed JAPAN Iron Works. On 3 December, 105 miners left for the AKAYA Iron Mine, and 300 from the KAMAISHI Iron Mine, l50 from the IWATE Mining, and 60 from the CHUGOKU Mining Offices are to be sent to the FUTASE Coal mines. These are the first groups to be sent from metal mines, and they will work at the coal mines until next March. They will be paid the same wages as the skilled coal miners during their contract period, and 100 yen will be given monthly to their families as an extra allowance. As traveling expenses, at the time of their departure, 400 yen will be paid to each.

ITEM 3 The Essential Points of the Revised Labor Arbitration Act - Nippon Sangyo Keizai - 10 Dec 45. Translator: R.Shibata.
Full Translation:

Answering the interpellation of Mr. KAWANO, Mitsu (Socialist Party), regarding arbitration in labor conflicts, Welfare Minister ASHIDA made a statement at the plenary session of the House of Representatives which opened on 10 December. A summary of his statement follows:

In order to effect a system of arbitration of labor conflicts, the Government intends to revise the arbitration act in order to accomplish the following: (1) legalization of strikes, (2) expansion of the limits of compulsory arbitration, (3) issuance of orders stopping labor disputes allowed, (4) strengthening of the labor committee, and (5) endowment of legal power to decisions of the labor committee when arbitrating in a conflict.

Picketing is to be considered legal in strikes which are recognized as being justified.

DISTRIBUTION "X"

- 4 -