Press translations [Japan]. Economic Series 0048, 1945-12-02.
translation-number: economic-0236
call-number: DS801 .S81
---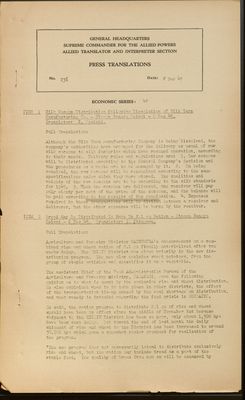 (View Page Image)
GENERAL HEADQUARTERS

SUPREME COMMANDER FOR THE ALLIED POWERS

ALLIED TRANSLATOR AND INTERPRETER SECTION

PRESS TRANSLATIONS

ECONOMIC SERIES: 48

ITEM 1
Silk Cocoon Distribution following Dissolution of Silk Yarn Manufacturing Co. - Nippon Sangyo Keizai - 2 Dec 45. Translator: Z. Konishi.
Full Translation:

Although the Silk Yarn Manufacturing Company is being dissolved, the company's authorities have arranged for the delivery as usual of raw silk cocoons to silk factories which have resumed operation, according to their needs. Delivery rules and regulations are: 1. Raw cocoons will be distributed according to the Control Company's decision and the procedures as a whole are to be managed by it. 2. On being received, the raw cocoons will be reexamined according to the same specifications under which they were stored. The qualities and weights of the raw cocoons are to be according to the silk standards for 1945. 3. When the cocoons are delivered, the receiver will pay only eighty per cent of the price of the cocoons, and the balance will be paid according to the results of the examination. 4. Expenses required in these transactions will be divided between a receiver and deliverer, but the other expenses will be borne by the receiver.

ITEM 2 Bread May Be Distributed To Make Up 2.1 go Ration - Nippon Sangyo Keizai - 2 Dec 45. Translator: T. Kitagawa.
Full Translation:

Agriculture and Forestry Minister MATSUMURA's announcement on a combined rice and wheat ration of 2.1 go finally materialized after two weeks delay. The KEIMIN District was given priority in the new distribution program. The new plan excludes sweet potatoes, from the group of staple articles and classifies it as a vegetable.

The assistant Chief of the Food Administration Bureau of the Agriculture and Forestry ministry, KATAYAGI, gave the following opinion as to what is meant by the exclusive rice and wheat distribution He also explained what is to take place in other districts, the effect of the transportation tie-up caused by the coal shortage on distribution and what remedy is intended regarding the food crisis in HOKKAIDO.

He said, the ration program to distribute 2.1 go of rice and wheat should have been in effect since the middle of November but because shipment to the KEIMIN District has been so poor, only about 1,500 hyo have been sent daily. But toward the end of last month the daily Shipment of rice and wheat to the District has been increased to around 30,000 hyo which gave a somewhat rosier prospect for realization of the program.

"The new program does not necessarily intend to distribute exclusively rice and wheat, but the ration may include bread as a part of the staple food. The quality of bread from now on will be enhanced by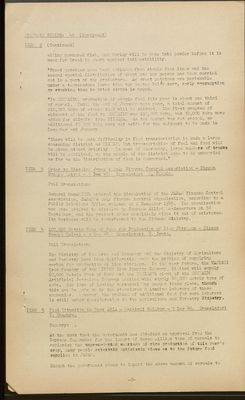 (View Page Image)
ECONOMIC SERIES: 48 (Continued)
adding powdered fish, and barley will he made into powder before it is used for bread to guard against indigestibility.

"Sweet potatoes have been excluded from staple food items and the second special distribution of about one per person has been carried out in a part of the prefecture. As sweet potatoes are perishable under a temperature lower than ten degree below zero, early consumption or stocking them in dried strips is urged.

"In HOKKAIDO, production of staple food this year is about one third of normal. Until the end of January next year, a total amount of 210,000 koku of staple food will be shipped. The first program of shipment of the food to KOKKAIDO was 110,000 koku, but 30,000 koku were added for shipping from NIIGATA. As the amount was not enough, an additional 70,000 koku were set aside for the shipment to be made in December and January

"There will be much difficulty in food transportation in such a large consuming district as KEININ, but transportation of fuel and food will be given utmost priority. In case of emergency, large numbers of trucks will be mobilized, so the people of the district hope to be unworried as far as the distribution of food is concerned."

ITEM 3 Order to Dissolve Japan's Only Finance Control Association - Nippon Sangyo Keizai - 3 Dec 45. Translator: K. Shindo.
Full Translation:

General MacARTHUR ordered the dissolution of the JAPAN Finance Control Association, JAPAN's only finance control organization, according to a Public Relations Office release on 2 December 1945. The organization was once ordered to dissolve by Supreme Allied Headquarters on 30 September, and the present order absolutely wipes it out of existence. Its business will be transferred to the Finance Ministry.

ITEM 4 100,000 Metric Tons of Coke for Production of Lime Nitrogen - Nippon Sangyo Keizai - 3 Dec 45. Translator: S. Iwata.
Full Translation:

The Ministry of Commerce and Industry and the Ministry of Agriculture and Forestry have been deliberating over the problem of supplying carbon for production of lime nitrogen. In the near future, the WANISHI iron foundry of the NIPPON Iron Foundry Company, Limited will supply 60,000 Metric Tons of Coke and the TAKIGAWA plant of the HOKKAIDO Artificial Petroleum Company Limited will, supply 40,OOO metric tons of coke. The lack of loading personnel may hamper these plans, though this may be made up by the stevedores & loading laborers of these companies. However, the problem of additional food for such laborers is still under consideration in the Agriculture and Forestry Ministry.

ITEM 5 Food Situation in East ASIA - Mainichi Shimbun - 3 Dec 45. Translator: T. Okamura.
Summary:

At the news that the Government has obtained an approval from the Supreme Commander for the import of three million tons of cereals to replenish the unprecedented shortage of rice production of this year's crop; many people entertain optimistic views as to the future food supplies in JAPAN.

Though the government plans to import the above amount of cereals to

- 2 -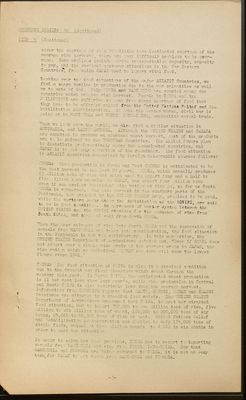 (View Page Image)
ECONOMIC SERIES: 48 (Continued)
cover the shortage of some 20 million koku (estimated shortage of the average rice harvest), there are many difficult problems to be overcome. Such problems include marine transportation capacity, capacity to pay, and the strained post-war situations in the Far Eastern Countries, from which JAPAN used to import vital food.

Looking over the food situations of the major ASIATIC Countries, we find a sharp decline in production due to the war calamities as well as to acts of God. Only KOREA and MANCHUKUO are counted among the countries which promise rich harvest. People in CHIMA and the P
[illegible]
ILIPPINES are suffering so much from sharp shortage of food that they have to be afforded relief from the United Nations Relief and Rehabilitation Administration. To make the matter worse, civil war is going on in MANC
[illegible]
URIA and FRENCH I
[illegible]
DO-CHINA, preventing normal trade.
When we look over the world, we also find a similar situation in AUSTRALIA, and LATIN AMERICA. Although the UNITED STATES and CANADA are expected to produce an abundant wheat harvest, cost of the products are to be shipped to the EUROPEAN Countries. The Allied Powers plan to distribute preferentially among the emancipated countries, and JAPAN is to get only a portion of the remainder. The food situation in ASIATIC countries summarized by foreign telegraphic sources follows:

KOREA: Rice production in South and West CHOSEN is anticipated to be the best harvest in the last 20 years. KOREA, which annually produces five 23 million koku of rice and which used to expert four and a half to five million koku annually to JAPAN, can export four million koku even if She assigns, individual vice ration at five go, so far as South KOREA is concerned. The rice harvest in the southern parts of the Peninsula, now occupied by the UNITED STATES Army, promises to be good, while the northern parts under the jurisdiction of the SOVIET, are said to be in poor condition. An agreement of barter system between the UNITED STATES and the SOVIET provides for the exchange of rice from South KOREA, and coal and salt from North KOREA.

When the mass shipment of rice into North KOREA and the suspension of cereals from MANCHURIA are taken into consideration, the food situation in the Peninsula is not too satisfactory. In this connection, the UNITED STATES Department of Agriculture pointed out, "Even if KOREA does not export over a single rice grain of the current crops to JAPAN, the rice ration which an individual KOREAN can take will show the lowest figure since 1941."

CHINA: The food, situation of CHINA is also in a strained condition due to the drought and flood disasters which swept through the country this year. In North CHINA, the anticipated wheat production is 11 per cent less than last year's, while rice production in Central and South CHINA is also reportedly less than the average harvest. Information from CHUNKING reports that KANSU, SHENSI, HONAN and SHANSI Provinces are attacked by a dreadful food crisis. The UNITED STATES Department of Agriculture announced CHINA, to meet her strained food situation, had to import 750,000 to one million tons of rice, five million to six million tons of wheat, 100,000 to 200,000 tons of soy beans, 25,000 to 50,000 tons of fish or meat. United Nations Relief and Rehabilitation Administration has decided to ship 175,000 tons of staple foods, value at five million pounds to CHINA in six months in order to meet the situation.

In order to solve her food problems, CHINA has to resort to importing cereals from MANCHURIA and rice from FRENCH INDO-CHINA. Now that MANCHURIA and FORMOSA are being returned to CHINA, it is not an easy task for JAPAN to get foods from MANCHURIA and FORMOSA.

- 3 -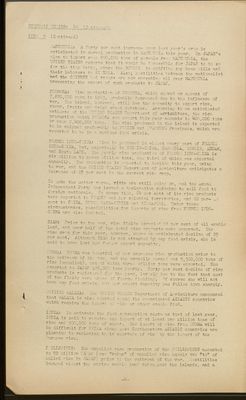 (View Page Image)
ECONOMIC SERIES: 48 (Continued)
MANCHURIA: Forty per cent increase over last year's crop is anticipated in cereal production in MANCHURIA this year. On JAPAN's plan to import some 500,000. tons of cereals from MANCHURIA, the UNITED STATES reports that it would be impossible for JAPAN to do so for the time being, since the SOVIET is shifting soy bean mills and their laborers to SI
[illegible]
ERIA. Also; hostilities between the nationalist and the CHINESE Red troops are now spreading all over MANCHURIA preventing the export of such products to JAPAN.
FORMOSA: Rice production of FORMOSA, which showed an amount of 7,880,000 koku in 1943, gradually decreased due to the influence of war. The island, however, still has the capacity to export rice, sugar, fruits and dried sweet potatoes. According to an anticipated estimate of the UNITED STATES Department of Agriculture, the rice production which FORMOSA can export this year amounts to 400,000 tons or some 2,400,000 kohu. The rice produced in the island is expected to be shipped preferably to FUKIEN and KWAFTUNG Provinces, which are reported to be in serious food crisis.

FRENCH INDO-CHINA: Rice is produced in almost very part of FRENCH INDO-CNINA, but, especially in COCKIN-CHINA, CAMBODIA, TONKIN, ANNAM, and South LAOS. The yearly rice production of FREHCH INDO-CHINA is six million to Seven million tons, one third of Which was exported annually. The production is expected to decline this year, owing to war, and the UNITED STATES Department of Agriculture anticipates a decrease of 25 per cent in the current rice crop.

To make the matter worse, riots are still going on, and the Annam Independent Party has issued a declaration refusing to sell food to foreign nationals. In peace time, 64 per cent of its rice products were exported to FRANCE and her colonial territories, and 20 percent to CHINA, DUTCH NAST-INDIES and SINGAPORE. Under these circumstances, possibilities for imports of rice from FRENCH INDO-CHINA are also doubted.

SIAM: Prior to the war, rice fields occupied 98 per cent of all arable land, and over half of the total rice products were exported. The rice crop for this year, however, shows an anticipated decline of 25 per cent. Although SIAM is not attacked by any food crisis, she is said to have lost her former export capacity.

BURMA: BURMA was boastful of her enormous rice production prior to the outbreak of the war, and she annually turned out 5,300,000 tons of rice (unhulled), out of which three million tons were exported. She exported to JAPAN 126,000 tons yearly. Forty per cent decline of rice Products is registered for the year, largely duo to the fact that most of the fields were areas of fierce fighting. Of course she will not have any food crisis, but her export capacity has fallen down sharply.

BRITISH MALAYA: The UNITED STATES Department of Agriculture announced that MALAYA is also counted among the emancipated ASIATIC countries which require the import of rice or other staple food.

INDIA: To maintain, the food consumption quota as that of last year, INDIA is said to require the import of at least one million tons of rice and 900,000 torn of wheat. The import of rice from BURMA will be difficult for INDIA since most Southeastern ASIATIC countries are planning to replenish their shortage of rice by the import of the Burmese rice.

PHILIPPINES: The unhulled rice production of the PHILIPPINES amounted to 52 million KABAN (one "kaban" of unhulled rice equals two "to" of hulled rice in JAPAN) prior to the outbreak of the war. Hostilities damaged almost the entire arable land throughout the islands, and a

- 4 -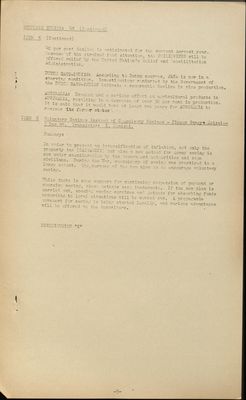 (View Page Image)
ECONOMIC SERIES: 48 (Continued)
40 per cent decline is anticipated for the current harvest year. Because of the strained food situation, the PHILIPPINES will be offered relief by the United Nation's Relief and Rehabilitation Administration.

DUTCH EAST-INDIES; According to Dutch sources, JAVA is now in a starving condition. Investigations conducted by the Government of the DUTCH EAST-INDIES indicate a remarkable decline in rice production.

AUSTRALIA: Drought had a serious effect on agricultural products in AUSTRALIA, resulting in a decrease of over 30 per cent in production. It is said that it would take at least two years for AUSTRALIA to recover its former status

ITEM 6 Voluntary Savings Instead of Compulsory Savings - Nippon Sangy Keizai - 3 Dec 45. Translator: Z. Konishi.
Summary:

In order to prevent an intensification of inflation, not only the property tax (ZAISANZEN) but also a new method for money saving is now under consideration by the Government authorities and some civilians. During the War, compulsory of saving was practiced to a large extent. The purpose of the new plan is to encourage voluntary saving.

While there is some support for continuing suspension of payment or coercive saving, these methods seem inadequate. If the new plan is carried out, special saving services and methods for absorbing funds according to local situations will be worked out. A propaganda movement for saving is being started locally, and various advantages will be offered to the depositors.

DISTRIBUTION "X"

- 5 -