Press translations [Japan]. Economic Series 0046, 1945-12-04.
translation-number: economic-0220
call-number: DS801 .S81
---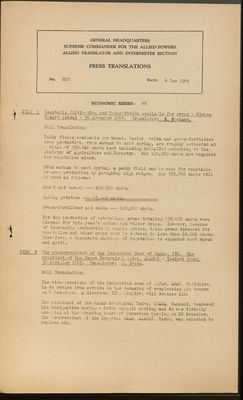 (View Page Image)
GENERAL HEADQUARTERS

SUPREME COMMANDER FOR THE ALLIED POWERS

ALLIED TRANSLATOR AND INTERPRETER SECTION

PRESS TRANSLATIONS

ECONOMIC SERIES: 46

ITEM 1 Vegetable Cultivation and Paddy-fields available for crops - Nippon Sangyo Keizai - 30 November 1945. Translator: Z. Kunishi.
Full Translation:

Paddy fields available for wheat, barley, colza and green-fertilizer crop production, from autumn to next spring, are roughly estimated at a total of 350,000 chobu (not including HOKKAIDO) according to the Ministry of Agriculture and Forestry. But 100,000 chobu are required for vegetables alone.

From autumn to next spring, a paddy field can be used for vegetable or crop production by ploughing high ridges. The 350,000 chobu will be used as follows:

| | |
| --- | --- |
| Wheat and barley | 200,000 chobu. |
| Spring potatoes | 45,000 chobu. |
| Green-fertilizer and calza | 100,000 chobu. |
For the production of vegetables, areas totaling 330,000 chobu were planned for this year's autumn and winter crops. However, because of increasing production of staple grains, these areas intended for vegetables and other crops must be reduced to less than 60,000 chobu. Therefore, a desperate shortage of vegetables is expected next March and April.

ITEM 2 The vice-president of the Industrial Bank of Japan, ITO. The president of the Japan Economical union, AKASHI - Yomiuri Hochi 30 November 1945. Translator: S. Iwata.
Full Translation:

The vice-president of the Industrial Bank of JAPAN, ARAI, Saiichiro, is to retire from service on the occasion of completeing his tenure on 4 December. A director, ITC, Kenjiro, will replace him.

The president of the JAPAN Economical Union, ISAKA, Takashi, tendered his resignation during a Privy Council meeting and it was formally accepted at the Standing Board of Directors Meeting on 28 November. The ex-president of the Imperial Bank, AKASHI, Teruo, was selected to replace him.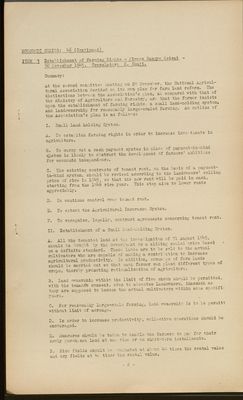 (View Page Image)
ECONOMIC SERIES: 46 (Continued)
ITEM 3 Establishment of Farming Rights - Nippon Sangyo Keizai - 30 November 1945. Translator: K. Shuji.
Summary:

At the second committes meeting on 29 November, the National Agricultural Association decided or its own plan for farm land reform. The distinctions between the Association's plan, as compared with that of the Ministry of Agriculture end Forestry, are that the former insists upon the establishment of farming rights, a small land-holding system, and landownership for reasonably large-scaled farming. An outline of the Association's plan is as follows:
Small Land holding System.
To establish farming rights in order to increase investments in agriculture.
To carry out a cash payment system in place of payment-in-kind system is likely to obstruct the development of farmers' ambitions for economic independence.
The existing contracts of tenant rent, on the basis of a payment-in-kind system, should be revised according to the landowners' selling price of rice in 1945, so that the new rent will be paid in cash, starting from the 1946 rice year. This step aims to lower rents appreciably.
To continue control over tenant rent.
To extend the Agricultural Insurance System.
To recognize, legally, contract agreements concerning tenent rent.
Establishment of a Small Land-holding System.
All the tenanted land at the investigation of 31 August 1945, should be bought by the Government on a sliding scaled price based on a definite standard. These lands are to be sold to the actual cultivators who are capable of making a contribution to increase agricultural productivity. In addition, exchange of farm lands should be carried out so that each farmer can plant different types of crops, thereby promoting rationalization of agriculture.
Land ownership within the limit of five chobu should be permitted, with the tenant's consent, even to absentee landowners, inasmuch as they are supposed to become the actual cultivators within some specified years.
For reasonably large-scale farming, land ownership is to be permitt without limit of acreage.
In order to increase productivity, collective operations should be encouraged.
Measures should be taken to enable the farmers to pay for their newly purchased land at one time or on short-term installments.
Rice fields should be evaluated at about 40 times the rental value and dry fields at 48 times the rental value.

- 2 -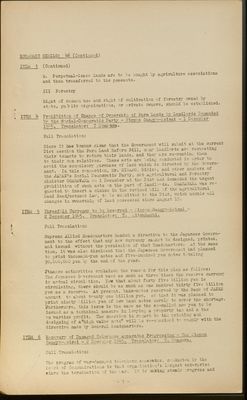 (View Page Image)



ECONOMIC SERIES: 46 (Continued)





ITEM 3

(Continued)
Perpetual-lease lands are to be bought by agriculture associations and then transferred to the peasants.
Forestry
Right of common use and right of cultivation of forestry owned by state, public organizations, or private owners, should be established.

ITEM 4 Prohibition of Change of Ownership of Farm Lands by Landlords Demanded by the Social-Demoeratic Party - Nippon Sangyo-Keizai - 1 December 1945. Translator: T Okamura.
Full Translation:

Since it has become clear that the Government will submit at the current Diet session the Farm Land Reform Bill, many landlords are requesting their tenants to return their lands, and they are re-renting them to their own relatives. These acts are being conducted in order to avoid the compulsory purchase of land which is directed by the Government. In this connection, Mr. HIRANO, Rikizo, and other members of the JAPAN's Social Democratic Party, met Agricultural and Forestry Minister OGASAWARA on 1 December at the Diet and demanded the urgent prohibition of such acts on the part of landlords. OGASAWARA was requested to insert a clause in the revised bill of the agricultural Land Readjustment Law, to be submitted to the Diet, which annuls all changes in ownership of land possessed since August 15.

ITEM 5 Threefold Currency to be Reserved - Nippon Sangyo-Keizai - 2 December 1945. Translator: T. Nitsuhashi.
Full Translation:

Supreme Allied Headquarters handed a directive to the Japanese Government to the effect that any new currency cannot be designed, printed, and issued without the permission of that Headquarters. At the same time, it was also disclosed that the Japanese Government had planned to print thousand-yen notes and five-hundred yen notes totaling 90,000,000 yen by the end of the year.

Finance authorities explained the reason for this plan as follows: The Japanese Government used as much as three times the reserve currency in actual circulation. Now that about forty five billion yen is circulating, there should be as much as one hundred thirty five billion yen as a reserve. At present, bank-notes reserved by the Bank of JAPAN amount to about twenty one billion yen, so that it was planned to print ninety billion yen of new bank notes merely to cover the shortage. Furthermore, this issue is the same as the so-called new yen to be issued as a technical measure in levying a property tax and a tax on wartime profit. The question in regard to the printing and designing of a "high value note" will be re-examined to comply with the directive made by General Headquarters.

ITEM 6 Recovery of Damaged Telephone Apparatus Progressing - The Nippon Sangyo-Neizai - 2 December 1945. Translator: T. Okamura.
Full Translation:

The program of war-damaged telephone apparatus, conducted by the Board of Communications is that organization's largest enterprise since the termination of the war. It is making steady progress and

- 3 -

(View Page Image)
ECONOMIC SERIES: 46 (Continued)
the number of telephones repaired exceeded the number scheduled for repair, an investigation made at the end of November revealed. The number of telephones throughout the country, which have been damaged by war totalled 500,000, or about half of JAPAN'S telephones.

Government authorities planned to repair only 45,000 wrecked telephones in 1945 by collecting all available materials and technicians scattered throughout communications bureaus all over the country, but the actual number of telephones repaired so far is 66,000.

If the supplies of coal and gas, which are essential for the repair of damaged telephones, are obtained, the communications authorities plan to complete the repair of all damaged apparatus by the end of next year.

ITEM 7 The Natural Resource Bureau of the U. S. Army's Headquarters Introduce Japanese Handmade Paper to U. S. -Nippon Sangyo-Keizai - 2 December 1945. Translator: S. Zwata.
Full Translation:

The Natural Resources Bureau of UNITED STATES Army Headquarters contemplates introducing a method of making superior handmade Japanese paper to the UNITED STATES. This paper is made from the paper mulberry tree and edgeworthia chrysantha. These trees san be cultivated in some parts of the UNITED STATES. Paper will then be made by machinery at a low price in the UNITED STATES. Therefore, JAPAN would do well to increase her output with cheap labor.

ITEM 8 Japanese Overseas Assets will be Quaranteed - Nippon Sangyo Keizai - 2 December 1945. Translator: Y. Kurata.
Full Translation:

Japanese overseas assets, which were formerly owned by either individuals or corporations and left in MANCHURIA, KOREA, FORMOSA, SACTALIN, and in southern regions at the termination of the war, come to a condierable amount. Among these assets are those which are usable for the payment of reparations and those which were greatly damaged by the turmoil following the end of the war. Consequently, there is a keen and active interest in various circles as to what steps the Government will take to guarantee these assets. In the meantime, the Government's fundamental policy aiming at compensation for the assets, both lost and damaged, seems to have been decided at the Cabinet meeting held on 1 December. After the meeting, Finance Minister SHIBUSAWA explained the following view taken by the financial authorities regarding this matter:

"What disposition of overseas assets there will be, or whether the Government will take steps to compensate them or not, affects the nation vitally. Today the Government has decided its fundamental policy of compensation in accordance with the proposal made by the Foreign Office. However, this means only the Government's general policy in this connection. The detailed points, such as the extent of the severity of the losses and the amount of compensation to be paid are now under study.

The financial authorities regard this matter as a protective measure rather than a compensation, and it is necessary to ask the supreme Headquarters for its indications beforehand in order to put this step into practice. Assuming all compensations or protective measures taken for these assets is incompatible with financial construction in the long run it will be practiced within the extent suitable for the financial situation

DISTRIBUTION "X"

- 4 -