Press translations [Japan]. Economic Series 0038, 1945-12-03.
translation-number: economic-0193
call-number: DS801 .S81
---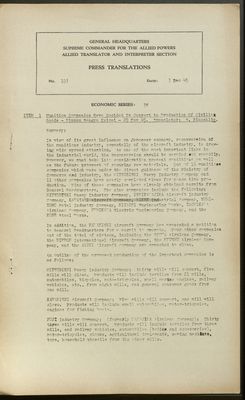 (View Page Image)
GENERAL HEADQUARTERS

SUPREME COMMANDER FOR THE ALLIED POWERS

ALLIED TRANSLATOR AND INTERPRETER SECTION

PRESS TRANSLATIONS

ECONOMIC SERIES: 38

ITSM 1 Munition Companies Have Decided To Convert to Production Of Civilian Goods - Nippon Sangyo Keizai - 29 Nov 45. Translator: S. Kinoshita.
Summary:

In view of its great influence on Japanese economy, reconversion of the munitions industry, especially of the aircraft industry, is drawing wide spread attention. As one of the most important links in the industrial world, the reconversion should he carried out speedily. However, we must take into consideration present conditions as well as the future prospect of securing raw materials. Out of 16 munitions companies which were under the direct guidance of the Ministry of Commerce and Industry, the MITSUBISHI Heavy Industry Company and 11 other companies have nearly completed plans for peace time production. Nine of these companies have already obtained permits from General Headquarters. The nine companies include the following: MITSUBISHI Heavy Industry company, ISHIKAMAJIMA Aircraft Industry Company, KAWASAKI Aircraft Company, RIKEN Industrial Company, SUMITOMO Metal Industry Company, HITACHI Engineering Work, TACHIKAMA Airplane Company, FURUKAMA Electric Engineering Company, and the KOBE steel Works.

In addition, the KA
[illegible]
ANISHI Aircraft Company has presented a petition to General Headquarters for a permit to operate. Four other companies out of the total of sixteen, including the SHOWA Airplane Company, the NIPPON International Aircraft Company, the KYUSHU Airplane Company, and the AICHI Aircraft Company are expected to close.
An outline of the proposed production of the important companies is as follows:

MITSUBISHI Heavy Industry Company: thirty mills will convert, five mills will close. Products will include textiles from 21 mills, automobiles, bicycles, auto-tricycles, small marine engines, railway vehicles, etc., from eight mills, and general consumer goods from one mill.

KAWANISHI Aircraft Company: Five mills will convert, one mill will close. Products will include small automobiles, motor-tricycles, engines for fishing boats.

FUJI Industry Company: (formerly NAKAJIMA Airplane Company): Thirty three mills will convert. Products will include textiles from three mills, and railway vehicles, automobiles (bodies and accesseries), motor-tricycles, clocks, agricultural implements, sewing machines, toys, household utensils from the other mills.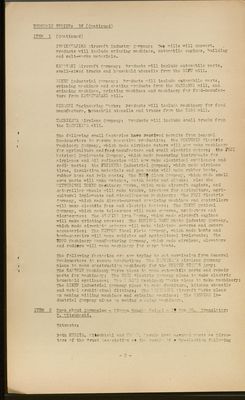 (View Page Image)
ECONOMIC SERIES: 38 (Continued)
ISHIKAWAJIMA Aircraft Industry Company: Two mills will convert. Products will include spinning machines, automobile engines, building and salt-works materials.

KAWASAKI Aircraft Company: Products will include automobile parts, small-sized trucks and household utensils from the GIFU mill.

RIKEN Industrial Company: Products will include automobile parts, spinning machines and casting products from the MAEBASHI mill, and spinning machines, printing machines and machinery for food-manufacture from KASHIWAZAKI mill.

HIDACHI Engineering Works: Products will include machinery for food manufacture, household utensils and trucks from the TAGA mill.

TACHIKAWA Airplane Company: Products will include small trucks from the TACHIKAWA mill.

The following small factories have received permits from General Headquarters to resume peacetime production: the HOKUSHIN Electric Machinery Company, which made airplane meters will now make machinery for agriculture and food manufacture and small electric motors; the FUJI Metrical Implements Company, which made measuring instruments for airplanes and oil refineries will now make electrical appliances and radio parts; the FUJIKURA Industrial Company, which made airplane tires, insulation materials and gas masks will make rubber boots, rubber hose and rain coats; The TOYO Clock Company, which made small arms parts will make watches, watch parts and clocks; also the MITSUBISHI TOKYO Machinery works, which made aircraft engines, and caterpillar wheels will make trucks, tractors for agriculture, agricultural implements and miscellaneous machinery; The FUJI Electric Company, which made direct-current revolving machines and controllers will make electric fans and electric heaters; The TOKYO Optical Company, which made telescopes will make cameras, projectors and microscopes; The ASAHINA Iron Works, which made aircraft engines will make printing presses; The KONISHI ROKU Photo Industry Company, which made air-photo cameras will make miniature cameras and camera accessaries; The NIPPON Steel Plate Company, which made bombs and bomb-carreirs will make vehicles and agricultural implements; The TOYO Machinery Manufacturing Company, which made airplane, elevators and rudders will make machinery for cargo boats.

The following factories are now trying to get permission from General Headquarters to resume production: The TACHIKA
[illegible]
A Airplane Company plans to make construction machinery for the UNITED STAT'S Army; The SANSHIN Machinery works plans to make automobile parts and repair parts for machinery; The TOXO Electric Company plans to make electric household appliances; The NAGATA Machinery works plans to make machinery; The RIKEN Industrial Company plans to make furniture, kitchen utensils and metal architectual fittings; The
[illegible]
AKANISHI Aircraft works plans on making milling machines and spinning machines; The YASHIMA Industrial Company plans on making canning machinery.
ITEM 2 News about Companies - Nippon Sangyo Keizai - 29 Nov 45. Translator: T. Mitsuhashi.
Extracts:

Both KURITA, Mitsubishi and UR
[illegible]
Yasuda have assumed posts as Directors of the Trust Association as the result of a by-election following
- 2 -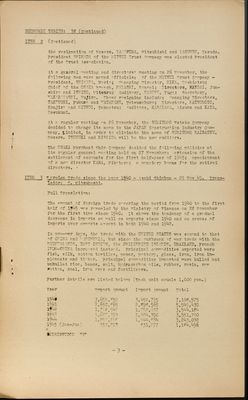 (View Page Image)
ECONOMIC SERIES: 38 (Continued)
the resignation of Messrs. YAMAMURA, Mitsubishi and YASUNEN, Yasuda, President SHIMADA of the MITSUI Trust Company was elected President of the Trust Association.

At a general meeting and directors' meeting on 26 November, the following men were named officials: of the MITSUI Trust Company - President, SHIMADA, Morio; Managing Director, HIKA, Yoshiatsu; Chief of the OSAKA Branch, HAYASHI, Kenzai; Directors, MANDAI, Junshiro and ISHINO, Mitsuru; Auditory, NARUSE, Yugo; Secretary, WAKABAYASHI, Yujiro. Those resigning include: Managing Directors, TAKEUCHI, Fukuzo and WATANABE, Tetsusaburo; Directors, MATSUMOTO, Kenjire and MITSUI, Takaatsu; Auditors, KABAYAMA, Aisuke and KATA, Yasukuni.

At a regular meeting on 26 November, the SUMITOMO Estate Company decided to change its name to the JAPAN Construction Industry Company, Limited, in order to eliminate the name of SUMITOMO ZAIBATSU. Messrs. TSUZUKI and NISHIDA will be the new auditors.

The OSAKA Merchant ship Company decided the following policies at its regular general meeting held on 27 November: extension of the settlement of accounts for the first half-year of 1945; appointment of a new director NARA, Hikotaro; a monetary bonus for the retired directors.

ITEM 3 Foreign Trade since the year 1940 - Asahi Shimbun - 29 Nov 45. Translator: T. Mitsuhashi.
Full Translation:

The amount of foreign trade covering the period from 1940 to the first half of 1945 was revealed by the Ministry of Finance on 28 November for the first time since 1940. It shows the tendency of a gradual decrease in imports as well as exports since 1940 and an excess of imports over exports except in both 1940 and 1942.

In pre-war days, the trade with the UNITED STATES was second to that of CHINA and MANCHURIA, but since the outbreak of war trade with the NETHERLANDS, EAST INDIES, the PHILIPPINE ISLANDS, THAILAND, French INDO-CHINA increased instead. Principal commodities exported were fish, silk, cotton textiles, paper, pottery, glass, iron, iron implements and timber. Principal commodities imported were hulled and unhulled rice, beans, salt, hydrocarbon oils, rubber, resin, raw cotton, coal, iron ores and fertilizers.

Further details are listed below; (Each unit equals 1,000 yen.)

| | | | |
| --- | --- | --- | --- |
| Year | Export Amount | Import Amount | Total |
| 1940 | 3,655,850 | 3,452,725 | 7,108,575 |
| 1941 | 2,650,865 | 2,898,565 | 5,549,430 |
| 1942 | 1,792,547 | 1,752,637 | 3,544,184 |
| 1943 | 1,627,350 | 1,924,350 | 3,551,700 |
| 1944 | 1,298,198 | 1,944,834 | 3,243,032 |
| 1945 (Jan-Jun) | 353,219 | 831,277 | 1,184,496 |
DITRIBUTICN "X"

- 3 -