Press translations [Japan]. Economic Series 0031, 1945-12-01.
translation-number: economic-0160
call-number: DS801 .S81
---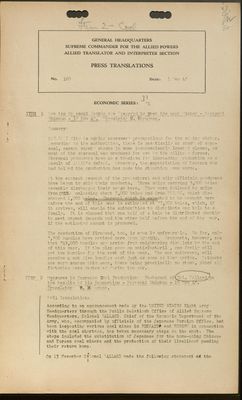 (View Page Image)
GENERAL HEADQUARTERS

SUPREME COMMANDER FOR THE ALLIED POWERS

ALLIED TRANSLATOR AND INTERPRETER SECTION

PRESS TRANSLATIONS

ECONOMIC SERIES: 31

ITEM 1 Now the Nagasaki People are Prepared to Meet the next Winter - Nagasaki Shimbun - 15 Nov 45. Translator M. Maruyama.
Summary:

NAGASAKI City is making necessary preparations for the coming winter. According to the authorities, there is practically no stock of charcoal, except scanty stocks in some inconveniently located places, as most of the charcoal was produced for use by the military forces. Charcoal producers have no enthusiasm for increasing production as a result of JAPAN's defeat. Moreover, the repatriation of Koreans who had helped the production has made the situation even worse.

At the earnest request of the prefectural and city officials producers have begun to ship their products. Three ships carrying 3,000 bales recently discharged their cargo here. They were followed by ships from OMURA unloading about 2,000 bales and from TOSAKU, which discharged 1,000 bales Charcoal which is expected to be brought here before the end of this year is estimated at 37,000 bales, which, if it arrives, will enable the authorities to distribute one bale to a family. It is planned that one half of a bale be distributed shortly to meet urgent demands and the other half before the end of the year, if the estimated amount is procured.

The production of firewood, too, is equally unfavorable. So far, only 3,500 bundles have arrived here from AMAKUSA, Prospects, however, are that 349,000 bundles may arrive from neighboring districts by the end of this year. If the plan goes on satisfactoril, one family will get ten bundles for the rest of the year. The war sufferers, will receive about five bundles each just as soon as they arrive. Priquets are very scarce this year, there being practically no stock, since all factories were destroyed during the war.

ITEM 2 Measures to Increase Coal Production Statement of Col. Pallard on the Results of his Inspection - Nagasaki Shimbun - 15 Nov 45. Translator: M. Manuyama
Full Translation:

According to an announcement made by the UNITED STATES Eight Army Headquarters through the Public Relation's Office of Allied Supreme Headquarters, Colonel BALLARD, Chief of the Economic Department of the Army, who, accompanied by officials of the Japanese Foreign Office, had been inspecting various coal mines in HOKKAIDO and HONSHU in connection with the coal shortage, has taken necessary steps on the spot. The steps included the substitution of Japanese for the home-going Chinese and Korean coal miners and the protection of their livelihood pending their return home.

On 13 November Colonel BALLARD made the following statement as the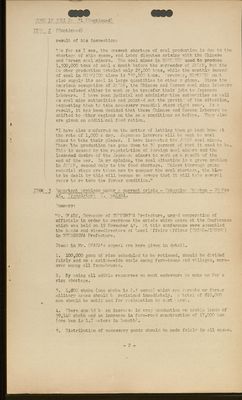 (View Page Image)
ECONOMIC SERIES: 31 (Continued)
result of his inspection:

"So far as I see, the present shortage of coal production is due to the shortage of ship space, and labor disputes arising with the Chinese and Korean coal miners. The coal mines in HOKKIDO used to produce 1,500,000 tons of coal a month before the surrender of JAPAN, but the October production totaled only 25,000 tons, while the monthly demand of coal in HOKKAIDO alone is 350,000 tons. Moreover, HOKKAIDO must also supply its coal in large quantities to other regions. Since the American occupation of JAPAN, the Chinese and Korean coal mine laborers have refused either to work or to transfer their jobs to Japanese laborers. I have seen judicial and administrative authorities as well as coal mine authorities and pointed out the gravity of the situation, requesting them to take necessary remedial steps right away. As a result, it has been decided that these Chinese and Korean laborers be shifted to other regions on the same conditions as before. They also are given an additional food ration.

"I have also conferred on the matter of letting them go back home at the rate of 1,000 a day. Japanese laborers will be sent to coal mines to take their places. I have inspected the JOBAN coal mines. There the production has gone down to 30 percent of what it used to be. This is caused by the repatriation of foreign coal miners and the lessened desire of the Japanese miners to work as a result of the end of the war. In my opinion, the coal situation is a grave problem in JAPAN, second only to the food shortage. Unless thorough going remedial steps are taken now to conquer the coal shortage, the blow to be dealt by this will become so severe that it will take several years to restore the former condition."

ITEM 3 Important problems under a current crisis - Tokushima Shimbun - 20 Nov 45. Translator: Z. Konishi.
Summary:

Mr. OKADA, Governor of TOKUSHIMA Prefecture, urged cooperation of officials in order to overcome the crisis which arose at the Conference which was held on 19 November 45. At this conference were assembled the heads and vice-directors of Local Affairs Offices (CHIHO-JIMUSHO) in TOKUSHIMA Prefecture.

Items in Mr. OKADA's appeal are here given in detail.

100,000 goku of rice scheduled to be rationed, should be divided fairly and on a nation-wide scale among farm-towns and villages, moreover among all farm-houses.
By using all edible resources we must endevoure to make up for a rice shortage.
1,800 chobu (one chobu is 2.5 acres) which are forests or former military areas should be reclaimed immediately. A total of 810,000 men should be mobilized for reclamation by next March.
There should be an increase in crop production on arable lands of 99,140 chobu and an increase in farm-road construction of 17,000 ken (one ken is 1.7 meters in length).
Distribution of necessary goods should be made fairly in all cases.

- 2 -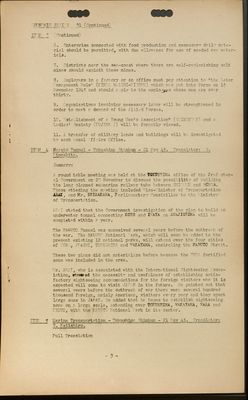 (View Page Image)



ECONOMIC SERIES: 31 (Continued)





ITEM 3

(Continued)
Enterprise connected with food production and necessary daily material should be permitted, with due allowance for use of needed ran materials.
Districts near the sea-coast where there are self-replenishing salt mines should exploit these mines.
Employers in a factory or an office must pay attention to "the Labor Management Rule" (KINRO HAICHI-KISOKU) which was put into force on 15 November 1945 and should apply to the employers whose men are over thirty.
9.Organizations involving necessary labor will be strengthened in order to meet a demand of the Allied Forces.
Establishment of a Young Men's Association" (SEINENDAN) and a Ladies' Society (FUJINKAI) will be formably viewed.
A transfer of military lands and buildings will be investigated by each Local Affairs Office.
ITEM 4 Naruto Tunnel - Tokushima Shimbun - 21 Nov 45. Translator: S. Kinoshita.
Summary:

A round table meeting was held at the TOKUSHIMA office of the Prefectural Government on 20 November to discuss the possibility of building the long planned submarine railway tube between SHIKOKU and HONDA. Those atteding the meeting included Vice-Minister of Transportation ARAI, and Mr. SHIRAKAWA, Parliamentary Consicillor to the Ministry of Transportation.

ARAI stated that the Government investigation of the plan to build an underwater tunnel connecting KOBE and IWAYA on AWAJISHIMA will be completed within a year.

The NARUTO Tunnel was conceived several years before the outbreak of the war. The NARUTO National Park, which will soon be added to the present existing 12 national parks, will extend over the four cities of KOBE, AKASHI, TOKUSHIMA and WAKAYAMA, encircling the NABUTO Strait.

These two plans did not materialize before because the
[illegible]
URA fortified zone was included in the area.
Mr. ARAI, who is associated with the International Sightseeing Association, stressed the necessity and usefulness of establishing satisfactory sightseeing accommodations for the foreign visitors who it is expected will come to visit JAPAN in the future. He pointed out that several years before the outbreak of war there were several hundred thousand foreign, mainly American, visitors every year and they spent large sums in JAPAN. He added that he hopes to establish sightseeing zone on a large scale, extending over TOKUSHIMA, WAKAYAMA, NARA and KYOTO, with the NARUTO National Park in its center.

ITEM 5 Marine Transportation - Tokushima Shimbun - 21 Nov 45. Translator: S. Keiiohiro.
Full Translation

- 3 -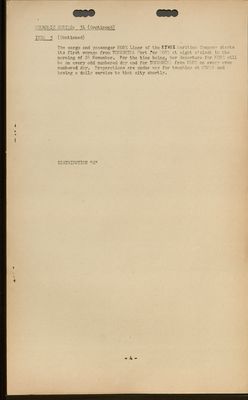 (View Page Image)
ECONOMIC SERIES: 31
(Continued)
The cargo and passenger KOBE Liner of the KYWEI Maritime Company starts its first voyage from TOKUSHIMA Port for KOBE at eight o'clock in the morning of 26 November. For the time being, her departure for KOBE will be on every odd numbered day and for TOKUSHIMA from KOBE on every even numbered day. Preparations are under way for touching at OSAKA and having a daily service to that city shortly.

DISTRIBUTION "X"

- 4 -