Press translations [Japan]. Economic Series 0024, 1945-11-29.
translation-number: economic-0130
call-number: DS801 .S81
---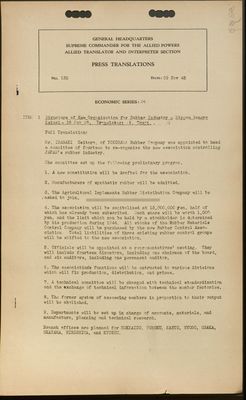 (View Page Image)
GENERAL HEADQUATERS

SUPREME COMMANDER FOR THE ALLIED POWERS

ALLIED TRANSLATOR AND INTERPRETER SECTION

PRESS TRANSLATIONS

ECONOMIC SERIES: 24

ITEM 1 Structure of New Organization for Rubber Industry - Nippon Sangyo Keizai - 18 Nov - 45. Translator: K. Chuji.
Full Translation:

Mr. INAGAKI Heitaro, of YOKOHAMA, Rubber Company was appointed to head a committee of fourteen to re-organize the new association controlling JAPAN's rubber industry.

The committee set up the following preliminary program.

A new constitution will be drafted for the association.
Manufacturers of synthetic rubber will be admitted.
The Agricultural Implements Rubber Distribution Company will be asked to join.
The association will be capitalized at 15,000,000 yen, half of which has already been subscribed. Each share will be worth 1,000 yen, and the limit which can be held by a stockholder is determined by his production during 1944. All stocks of the Rubber Materials Control Company will be purchased by the now Rubber Control Association. Total liabilities of three existing rubber control groups will be shifted to the new association.
Officials will be appointed at a representatives' meeting. They will include fourteen directors, including one chairman of the board, and six auditors, including one permanent auditor.
The associations functions will be entrusted to various divisions which will fix production, distribution, and prices.
A technical committee will be charged with technical standardization and the exchange of technical information between the member factories.
The former system of assessing members in proportion to their output will be abolished.
Departments will be set up in charge of accounts, materials, and manufacture, planning and technical research.
Branch offices are planned for HOKKAIDO, TOHOKU, KANTO, HYOGO, OSAKA, OKAYAMA, HIROSHIMA, and KYUSHU.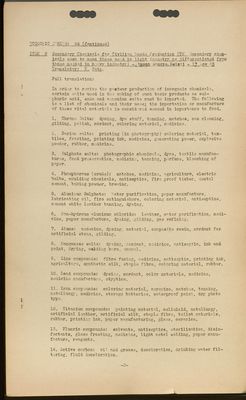 (View Page Image)
ECONOMIC SERIES: 24 (Continued)
ITEM 2 Secondary Chemicals for Civilian Goods Production (TN Secondary chemicals seem to mean those used in light industry as differentiated from those needed in heavy industry) - Nipporn Sangyo Keizai - 17 Nov 45 Translator: K. Sato.
Full translation:

In order to revive the postwar production of inorganic chemicals, certain salts used in the making of such basic products as sulphuric acid, soda and ammonium salts must be imported. The following is a list of chemicals and their uses; the importation or manufacture of these vital materials is considered second in importance to food.

Chrome Salts: dyeing, dye stuff, tanning, matches, can cleaning, gilding, polish, mordant, coloring material, medicine.
Barium salts: printing (in photography) coloring material, textiles, frosting, printing ink, medicine, generating power, explosive powder, rubber, medicine.
Sulphate salts: photographic chemicals, dyes, textile manufactures, food preservation, medicine, tanning, perfume, bleaching of paper.
Phosphorous (crude): matches, medicine, agriculture, electric bulbs, moulding chemicals, antiseptics, fire proof timber, dental cement, baking powder, brewing.
Aluminum Sulphate: Water purification, paper manufacture, lubricating oil, fire extinguishers, coloring material, antiseptics, cement white leather tanning, dyeing.
Non-hydrous aluminum chloride: leather, water purification, medicine, paper manufacture, dyeing, gilding, gas refining.
Alums: medecine, dyeing, material, composite resin, mordant for artificial stone, gilding.
Manganese salts: dyeing, mordant, medicine, antiseptic, ink and paint, drying, welding bars, enamel.
Zinc compounds: fibre fusing, medicine, antiseptic, printing ink, agriculture, synthetic silk, staple fibre, coloring material, rubber.
Lead compounds: dyeing, mordant, color materials, medicine, medicine manufacture, styptics.
Iron compounds: coloring material, ceramics, matches, tanning, metallurgy, medicine, storage batteries, waterproof paint, dry photo type.
Titanium compounds: painting material, celluloid, metallurgy, artificial leather, artificial silk, staple fibre, toilet materials, rubber, printing ink, paper manufacturing, glass, ceramics.
Fluoric compounds: solvents, antiseptics, sterilization, disinfectants, glass frosting, medicine, light metal welding, paper manufacture, reagents.
Active carbon: oil and grease, decoloration, drinking water filtering, fluid decoloration.

- 2 -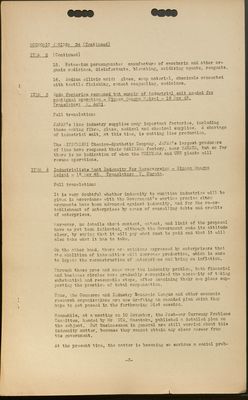 (View Page Image)



ECONOMIC SERIES: 24 (Continued)





ITEM 2

(Continued)
Potassium permanganate: manufacture of saccharin and other organic medicines, disinfectants, bleaching, oxidizing agents, reagents.
Sodium silicic acid: glass, soap material, chemicals connected with textile finishing, cement congealing, medicines.
ITEM 3 Soda factories reopened but supply of industrial salt needed for continued operation - Nippon Sangyo Keizai - 18 Pov 45. Translator: R. Aoki.
Full translation:

JAPAN'S lime industry supplies many important factories, including those making fibre, glass, medical and chemical supplies. A shortage of industrial salt, at this time, is cutting lime production.

The MITSUBISHI Chemico-Synthetic Company, JAPAN's largest producers of lime have reopened their MAKIYAMA factory, near YAHATA, but so far there is no indication of when the TOKUYAMA and UBE plants will resume operations.

ITEM 4 Industrialists Want Indemnity For Reconversion - Nippon Sangyo Keizai - 18 Nov 45. Translator: Y. Kurata.
Full translation:

It is very doubtful whether indemnity to munition industries will be given in accordance with the Government's wartime promise since arguments have been advanced against indemnity, and for the re-establishment of enterprises by means of cancelling debts and credits of enterprises.

Moreover, no details about content, extent, and limit of the proposal have as yet been indicated, although the Government made its attitude clear, by saying that it will pay what must be paid and that it will also take what it has to take.

On the other hand, there are opinions expressed by enterprisers that the abolition of indemnities will decrease production, which is sure to impede the reconstruction of enterprises and bring on inflation.

Through these pros and cons over the indemnity problem, both financial and business circles have gradually recognized the necessity of taking substantial and reasonable steps, after examining their own plans supporting the practice of total compensation.

Thus, the Commerce and Industry Economic League and other economic research organizations are now drafting an amended plan which they hope to get passed in the forthcoming Diet session.

Meanwhile, at a meeting on 10 November, the Post-war Currency Problems Committee, headed by Mr. OTA, Masataka, published a detailed plan on the subject. But businessmen in general are still worried about this indemnity matter, because they cannot obtain any clear answer from the government.

At the present time, the matter is becoming so serious a social prob-

- 3 -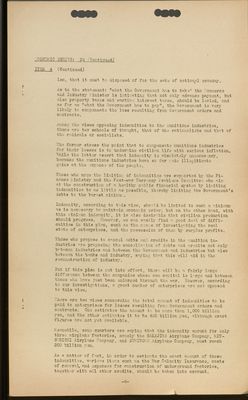 (View Page Image)
ECONOMIC SERIES: 24 (Continued)
lem, that it must be disposed of for the sake of national economy.

As to the statement: "what the Government has to take" the Commerce and Industry Minister is intimating that not only advance payment, but also property taxes and wartime interest taxes, should he levied, and as far as "what the Government has to pay", the Government is very likely to compensate the loss resulting from Government orders and contracts.

Among the views opposing indemnities to the munitions industries, there are two schools of thought, that of the rationalists and that of the radicals or socialists.

The former stress the point that to compensate munitions industries for their losses is to undermine civilian life with serious inflation. While the latter assert that indemnity is absolutely unnecessary, because the munitions industries have so far made illegitimate gains at the expence of the people.

Those who urge the limiting of indemnities are supported by the Finance Ministry and the Post-war Currency Problems Committee who aim at the construction of a healthy public financial system by limiting indemnities to as little as possible, thereby limiting the Government's debts to the barest minimum.

Indemnity, according to this view, should be limited to such a minimum as is necessary to maintain economic order, but on the other hand, with this minimum indemnity, it is also desirable that civilian production should progress. However, we can easily find a good deal of difficulties in this plan, such as the means of investigating the real state of enterprises, and the possession of them by surplus profits.

Those who propose to cancel debts and credits in the munition industries are proposing the cancellation of debts and credits not only between industries and between the Government and industries but also between the banks and industry, saying that this will aid in the reconstruction of industry.

But if this plan is put into effect, there will be a fairly large difference between the companies whose own capital is large and between those who have just been enlarged through the war. However, according to our investigations, a great number of enterprises are not opposed to this view.

There are two views concerning the total amount of indemnities to be paid to enterprises for losses resulting from Government orders and contracts. One estimates the amount to be more than 1,000 billion yen, and the other estimates it to be 420 billion yen, although exact figures are not yet available.

Meanwhile, some quarters are saying that the indemnity amount for only three airplane factories, namely the NAKAJIMA Airplane Company, MITSUBISHI Airplane Company, and SUMITOMO Airplane Company, must reach 200 billion yen.

As a matter of fact, in order to estimate the exact amount of these indemnities, various items such as the War Calamity Insurance, costs of removal, and expenses for construction of underground factories, together with all other credits, should be taken into account.

- 4 -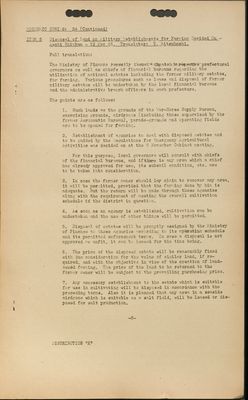 (View Page Image)
ECONOMIC SERIES: 24 (Continued)
ITEM 5 Disposal of Land on Military Establishments for Farming Decided. On - Asahi Shimbun - 19 Nov 45. Translator: T. Mitsuhashi.
Full translation:

The Ministry of Finance recently issued a dispatch to respective prefectural governors as well as chiefs of financial bureaus regarding the utilization of national estates including the former military estates, for farming. Various procedures such as lease and disposal of former military estates will be undertaken by the local financial bureaus and the administrative branch officers in each prefecture.

The points are as follows:
Such lands as the grounds of the War-Horse Supply Bureau, exercising grounds, airdromes (including those supervised by the former Aeronautic Bureau), parade-grounds and operating fields are to be opened for farming.
Establishment of agencies to deal with disposed estates and to be guided by the Regulations for Emergency Agricultural Activities was decided on at the 9 November Cabinet meeting.

For this purpose, local governors will consult with chiefs of the financial bureaus, and if there is any area which a chief has already approved for use, its subsoil condition, etc. are to be taken into consideration.
In case the former owner should lay claim to recover any area, it will he permitted, provided that the farming done by him is adequate. But the return will be made through these agencies along with the requirement of meeting the overall cultivation schedule in the district in question.
As soon as an agency is established, cultivation can be undertaken and the use of other things will be permitted.
Disposal of estates will be promptly assigned by the Ministry of Finance to these agencies according to its operating schedule and its permitted enforcement terms. In case a disposal is not approved as unfit, it can be leased for the time being.
The price of the disposed estate will be reasonably fixed with due consideration for the value of similar land, if required, and with the objective in view of the creation of land-owned farming. The price of the land to be returned to the former owner will be subject to the prevailing purchasing price.
Any accessory establishment to the estate which is suitable for use in cultivating will be disposed in accordance with the preceding terms. Also it is planned that any area in a seaside airdrome which is suitable as a salt field, will be leased or disposed for salt production.
DISTRIBUTION "X"

- 5 -