Press translations [Japan]. Economic Series 0018, 1945-11-26.
translation-number: economic-0095
call-number: DS801 .S81
---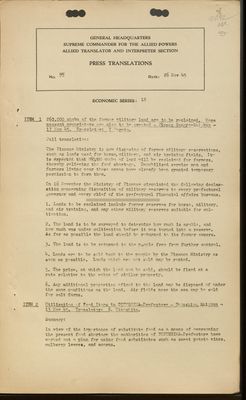 (View Page Image)
GENERAL HEADQUARTERS

SUPREME COMMANDER FOR THE ALLIED POWERS

ALLIED TRANSLATOR AND INTERPRETER SECTION

PRESS TRANSLATIONS

ECONOMIC SERIES: 18

ITEM 1 260,000 chobu of the former military land are to be reclaimed. More peasant proprietors are also to be created - Nippon Sangyo-Shimbun - 17 Nov 45. Translator: Y Kurata.
Full translation:

The Finance Ministry is now disposing of former military reservations, such as lands used for horse, military, and air training fields. It
[illegible]
is expected that 260,000 chobu of land will be reclaimed for farmers, thereby relieving the food shortage. Demobilized service men and farmers living near these areas have already been granted temporary permission to farm them.
On l6 November the Ministry of Finance circulated the following declaration concerning disposition of military reserves to every prefectural governor and every chief of the prefectural financial affairs bureaus.

Lands to be reclaimed include former reserves for horse, military, and air training, and any other military reserves suitable for cultivation.
The land is to be surveyed to determine how much is arable, and how much was under cultivation before it was turned into a reserve. As far as possible the land should be returned to its former owners.
The land is to be returned to the people free from further control.
Lands are to be sold back to the people by the Finance Ministry as soon as possible. Lands which are not sold may be rented.
The price, at which the 1and can be sold, should be fixed at a rate relative to the value of similar property.
Any additional properties afixed to the land may be disposed of under the same conditions as the land. Air fields near the sea may be sold for salt farms.
ITEM 2 Utilization of Food Items in TOKUSHIMA-Prefecture - Tokushims Shimbun - 13 Nov 45. Translator: S. Kinoshita.
Summary:

In view of the importance of substitute food as a means of overcoming the present food shortage the authorities of TOKUSHIMA-Prefecture have worked out a plan for using food substitutes such as sweet potato vines, mulberry leaves, and acorns.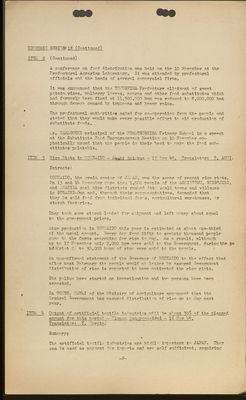 (View Page Image)
ECONOMIC SERIES: 18 (Continued)
A conference on food distribution was held on the 10 November at the Prefectural Agrarian Laboratory. It was attended by prefectural officials and the heads of several commercial firms.

It was announced that the TOKUSHIMA Prefecture allotment of sweet potato vines, mulberry leaves, acorns and other food substitutes which had formerly been fixed at 11,500,000 kan was reduced to 8,000,000 kan through damage caused by typhoons and heavy rains.

The prefectural authorities asked for co-operation from the people and stated that they would make every possible effort to aid production of substitute foods.

Mr. YAMAGUCHI principal of the KOMATSUSHIMA Primary School in a speech at the Substitute Food Encouragement Meeting on 10 November emphatically urged that the people do their best to make the food substitutes palatable.

ITEM 3 Rice Riots in HOKKAIDO - Asahi Shimbun - 17 Nov 45. Translator: R. AOKI.
Extracts:

HOKKAIDO, the grain center of JAPAN, was the scene of recent rice riots. On 13 and 14 November more than 1,000 people of the ASHIBETSU, SHIGEJIRI, and AKAHIRA coal mine districts rushed into small towns and villages in SORACHI-Gun and, through their representatives, demanded that they be sold food from individual farms, agricultural warehouses, or starch factories.

They took some starch loaded for shipment and left money about equal to the government prices.

Rice production in HOKKAIDO this year is estimated at about one-third of the usual amount. Every day from fifty to seventy thousand people come to the farms searching for rice to buy. As a result, although up to 17 November only 2,000 hyo were sold to the Government, during the period of riot 20 to 30,000 koku of rice were sold to the people.

An unconfirmed statement of the Governor of HOKKAIDO to the effect that after next February the people would no longer be assured Government distribution of rice is reported to have motivated the rice riots.

The police have started an investigation and two persons have been arrested.

In TOKYO, KAWAI of the Ministry of Agriculture announced that the Central Government has assured distribution of rice up to May next year.

ITEM 4 Output of artificial textile industries will be about 30% of the planned amount for this period - Nippon Sangyo-Keizai - l6 Nov 45. Translator: Y. Kurata.
Summary:

The artificial textile industries are highly important to JAPAN. They can be used as payment for imports and are self sufficient, requiring

- 2 -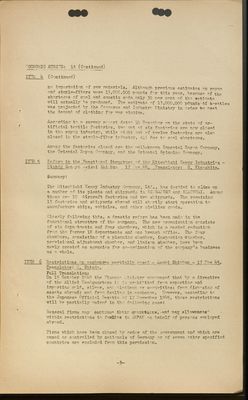 (View Page Image)
ECONOMIC SERIES: 18 (Continued)
no importation of raw materials. Although previous estimates on rayon and staple-fibers were 13,000,000 pounds for this year, because of the shortages of coal and caustic soda only 30 per cent of the estimate will actually be produced. The estimate of 13,000,000 pounds of textiles was projected by the Commerce and Industry Ministry in order to meet the demand of clothing for war victims.

According to a survey report dates 10 November on the state of artificial textile factories, two out of six factories are now closed in the rayon industry, while eight out of twelve factories are also closed in the staple-fiber industry, all due coal shortages.

Among the factories closed are the well-known Imperial Rayon Company, the Oriental Rayon Company, and the Oriental Spinning Company.

ITEM 5 Reform in the Functional Structure of the Mitsubishi Heavy Industries - Nippon Sangyo Keizai Shimbun 17 Nov 45. Translator: S. Kinoshita.
Summary:

The Mitsubishi Heavy Industry Company, Ltd., has decided to close up a number of its plants and shipyards in SINGAPORE and SHANGHAI. Among these are 15 aircraft factories and two shipyards. The remaining 13 factories and shipyards abroad will shortly start operation to manufacture ships, vehicles, and other civilian goods.

Closely following this, a drastic reform has been made in the functional structure of the company. The new organization consists of six departments and four chambers, which is a marked reduction from the former 18 departments and one branch office. The four chambers, consisting of a planning chamber, inspection chamber, provisional adjustment chamber, and liaison chamber, have been newly created as agencies for co-ordination of the company's business as a whole.

ITEM 6 Restrictions on exchanges partially eased - Asahi Shimbun - 17 Nov 45. Translator: H. Shindo.
Full Translation:

On 15 October 1945 the Finance Ministry announced that by a directive of the Allied Headquarters it is prohibited from exporting and importing gold, silver, and platinum or securities; from disposing of assets abroad; and from dealing in exchange. However, according to the Japanese Official Gazette of 17 November 1945, these restrictions will be partially waived in the following case:

General firms may continue their operations, and pay allowances within restrictions to families in JAPAN on behalf of persons employed abroad.

Firms which have been closed by order of the government and which are owned or controlled by nationals of Germany or of seven other specified countries are excluded from this permission.

- 3 -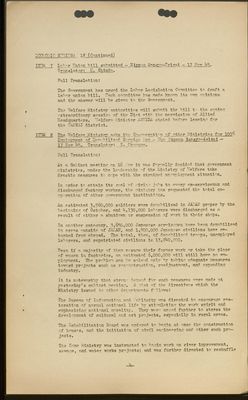 (View Page Image)
ECONOMIC SERIES: 18 (Continued)
ITEM 7 Labor Union bill submitted - Nippon Songyo-Keizai - 17 Nov 45. Translator: H. Shindo.
Full Translation:

The Government has urged the Labor Legislation Committee to draft a labor union bill. Each committee has made known its own opinions and the answer will be given to the Government.

The Welfare Ministry authorities will submit the bill to the coming extraordinary session of the Diet with the permission of Allied Headquarters. Welfare Minister ASHIDA stated before leaving for the KANSAI district.

ITEM 8 The Welfare Ministry asks the Co-operation of other Ministries for 100% Employment of Demobilized. Service Men - The Nippon Sangyo-Keizai - 17 Nov 45. Translator: T. Okamura.
Full Translation:

At a Cabinet meeting on l6 Nov it was formally decided that government ministries, under the leadership of the Ministry of Welfare take drastic measures to cope with the strained unemployment situation.

In order to attain its goal of giving jobs to every ex-serviceman and discharged factory worker, the ministry has requested the total co-operation of other government institutions.

An estimated 3,960,000 soldiers were demobilized in JAPAN proper by the beginning of October, and 4,130,000 laborers were discharged as a result of either a shutdown or suspension of work in their shops.

In another category, 3,650,000 Japanese servicemen have been demobilized in areas outside of JAPAN, and 1,500,000 Japanese civilians have returned from abroad. The total, then, of demobilized troops, unemployed laborers, and repatriated civilians is 13,240,000.

Even if a majority of them resume their former work or take the place of women in factories, an estimated 6,000,000 will still have no employment. The problem can be solved only by taking adequate measures toward projects such as reconstruction, readjustment, and expanding industry.

It is noteworthy that strong demand for such measures were made at yesterday's cabinet meeting. A gist of the directives which the Ministry issued to other departments follows:

The Bureau of Information and Publicity was directed to encourage restoration of normal national life by stimulating the work spirit and emphasizing national morality. They were urged further to stress the development of cultural and art projects, especially in rural areas.

The Rehabilitation Board was ordered to begin at once the construction of houses, and the initiation of civil engineering and other such projects.

The Home Ministry was instructed to begin work on river improvement, sewage, and water works projects; and was further directed to reshuffle

- 4 -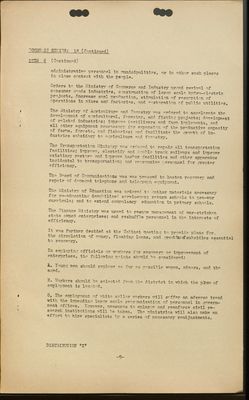 (View Page Image)
ECONOMIC SERIES: 18 (Continued)
administrative personnel in municipalities, or in other such places in close contact with the people.

Orders to the Ministry of Commerce and Industry urged revival of consumer goods industries, construction of large scale hydro-electric projects, increase coal production, stimulation of resumption of operations in mines and factories, and restoration of public utilities.

The Ministry of Agriculture and Forestry was ordered the accelerate the development of agricultural, forestry, and fishing projects; development of related industries; improve fertilizers and farm implements, and all other equipment neceassary for expansion of the productive capacity of farms, forests, and fisheries; and facilitate the growth of industries subsidary to agriculture and forestry.

The Transportation Ministry was ordered to repair all transportation facilities; improve, electrify and double track railways and improve existing; restore and improve harbor facilities and other apparatus incidental to transportation; and reorganize personnel for greater efficiency.

The Board of Communications was was pressed to hasten recovery and repair of damaged telephone and telegraph equipment.

The Ministry of Education was ordered to gather materials necessary for re-educating demobilized servicemen; return schools to pre-war curricula; and to extend compulsary education in primary schools.

The Finance Ministry was urged to resume management of war-stricken state owned enterprises; and reshuffle personnel in the interests of efficiency.

It was further decided at the Cabinet meeting to provide plans for the circulation of money, floating loans, and granting of subsidies essential to recovery.

In employing officials or workers for recovery or improvement of enterprises, the following points should be considered:
Young men should replace as far as possible women, minors, and the aged.
Workers should be selected from district in which the place of employment is located.
The employment of white collar workers will suffer an adverse trend with the impending large scale reorganization of personnel in government offices. However, measures to enlarge and reenforce civil research institutions will be taken. The ministries will also make an effort to hire specialists by a series of necessary readjustments.
DISTRIBUTION "X"

- 5 -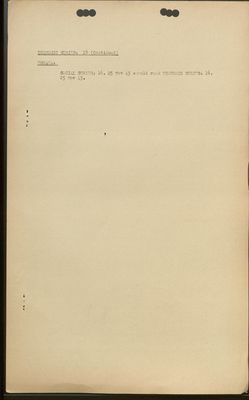 (View Page Image)
ECONOMIC SERIES: 18 (Continued)
SOCIAL SERIES: l6, 25 Nov 45 should read ECONOMIC SERIES: l6, 25 Nov 45.