Press translations [Japan]. Economic Series 0012, 1945-11-18.
translation-number: economic-0064
call-number: DS801 .S81
---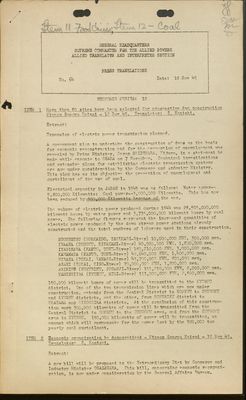 (View Page Image)
GENERAL HEADQUARTERS

SUPREME COMMANDER FOR THE ALLIED POWERS

ALLIED TRANSLATOR AND INTERPRETER SECTION

PRESS TRANSLATIONS

ECONOMIC SERIES: 12

ITEM 1 More than 80 sites have been selected for prospective dam construction Nippon Sangyo Keizai - 12 Nov 45. Translator: Z. Konishi.
Extract:

Expansion of electric power transmission planned.

A government plan to undertake the construction of dams as the basis for economic reconstruction and for the prevention of unemployment was revealed by Prime Minister, Baron SHIDEHARA, Kijuro, in a statement he made while enroute to OSAKA on 7 November. Technical investigations and extensive plans for establishing electric transmission systems are now under consideration by the Commerce and Industry Ministry. This plan has as its objective the prevention of unemployment and curtailment of the use of coal.

Electrical capacity in JAPAN in 1945 was as follows: Water power—5,800,000 Kilowatts; Coal power—3,000,000 Kilowatts. This has now been reduced by 500,000 Kilowatts because of the war.

The volume of electric power produced during 1944 was 28,505,000,000 kilowatt hours by water power and 3,735,000,000 kilowatt hours by coal power. The following figures represent the increased quantities of electric power produced by the down stream power stations already constructed and the total numbers of laborers used in their construction.

SOUNBETSU (HOKKAIDO, ISHIKARI-River) 10,000,000 KWH, 300,000 men.

IWAANA (TOHOKU, KITAKAMI-River) 40,900,000 KWH, 1,800,000 men.

IYAGISAWA (KANTO, TONE-River) 180,210,000 KWH, 3,000,000 men.

KAWAMATA (KANTO, TONE-River) 48,640,000 KWH, 1,400,000 men.

HIRAYA (TOKAI, YANAGI-River) 43,700,000 KWH, 800,000 men.

ASAHI (TOKAI, KISO-River) 70,000,000 KWH, 1,200,000 men.

ARIMINE (HOKURIKU, JOGANJI-River) 111,210,000 KWH, 2,000,000 men.

KAMISHIIRA (KYUSHU, MIMI-River) 111,000,000 KWH, 2,500,000 men.

150,000 kilowatt hours of power will be transmitted to the KYUSHU district. One of the two transmission lines which are now under construction, extends from the Central District in HONSHU to CHUGOKU and KYUSHU districts, and the other, from HOKURIKU district to OKAYAMA and HIROSHIMA districts. At the conclusion of this construction work 300,000 kilowatts of power will be transmitted from the Central District in HONSHU to the CHUGOKU area, and from the CHUGOKU area to KYUSHU. 150,000 kilowatts of power will be transmitted, an amount which will compensate for the power lost by the 500,000 ton yearly coal curtailment.

ITEM 2 Economic organization be democratized - Nippon Sangyo Keizai - 12 Nov 45. Translator: Z. Konishi.
Extract:

A new hill will proposed to the Extraordinary Diet by Commerce and Industry Minister OGASAWARA, This bill, concerning economic reorganization, is now under consideration by the General Affairs Bureau.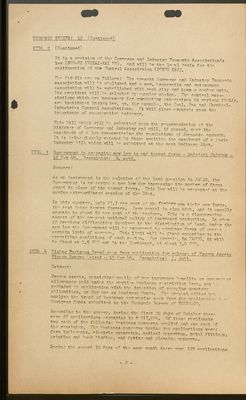 (View Page Image)
ECONOMIC SERIES: 12 (Continued)
It is a revision of the Commerce and Industry Economic Association's law (SHO-KO KEIZAI-KAI KO), and will be the level basis for the continuation of the Control Association (TOSEI KAI).

The details are as follows: The present Commerce and Industry Economic Association will be abolished and a new, democratic and autonomous association will be established with each city and town a member unit. Its president will selected by popular choice. The control associations which are necessary for regulating enterprises in various fields, are instituted in this law, as, for example, the Coal, Gas and Chemical-Industries Control Associations. It will place emphasis upon the importance of co-operative endeavor.

This bill which will be submitted upon the recommendation of the Minister of Commerce and Industry and will, if passed, mark the enactment of a law democratizing the regulations of Japanese economy. It is being closely watched by those awaiting the enactment of a basic industry bill which will be submitted at the next Ordinary Diet.

ITEM 3 Government is preparing new law to end tenant farms - Mainichi Shimbun - 12 Nov 45. Translator: R. Aoki.
Summary:

As an instrument in the solution of the land question in JAPAN the Government is preparing a new law for increasing the number of farms owned in place of the tenant farms. This law will be presented at the coming extraordinary session of the Diet.

In this country, only 27.7 per cent of the farmers own their own farms, the rest being tenant farmers. Farm rental is also high, and it usually amounts to about 50 per cent of the produce. This is a discouraging aspect of the present national policy of increased production. In view of previous difficulties involved in the distribution of land, under the new law the Government will be enpowered to purchase farms of over a certain limit of acreage. This limit will be fixed according to the prevailing conditions of each region. For example, in KANTO, it will be fixed At 1.5 CHO and in the Northeast, at about 3.0 CHO.

ITEM 4 Rising Business Trend seen from application for release of Frozen Assets Nippon Sangyo Keizai - 12 Nov 45. Translator: R. Aoki.
Extract:

Frozen assets, consisting mostly of war insurance benefits or government allowances paid under the wartime business restriction laws, can be refunded by application with the intention of repaying monetary obligations, or for use as business funds. The present editor tri analyze the trend of business enterprise seen from the application for business funds submitted to the Economic Bureau of TOKYO-TO.

According to the survey, during the first 10 days of October there were27 applications amounting to ¥ 917,804. Of these applicants two each of the following business concerns applied and one each of the remainder. The business concerns having two applications were: farm implements, electric apparatus, medical apparatus, metal fittings, printing and book binding, and dyeing and cleaning concerns.

During the second 10 days of the same month there were 115 applications.

- 2 -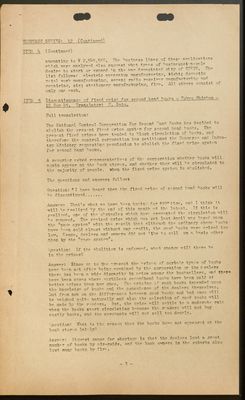 (View Page Image)
ECONOMIC SERIES: 12(Continued)
amounting to ¥ 2,545,588. The business lines of these applications which were analyzed also suggest what types of businesses people desire to start or expand in the war devastated city of TOKYO. The list follows: electric apparatus manufacturing, eight; domestic metal work manufacturing; seven; radio receiver manufacturing and repairing, six; stationery manufacturing, five. All others consist of only one each.

ITEM 5 Discontinuance of fixed price for second hand books - Tokyo Shimbun - 10 Nov 45. Translator: K. Sato.
Full translation:

The National Control Corporation For Second Hand Books has decided to abolish the present fired price system for second hand books. The present fixed, prices have tended to block circulation of books, and therefore the control corporation has petitioned the Commerce and Industry Ministry requesting permission to abolish the fixed, price system for second hand books.

A reporter asked representatives of the corporation whether books will again appear at the book stores, and whether they will be circulated to the majority of people. when the fixed price system is abolished.

The questions and answers follows:

Question: "I have heard that the fixed price of second hand books will be discontinued. . . . . . .

Answer: That's what we have been hoping for sometime, and I think it will be realized by the end of this month at the latest. If this is realized, one of the obstacles which have prevented the circulation will be removed. The revised price which was set last April was based upon the "page system" with the result that although the ordinary cheap books have been sold almost without any profit, the good books were priced too low, Hence, dealers and owners did not like to sell on a basis other than by the "page system".

Question: If the abolition is enforced, what change will there be in the prices?

Answer: Since up to the present the prices of certain types of books have been set after being examined, by the corporation or the dealers there has been a wide disparity in price among the booksellers, and there have been cases where worthless secondhand, books have been sold at better prices than new ones. The pricing of such books depended upon the knowledge of books and the conscience of the dealers themselves. But from now on the differences between good books and bad ones will be weighed quite naturally and also the selection of good books will be made by the readers. But, the price will settle to a moderate rate when the books start circulating because the readers will not buy costly books, and the merchants will not sell too dearly.

Question: What is the reason that the books have not appeared at the book stores lately?

Answer: Biggest cause for shortage is that the dealers lost a great number of books by air-raids, and the book owners in the suburbs also lost many books by fire.

- 3 -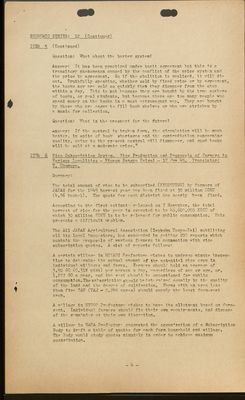 (View Page Image)
ECONOMIC SERIES: 12 (Continued)
Question: What about the barter system?

Answer: It has been practiced under tacit agreement but this is a transitory phenomenon caused by the conflict of the price system and the price by agreement. So if the abolition is realized, it will die out. Truthfully speaking, whether sold by fixed price or by agreement, the books now are sold so quickly that they disapper from the shop within a day. This is not because they are bought by the true seekers of books, or real students, but because there are too many people who spend money on the books in a most extravagant way. They are bought by those who are eager to fill book shelves or who are stricken by a mania for collection.

Question: What is the prospect for the future?

Answer: If the control is broken down, the circulation will be much better, in spite of book shortages and the contradiction concerning quality, owing to the present control will disappear, and good books will be sold at a moderate price."

ITEM 6 Rice Subscription System. Rice Production and Proposals of Farmers in Various Localities - Nippon Sangyo Keizai - 12 Nov 45. Translator: T. Okamura.
Summary:

The total amount of rice to be subscribed (KYOSHUTSU) by farmers of JAPAN for the 1945 harvest year has been fixed at 30 million KOKU (4,96 bushel). The quota for each district has nearly been fixed.

According to the first estimate released on 7 November, the total harvest of rice for the year is expected to be 46,600,000 KOKU of which 30 million KOKU is to be released for public consumption. This presents a difficult problem.

The All JAPAN Agricultural Association (Zenkoku Nogyo-Kai) mobilizing all its local inspectors, has succeeded in getting 200 reports which contain the proposals of various farmers in connection with rice subscription quotas. A gist of reports follows:

A certain village in MIYAGI Prefecture wishes to undergo minute inspection to determine the actual amount of the potential rice crop in individual Villages and. farms. Farmers should hold an average of 3.50 GO (0.318 pint) per person a day, regardless of sex or age, or, 1,277 GO a year, and the rest shou1d be opportioned for public consumption. The subscription should be determined equally by the quality of the land and the degree of cultivation. Farms with an area less than five TAN (TAN = 0.245 acres) should supply the least farm-rent crop.

A village in HYOGO Prefecture wishes to have its allotment based on farmrent. Individual farmers should fix their own requirements, and dispose of the remainder at their own discretion.

A village in NARA Prefecture suggested the organization of a Subscription Body to draft a table of quotas for each farm household and village. The Body would study quotas minutely in order to achieve maximum contribution.

- 4 -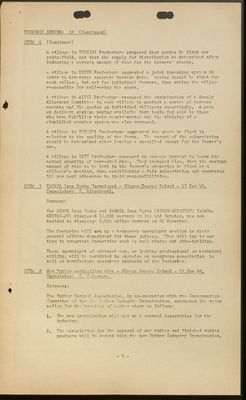 (View Page Image)
ECONOMIC SERIES: 12 (Continued)
A village in TOCHIGI Prefecture proposed that quotas he fixed per paddy-field, and that the supply for distribution he determined after deducting a certain amount of rice for the farmers' stocks.

A village in KYOTO Prefecture suggested a joint threshing system in order to determine accurate harvest data. Quotas should be fixed for each village, but not for individual farmers, thus making the village responsible for delivering the quota.

A village in AICHI Prefecture proposed the organization of a Supply Allotment Committee in each village to conduct a survey of harvest amounts and fix quotas on individual villagers accordingly. A cash on delivery system; making available farm tools for sale to those who have fulfilled their requirements; and the divising of a simplified packing system was also proposed.

A village in TOTTORI Prefecture suggested the quota be fixed in relation to the quality of the farms. The amount of the subscription should be determined after leaving a specified amount for the farmer's use.

A village in GIFU Prefecture proposed an acreage harvest learn the actual quantity of harvested rice. They proposed also, that the maximum amount of rice to be left in the farmer's graneries be fixed at a villager's meeting, thus establishing a fair subscription and promising 100 per cent adherence to their responsibilities.

ITEM 7 YAWATA Iron Works Unemployed - Nippon Sangyo Keizai - 13 Nov 45. Translator: T. Mitsuhashi.
Summary:

The NIHON Iron Works and YAWATA Iron Works (NIHON-SEITETSU: YAWATASEITSU-JO) dismissed 16,000 workers in the mid October, has now decided to discharge 2,000 office workers on 20 November.

The factories will set up a temporary unemployed section in their general affairs department for these jobless. They will try to use them in important industries such as coal mining and ship-building.

Those unemployed of advanced age, or lacking professional or technical ability, will be permitted to organize an anonymous association to sell or manufacture secondary products of the factories.

ITEM 8 New Rubber controlling plan - Nippon Sangyo Keizai - 13 Nov 45. Translator: T. Kitagawa.
Extracts:

The Rubber Control Association, in co-operation with the Inauguration Committee of the New Rubber Industry Organization, announced the major policy for the handling of rubber stock as follows:
The new organization will set up a control association for the industry.
The association for the control of raw rubber and finished rubber products will be merged with the new Rubber Industry Organization.

- 5 -



(View Page Image)



ECONOMIC SERIES: 12 (Continued)





ITEM 8

(Continued)
Each representative will have one vote.
A fixed number of representatives will be chosen by localities.
The representative of each business has the right to vote and is qualified to be elected.
A director will be chosen at the meeting of representatives.
The president of the board of directors is to be permanent.
There will be a managing director.
There will be branch offices.
Associations authorized to do business will be established and will be given a part of the executive powers of the board of directors.
Each factory will have an association.
Rubber Utilizing Industry Association, Reclaimed Rubber Association, Remade Material Association, Rubber Powder Association, and Reclaimed Tires Association, which have been members of the Rubber Control Association will become members of the new association.
There will be 12 promoters covering the country.
ITEM 9 Turn-over to civilian Industry in various regions - Nippon Sangyo Keizai 13 Nov 45. Translator: Y. Kurata.
Full translation:

The MITSUBISHI heavy bomber plant in KUMAMOTO is to be converted to produce necessary commodities such as scoops, buckets, pick-axes and fire-shovels. It has 1,800 workers, both men and women, 24 engineering machines, and seven wood-working machines, and its monthly production capacity is as follows: 250 pick-axes, 2,000 scoops, 2,000 hoes, 1,000 boxes for clothing, and 30,000 rice-chests.

The KUROSAKI plant of the JAPAN Aluminium Industry will start production of table salt 15 November 1945. It plans to produce three tons of salt daily by making use of present facilities, but future plans call for convertion of reclaimed lands, belonging to the plant, into salt-beds, to produce 15 tons of salt daily. The company also plans to exchange distilled water with the KUROSAKI plant of the MITSUBISHI Chemical Industry for calcium sulfates of aluminium for use in the paper industry.

The YASUKAWA Electric Industry has absorbed its subsidiary the YASUKAWA Aircraft Company. Consequently, the aircraft company's YUKIBASHI plant will turn out two or three horsepower motors, and the main factory, will produce a motor with about horsepower adaptable for use in small boats. The companies have taken steps to reshuffle the managing directors, staff-members and workers, and curtail the organization.

- 6 -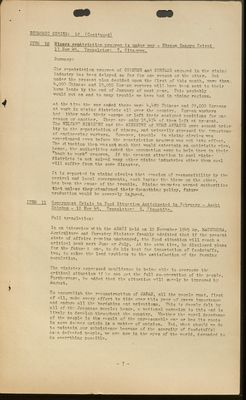 (View Page Image)
ECONOMIC SERIES: 12 (Continued)
ITEM 10 Miners repatriation program is under way - Nippon Sangyo Keizai 13 Nov 45. Translator: T. Kitagawa.
Summary:

The repatriation program of CHINESE and KOREANS engaged in the mining industry has been delayed so far for one reason or the other. But under the present plan decided upon the first of this month, more than 4,000 Chinese and 15,000 Korean workers will have been sent to their home lands by the end of January of next year. This probably would put an end to many trouble we have had in mining regions.

At the time the war ended there were 4,480 Chinese and 29,000 Koreans at work in mining districts all over the country. Korean workers had either made their escape or left their assigned positions for one reason or another. There are only 15,474 of them left at present. The WELFARE MINISTRY and the MINISTRY of HOME AFFAIRS gave second priority to the repatriation of miners, and. primarily stressed the importance of engineering workers. However, trouble in mining circles was experienced even before the repatriation program was put into effect. The situation then was not such that would entertain an optimistic view, hence, the authorities asked the occupation army to help them in their "back to work" program. If the present situation in coal mining districts is not solved many other mining industries other than coal will suffer from the same disaster.

It is reported in mining circles that evasion of responsibility by the central and local governments, each laying the blame on the other, has been the cause of the trouble. Mining magnates warned authorities that unless they abandoned their do-nothing policy, future production would be severely injured.

ITEM 11 Government Crisis in Food Situation Anticipated in February - Asahi Shimbun - 12 Nov 45. Translator: S. Kinoshita.
Full translation:

In an interview with the ASAHI held on 10 November 1945 Mr. MATSUMURA, Agriculture and Forestry Minister frankly admitted that if the present state of affairs remains unchanged, the food situation will reach a critical peak next June or July. At the same time, he disclosed plans for the future: one, to do his best for importation of foodstuffs, two, to solve the land problems to the satisfaction of the farming population.

The minister expressed confidence in being able to overcome the critical situation if he can get the full co-operation of the people. Furthermore, he added that the situation will surely be improved by August.

To accomplish the reconstruction of JAPAN, all the people must, first of all, make every effort to tide over this year of grave importance and endure all the hardships and privations. This is deeply felt by all of the Japanese people; hence, a national campaign to this end is likely to develop throughout the country. Whether the moral decadance of the people is the result of the unreasonable war or has its roots in some deeper origin is a matter of opinion. Yet, what should we do to maintain our subsistence because of the scarcity of foodstuffs? As a defeated people, we are now in the eyes of the world, demanded to do everything possible.

- 7 -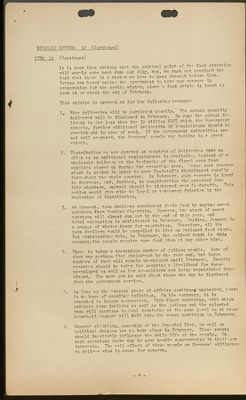 (View Page Image)
ECONOMIC SERIES: 12 (Continued)
It is more than obvious that the critical point of the food situation will surely come next June and July, but, we must not overlook the fact that there is a winter we have to pass through before that. Voices are heard urging the government to take any measure in preparation for the coming winter, since a food crisis is bound to come at or about the end of February.

This opinion is arrived at for the following reasons:
Rice deliveries will be completed shortly. The actual quantity delivered will be disclosed in February. In case the actual delivery is far less than the 30 million KOKU which the Government expects, further additional deliveries or requisitions should be carried out in case of need. If the government authorities are not well prepared, the farmers' morale may decline to a great extent.
Distribution as now carried on consists of deliveries made as often as an additional replenishment is available, instead of a wholesale delivery at the beginning of the fiscal year from supplies stored up during the preceding year. Hence some reserve stock is needed in order to have foodstuffs distributed equally throughout the whole country. In February, such reserve is bound to decrease, and, further, in consideration the expected June July shortage, control should he tightened over foodstuffs. This action would give rise to local or temporary friction in the mechanism of distribution.
At present, town dwellers supplement their food by buying sweet potatoes from farming districts. However, the stock of sweet potatoes will almost run out by the end of this year, and total exhaustion is anticipated in February. Besides, January is a season of winter decay for vegetables. Therefore, all the town dwellers would be compelled to live on rationed food alone. Not withstanding this, in February, the coldest month in this country, the people require more food than at any other time.
There is today a tremendous number of jobless people. Some of them may perhaps find employment by the year end, but large numbers of them will remain unemployed until February. Drastic measures should be taken for securing a livelihood for these unemployed as well as for ex-soldiers now being repatriated from abroad. The same can be said about those who may be dismissed from the government service.
As long as the present state of affairs continues unchecked, there is no hope of avoiding inflation. On the contrary, it is expected, to become aggravated. With black marketing, with which ordinary town dwellers as well as the jobless and the salaried mass will continue to deal remaining at the same level as at prese household economy will fall into the worst condition in February.
General elections, assembly of the Imperial Diet, as well as political changes are to take place in February. These events should inevitably influence the dally life of the people. On such occasions there may be some people manoeuvering in their own interests. The evil effect of these people on farmers' willingnes to deliver rice is cause for concern.
- 8 -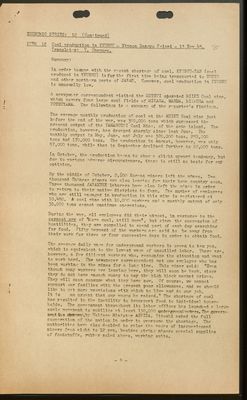 (View Page Image)
ECONOMIC SERIES: 12 (Continued)
ITEM 12 Coal production In KYUSHU - Nippon Sangyo Keizal - 13 Nov 45. Translator: T. Okamura.
Summary:

In order to cope with the recent shortage of coal, KYUSHU-TAN (coal produced in KYUSHU) is for the first time being transported to TOKYO and other northern parts of JAPAN. However, coal production in KYUSHU is unusually low.

A newspaper correspondent visited the MITSUI operated MIIKE Coal mine, which covers four large coal fields of MIKAWA, MANDA, MIYAURA and YOTSUYAMA. The followings is a summary of the reporter's findings.

The average monthly production of coal at the MIIKE Coal mine just before the end of the war, was 300,000 tons which surpassed the present output of the YAMAGUCHI Coal Mine, of the same island. The production, however, has dropped sharply since last June. The monthly output in May, June, and July was 320,000 tons, 250,000 tons And 170,000 tons. The production in August, however, was only 57,000 tons, while that in September declined further to 22,000 tons.

In October, the production began to show a slight upward tendency, but due to various adverse circumstances, there is still no basis for any optimism.

By the middle of October, 2,600 Korean miners left the mines. Two thousand Chinese miners are also leaving for their home country soon. Three thousand JAPANESE laborers have also left the mines in order to return to their native districts to farm. The number of employees who are still engaged in production in this mine is registered at 10,450. A coal mine with 10,000 workers and a monthly output of only 30,000 tons cannot continue operations.

During the war, all employees did their utmost, in response to the
earnest cry
of "More coal, still more", but since the suspension of hostilities, they are compelled to spend part of each day searching for food. Fifty percent of the workers are said to be away from their work for three or four successive days in order to obtain food.
The average daily wage for underground workers is seven to ten yen, which is equivalent to the lowest wage of unskilled labor. There are, however, a few diligent workers who, recognize the situation and want to work hard. The newspaper correspondent met one employee who has been working in the mines for a long time. This miner said: "Even though many workers are leaving here, they will soon be back, since they do not have enough money to pay the high black market prices. They will soon consume what they have now. Of course, we cannot support our families with the present poor allowances, and we should like to get more provisions with which to live and do our job. It is an urgent that our wages be raised." The shortage of coal has resulted in the inability to transport food to individual house-holds. The government throughout its labor offices has launched a large scale movement to mobilize at least 130,000 underground workers. The government in a statement, by Welfare Minister ASHIDA, Hitoshi asked the full cooperation of the nation in order to overcome the shortage. The authorities have also decided to raise the wages of inexperienced miners from eight to 12 yen, besides giving miners special supplies of foodstuffs, rubber soled shoes, working suits.

- 9 -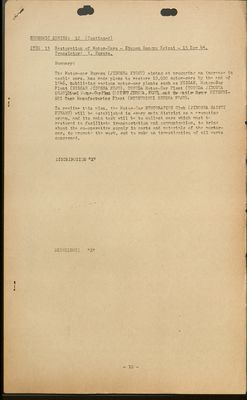 (View Page Image)
ECONOMIC SERIES: 12 (Continued)
ITEM 13 Restoration of Motor-Cars - Nippon Sangyo Keizai - 13 Nov 45. Translator: Y. Kurata.
Summary:

The Motor-car Bureau (JIDOSHA KYOKU) aiming at procuring an increase in usable cars, has made plans to restore 10,000 motor-cars by the end of 1946, mobilizing various motor-car plants such as NISSAN, Motor-Gar Plant (NISSAN JIDOSHA KOJO), TOYODA Motor-Car Plant (TOYODA JIDOSHA KOJO) Diesel Motor-Car Plant (DIZHU JIDOSHA, KOJO), and the entire former MITSUBISHI Tank Manufacturing Plant (MITSUBISHI SENSHA KOJO).

To realize this plan, the Motor-Car RESTORATION Club (JIDOSHA SAISEI KURABU) will be established in every main district as a promoting organ, and its main task will be to collect cars which must be restored to facilitate transportation and communication, to bring about the co-operative supply in parts and materials of the mortor-car, to promote the work, and to make an investigation of all works concerned.

DISTRIBUTION "X"

- 10 -