Press translations [Japan]. Economic Series 0007, 1945-11-13.
translation-number: economic-0032
call-number: DS801 .S81
---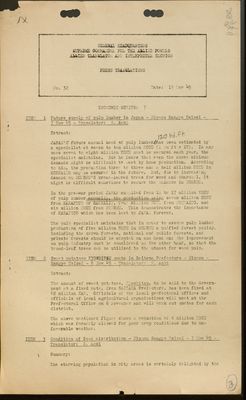 (View Page Image)
GENERAL HEADQUARTERS

SUPREME COMMANDER. FOR THE ALLIED POWERS

ALLIED TRANSLATON AND INTERPRETER SECTION

PRESS TRANSLATIONS

ECONOMIC SERIES: 7

ITEM 1 Future supply of pulp lumber in Japan - Nippon Sangyo Keizai - 7 Nov 45 - Translator: R. Aoki
Extract:

JAPAN'S future annual need of pulp lumber has been estimated by a specialist at seven to ten million KOKU (1 cu ft x 10). In any case seven to eight million KOKU must be secured each year, the specialist maintains. But he fears that even the above minimum demands might be difficult to meet by home production. According to him, the production three to three and a half million KOKU in HOKKAIDO may be assured in the future. But, due to increasing demand on HONSHU'S broad-leaved trees for wood and charcoa1, it might be difficult sometimes to secure the balance in HONSHU.

In the pre-war period JAPAN supplied from 16 to 17 million KOKU of pulp lumber annually, the production being seven million KOKU from KARAFUTO or SAKHALIN, four million KOKU from HOKKAIDO, and six million KOKU from HONSHU. This demonstrates the importance of KARAFUTO which has been lost to JAPAN forever.

The pulp specialist maintains that in order to assure pulp lumber production of five million KOKU in HONSHU a unified forest policy, including the crown forests, national and public forests, and private forests should be adopted on one hand and the improvement on pulp industry must be considered on the other hand, so that the broad-leaf trees can be utilized to the utmost for wood pulp.

ITEM 2 Sweet potatoes KYOSHITSU quota in Saitama Prefecture - Nippon - Sangyo Keizai - 5 Nov 45 - Translator: R. Aoki
Extract:

The amount of sweet potatoes,
Kyoshitsu
, to be sold to the Government at a fixed rate, from SAITAMA Prefecture, has been fixed at 42 million KAN. Officials of the local prefectural offices and officials of local agricultural organizations will meet at the Prefectural Office on 6 November and will work out quotas for each district.
The above mentioned figure shows a reduction of 8 million KOKU which was formerly allowed for poor crop conditions due to unfavorable weather.

ITEM 3 Condition of Food distribution - Nippon Sangyo Keizai - 7 Nov 45 - Translator: R. Aoki
Summary:

The starving population in city areas is certainly delighted by the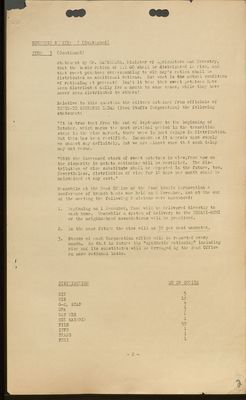 (View Page Image)
ECONOMIC SERIES: 7 (Continued)

statement by Mr. MATSUNURA, Minister of Agriculture and Forestry, that the basic ration of 2.1 GO shall be distributed in rice, and that sweet potatoes corresponding to six day's ration shall be distributed as additional rations. But what is the actual condition of rationing at present? Isn't it true that sweet potatoes have been distributed daily for a month to some homes, while they have never been distributed to others?

Relative to this question the editors obtained from officials of TOKYO-TO SHOKURYO EIDAN (Food Stuffs Corporation) the following statement:

"It is true that from the end of September to the beginning of October, which marks the most critical period in the transition stage in the rice market, there were in part delays in distribution. But this has been rectified. Inasmuch as it depends upon supply we cannot say definitely, but we are almost sure that such delay may not recur.

"With the increased stock of sweet potatoes in view, from now on the disparity in potato rationing will be rectified. The distribution of rice substitute shall be expected in the future, too. Nevertheless, distribution of rice for 10 days per month shall be maintained at any cost."

Meanwhile at the Head Office of the Food Stuffs Corporation a conference of branch heads was held on 6 November, and at the end of the meeting the following decisions were announced:
Beginning on 1 December, food will be delivered directly to each home. Meanwhile a system of delivery to the TONARI-GUMI or the neighborhood associations will be practiced.
In the near future the rice will be

98 per cent uncoated

.
Stocks of each Corporation office will be reported every month. So that in future the "synthetic rationing" including rice and its substitutes will be arranged by the Head Office on more rational basis.
| | |
| --- | --- |
| DISTRIBUTION | NO OF COPIES |
| CIE | 5 |
| CIS | 12 |
| G-2, SCAP | 3 |
| GPA | 3 |
| NAT RES | 6 |
| COL MASHBIR | 1 |
| FILE | 50 |
| INFO | 1 |
| TRANS | 1 |
| PERI | 1 |
- 2 -