John Wheelock, discharge, 1790 March 4
ms-number: 790204.2
[note (type: abstract): A draft of John Wheelock's discharge of claims on the funds collected for the Charity School.]
[note (type: handwriting): Informal handwriting is occasionally difficult to decipher.]
[note (type: paper): One sheet folded in half to form four pages is in good condition, with light creasing, staining and wear.]
[note (type: ink): Dark-brown.]
[note (type: noteworthy): As is noted on two verso, the document is a draft. The contents of this document are very similar to those of manuscript 790204.1.]
[note (type: signature): The document is initialed.]
---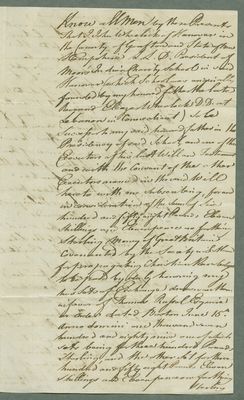 (View Page Image)
Know all Men by these Presents
That I
John Wheelock

[pers0576.ocp]
of
Hanover

[place0095.ocp]
in
the
County of Grafton

[place0299.ocp]
and
State of New
Hampshire

[place0160.ocp]
L.L.D. President of
Moor's Indian Charity School

[org0098.ocp]
in said
Hanover

[place0095.ocp]
(which School was originally
founded by my honored father the late
Reverend
Eleazar Wheelock

[pers0036.ocp]
D.D. at
Lebanon

[place0122.ocp]
in
Connecticut

[place0048.ocp]
) to be
[Succeſsor | successor]
Succeſsor
successor
to my
said honored father

[pers0036.ocp]
in
[illegible]
[guess (h-dawnd): the]
the
Presidency of
said School

[org0098.ocp]
, and one of the
[Exectuors | executors]
Exectuors
executors
of his last Will and Testament
and with the Consent of the other
Executors named in the said Will
hereto with me Subscribing, for and
in consideration of the Sum of Six
hundred and fifty eight Pounds Eleven
Shillings and Eleven pence
[illegible]
[guess (h-dawnd): one]
one
farthing
Sterling Money of
Great Britain

[place0090.ocp]
Covenanted by the
Society in Scotland
for propagating Christian Knowledge

[org0096.ocp]
to be paid by duly honoring my
two Sets of Exchange drawn on them
in favor of
Thomas

[Ruſsel | Russel]

Ruſsel

Russel

[pers0820.ocp]
Esquire
on order dated
Boston

[place0013.ocp]
June [15.

[illegible]

[guess (h-dawnd): th]

th

| 15th]15.

[illegible]

[guess (h-dawnd): th]

th

15th


Anno domini one thousand seven
hundred and eighty nine

[1789-06-15]
one of which
sets being for three hundred Pounds
Sterling, and the other Set for three
hundred and fifty eight Pounds Eleven
Shillings and Eleven pence one farthing
Sterling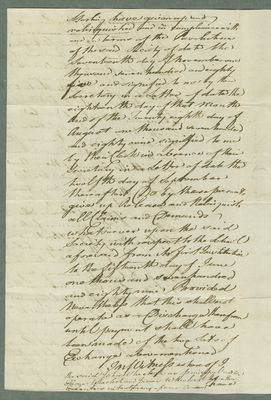 (View Page Image)
Sterling
have given up and
relinquished
and in compliance with
and in terms of the Resolutions
of the
said Society

[org0096.ocp]
of date the
Seventeenth day of November one
thousand seven hundred and eighty


[illegible]

five

[1785-11-17]
and
[signifed | signified]
signifed
signified
to me by
their
Secretary

[pers0532.ocp]
in a Letter of date the
eighteenth day of that Month

[1785-11-18]
and of the
Twenty eighth day of
August one thousand seven hundred
and eighty nine

[1789-08-28]
sign
[illegible]
ified to me
by their Clerks in absence of their
Secretary in a Letter of date the
twelfth day of September

[1789-09-12]
thereafter Do by these presents
give up Release and Relinquish
all Claims and Demands
[illegible]
[whatsover | whatsoever]
whatsover
whatsoever
upon the
said
Society

[org0096.ocp]
with respect to the
School
aforesaid

[org0098.ocp]
from its first Institution
to the
fifteenth day of June
one thousand

[sevenhundred | seven hundred]

sevenhundred

seven hundred


and eighty nine

[1789-06-15]
[illegible]
Provided
[Nevertheleſs | nevertheless]
Nevertheleſs
nevertheless
that this shall not
operate as a Discharge therefrom
until payment shall have
been made of the two Sets of
Exchange
[abovementioned | above mentioned]
abovementioned
above mentioned
In
[Witneſs | witness]
Witneſs
witness
whereof I
the said
John Wheelock

[pers0576.ocp]
as principal and
[illegible]
Eleazar Wheelock

[pers0036.ocp]
and
James Wheelock

[pers1190.ocp]
the other
[Exectuors | executors]
Exectuors
executors
in testimony of our
[Covenent | covenant]
Covenent
covenant
have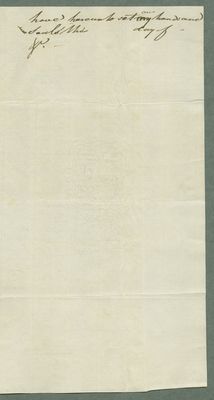 (View Page Image)
have hereunto set
[illegible]
my
⇑
[above]
our
our
hands and
Seal
[illegible]
this day of —
[J.

w

| J. W.]
J.

w
J. W.
[pers0576.ocp]
—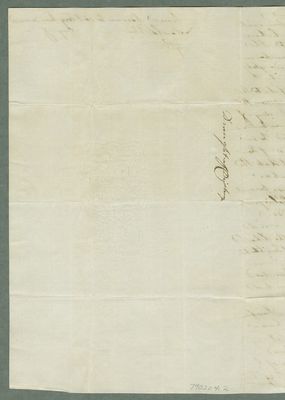 (View Page Image)
[Trailer]
[Draught | Draft]
Draught
Draft
of Discharge
Moor's Indian Charity School
Moor's Indian Charity School was a grammar school for Native Americans that Eleazar Wheelock opened in North Lebanon, Connecticut in 1754. The school was named for Colonel Joshua Moor, also spelled More, who donated the land and school building. Moor's was essentially an expansion of the grammar school that Wheelock opened in 1743 to support himself during the fallout from the First Great Awakening, when Wheelock, who'd participated in itinerant ministry during the Awakening, had his salary confiscated by the colony of Connecticut. In December of that year, Samson Occom asked Wheelock to teach him as well. Wheelock's work with Occom was so successful that Wheelock decided to replicate the experiment with other Native American boys. He accepted his first Indian students in 1754, and in 1761 began taking female students as well. Wheelock believed that in time, his school would become just one part of a larger missionary enterprise. He planned to send his Anglo American and Native American students to various tribes as missionaries and schoolmasters, with explicit instructions to pick out the best students and send them back to Moor's to continue the cycle. His ultimate goal was to turn his school into a model Christian Indian town that would include farms, a college, and vocational training. However, Wheelock's grand design did not survive the decade. Wheelock lost the vast majority of his Native American students; he fought with many of the best, including Samson Occom, Joseph Johnson, David Fowler, and Hezekiah Calvin, and other former and current students accused him of subjecting Native Americans to disproportionate amounts of manual labor. In 1769, perhaps due to concerns about corporal punishment, the Oneida withdrew all their children from Moor's. When Wheelock relocated to Hanover in 1769, only two Native American students came with him, and it became clear that Wheelock's focus was on Dartmouth and that Dartmouth was for white students. After Wheelock's death in 1779, Moor's Indian Charity School receded further into the background as John Wheelock, his father's reluctant successor, stopped taking Indian students. Some Native American students were enrolled in Moor's until 1850, when the school unofficially closed.
Society in Scotland for Propagating Christian Knowledge
The Society in Scotland for Propagating Christian Knowledge (SSPCK) is a Presbyterian missionary society formed in 1709 and still active today. The SSPCK was founded to anglicize the Scottish Highlands, which at the time were predominantly Gaelic and had little in common with lowland Scotland. British Protestants identified many of the same "problems" in Gaelic and Native American society, and in 1730, the SSPCK expanded into the colonies via a board of correspondents in Boston. Although most of Wheelock's contact with the SSPCK took place through its Boston, New Jersey/New York, and Connecticut boards, he did work directly with the SSPCK parent organization during Occom's fundraising tour of Great Britain (1765-1768). Since Occom was technically sent to England by the Connecticut Board of the SSPCK, it was only natural that his tour include a visit to the parent organization in Edinburgh. The SSPCK, headed by the Marquis of Lothian, issued a bulletin to its member churches which allowed Whitaker and Occom to collect a substantial sum of money with little time or travel. While most of the money that Occom raised went into a trust under the Earl of Dartmouth (the English Trust), the money he raised in Scotland (approximately £2,500) went into an SSPCK-controlled fund that ultimately proved difficult to access. While the English Trust essentially gave Wheelock a blank check for the money it controlled (much of which went toward clearing land and erecting buildings for Dartmouth College), the SSPCK was much more stringent about requiring that the money Occom had raised be applied only to Native American education. As was often the case in the 18th-century British-Atlantic world, religious politics were a powerful motivator. Wheelock and the SSPCK both practiced Reformed Protestant Christianity, but New Hampshire was an Episcopalian colony. To make Wheelock's Reformed Protestantism more palatable to Episcopalian New Hampshire, the New Hampshire governor attempted to make the Anglican Bishop of London a member of the English Trust and possibly the Dartmouth Trustees (the Bishop of London seems to have never replied to the invitation). Dartmouth's geographic association with the Episcopalian Church, in addition to concerns about the use of the fund, gave the SSPCK an incentive to withhold money from Wheelock. It only issued Wheelock £190 throughout his life, although it did provide financial support to Samuel Kirkland out of the fund. It is worth noting that Wheelock seems to have been well aware that he would have trouble getting money from the SSPCK: he went through the entirety of the English Trust's fund before soliciting the SSPCK. Subsequent Dartmouth presidents struggled to access the money, with limited success, until 1893. In 1922, the SSPCK concluded that since Moor's Indian Charity School had become defunct, it was within its rights to devote the remainder of the fund—then valued at £10,000—to other missionary operations.
Hanover
Hanover is a town in Grafton County, New Hampshire, which is located along the Connecticut River in the west-central area of the state, originally occupied by the Abenaki Tribe. It was chartered by Governor Benning Wentworth in 1761 as "Hannover," and four years later, European settlers arrived, mostly from the colony of Connecticut. Although heavily wooded, Hanover became an agricultural community. In 1769, Eleazar Wheelock established Dartmouth College near the Common at a village called "the Plain," a level tract of land about a mile above the River. For a few years in the 1780s, the southwest corner of the town, called "Dresden," along with several other disgruntled villages along the River who felt they were not being adequately represented in the state legislature, defected from New Hampshire and joined the independent Republic of Vermont. The village of Hanover, not to be confused with Hanover Center, another village located in the center of the township, grew up around the College and became the locus for the Presbytery of Grafton.
Grafton County
Originally known as "The fifth," that is, the fifth county in New Hampshire, Grafton County was established by an act of the Colonial legislature on 19 March 1771 to encompass all the land in the colony not a part of the other four counties. It was named for Augustus Henry Fitzroy, Duke of Grafton (1735-1811), a supporter of American causes in the English Parliament, who was British Prime Minister at the time. An immense tract of land that stretched one hundred and fifty miles south from the border of what is now Cananda, the entire northern frontier of New Hampshire, it was divided several times until its borders were fixed in 1829 to finally encompass 1,463 square miles. It is bounded north by Coos County, east by Coos, Carroll and Belknap Counties, south by Merrimack and Sullivan Counties and west by the west bank of the Connecticut River. Twenty-nine of its towns were granted under King George II, several of which are now in Vermont. When Wheelock arrived in Hanover in 1769 to establish his "College," Grafton County had not yet been established; the township of Hanover was then in a region called "Cowas" or "Coos." Soon after the county's establishment in 1771, Wheelock and his son-in-law Bezaleel Woodward, also the first librarian of the College, became Justices of the Peace for Grafton County, hearing cases in Woodward's residence.
New Hampshire
The state of New Hampshire is in northern New England, bordered by Vermont to the west, Maine to the east, Massachusetts to the south, and Canada to the north. The Connecticut River, which begins in Canada and empties into the Long Island Sound, runs along the western border of New Hampshire and, in the colonial period, functioned as a route for trade -- both of commodities and ideas -- between southern New England and the northernmost parts of America. New Hampshire was originally inhabited by large groups of Abenakis who spoke a dialect of Algonquin distinct from New England tribes to the south, but by 1617, disease and war had brought their number to only 5,000. European fishing fleets had travelled to the coast of New Hampshire since at least 1497, but English settlement of New Hampshire formally began when Captain John Mason, Governor of Portsmouth in Hampshire, England, was granted land in the region in 1622. Settlers arrived in 1623, establishing a base near what is now Portsmouth and entering the fur, fish, and timber trade. In 1641, New Hampshire agreed to come under Massachusetts' jurisdiction, but in 1679, Charles II gave New Hampshire its own charter. From then on, the Province of New Hampshire had its own government, consisting of a royal Governor and Council and an elected House of Representatives. By the time Wheelock moved Moor's Indian Charity School to New Hampshire, the colony was experiencing unprecedented growth. English victory in the French and Indian War stabilized the region, and as a result New Hampshire's Governor Benning Wentworth began to grant hundreds of townships to new settlers, many from the colony of Connecticut. Though Wheelock considered moving Moor's Indian Charity School to several different places, he finally decided on Hanover, NH, in 1768. Because Benning Wentworth was not receptive to Wheelock and his school, it was his nephew and successor Governor John Wentworth who signed Dartmouth College's charter in 1769. In August 1770, Wheelock moved his family to New Hampshire and established Dartmouth College. Moor's and the College would exist side-by-side in Hanover for decades. Soon after Wheelock founded Dartmouth in New Hampshire, the Revolutionary War began and the colony declared its independence. While several buildings and locations around Hanover bear Occom's name, he never visited the town or the college.
Lebanon
Lebanon is a town located in the state of Connecticut southwest of the town of Hartford. The land that became Lebanon was inhabited at least 10,000 years ago based on the archeological record. By the 1600s, the land was permanently inhabited by the Mohegan Indians, who used the area primarily for hunting. Lebanon was officially formed in 1700 when English settlers consolidated a number of land tracts, including several land grants by the Connecticut General Assembly and lands purchased from the Mohegans. However, these purchases were controversial. In 1659, the Mohegans entrusted their reserve land to Major John Mason, and in the following year, Mason transferred this land to the Connecticut colonial government with the understanding that there would be enough land left for the Mohegans to farm. The Mohegans claimed that they never authorized a transfer to the colonial government and only Mason's heirs were entrusted with their land. In 1662, Connecticut, which included the Mohegan land that had been entrusted to the Masons, was incorporated by a royal charter. Based on this charter, the colony argued that the land was now the property of the government. In 1687, the colony began granting the Mohegan land to townships, and in 1704 the Masons petitioned the Crown on behalf of the Mohegans, claiming that such transfers of land to townships were illegal. Between the years of 1705 and 1773 legal disputes and controversies persisted, finally ending in a verdict by the Crown against the Mohegans. In 1755, Wheelock received property and housing in Lebanon that he would use as his house and school. While Lebanon was originally incorporated as a part of New London County in 1700, in 1724 it became a part of New Windham, before once again becoming a part of New London County in 1826. Lebanon was central to the American Revolution with half of its adult population fighting for the colonists and hundreds of meetings convened in the town for the revolutionary cause.
Connecticut
Connecticut is a state in southern New England that borders Massachusetts to the north and the Long Island Sound to the south. Its name is derived from the Algonquian "Quonehtacut," meaning "long river," referring to the Connecticut, which runs from the border with Canada into the Long Island Sound. The area was originally inhabited by Algonquian-speaking Pequots, Mohegans, and Quinnipiacs. European settlers took advantage of tribal divisions to establish dominance in the region. Dutch explorer Adrian Block sailed up the Connecticut River in 1614, establishing an active Dutch trading post at what is now Hartford. English claims to Connecticut began in 1630, but settlement truly began when Thomas Hooker, a Congregationalist minister now known as "The Father of Connecticut," left Boston to found Hartford in 1636. Hartford became the center of the Colony of Connecticut, which did not receive its charter until 1662 when Governor John Winthrop, Jr. secured it from Charles II. In 1665, the Colony of New Haven, established in 1638 by the Puritan minister John Davenport, joined the Colony of Connecticut under this charter. Early settler relations with local Indians were tense, and encouraged the New England colonies of Massachusetts Bay, Plymouth, Connecticut, and New Haven to unify as the "United Colonies" or "New England Confederation" and fight together, with Indian allies, in the Pequot War and again in King Philip's (Metacom's) War. These wars helped establish a specifically Connecticut and specifically American identity; the latter drove the colony to join the rebellion against Britain in 1776. Occom, born into a Mohegan household in Connecticut, was closely associated with the Colony and retained strong ties to the region throughout his life. He converted to Christianity in 1743 when the Great Awakening spread through Connecticut, and inspired Wheelock's Indian Charity School, which was founded in Lebanon, CT in 1754. He also became involved in the Mason Land Case, a long-standing dispute over the ownership of reserve Mohegan lands in Connecticut. Wheelock also had strong ties to Connecticut, moving his Indian Charity School only when the colony would not grant it a charter.
Boston
The first English immigrant to settle on a peninsula in a harbor on the northeastern coast of North America the local Algonquin Indians called "Shawmet" was William Blackstone in 1629. A year later, John Winthrop arrived with a group of English Puritans and other settlers and named the area Boston after his hometown in Lincolnshire, England. The colony quickly developed representative political institutions that would help shape a democratic nation. Over the next few centuries, Boston emerged as an intellectual and educational center, and, because of its excellent harbor, became a leading commercial hub and a primary port for North America. It is the capital and largest city of the Commonwealth of Massachusetts, and the largest city in New England. Boston was the home for the Boards of Commissioners of several overseas religious societies who sent missionaries throughout the colonies in the 18th century, and was the site of many important events of the American Revolution.
Wheelock, Eleazar
Eleazar Wheelock was a New Light Congregationalist minister who founded Dartmouth College. He was born into a very typical Congregationalist family, and began studying at Yale in 1729, where he fell in with the emerging New Light clique. The evangelical network that he built in college propelled him to fame as an itinerant minister during the First Great Awakening and gave him many of the contacts that he later drew on to support his charity school for Native Americans. Wheelock's time as an itinerant minister indirectly brought about his charity school. When the Colony of Connecticut retroactively punished itinerant preaching in 1743, Wheelock was among those who lost his salary. Thus, in 1743, he began operating a grammar school to support himself. He was joined that December by Samson Occom, a Mohegan Indian, who sought out an education in hopes of becoming a teacher among his people. Occom's academic success inspired Wheelock to train Native Americans as missionaries. To that end, he opened Moor's Indian Charity School in 1754 (where he continued to train Anglo-American students who paid their own way as well as students who functionally indentured themselves to Wheelock as missionaries in exchange for an education). Between 1754 and 1769, when he relocated to New Hampshire, Wheelock trained approximately 60 male and female Native American students from nearby Algonquian tribes and from the Haudenosaunee (Iroquois) of central New York. At the same time, he navigated the complicated politics of missionary societies by setting up his own board of the Society in Scotland for Propagating Christian Knowledge, although he continued to feud with the Boston Board of the SSPCK and the London Commissioners in Boston (more colloquially called the New England Company). By the late 1760s, Wheelock had become disillusioned with the idea of Native American education. He was increasingly convinced that educating Native Americans was futile (several of his students had failed to conform to his confusing and contradictory standards), and, in late 1768, he lost his connection to the Haudenosaunee. With his inclination and ability to sponsor Native American missionaries largely depleted, Wheelock sought instead to fulfill his ultimate ambition of obtaining a charter and opening a college, which he did in 1769. To fund this new enterprise, Wheelock drew on the £12,000 that Samson Occom had raised for Moor's Indian Charity School during a two-and-a-half year tour of Great Britain (1765 to 1768). Much of this money went towards clearing land and erecting buildings in New Hampshire for the Charity School's relocation — infrastructure that also happened to benefit Dartmouth. Many of Wheelock's contemporaries were outraged by what they saw as misuse of the money, as it was clear that Dartmouth College was not intended for Indians and that Moor's had become a side project. Although Wheelock tried to maintain at least some commitment to Native American education by recruiting students from Canadian communities, the move did a great deal of damage to his public image. The last decade of Wheelock's life was not easy. In addition to the problems of trying to set up a college far away from any Anglo-American urban center, Wheelock experienced the loss of relationships with two of his most famous and successful students, Samson Occom and Samuel Kirkland (an Anglo-American protégé). He also went into debt for Dartmouth College, especially after the fund raised in Britain was exhausted.
Document Summary
People identified in this document:
| id | Text in document | Role in header | Authorized Name |
| --- | --- | --- | --- |
| pers0576.ocp | John Wheelock | writer | Wheelock, John |
| pers0036.ocp | Eleazar Wheelock | mentioned | Wheelock, Eleazar |
| pers0036.ocp | said honored father | mentioned | Wheelock, Eleazar |
| pers0820.ocp | Thomas Ruſsel Russel | mentioned | Russell, Thomas |
| pers0532.ocp | their Secretary | mentioned | Thacher, Peter |
| pers0036.ocp | Eleazar Wheelock | mentioned | Wheelock, Eleazar |
| pers1190.ocp | James Wheelock | mentioned | Wheelock, James |
| pers0576.ocp | J. w J. W. | writer | Wheelock, John |
Places identified in this document:
| id | Text in document | Authorized Name |
| --- | --- | --- |
| place0095.ocp | Hanover | Hanover |
| place0299.ocp | County of Grafton | Grafton County |
| place0160.ocp | State of New Hampshire | New Hampshire |
| place0122.ocp | Lebanon | Lebanon |
| place0048.ocp | Connecticut | Connecticut |
| place0090.ocp | Great Britain | Great Britain |
| place0013.ocp | Boston | Boston |
Organizations identified in this document:
| id | Text in document | Authorized Name |
| --- | --- | --- |
| org0098.ocp | Moor's Indian Charity School | Moor's Indian Charity School |
| org0098.ocp | said School | Moor's Indian Charity School |
| org0096.ocp | Society in Scotland for propagating Christian Knowledge | Society in Scotland for Propagating Christian Knowledge |
| org0096.ocp | said Society | Society in Scotland for Propagating Christian Knowledge |
| org0098.ocp | School aforesaid | Moor's Indian Charity School |
Dates identified in this document:
| Standard Form | Text |
| --- | --- |
| 1789-06-15 | June 15. th 15th Anno domini one thousand seven hundred and eighty nine |
| 1785-11-17 | Seventeenth day of November one thousand seven hundred and eighty five |
| 1785-11-18 | eighteenth day of that Month |
| 1789-08-28 | Twenty eighth day of August one thousand seven hundred and eighty nine |
| 1789-09-12 | twelfth day of September |
| 1789-06-15 | fifteenth day of June one thousand sevenhundredseven hundred and eighty nine |
Regularized text:
Type
Original
Regularized
modernization
Succeſsor
successor
variation
Exectuors
executors
modernization
Ruſsel
Russel
modernization
15.

[illegible]

[guess (h-dawnd): th]

th

15th
variation
signifed
signified
variation
whatsover
whatsoever
variation
sevenhundred
seven hundred
modernization
Nevertheleſs
nevertheless
variation
abovementioned
above mentioned
modernization
Witneſs
witness
variation
Covenent
covenant
modernization
J.

w

J. W.
variation
Draught
Draft
This document does not contain any expanded abbreviations.
This document's header does not contain any mixed case attribute values.
Summary of errors found in this document:
| | |
| --- | --- |
| Number of dates with invalid 'when' attributes: | 0 |
| Number of nested "hi" tags: (consider merging the @rend attributes, or using other tags) | 0 |
| Number of tags with invalid 'rend' attributes: | 0 (out of 4) |
| Number of people/places/organizations with unknown keys: | 0 (out of 23) |
| Number of "add" tags with unknown 'place' attributes: | 0 (out of 1) |
| Mixed case attribute values in header (potential error): | 0 (out of 110) |