Nathaniel Whitaker, letter, to Eleazar Wheelock, 1769 April 11
ms-number: 769261
[note (type: abstract): Whitaker writes that he is ready to license Mr. Huntington for a mission among the Indians. He also refers to business among other ministers.]
[note (type: handwriting): Whitaker's hand is formal and clear, though letter case is occasionally difficult to discern, especially with regard to the letter S.]
[note (type: paper): Large sheet folded in half to make four pages is in good condition, with light staining and wear. The paper has been folded many times, yet the creasing is not particularly heavy.]
[note (type: ink): Black-brown.]
[note (type: signature): The signature is abbreviated.]
[note (type: noteworthy): In the second-to-last line of one recto, the phrase "Woe is me that I live in Meshek" references Psalm 120:5.]
---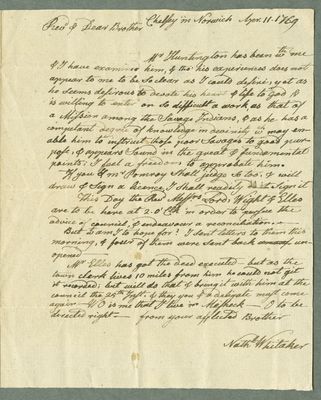 (View Page Image)
[Opener]
[Chelſey | Chelsea]

Chelſey

Chelsea

[place0035.ocp]

in Norwich

[place0174.ocp]

Apr. 11. 1769

[1769-04-11]

[Rev

d

| Rev.]Rev

d

Rev.

[& | and]

&

and

Dear Brother

[M

r

| Mr.]M

r

Mr.

Huntington

[pers0271.ocp]
has been
[w

th

| with]
w

th
with
me
[& | and]
&
and
I have examined him,
[& | and]
&
and
[tho' | though]
tho'
though
his experiences does not
appear to me to be so clear as I could
[deſire | desire]
deſire
desire
, yet as
he seems
[deſirous | desirous]
deſirous
desirous
to devote his heart
[& | and]
&
and
life to god,
[& | and]
&
and
is willing to enter on so difficult a work, as that of
a
[Miſsion | mission]
Miſsion
mission
among the Savage Indians,
[& | and]
&
and
as he has a
[competant | competence]
competant
competence
degree of knowledge in
[devinity | divinity]
devinity
divinity
[w

ch

| which]
w

ch
which
may en‐
able him to
[inſtruct | instruct]
inſtruct
instruct
[thoſe | those]
thoſe
those
poor Savages to good
[pur‐
poſe | pur‐
pose]
pur‐
poſe
pur‐
pose
,
[& | and]
&
and
appears Sound in the great
[& | and]
&
and
fundamental
points; I feel a freedom to approbate him.
If you
[& | and]
&
and
[m

r

| Mr.]
m

r
Mr.
[Pomroy | Pomeroy]
Pomroy
Pomeroy
[pers0432.ocp]
shall judge so too,
[& | and]
&
and
will
draw
[& | and]
&
and
sign a
[licence | license]
licence
license
, I shall readily
do it
sign it
This Day the
[Rev

d

| Rev.]
Rev

d
Rev.
[Meſſ.

rs

| Messrs.]
Meſſ.

rs
Messrs.
Lord

[pers0338.ocp]
,
Wight

[pers0591.ocp]
[& | and]
&
and
[Elles | Eells]
Elles
Eells
[pers0178.ocp]
are to be here at 2.
[o' C

lk

| o'clock]
o' C

lk
o'clock
in order to
[perſue | pursue]
perſue
pursue
the
advice of council,
[& | and]
&
and
endeavour a reconciliation. —
But
[w

t

| what]
w

t
what
am I to hope for? I sent letters to them this
morning,
[& | and]
&
and
four of them were sent back
[unanſ | unans]
unanſ
unans
un‐
opened —
[M

r

| Mr.]
M

r
Mr.
[Elles | Eells]
Elles
Eells
[pers0178.ocp]
has got the deed executed — but as the
town clerk lives 10 miles from him he could not
[git | get]
git
get
it recorded; but will do that
[& | and]
&
and
bring it with him at the
council the
[25

th

| 25th]
25

th
25th
[Inſt. | instant]
Inſt.
instant
[1769-04-25]
[& | and]
&
and
they you
[& | and]
&
and
a
[deligate | delegate]
deligate
delegate
[muſt | must]
muſt
must
come
again —
[WO | Woe]
WO
Woe
is me that I live in
[M

i

eſheck | Meshek]
M

i

eſheck
Meshek
— O to be
directed right —
[Closer]
from your afflicted Brother
[Nath

l

| Nathaniel]Nath

l

Nathaniel

Whitaker

[pers0037.ocp]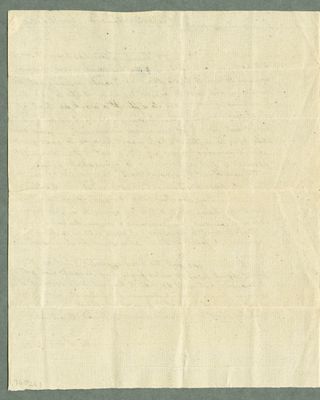 (View Page Image)
[note (type: editorial): Blank page.]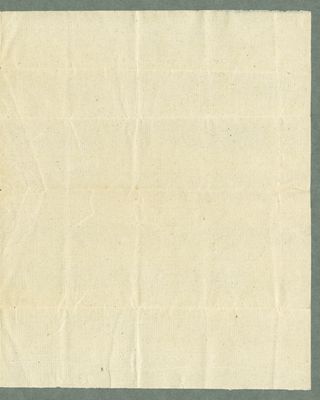 (View Page Image)
[note (type: editorial): Blank page.]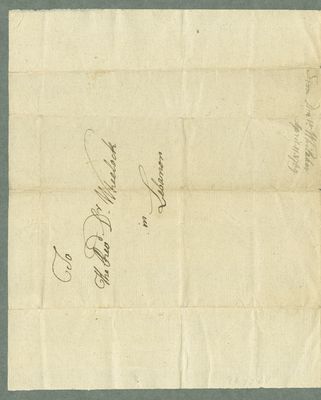 (View Page Image)
[Trailer]
From
[Doct.

r

| Dr.]Doct.

r

Dr.

Whitaker

[pers0037.ocp]
April. 11. 1769.
To
The
[Rev

d

| Rev.]Rev

d

Rev.

[D.

r

| Dr.]D.

r

Dr.

Wheelock

[pers0036.ocp]
in
Lebanon

[place0122.ocp]
Lebanon
Lebanon is a town located in the state of Connecticut southwest of the town of Hartford. The land that became Lebanon was inhabited at least 10,000 years ago based on the archeological record. By the 1600s, the land was permanently inhabited by the Mohegan Indians, who used the area primarily for hunting. Lebanon was officially formed in 1700 when English settlers consolidated a number of land tracts, including several land grants by the Connecticut General Assembly and lands purchased from the Mohegans. However, these purchases were controversial. In 1659, the Mohegans entrusted their reserve land to Major John Mason, and in the following year, Mason transferred this land to the Connecticut colonial government with the understanding that there would be enough land left for the Mohegans to farm. The Mohegans claimed that they never authorized a transfer to the colonial government and only Mason's heirs were entrusted with their land. In 1662, Connecticut, which included the Mohegan land that had been entrusted to the Masons, was incorporated by a royal charter. Based on this charter, the colony argued that the land was now the property of the government. In 1687, the colony began granting the Mohegan land to townships, and in 1704 the Masons petitioned the Crown on behalf of the Mohegans, claiming that such transfers of land to townships were illegal. Between the years of 1705 and 1773 legal disputes and controversies persisted, finally ending in a verdict by the Crown against the Mohegans. In 1755, Wheelock received property and housing in Lebanon that he would use as his house and school. While Lebanon was originally incorporated as a part of New London County in 1700, in 1724 it became a part of New Windham, before once again becoming a part of New London County in 1826. Lebanon was central to the American Revolution with half of its adult population fighting for the colonists and hundreds of meetings convened in the town for the revolutionary cause.
Norwich
Norwich is a city in New London County in the southeast corner of Connecticut. It was founded in 1659 when Major John Mason and Reverend James Fitch led English settlers inland from Old Saybrook, CT, on the coast. They bought land from Uncas, sachem of the local Mohegan tribe, and divided it into farms and businesses mainly in the three-mile area around the Norwichtown Green. In 1668, a wharf was built at Yantic Cove and in 1694 a public landing was built at the head of the Thames River, which allowed trade with England to flourish. The center of Norwich soon moved to the neighborhood around the harbor called "Chelsea." During the revolutionary period, when transatlantic trade was cut off, Norwich developed large mills and factories along the three rivers that cross the town: the Yantic, Shetucket and Thames, and supported the war effort by supplying soldiers, ships, and munitions. Norwich was the largest town in the vicinity in which Occom, Wheelock and their associates lived and worked, and it was possible to get there by water because of the harbor and access to the Long Island Sound. Lebanon, CT, the site of Wheelock's school, is 11 miles north and present-day Uncasville, the center of the Mohegan tribe, is a few miles south of Norwich. James Fitch did missionary work among the Mohegans in Norwich until his death in 1702, and Samuel Kirkland, the most important Protestant missionary to the Six Nations trained by Wheelock, was born in Norwich in 1741. On his evangelical tour of North America in 1764, George Whitefield planned to travel to Norwich to meet with Wheelock. The Connecticut Board of Correspondents of the Scottish Society for the Propagation of Christian Knowledge frequently met in Norwich, and many letters by people involved in the missionary efforts of Wheelock were written from Norwich.
Chelsea Landing
The neighborhood in the town of Norwich, CT, now called Chelsea Landing, began as a public landing built on the then-colony's Thames River in 1694 to accommodate the increasingly busy coastal shipping traffic and later industrial mills. In 18th-century newspaper advertisements, the landing was often referred to as "New Chelsy," and was frequented by Occom and other missionaries and associates who traveled to and from the area by boat.
Whitaker, Nathaniel
Nathaniel Whitaker was an outspoken Presbyterian minister with a long and wide-ranging career. Between his ordination in 1755 and his death in 1795, Whitaker ministered to five different congregations. His longest tenure was at Chelsea, CT (near Norwich), from 1761-1769, during which he joined Occom on his two-and-a-half-year fundraising tour of Britain. While in Chelsea, Whitaker was very involved in Wheelock's project. The two engaged in frequent correspondence, and Whitaker served on Eleazar Wheelock's Board of Correspondents in Connecticut, as well as on the Board of Trustees of Moor's Indian Charity School. At one time, he was Wheelock's presumed successor, but Dartmouth's Trustees demanded that Wheelock appoint another. Wheelock, in part due to his strongly-held belief that Native Americans were childlike and rash, was convinced that Occom needed an Anglo-American supervisor on his fundraising tour. After several candidates turned down the job, Wheelock selected Whitaker. He proved to be a poor choice; he was, by many accounts, a difficult man to get along with, and many of Wheelock's British allies, including George Whitefield and the English Trust (the organization that took control of the money Occom raised in England) preferred to deal with Occom, although Whitaker insisted on handling the tour's logistics. Furthermore, in Britain, Occom was the obvious star of the tour, and it was unclear to many why Whitaker asserted himself so prominently. Whitaker's poor decisions seriously alienated the English Trust and increased their suspicion of Wheelock's later dealings and treatment of Occom. He gave the English Trust the impression that they would have control over money raised in Scotland (which was in fact lodged with the parent organization of the SSPCK), and he was the executor of the "Eells Affair," a plan initiated by the CT Board of the SSPCK to bring the money that Occom and Whitaker raised back to the colonies by investing it in trade goods and selling them at a profit (Eells was one of the merchants who was to help with the resale of goods). The English Trust learned about the plan by reading letters that Whitaker had given them permission to open in his absence, and were immediately shocked. The wording of certain letters made it appear that only a percentage of the profit from the resale of the goods would go towards Moor's Indian Charity School, but beyond that detail, the English Trust was scandalized at the thought of money raised for charity being invested in trade. The English Trust blamed Whitaker entirely for these affairs, and issued specific instructions for Occom to notarize all documents requiring Whitaker's signature. In short, they wanted Occom to supervise Whitaker, when Wheelock had envisioned the opposite relationship (both Occom and Whitaker seem to have ignored their instructions, preferring to have as little contact with one another as possible). In 1769, a year after his return to Connecticut in 1768, Whitaker found himself dismissed by his Chelsea congregation (likely because he had spent two and a half years away from them). He went on to serve several more congregations before his death in 1795. Whitaker was an outspoken Whig, and during the Revolution he published several pamphlets on his political opinions.
Wheelock, Eleazar
Eleazar Wheelock was a New Light Congregationalist minister who founded Dartmouth College. He was born into a very typical Congregationalist family, and began studying at Yale in 1729, where he fell in with the emerging New Light clique. The evangelical network that he built in college propelled him to fame as an itinerant minister during the First Great Awakening and gave him many of the contacts that he later drew on to support his charity school for Native Americans. Wheelock's time as an itinerant minister indirectly brought about his charity school. When the Colony of Connecticut retroactively punished itinerant preaching in 1743, Wheelock was among those who lost his salary. Thus, in 1743, he began operating a grammar school to support himself. He was joined that December by Samson Occom, a Mohegan Indian, who sought out an education in hopes of becoming a teacher among his people. Occom's academic success inspired Wheelock to train Native Americans as missionaries. To that end, he opened Moor's Indian Charity School in 1754 (where he continued to train Anglo-American students who paid their own way as well as students who functionally indentured themselves to Wheelock as missionaries in exchange for an education). Between 1754 and 1769, when he relocated to New Hampshire, Wheelock trained approximately 60 male and female Native American students from nearby Algonquian tribes and from the Haudenosaunee (Iroquois) of central New York. At the same time, he navigated the complicated politics of missionary societies by setting up his own board of the Society in Scotland for Propagating Christian Knowledge, although he continued to feud with the Boston Board of the SSPCK and the London Commissioners in Boston (more colloquially called the New England Company). By the late 1760s, Wheelock had become disillusioned with the idea of Native American education. He was increasingly convinced that educating Native Americans was futile (several of his students had failed to conform to his confusing and contradictory standards), and, in late 1768, he lost his connection to the Haudenosaunee. With his inclination and ability to sponsor Native American missionaries largely depleted, Wheelock sought instead to fulfill his ultimate ambition of obtaining a charter and opening a college, which he did in 1769. To fund this new enterprise, Wheelock drew on the £12,000 that Samson Occom had raised for Moor's Indian Charity School during a two-and-a-half year tour of Great Britain (1765 to 1768). Much of this money went towards clearing land and erecting buildings in New Hampshire for the Charity School's relocation — infrastructure that also happened to benefit Dartmouth. Many of Wheelock's contemporaries were outraged by what they saw as misuse of the money, as it was clear that Dartmouth College was not intended for Indians and that Moor's had become a side project. Although Wheelock tried to maintain at least some commitment to Native American education by recruiting students from Canadian communities, the move did a great deal of damage to his public image. The last decade of Wheelock's life was not easy. In addition to the problems of trying to set up a college far away from any Anglo-American urban center, Wheelock experienced the loss of relationships with two of his most famous and successful students, Samson Occom and Samuel Kirkland (an Anglo-American protégé). He also went into debt for Dartmouth College, especially after the fund raised in Britain was exhausted.
Huntington, Thomas
Thomas Huntington was Eleazar Wheelock's maternal cousin. He graduated from Yale in 1768, and, in the spring of 1769, he went on a brief mission with Levi Frisbie and John Mathews to relieve Samuel Kirkland among the Oneidas at Kanawalohale. However, the situation at the time was so volatile that Kirkland could not leave, and Huntington went home after a month. After deciding that a missionary career was not for him, Huntington built a sizable fortune in Ashford, CT, through medicine and trade. He eventually settled in Canaan, CT, where he lived to the age of 91 while practicing medicine and business. Franklin Dexter, the biographer of Yale's graduates, characterizes him as "somewhat eccentric."
Pomeroy, Benjamin
Benjamin Pomeroy was a school friend of Eleazar Wheelock and a lifelong supporter of his cause. Like Wheelock, he was a New Light evangelical and a staunch ally of James Davenport, a radical New Light preacher whose beliefs got him in trouble with the law. After graduating from Yale in 1733, Pomeroy received the ministry at Hebron, CT, in 1734, and assisted Wheelock in myriad ways until his own death in 1784. He kept Wheelock's school during 1746, when Wheelock's first wife, Sarah, was dying, and he tutored Occom (primarily in Hebrew) after Occom had completed his studies with Wheelock. Pomeroy also supported Wheelock as a trustee of Moor's, and, later, Dartmouth, and as a member of the Board of the Correspondents in Connecticut for the Society in Scotland for Propagating Christian Knowledge. Pomeroy and Wheelock also had close family connections: Pomeroy was married to Wheelock's sister, Abigail, and one of Pomeroy's daughters, Hannah, married David McClure, one of Wheelock's most illustrious graduates. Outside of his liturgical career, Pomeroy served as an army chaplain in the French and Indian War and the Revolution.
Eells, Nathaniel
Nathaniel Eells was a Congregationalist minister in Stonington, CT. Before 1767, Eells was very involved in Moor's Indian Charity School. He was a member of Wheelock's Connecticut Board of the Society in Scotland for Propagating Christian Knowledge, and named in Wheelock's March 1767 will to a board to oversee the school's lands in case of Wheelock's death. However, the same month a scandal broke that forced Eells out of any management role in Moor's. The details of the affair are sketchy because Wheelock, Whitaker, and Eells tried to spin their involvement, but, essentially, before Whitaker and Occom departed on their fundraising tour in 1765, the Connecticut Board agreed that Whitaker should send money back to Wheelock by purchasing goods, some of which would supply missionaries (thus eliminating the cost of expensive imports), and the remainder of which would be sold at a profit through the Lathrops, a wealthy merchant family in Norwich. The Trust in England (a board headed by the Earl of Dartmouth, created in 1766 to oversee the money Occom raised) did not learn about the scheme until March 1767, when the volume of bills made them suspicious. To these English elites, increasing charitable donations through trade seemed unspeakably vulgar, especially since the Lathrops planned to keep a chunk of the profits. Eells made matters worse because he took the opportunity to try to get his son into business with the Lathrops (his daughter had married a Lathrop, but the match had not produced the expected economic payoff), and certain remarks in his letters to Whitaker made it seem that money was being diverted. Eells' involvement was all the more unfortunate since he had received £100 of the money in 1766, which he had invested in trade and lost (as of 1775, he had not repaid the debt). The Trust demanded that Eells and Whitaker withdraw from the management of Moor's, and Eells was indeed written out of Wheelock's 1768 will (Whitaker was initially retained as a member of the American Trust, but he was not made a Trustee of Dartmouth). Outside of his involvement in Moor's, Eells was a popular local minister who was able to remain at one church from 1733 until his death in 1786. He was close with Joseph Fish, minister at North Stonington, who had been his classmate at Harvard, and both ministers had some involvement with the Stonington Pequots. During the Great Awakening, Eells, like many other ministers, was accused of being unconverted by the radical evangelical James Davenport. Eells was subsequently on the 1743 Congregationalist congress that issued a statement condemning certain revival practices. He served as a chaplain when the Revolution began, despite his age.
Document Summary
People identified in this document:
| id | Text in document | Role in header | Authorized Name |
| --- | --- | --- | --- |
| pers0271.ocp | M r Mr. Huntington | mentioned | Huntington, Thomas |
| pers0432.ocp | m r Mr. Pomroy Pomeroy | mentioned | Pomeroy, Benjamin |
| pers0338.ocp | Lord | mentioned | Lord |
| pers0591.ocp | Wight | mentioned | Wight |
| pers0178.ocp | Elles Eells | mentioned | Eells, Nathaniel |
| pers0178.ocp | M r Mr. Elles Eells | mentioned | Eells, Nathaniel |
| pers0037.ocp | Nath l Nathaniel Whitaker | writer | Whitaker, Nathaniel |
| pers0037.ocp | Doct. r Dr. Whitaker | writer | Whitaker, Nathaniel |
| pers0036.ocp | Rev d Rev. D. r Dr. Wheelock | recipient | Wheelock, Eleazar |
Places identified in this document:
| id | Text in document | Authorized Name |
| --- | --- | --- |
| place0035.ocp | Chelſey Chelsea | Chelsea Landing |
| place0174.ocp | Norwich | Norwich |
| place0122.ocp | Lebanon | Lebanon |
This document does not contain any tagged organizations.
Dates identified in this document:
| Standard Form | Text |
| --- | --- |
| 1769-04-11 | Apr. 11. 1769 |
| 1769-04-25 | 25th 25th Inſt.instant |
Regularized text:
Type
Original
Regularized
variation
Chelſey
Chelsea
modernization
Rev

d

Rev.
modernization
M

r

Mr.
modernization
deſire
desire
modernization
deſirous
desirous
modernization
Miſsion
mission
variation
competant
competence
variation
devinity
divinity
modernization
inſtruct
instruct
modernization
thoſe
those
modernization
pur‐
poſe
pur‐
pose
modernization
m

r

Mr.
variation
Pomroy
Pomeroy
variation
licence
license
modernization
Rev

d

Rev.
modernization
Meſſ.

rs

Messrs.
variation
Elles
Eells
modernization
o' C

lk

o'clock
variation
perſue
pursue
modernization
unanſ
unans
variation
git
get
modernization
25

th

25th
variation
deligate
delegate
modernization
muſt
must
variation
WO
Woe
variation
M

i

eſheck
Meshek
modernization
Doct.

r

Dr.
modernization
D.

r

Dr.
Expanded abbreviations:
Abbreviation
Expansion
&
and
w

th

with
tho'
though
w

ch

which
w

t

what
Inſt.
instant
Nath

l

Nathaniel
This document's header does not contain any mixed case attribute values.
Summary of errors found in this document:
| | |
| --- | --- |
| Number of dates with invalid 'when' attributes: | 0 |
| Number of nested "hi" tags: (consider merging the @rend attributes, or using other tags) | 0 |
| Number of tags with invalid 'rend' attributes: | 0 (out of 21) |
| Number of people/places/organizations with unknown keys: | 0 (out of 12) |
| Number of "add" tags with unknown 'place' attributes: | 0 (out of 0) |
| Mixed case attribute values in header (potential error): | 0 (out of 109) |