Sylvanus Ripley, letter, to Eleazar Wheelock, 1768 September 24
ms-number: 768524.2
[note (type: abstract): Ripley writes to accept Wheelock's invitation to write to him to improve his education. Ripley writes in support of the design to Christianize the Indians.]
[note (type: handwriting): Handwriting is small, but formal and clear. The trailer is in an unknown hand.]
[note (type: paper): Large sheet folded in half to make four pages is in good condition, with light-to-moderate staining, creasing and wear.]
[note (type: ink): Black-brown.]
[note (type: noteworthy): Marks -- a plus sign and a P -- have been added to the document in a different, probably modern hand. These marks have not been transcribed. The word "Wilkin's" appears on two verso; this is unexplained.]
[note (type: signature): The signature is abbreviated.]
---
[Opener]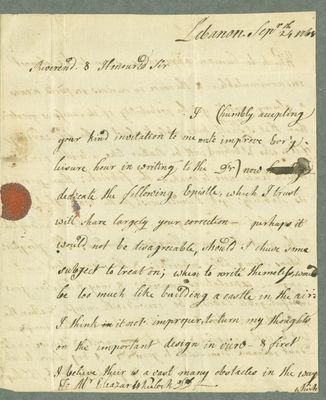 (View Page Image)
Lebanon

[place0122.ocp]
[Sep

r

| September]Sep

r

September

[24

th

| 24th]24

th

24th

1768

[1768-09-24]
Reverend,

[& | and]

&

and

Honoured Sir


I (humbly accepting
your kind invitation to me viz to improve
[Evr'y | every]
Evr'y
every
leisure hour in writing to the Dr) now
humbly
dedicate the following Epistle, which I trust
will share largely your correction –– perhaps it
would not be disagreeable, should I
[chuse | choose]
chuse
choose
some
subject to treat on; when to write
[themeleſs | themeless]
themeleſs
themeless
,
[wou

[gap: blotted_out]

[guess (maggiec): d]

d

| would]
wou

[gap: blotted_out]

[guess (maggiec): d]

d
would
be too much like building a castle in the air:
I think
in
it not improper, to turn my thoughts
on the important design in veiw ––
[& | and]
&
and
first
I believe their is a vast many obstacles in the way
which
⇑
[below]
To [M

r

| Mr.]M

r

Mr.

Eleazar Wheelock

[pers0036.ocp]

DD,––
To [M

r

| Mr.]M

r

Mr.

Eleazar Wheelock

[pers0036.ocp]

DD,––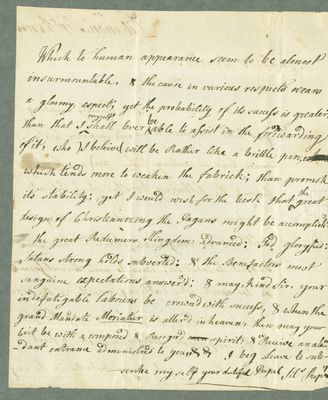 (View Page Image)
Which to human appearance seem to be almost
insurmountable,
[& | and]
&
and
the cause in various respects wears
a gloomy aspect; yet the probability of its
[succeſs | success]
succeſs
success
is greater;
than that I
⇑
[above]
myself
myself
shall Ever
⇑
[above]
be
be
able to
[aſsist | assist]
aſsist
assist
in the for
[illegible]
[guess (maggiec): d]
d
warding
of it, who) I
[beleive | believe]
beleive
believe
( will be Rather like a brittle pin,
[illegible]
[guess (maggiec): which]
which
which tends more to weaken the
[fabrick | fabric]
fabrick
fabric
; than promote
its stability; yet I would wish for the best that
⇑
[above]
the
the
great
design of Christianizing the Pagans might be
[accomplish'

⇑

[above]

d

d

[illegible]

| accomplished]
accomplish'

⇑

[above]

d

d

[illegible]
accomplished
[illegible]
the great Redeemers Kingdom advanced; God
[gloryfied | glorified]
gloryfied
glorified
:
Satans strong holds subverted:
[& | and]
&
and
the Benefactors most
sanguine expectations
[answer'd | answered]
answer'd
answered
:
[& | and]
&
and
may, kind Sir, your
indefatigable labours be
[crown'd | crowned]
crown'd
crowned
with
[succeſs | success]
succeſs
success
,
[& | and]
&
and
when the
grand Mandate
Moriatur
is
[utter'd | uttered]
utter'd
uttered
in heaven, then may your
Exit be with a composed
[& | and]
&
and
[Resign'd | resigned]
Resign'd
resigned
[illegible]
[guess (maggiec): even]
even
spirit;
[& | and]
&
and
"Receive an abu
⇑
[above]
n
n
­dant entrance
[administred | administered]
administred
administered
to your"
[& | and]
&
and
[& | and]
&
and
[Closer]
I beg Leave to sub­
­scribe myself

your dutiful Pupil
Sil

s

Rip

y

[pers0444.ocp]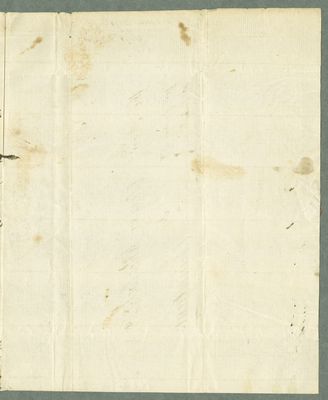 (View Page Image)
[note (type: editorial): Blank page.]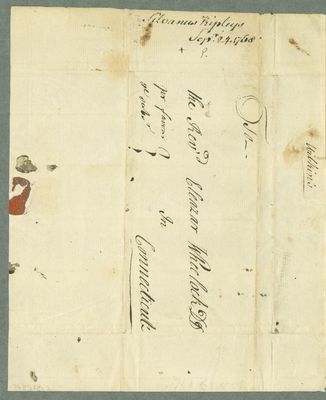 (View Page Image)
[Trailer]
Silvanus Ripley

[pers0444.ocp]
s
[Sep.

r

| September]Sep.

r

September

24. 1768

[1768-09-24]
⇑
[above]
Wilkin's
Wilkin's
To— —
the
[Rev'

d

| Rev.]
Rev'

d
Rev.
Eleazar Wheelock

[pers0036.ocp]
DD
In
Connecticut

[place0048.ocp]
[left]
[pr | per]

pr

per

favour}


[ye | the]

ye

the

[subs

r

| subscriber]subs

r

subscriber

}
[pr | per]

pr

per

favour}


[ye | the]

ye

the

[subs

r

| subscriber]subs

r

subscriber

}
Lebanon
Lebanon is a town located in the state of Connecticut southwest of the town of Hartford. The land that became Lebanon was inhabited at least 10,000 years ago based on the archeological record. By the 1600s, the land was permanently inhabited by the Mohegan Indians, who used the area primarily for hunting. Lebanon was officially formed in 1700 when English settlers consolidated a number of land tracts, including several land grants by the Connecticut General Assembly and lands purchased from the Mohegans. However, these purchases were controversial. In 1659, the Mohegans entrusted their reserve land to Major John Mason, and in the following year, Mason transferred this land to the Connecticut colonial government with the understanding that there would be enough land left for the Mohegans to farm. The Mohegans claimed that they never authorized a transfer to the colonial government and only Mason's heirs were entrusted with their land. In 1662, Connecticut, which included the Mohegan land that had been entrusted to the Masons, was incorporated by a royal charter. Based on this charter, the colony argued that the land was now the property of the government. In 1687, the colony began granting the Mohegan land to townships, and in 1704 the Masons petitioned the Crown on behalf of the Mohegans, claiming that such transfers of land to townships were illegal. Between the years of 1705 and 1773 legal disputes and controversies persisted, finally ending in a verdict by the Crown against the Mohegans. In 1755, Wheelock received property and housing in Lebanon that he would use as his house and school. While Lebanon was originally incorporated as a part of New London County in 1700, in 1724 it became a part of New Windham, before once again becoming a part of New London County in 1826. Lebanon was central to the American Revolution with half of its adult population fighting for the colonists and hundreds of meetings convened in the town for the revolutionary cause.
Connecticut
Connecticut is a state in southern New England that borders Massachusetts to the north and the Long Island Sound to the south. Its name is derived from the Algonquian "Quonehtacut," meaning "long river," referring to the Connecticut, which runs from the border with Canada into the Long Island Sound. The area was originally inhabited by Algonquian-speaking Pequots, Mohegans, and Quinnipiacs. European settlers took advantage of tribal divisions to establish dominance in the region. Dutch explorer Adrian Block sailed up the Connecticut River in 1614, establishing an active Dutch trading post at what is now Hartford. English claims to Connecticut began in 1630, but settlement truly began when Thomas Hooker, a Congregationalist minister now known as "The Father of Connecticut," left Boston to found Hartford in 1636. Hartford became the center of the Colony of Connecticut, which did not receive its charter until 1662 when Governor John Winthrop, Jr. secured it from Charles II. In 1665, the Colony of New Haven, established in 1638 by the Puritan minister John Davenport, joined the Colony of Connecticut under this charter. Early settler relations with local Indians were tense, and encouraged the New England colonies of Massachusetts Bay, Plymouth, Connecticut, and New Haven to unify as the "United Colonies" or "New England Confederation" and fight together, with Indian allies, in the Pequot War and again in King Philip's (Metacom's) War. These wars helped establish a specifically Connecticut and specifically American identity; the latter drove the colony to join the rebellion against Britain in 1776. Occom, born into a Mohegan household in Connecticut, was closely associated with the Colony and retained strong ties to the region throughout his life. He converted to Christianity in 1743 when the Great Awakening spread through Connecticut, and inspired Wheelock's Indian Charity School, which was founded in Lebanon, CT in 1754. He also became involved in the Mason Land Case, a long-standing dispute over the ownership of reserve Mohegan lands in Connecticut. Wheelock also had strong ties to Connecticut, moving his Indian Charity School only when the colony would not grant it a charter.
Ripley, Sylvanus
Sylvanus Ripley was a charity scholar at Moor's Indian Charity School who became one of Dartmouth College's first professors and Eleazar Wheelock's son-in-law. After a brief stint at Moor's proper, Ripley entered Yale in 1768. He undertook several short missions to the Canadian tribes in the early 1770s to seek out a new source of Native American students for Wheelock. His longest mission, from May to September of 1772, garnered 10 students from Kahnawake, the Catholic Canadian settlement. Ripley was an important figure in Dartmouth's early history: in addition to serving as preceptor of Moor's from 1775 until 1779, he was a tutor at Dartmouth from 1772 until 1782, a trustee of Dartmouth from 1775 until 1787, and the College's professor of divinity from 1782 until 1787 (sources differ as to whether Ripley was ever formally ordained). He was also very involved in the political conflicts that characterized the town's early history. Ripley died in 1787, at age 37, after being thrown from a sleigh.
Wheelock, Eleazar
Eleazar Wheelock was a New Light Congregationalist minister who founded Dartmouth College. He was born into a very typical Congregationalist family, and began studying at Yale in 1729, where he fell in with the emerging New Light clique. The evangelical network that he built in college propelled him to fame as an itinerant minister during the First Great Awakening and gave him many of the contacts that he later drew on to support his charity school for Native Americans. Wheelock's time as an itinerant minister indirectly brought about his charity school. When the Colony of Connecticut retroactively punished itinerant preaching in 1743, Wheelock was among those who lost his salary. Thus, in 1743, he began operating a grammar school to support himself. He was joined that December by Samson Occom, a Mohegan Indian, who sought out an education in hopes of becoming a teacher among his people. Occom's academic success inspired Wheelock to train Native Americans as missionaries. To that end, he opened Moor's Indian Charity School in 1754 (where he continued to train Anglo-American students who paid their own way as well as students who functionally indentured themselves to Wheelock as missionaries in exchange for an education). Between 1754 and 1769, when he relocated to New Hampshire, Wheelock trained approximately 60 male and female Native American students from nearby Algonquian tribes and from the Haudenosaunee (Iroquois) of central New York. At the same time, he navigated the complicated politics of missionary societies by setting up his own board of the Society in Scotland for Propagating Christian Knowledge, although he continued to feud with the Boston Board of the SSPCK and the London Commissioners in Boston (more colloquially called the New England Company). By the late 1760s, Wheelock had become disillusioned with the idea of Native American education. He was increasingly convinced that educating Native Americans was futile (several of his students had failed to conform to his confusing and contradictory standards), and, in late 1768, he lost his connection to the Haudenosaunee. With his inclination and ability to sponsor Native American missionaries largely depleted, Wheelock sought instead to fulfill his ultimate ambition of obtaining a charter and opening a college, which he did in 1769. To fund this new enterprise, Wheelock drew on the £12,000 that Samson Occom had raised for Moor's Indian Charity School during a two-and-a-half year tour of Great Britain (1765 to 1768). Much of this money went towards clearing land and erecting buildings in New Hampshire for the Charity School's relocation — infrastructure that also happened to benefit Dartmouth. Many of Wheelock's contemporaries were outraged by what they saw as misuse of the money, as it was clear that Dartmouth College was not intended for Indians and that Moor's had become a side project. Although Wheelock tried to maintain at least some commitment to Native American education by recruiting students from Canadian communities, the move did a great deal of damage to his public image. The last decade of Wheelock's life was not easy. In addition to the problems of trying to set up a college far away from any Anglo-American urban center, Wheelock experienced the loss of relationships with two of his most famous and successful students, Samson Occom and Samuel Kirkland (an Anglo-American protégé). He also went into debt for Dartmouth College, especially after the fund raised in Britain was exhausted.
Document Summary
People identified in this document:
| id | Text in document | Role in header | Authorized Name |
| --- | --- | --- | --- |
| pers0036.ocp | Eleazar Wheelock | recipient | Wheelock, Eleazar |
| pers0444.ocp | Sil s Rip y | writer | Ripley, Sylvanus |
| pers0444.ocp | Silvanus Ripley | writer | Ripley, Sylvanus |
| pers0036.ocp | Eleazar Wheelock | recipient | Wheelock, Eleazar |
Places identified in this document:
| id | Text in document | Authorized Name |
| --- | --- | --- |
| place0122.ocp | Lebanon | Lebanon |
| place0048.ocp | Connecticut | Connecticut |
This document does not contain any tagged organizations.
Dates identified in this document:
| Standard Form | Text |
| --- | --- |
| 1768-09-24 | Sepr September 24th 24th 1768 |
| 1768-09-24 | Sep.r September 24. 1768 |
Regularized text:
Type
Original
Regularized
modernization
24

th

24th
variation
chuse
choose
modernization
themeleſs
themeless
variation
wou

[gap: blotted_out]

[guess (maggiec): d]

d

would
modernization
M

r

Mr.
modernization
succeſs
success
modernization
aſsist
assist
variation
beleive
believe
variation
fabrick
fabric
variation
gloryfied
glorified
variation
administred
administered
modernization
Rev'

d

Rev.
modernization
ye
the
Expanded abbreviations:
Abbreviation
Expansion
Sep

r

September
&
and
Evr'y
every
accomplish'

⇑

[above]

d

d

[illegible]

accomplished
answer'd
answered
crown'd
crowned
utter'd
uttered
Resign'd
resigned
Sep.

r

September
pr
per
subs

r

subscriber
This document's header does not contain any mixed case attribute values.
Summary of errors found in this document:
| | |
| --- | --- |
| Number of dates with invalid 'when' attributes: | 0 |
| Number of nested "hi" tags: (consider merging the @rend attributes, or using other tags) | 0 |
| Number of tags with invalid 'rend' attributes: | 0 (out of 14) |
| Number of people/places/organizations with unknown keys: | 0 (out of 6) |
| Number of "add" tags with unknown 'place' attributes: | 0 (out of 8) |
| Mixed case attribute values in header (potential error): | 0 (out of 86) |