David Avery, letter, to Eleazar Wheelock, 1768 June 23
ms-number: 768373.2
[note (type: abstract): Avery writes that the sister of Deacon Thomas has died, and that the Oneidas have agreed to keep at least 21 children at his school.]
[note (type: handwriting): Handwriting is formal and clear. The trailer is in an unknown hand.]
[note (type: paper): Large sheet folded in half to make four pages is in good condition, with light staining, creasing and wear.]
[note (type: ink): Black-brown ink is lightly faded.]
---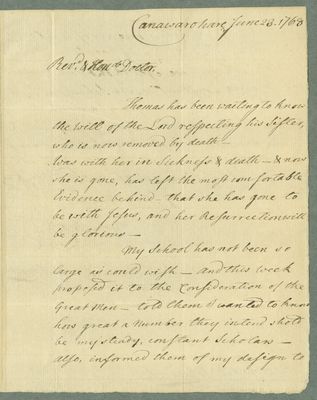 (View Page Image)
[Opener]
[Canawarohare | Kanawalohale]
Canawarohare
Kanawalohale
[place0114.ocp]
June 23. 1768

[1768-06-23]
[Rev,

d

| Rev.]Rev,

d

Rev.

[& | and ]

&

and

[Hon

d

| Honoured]Hon

d

Honoured

Doctor,

Thomas

[pers0643.ocp]
has been waiting to know
the will of the Lord
[reſpecting | respecting]
reſpecting
respecting
his
[Siſter | sister]
Siſter
sister
,
who is now removed by death —
Was with her in
[Sickneſs | sickness ]
Sickneſs
sickness
[& | and]
&
and
death —
[& | and]
&
and
now
she is gone, has left the
[moſt | most]
moſt
most
comfortable
Evidence behind — that she has gone to
be with
[Jeſus | Jesus]
Jeſus
Jesus
, and her
[Reſurrection | resurrection]
Reſurrection
resurrection
will
be glorious —
My School has not been so
large as could
[wiſh | wish]
wiſh
wish
— And this week
[propoſed | proposed]
propoſed
proposed
it to the
[Conſideration | consideration]
Conſideration
consideration
of the
Great Men — told them I wanted to know
how great a number they intend
[shold | should]
shold
should
be my steady,
[conſtant | constant]
conſtant
constant
Scholars —
[Alſo | Also]
Alſo
Also
, informed them of my
[deſign | design]
deſign
design
to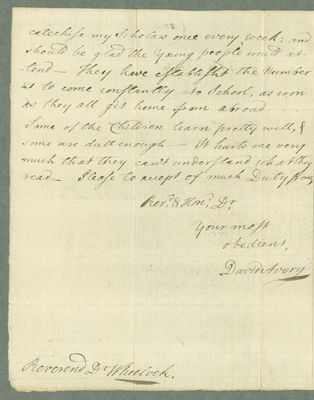 (View Page Image)
[catechiſe | catechise]
catechiſe
catechise
my Scholars once every week; and
should be glad the Young people would at‐
‐tend — They have
[eſtabliſht | established]
eſtabliſht
established
the Number
21 to come
[conſtantly | constantly ]
conſtantly
constantly
a
to School, as soon
as they all
[git | get]
git
get
home from abroad. . .
Some of the Children learn pretty well,
[& | and]
&
and
some are dull enough — It hurts me very
much that they can't
[underſtand | understand]
underſtand
understand
what they
read —
[Pleaſe | Please]
Pleaſe
Please
to accept of much Duty from,
[Closer]
[Rev,

d

| Rev.]Rev,

d

Rev.

[& | and ]

&

and

[Hon,

d

| Honoured ]Hon,

d

Honoured

[D,

r

| Dr.]D,

r

Dr.


Your

[moſt | most]

moſt

most


obedient,

David Avery

[pers0064.ocp]
⇑
[bottom]
Reverend [D

r

| Dr.]D

r

Dr.

Wheelock

[pers0036.ocp]

.
Reverend [D

r

| Dr.]D

r

Dr.

Wheelock

[pers0036.ocp]

.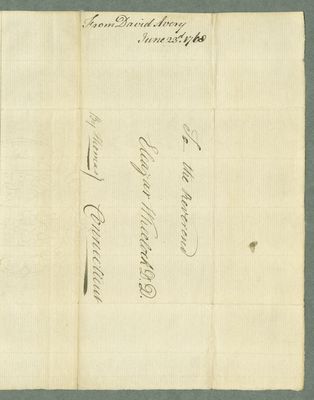 (View Page Image)
[Trailer]
From
David Avery

[pers0064.ocp]
June 23.

d

1768

[1768-06-23]
To the Reverend
Eleazar Wheelock

[pers0036.ocp]
D. D.
Connecticut

[place0048.ocp]
⇑
[left]
By Thomas

[pers0643.ocp]

}
By Thomas

[pers0643.ocp]

}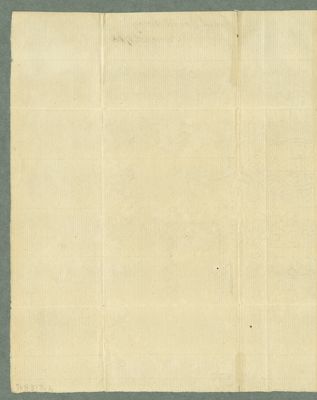 (View Page Image)
[note (type: editorial): Blank page.]
Connecticut
Connecticut is a state in southern New England that borders Massachusetts to the north and the Long Island Sound to the south. Its name is derived from the Algonquian "Quonehtacut," meaning "long river," referring to the Connecticut, which runs from the border with Canada into the Long Island Sound. The area was originally inhabited by Algonquian-speaking Pequots, Mohegans, and Quinnipiacs. European settlers took advantage of tribal divisions to establish dominance in the region. Dutch explorer Adrian Block sailed up the Connecticut River in 1614, establishing an active Dutch trading post at what is now Hartford. English claims to Connecticut began in 1630, but settlement truly began when Thomas Hooker, a Congregationalist minister now known as "The Father of Connecticut," left Boston to found Hartford in 1636. Hartford became the center of the Colony of Connecticut, which did not receive its charter until 1662 when Governor John Winthrop, Jr. secured it from Charles II. In 1665, the Colony of New Haven, established in 1638 by the Puritan minister John Davenport, joined the Colony of Connecticut under this charter. Early settler relations with local Indians were tense, and encouraged the New England colonies of Massachusetts Bay, Plymouth, Connecticut, and New Haven to unify as the "United Colonies" or "New England Confederation" and fight together, with Indian allies, in the Pequot War and again in King Philip's (Metacom's) War. These wars helped establish a specifically Connecticut and specifically American identity; the latter drove the colony to join the rebellion against Britain in 1776. Occom, born into a Mohegan household in Connecticut, was closely associated with the Colony and retained strong ties to the region throughout his life. He converted to Christianity in 1743 when the Great Awakening spread through Connecticut, and inspired Wheelock's Indian Charity School, which was founded in Lebanon, CT in 1754. He also became involved in the Mason Land Case, a long-standing dispute over the ownership of reserve Mohegan lands in Connecticut. Wheelock also had strong ties to Connecticut, moving his Indian Charity School only when the colony would not grant it a charter.
Kanawalohale
Kanawalohale was a village located in the present-day town of Vernon in central New York state. In the 18th century, it was an Oneida village located about 60 miles west of the Mohawk village Canajoharie. Because the village's name was similar to the Mohawk village of Canajoharie, many sources conflate the two. Founded in the mid-18th century, Kanawalohale was made up of a cluster of about 40 homes along the Oneida Creek, south of Oneida Lake. The name means head on a post in reference to an enemy soldier's skull displayed in the village. In 1765, David Fowler established an Indian school in Kanawalohale, where Wheelock's son, Ralph, worked. Between the years of 1765 and 1767, Kanawalohale hosted many of Wheelock's missionaries including Samuel Kirkland, Joseph Johnson, David Avery, and Aaron Kinne. The Indians of Kanawalohale used their relationship with missionaries such as Kirkland to gain prestige over the formerly central Oneida village, Old Oneida. Kirkland often wrote in his journal about the dialogues he had with the Indians at Kanawalohale, who refused to receive his teachings silently. The Christian Indian population grew throughout the 1760s with at least 200 Indians attending church in the village. In 1780, Joseph Brant, a Mohawk allied with the British, led a war party against the revolting colonists, with whom the Oneidas had allied, that destroyed the Oneida village of Kanawalohale. This area is known today as Oneida Castle.
Avery, David
David Avery was one of Wheelock's charity scholars and had a long career as a Congregationalist minister. He studied at Moor's and Yale, where he was David McClure's classmate, and received his Masters from Dartmouth in 1773. Avery went on several missions to Indian tribes before his health forced him to retire. His first mission, before his final year at Yale, was to Kanawalohale as a schoolteacher in the summer of 1768. While there, he attended the 1768 Treaty of Fort Stanwix as Wheelock's representative. After graduating, he served on Long Island around Smithtown. He was ordained August 29, 1771, at Dartmouth. Wheelock then sent him to the Oneidas for eleven months (September 1771 to August 1772), primarily to find out why the Oneidas had withdrawn their children from Wheelock's school. However, Avery's health was failing, and at some point between August 1772 and March 1773, he withdrew from Indian missionary service. In response, Wheelock charged him part of his tuition. Avery lived an exciting life after he left Wheelock's service. The Sabbath after the battle of Lexington (April 19 1775), he bade his Gageborough congregation farewell, mustered twenty men, and led them to Boston where he preached to the entire army. He enlisted as a chaplain, although he also fought in battle and served as a medic. He left the army in February 1780, and spent the rest of his life in a variety of pulpits, with a stint under the Massachusetts Domestic Missionary Society.
Wheelock, Eleazar
Eleazar Wheelock was a New Light Congregationalist minister who founded Dartmouth College. He was born into a very typical Congregationalist family, and began studying at Yale in 1729, where he fell in with the emerging New Light clique. The evangelical network that he built in college propelled him to fame as an itinerant minister during the First Great Awakening and gave him many of the contacts that he later drew on to support his charity school for Native Americans. Wheelock's time as an itinerant minister indirectly brought about his charity school. When the Colony of Connecticut retroactively punished itinerant preaching in 1743, Wheelock was among those who lost his salary. Thus, in 1743, he began operating a grammar school to support himself. He was joined that December by Samson Occom, a Mohegan Indian, who sought out an education in hopes of becoming a teacher among his people. Occom's academic success inspired Wheelock to train Native Americans as missionaries. To that end, he opened Moor's Indian Charity School in 1754 (where he continued to train Anglo-American students who paid their own way as well as students who functionally indentured themselves to Wheelock as missionaries in exchange for an education). Between 1754 and 1769, when he relocated to New Hampshire, Wheelock trained approximately 60 male and female Native American students from nearby Algonquian tribes and from the Haudenosaunee (Iroquois) of central New York. At the same time, he navigated the complicated politics of missionary societies by setting up his own board of the Society in Scotland for Propagating Christian Knowledge, although he continued to feud with the Boston Board of the SSPCK and the London Commissioners in Boston (more colloquially called the New England Company). By the late 1760s, Wheelock had become disillusioned with the idea of Native American education. He was increasingly convinced that educating Native Americans was futile (several of his students had failed to conform to his confusing and contradictory standards), and, in late 1768, he lost his connection to the Haudenosaunee. With his inclination and ability to sponsor Native American missionaries largely depleted, Wheelock sought instead to fulfill his ultimate ambition of obtaining a charter and opening a college, which he did in 1769. To fund this new enterprise, Wheelock drew on the £12,000 that Samson Occom had raised for Moor's Indian Charity School during a two-and-a-half year tour of Great Britain (1765 to 1768). Much of this money went towards clearing land and erecting buildings in New Hampshire for the Charity School's relocation — infrastructure that also happened to benefit Dartmouth. Many of Wheelock's contemporaries were outraged by what they saw as misuse of the money, as it was clear that Dartmouth College was not intended for Indians and that Moor's had become a side project. Although Wheelock tried to maintain at least some commitment to Native American education by recruiting students from Canadian communities, the move did a great deal of damage to his public image. The last decade of Wheelock's life was not easy. In addition to the problems of trying to set up a college far away from any Anglo-American urban center, Wheelock experienced the loss of relationships with two of his most famous and successful students, Samson Occom and Samuel Kirkland (an Anglo-American protégé). He also went into debt for Dartmouth College, especially after the fund raised in Britain was exhausted.
Thomas
Thomas was an essential figure in Oneida Christianity and an important ally for Samuel Kirkland. While it is unclear when he converted to Christianity, by the 1750s he was preaching and leading services at Kanawalohale. By all accounts, he was a compelling speaker and talented at rendering Christian theology in terms compatible with Oneida cosmology. Thomas was instrumental in supporting Kirkland's mission: he often protected the Anglo-American missionary and helped him translate his ideas more effectively. Thomas also played an important role in the history of Moor's. His daughter, Hannah, was a student there, and in July 1768 he visited her. He returned the following January to pull her out of school following her mother's death, and he took the remaining five Oneida children with him. Later statements by Oneida chiefs (reported to Kirkland and David Avery) made clear that a large part of the Oneidas' reason for withdrawing their children was Wheelock's harsh discipline. Thomas was also present for Ralph Wheelock's 1768 outburst at Onaquaga, and was Avery's 1772 source for what had taken place there. Despite his disagreements with Wheelock, Thomas continued to support Kirkland's mission. Thomas was killed by British troops in 1779 while on a diplomatic visit to the Mohawks at Kahnawake (a site across the St. Lawrence River from Montreal). His murder gave the Oneidas yet another reason to side with the colonists during the Revolution.
Document Summary
People identified in this document:
| id | Text in document | Role in header | Authorized Name |
| --- | --- | --- | --- |
| pers0643.ocp | Thomas | mentioned | Thomas |
| pers0064.ocp | David Avery | writer | Avery, David |
| pers0036.ocp | D r Dr. Wheelock | recipient | Wheelock, Eleazar |
| pers0036.ocp | Eleazar Wheelock | recipient | Wheelock, Eleazar |
Places identified in this document:
| id | Text in document | Authorized Name |
| --- | --- | --- |
| place0114.ocp | Canawarohare Kanawalohale | Kanawalohale |
| place0048.ocp | Connecticut | Connecticut |
This document does not contain any tagged organizations.
Dates identified in this document:
| Standard Form | Text |
| --- | --- |
| 1768-06-23 | June 23. 1768 |
| 1768-06-23 | June 23.d 1768 |
Regularized text:
Type
Original
Regularized
variation
Canawarohare
Kanawalohale
modernization
Rev,

d

Rev.
modernization
reſpecting
respecting
modernization
Siſter
sister
modernization
Sickneſs
sickness
modernization
moſt
most
modernization
Jeſus
Jesus
modernization
Reſurrection
resurrection
modernization
wiſh
wish
modernization
propoſed
proposed
modernization
Conſideration
consideration
variation
shold
should
modernization
conſtant
constant
modernization
Alſo
Also
modernization
deſign
design
modernization
catechiſe
catechise
modernization
eſtabliſht
established
modernization
conſtantly
constantly
variation
git
get
modernization
underſtand
understand
modernization
Pleaſe
Please
modernization
Rev,

d

Rev.
modernization
D,

r

Dr.
modernization
D

r

Dr.
Expanded abbreviations:
Abbreviation
Expansion
&
and
Hon

d

Honoured
&
and
Hon,

d

Honoured
This document's header does not contain any mixed case attribute values.
Summary of errors found in this document:
| | |
| --- | --- |
| Number of dates with invalid 'when' attributes: | 0 |
| Number of nested "hi" tags: (consider merging the @rend attributes, or using other tags) | 0 |
| Number of tags with invalid 'rend' attributes: | 0 (out of 10) |
| Number of people/places/organizations with unknown keys: | 0 (out of 8) |
| Number of "add" tags with unknown 'place' attributes: | 0 (out of 2) |
| Mixed case attribute values in header (potential error): | 0 (out of 95) |