Tobias Shattock, letter, to Eleazar Wheelock, 1767 November 30
ms-number: 767630.2
[note (type: abstract): Shattock writes that the Trustees appointed by the Rhode Island General Assembly have decided to sell enough of the Narragansetts' land to pay their Sachem Ninegret's debts. Fearing their ruin, the Narragansetts are sending Shattock to London to raise funds.]
[note (type: handwriting): Formal handwriting is clear and legible. The handwriting is the same as on 765566.1, 767115.1, 767552, 767559, 767562.2, 767660.2, and possibly 767231 and 767251. It is likely that of Edward Deake, schoolmaster at Charlestown. It is occcasionally difficult to decipher whether superscript punctuations are periods or underlines.]
[note (type: paper): Large single sheet is in good condition, with light staining, creasing and wear.]
[note (type: ink): Bold black.]
---
[Opener]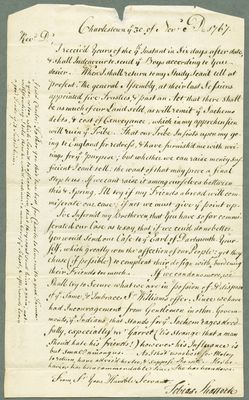 (View Page Image)
Charlestown

[place0031.ocp]

[y

e

| the]y

e

the

30. of [Nov

r

| November]Nov

r

November

AD

:

1767

[1767-11-30]

.

[Rev

d

| Rev.]Rev

d

Rev.

[D

r

| Doctor]D

r

Doctor

,


I
[receiv'd | received]
receiv'd
received
Yours of the
[9.

th

| 9th]9.

th

9th

Instant

[1767-11-09]
in Six days after date,
[& | and]
&
and
shall
[Indeavour | endeavour]
Indeavour
endeavour
to send
[y

e

| the]
y

e
the
Boys according to your
[desier | desire]
desier
desire
. — When I shall return to my Study I can't tell at
[preſent | present]
preſent
present
. The
general

[Aſsembly | Assembly]

Aſsembly

Assembly

[org0110.ocp]
, at their last
[Seſsions | sessions]
Seſsions
sessions
appointed five Trustees,
[& | and]
&
and
past an Act, that there shall
be as much of our Land sold, as will remit
[y.

e

| the]
y.

e
the
Sachem

[pers0392.ocp]
s
debts,
[& | and]
&
and
cost of Conveyance, which in my
[apprehenſion | apprehension]
apprehenſion
apprehension
will ruin
[y

e

| the]
y

e
the
Tribe

[org0066.ocp]
. — That our
Tribe

[org0066.ocp]
[Inſists | insists]
Inſists
insists
upon my go‐
ing to
England

[place0068.ocp]
for
[redreſs | redress]
redreſs
redress
,
[& | and]
&
and
have
[furnish'd | furnished]
furnish'd
furnished
me with wri‐
tings for
[y

e

| the]
y

e
the
purpose; but whether we can raise money suf‐
ficient I can't tell: the want of that may prove a final
stop to us. If we can't raise it among
[ourſelves | ourselves]
ourſelves
ourselves
[bettween | between]
bettween
between
this
[& | and]
&
and
Spring, I'll try if my Friends abroad will
[com‐
miſerate | com‐
miserate]
com‐
miſerate
com‐
miserate
our case; if not we must give
[y

e

| the]
y

e
the
point up.
I've
[Inform'd | informed]
Inform'd
informed
my Brethren, that you have so far
[commi‐
ſerated | commi‐
serated]
commi‐
ſerated
commi‐
serated
our Case as to say, that if we
[cou'd | could]
cou'd
could
do no better
You
[wou'd | would]
wou'd
would
Send our
[Caſe | case]
Caſe
case
to
[y

e

| the]
y

e
the
Earl of Dartmouth

[pers0153.ocp]
[Your‐
ſelf | your‐
self]
Your‐
ſelf
your‐
self
, which greatly won the affection of our People: yet they
[chuse | choose]
chuse
choose
(if
[poſsible | possible]
poſsible
possible
) to
[compleat | complete]
compleat
complete
their
[deſign | design]
deſign
design
with
⇑
[above]
out
out
burdening
their Friends too much. — If we can do no more, we
Shall try to Secure what we are in
[poſsion | possession]
poſsion
possession
of,
[& | and]
&
and
dispose
of
[y

e

| the]
y

e
the
Same,
[& | and]
&
and
[Imbrace | embrace]
Imbrace
embrace
[S

r

| Sir]S

r

Sir

William

[pers0292.ocp]
's offer. Since we have
had
[Incouragement | encouragement]
Incouragement
encouragement
from Gentlemen in other Govern‐
ments,
[y

e

| the]
y

e
the
Indians that Stands for
[y

e

| the]
y

e
the
Sachem

[pers0392.ocp]
rages
[dred‐
fully | dread‐
fully]
dred‐
fully
dread‐
fully
, especially
[m

r

| Mr.]m

r

Mr.

Garret

[pers1762.ocp]
('tis Strange that a man
[Shou'd | should]
Shou'd
should
hate his friends!) however his
[Influance | influence]
Influance
influence
is
but small among us. — As I
[tho't | thought]
tho't
thought
'twas best for
[Moley | Molly]
Moley
Molly
[pers0468.ocp]
to return, have
[advis'd | advised]
advis'd
advised
her too,
[& | and]
&
and
[Suppoſe | suppose]
Suppoſe
suppose
She will. — Her be‐
havior has been commendable Since She has been down.
[left]
I told Charles

[pers0738.ocp]

's Father you

[tho't | thought]

tho't

thought

'twas best for Charles

[pers0738.ocp]

to live with a good Farmer
a year or

[too | two]

too

two

, which

[Seem'd | seemed]

Seem'd

seemed

to affront them, that they wont send him again; [not‐
withſtanding | not‐
withstanding]not‐
withſtandingnot‐
withstanding I told them he

[wou'd | would]

wou'd

would

continue a member of [y

e

| the]y

e

the

School

[org0098.ocp]

,

[& | and]

&

and

afterwards learn
a good Trade if it Suited him.
I told Charles

[pers0738.ocp]

's Father you

[tho't | thought]

tho't

thought

'twas best for Charles

[pers0738.ocp]

to live with a good Farmer
a year or

[too | two]

too

two

, which

[Seem'd | seemed]

Seem'd

seemed

to affront them, that they wont send him again; [not‐
withſtanding | not‐
withstanding]not‐
withſtandingnot‐
withstanding I told them he

[wou'd | would]

wou'd

would

continue a member of [y

e

| the]y

e

the

School

[org0098.ocp]

,

[& | and]

&

and

afterwards learn
a good Trade if it Suited him.
[Closer]
From, [S.

r

| Sir]S.

r

Sir

Your Humble Servant.

Tobias Shattock

[pers0476.ocp]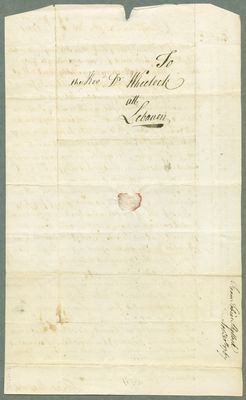 (View Page Image)
[Trailer]
From
Tobias Shattock

[pers0476.ocp]
[Nov

r

| November]Nov

r

November

[30.

th

| 30th]30.

th

30th

1767

[1767-11-30]
To
the
[Rev

d

| Rev.]
Rev

d
Rev.
[D

r

| Dr.]D

r

Dr.

Wheelock

[pers0036.ocp]
[att | at]
att
at
Lebanon

[place0122.ocp]
Rhode Island General Assembly
The Rhode Island Assembly was the legislature of Rhode Island during the colonial period. It is most relevant here for its role in the Narragansett land dispute, which involved several Moor's students. For much of the eighteenth century, the Narragansett sachemship was held by the Ninigret family. The Ninigrets were Anglicans and lived a lavish, Anglicized life. As a result, they ran up a very large debt over several generations. The Rhode Island Assembly urged the Ninigrets to sell off much of the Narragansett's' land in order to pay their debts. Naturally, this did not go over well with the Narragansett tribe. Tobias Shattock and John Shattock, two Moor's students, took the lead in the opposing the sachem and the Assembly. They appealed to powerful figures, including Sir William Johnson and Andrew Oliver, and in 1767, were able to secure a halt on land sales. They then travelled to London to plead the Narragansett' case. Unfortunately, Tobias died in 1768 in Edinburgh and John died of consumption shortly after returning to the colonies. After sachem Thomas Ninigret died in 1769, the sachemship was replaced by a council.
Narragansett Tribe
The Narragansetts are an Algonquian tribe based in Southern Rhode Island. Narragansett students (including the Simons, the Shattocks, and the Secutors) attended Eleazar Wheelock's Moor's Indian Charity School, and Charlestown, RI, was also one of the seven communities that participated in the Brothertown movement (the pan-Algonquian coalition organized by former Moor's students). The Narragansetts were recognized in the 18th-century for their indigenous Christian Separatism, and a Separatist congregation under the leadership of Samuel Niles commanded much of the Tribe's spiritual life from the 1740s onward. While Separatism is an imprecise word, it generally denotes congregations that formally separated from Congregationalist churches and were characterized by an increased emphasis on charismatic Christianity. Samuel Niles was an illiterate preacher who had himself been ordained by lay persons (thus breaking with the formal laying on of hands by an ordained person that created a theoretical chain from the Apostles to contemporary clergy). The congregation's practices and theology diverged from the Anglo-American norm in meaningful ways, which shocked many Anglo-American observers but also gave the Narragansetts the autonomy needed to expel Rev. Joseph Fish, a New England Company (NEC) sponsored minister, and Edmund Deake, the schoolmaster who accompanied him, in 1776. Like other New England tribes, the Narragansetts struggled with land dispossession. In this case, the sachem and colony cooperated with one another to the Tribe's disadvantage: the sachem family, the Ninigrets, had tied themselves closely to the colony of Rhode Island when they converted to the Anglican Church in 1727. They adopted a lavish English lifestyle and funded it by selling off tribal land. By the 1760s, land sales were a massive problem, and the anti-sachem party began trying to put a halt to them. Narragansetts with powerful connections, including former Moor's students, appealed to Eleazar Wheelock and Sir William Johnson and, in 1767, secured a temporary halt to land sales through the intervention of NEC treasurer Andrew Oliver. The next year, Tobias and John Shattock traveled to London to appeal to the privy council for a permanent solution; however, Tobias died of smallpox, and John failed. Sachem Thomas Ninigret died in 1769, and the Tribe solved the land sales problem by abolishing the office of sachem in the 1770s. The Narragansetts continued to struggle with the state of Rhode Island after the Revolution. Rhode Island unilaterally (and illegally) dissolved the Narragansett's tribal standing in 1880, but the Narragansetts maintained tribal structures and, as much as possible, residence on their territory. They were officially re-recognized in 1983.
Moor's Indian Charity School
Moor's Indian Charity School was a grammar school for Native Americans that Eleazar Wheelock opened in North Lebanon, Connecticut in 1754. The school was named for Colonel Joshua Moor, also spelled More, who donated the land and school building. Moor's was essentially an expansion of the grammar school that Wheelock opened in 1743 to support himself during the fallout from the First Great Awakening, when Wheelock, who'd participated in itinerant ministry during the Awakening, had his salary confiscated by the colony of Connecticut. In December of that year, Samson Occom asked Wheelock to teach him as well. Wheelock's work with Occom was so successful that Wheelock decided to replicate the experiment with other Native American boys. He accepted his first Indian students in 1754, and in 1761 began taking female students as well. Wheelock believed that in time, his school would become just one part of a larger missionary enterprise. He planned to send his Anglo American and Native American students to various tribes as missionaries and schoolmasters, with explicit instructions to pick out the best students and send them back to Moor's to continue the cycle. His ultimate goal was to turn his school into a model Christian Indian town that would include farms, a college, and vocational training. However, Wheelock's grand design did not survive the decade. Wheelock lost the vast majority of his Native American students; he fought with many of the best, including Samson Occom, Joseph Johnson, David Fowler, and Hezekiah Calvin, and other former and current students accused him of subjecting Native Americans to disproportionate amounts of manual labor. In 1769, perhaps due to concerns about corporal punishment, the Oneida withdrew all their children from Moor's. When Wheelock relocated to Hanover in 1769, only two Native American students came with him, and it became clear that Wheelock's focus was on Dartmouth and that Dartmouth was for white students. After Wheelock's death in 1779, Moor's Indian Charity School receded further into the background as John Wheelock, his father's reluctant successor, stopped taking Indian students. Some Native American students were enrolled in Moor's until 1850, when the school unofficially closed.
Charlestown
Charlestown is located in Washington County in southwestern Rhode Island along the Block Island sound. For thousands of years before European settlement, the area was inhabited by Native Americans who lived by hunting, fishing and agriculture. When the English dissenter, Roger Williams, fled Massachusetts Bay in 1636 and stepped ashore in what would become the Plantation of Providence, he was welcomed by Canonicus, sachem of the Narragansett Indians. From Canonicus, Williams purchased a large tract of land that included the settlement of Misquamicut, which would become the site of an English settlement named Charlestown after King Charles II. It was incorporated in 1783. After the Great Swamp Fight in which the United Colonies massacred many Narragansetts — and hunted down and killed or enslaved those who escaped — 500 survivors (from a pre-war population of 5,000) signed a 1682 peace treaty and received permission to join with the Eastern Niantic tribe, which had remained neutral throughout the war and had a small reservation near Charlestown. Settlers continued to acquire land from the Naragansetts, and by 1880, the tribe ceased to exist as a legal entity. A portion of tribal lands were returned to Narragansett ownership in 1978 by the courts and state legislation, and the tribe was officially recognized in 1983. Charlestown is the present-day headquarters of the Narragansett Tribe and the location of their reservation.
Lebanon
Lebanon is a town located in the state of Connecticut southwest of the town of Hartford. The land that became Lebanon was inhabited at least 10,000 years ago based on the archeological record. By the 1600s, the land was permanently inhabited by the Mohegan Indians, who used the area primarily for hunting. Lebanon was officially formed in 1700 when English settlers consolidated a number of land tracts, including several land grants by the Connecticut General Assembly and lands purchased from the Mohegans. However, these purchases were controversial. In 1659, the Mohegans entrusted their reserve land to Major John Mason, and in the following year, Mason transferred this land to the Connecticut colonial government with the understanding that there would be enough land left for the Mohegans to farm. The Mohegans claimed that they never authorized a transfer to the colonial government and only Mason's heirs were entrusted with their land. In 1662, Connecticut, which included the Mohegan land that had been entrusted to the Masons, was incorporated by a royal charter. Based on this charter, the colony argued that the land was now the property of the government. In 1687, the colony began granting the Mohegan land to townships, and in 1704 the Masons petitioned the Crown on behalf of the Mohegans, claiming that such transfers of land to townships were illegal. Between the years of 1705 and 1773 legal disputes and controversies persisted, finally ending in a verdict by the Crown against the Mohegans. In 1755, Wheelock received property and housing in Lebanon that he would use as his house and school. While Lebanon was originally incorporated as a part of New London County in 1700, in 1724 it became a part of New Windham, before once again becoming a part of New London County in 1826. Lebanon was central to the American Revolution with half of its adult population fighting for the colonists and hundreds of meetings convened in the town for the revolutionary cause.
Shattock, Tobias
Tobias Shattock was a Narragansett leader who briefly attended Moor's Indian Charity School. He died in Edinburgh while trying to protect Narragansett land interests. Like many Moor's students, Tobias was from a powerful family: he and his brother John were the sons of John Shattock Sr., a Narragansett lay minister. Tobias and John received their basic education from Edward Deake at Charlestown and then attended Moor's from December 1766 to the fall of 1767. By all accounts, Tobias was an especially promising student. Both Tobias and John left Moor's to try to defend Narragansett land claims. The Narragansett sachems had run up massive debt over the course of the 18th century, and were trying to sell Narragansett land to the colony of Rhode Island to settle them. Much of the Narragansett Tribe opposed this course of action. Tobias and John Jr. took the lead in the Tribe's efforts to recruit powerful allies for their cause. Tobias appealed to Sir William Johnson and Andrew Oliver, who were able to secure a temporary halt on land sales. Then, with the support of Wheelock, Whitefield, and Sir William Johnson, the brothers set out to plead their case before the Privy Council in London in January 1768. They arrived in Edinburgh on April 15, 1768, where Tobias died of smallpox on May 6. John continued on to London, but was unsuccessful in his appeal. He returned to the colonies where he died in 1770.
Wheelock, Eleazar
Eleazar Wheelock was a New Light Congregationalist minister who founded Dartmouth College. He was born into a very typical Congregationalist family, and began studying at Yale in 1729, where he fell in with the emerging New Light clique. The evangelical network that he built in college propelled him to fame as an itinerant minister during the First Great Awakening and gave him many of the contacts that he later drew on to support his charity school for Native Americans. Wheelock's time as an itinerant minister indirectly brought about his charity school. When the Colony of Connecticut retroactively punished itinerant preaching in 1743, Wheelock was among those who lost his salary. Thus, in 1743, he began operating a grammar school to support himself. He was joined that December by Samson Occom, a Mohegan Indian, who sought out an education in hopes of becoming a teacher among his people. Occom's academic success inspired Wheelock to train Native Americans as missionaries. To that end, he opened Moor's Indian Charity School in 1754 (where he continued to train Anglo-American students who paid their own way as well as students who functionally indentured themselves to Wheelock as missionaries in exchange for an education). Between 1754 and 1769, when he relocated to New Hampshire, Wheelock trained approximately 60 male and female Native American students from nearby Algonquian tribes and from the Haudenosaunee (Iroquois) of central New York. At the same time, he navigated the complicated politics of missionary societies by setting up his own board of the Society in Scotland for Propagating Christian Knowledge, although he continued to feud with the Boston Board of the SSPCK and the London Commissioners in Boston (more colloquially called the New England Company). By the late 1760s, Wheelock had become disillusioned with the idea of Native American education. He was increasingly convinced that educating Native Americans was futile (several of his students had failed to conform to his confusing and contradictory standards), and, in late 1768, he lost his connection to the Haudenosaunee. With his inclination and ability to sponsor Native American missionaries largely depleted, Wheelock sought instead to fulfill his ultimate ambition of obtaining a charter and opening a college, which he did in 1769. To fund this new enterprise, Wheelock drew on the £12,000 that Samson Occom had raised for Moor's Indian Charity School during a two-and-a-half year tour of Great Britain (1765 to 1768). Much of this money went towards clearing land and erecting buildings in New Hampshire for the Charity School's relocation — infrastructure that also happened to benefit Dartmouth. Many of Wheelock's contemporaries were outraged by what they saw as misuse of the money, as it was clear that Dartmouth College was not intended for Indians and that Moor's had become a side project. Although Wheelock tried to maintain at least some commitment to Native American education by recruiting students from Canadian communities, the move did a great deal of damage to his public image. The last decade of Wheelock's life was not easy. In addition to the problems of trying to set up a college far away from any Anglo-American urban center, Wheelock experienced the loss of relationships with two of his most famous and successful students, Samson Occom and Samuel Kirkland (an Anglo-American protégé). He also went into debt for Dartmouth College, especially after the fund raised in Britain was exhausted.
Ninigret, Thomas
Thomas Ninigret was the grandson of George Ninigret, the 17th-century Narragansett sachem made famous by his relationship with Roger Williams, the English minister who founded Rhode Island. In 1746, Thomas Ninigret became the Sachem of the Narragansett tribe, a position he would hold until his death. Like his predecessors, Ninigret sold large amounts of historically Niantic land (which the Narragansett sachems took possession of when the Niantics and the Narragansetts merged in 1680) to the colony of Rhode Island. Ninigret also accrued vast amounts of personal debt; his legendary spending is accredited to the time he spent in England receiving education, a period which many of his tribe believe made Ninigret a stranger to the Narragansett way of life. As a result, some Narragansetts attempted to convince the Rhode Island legislature to slow the land sales, and even petitioned for Ninigret's removal from the Sachemship. Wheelock took note of Ninigret's destructive behavior and wrote Governor Hopkins in 1767 to appeal for a moratorium on the sale of Niantic/Naragansett land. Ultimately, land sales did slow as the Narragansett people continued to petition the Rhode Island legislature, but only a small amount of Narragansetts remained living in Rhode Island by 1812. Ninigret, often sarcastically referred to as "King Tom," is remembered as the most costly ruler in the Ninigret line.
Legge, William
William Legge, the second Earl of Dartmouth, was the reluctant namesake of Dartmouth College. Like many of his countrymen, Legge became involved in Eleazar Wheelock's plans through George Whitefield, the famous evangelical who introduced Samson Occom and Nathaniel Whitaker to Legge shortly after the pair's February 1766 arrival in London. Legge proved critical in promoting Occom's tour among the nobility, and took on a logistical role by helping to collect and oversee donations. Although Legge and Whitefield both felt it would be best if Wheelock were in total control of the funds raised in England, Occom eventually collected so much money that a formal trust was necessary to preserve propriety. This trust was formed in late 1766, with Legge as its president, to guarantee that Wheelock used the money appropriately. It soon proved that the Trust and Wheelock had different ideas as to what was, in fact, appropriate, but they were largely able to cooperate until 1769, when Wheelock obtained a charter for his school without informing the trust. (The trust, feeling that a charter would obviate its control over the British funds, had vehemently opposed it.) Adding insult to injury, Wheelock named the resulting institution Dartmouth—again without consulting Legge, and perhaps more to reassure the multitudes who had donated money than to honor the Earl. Legge never wrote to Wheelock again. Outside of his involvement with Wheelock, Legge had a brief political career. Although he was generally more concerned with religious and philanthropic matters, his station and connections (he was the step-brother of Frederick North, who was prime minister from 1770 to 1782) led him to take his first political post in 1765 as a member of the Board of Trade. During his tenure (1765-1767), and again while he was Secretary of State for the Colonies (1772-1775), Legge's search for cooperative solutions proved unsuccessful during the build-up to the Revolution. His later positions were primarily ceremonial.
Johnson, William
Sir William Johnson was a powerful British colonial official who amassed wealth and influence by integrating into the Mohawk tribe. For a brief window of time (1761-1768), he provided support for Wheelock's missionary efforts among the Six Nations. He also helped the Brothertown Nation of Indians procure land from the Oneidas. Johnson was born in Ireland in 1715. His family had been part of the Catholic elite, but after William of Orange's 1690 victory at the Battle of the Boyne, they at least nominally converted to the Episcopalian Church. In 1738, Johnson emigrated to America to manage his uncle Peter Warren's estate in Mohawk territory. Over the next decade, Johnson became wealthy in his own right through trade and land sales, acquiring a vast estate crowned by his manor house, Johnson Hall, which became the central location for British and Indian treaty making. In 1745, Johnson began collecting official British titles and positions. He played an important military role in the French and Indian War and was named Superintendent of Indian Affairs in 1756 and first baronet of New York in 1757. Much of Johnson's success was due to his influence among the Mohawks, which he obtained by learning their language and customs and integrating himself into their society. He participated in Mohawk rituals and entered into a common-law marriage with a powerful Mohawk woman, Molly Brant (also called Mary Brant). Because Haudenosaunee (Iroquois) society is matrilineal, this marriage was an essential element of his participation in Indian affairs. Wheelock desperately wanted to wield missionary influence among the Six Nations, and sought to obtain Johnson as an ally in his endeavors. At first, the two found grounds for cooperation. Wheelock sent Occom as a missionary to the Oneidas in 1761 and again in 1762, and sent a substantially larger group of missionaries and schoolmasters in 1765, 1766, and 1767. Johnson, meanwhile, encouraged Haudenosaunee children, including his brother-in-law Joseph Brant, to attend Moor's. Johnson's support proved indispensible to missionaries in the field; he helped with supplies, language skills, and relations with the Mohawks and Oneidas. Wheelock also valued Johnson for his influence in Britain, and drew on him for recommendations and public statements of support numerous times. From 1763 on, however, Johnson found himself decidedly uncomfortable with Wheelock's missionary efforts, and by 1769, their relationship had dissolved completely. In 1766, Johnson was invited to join the Society for the Propagation of the Gospel in Foreign Parts (SPG), the largest and most influential Anglican missionary society in the 18th-century British-Atlantic world. He began working to place Anglican missionaries, rather than Congregationalist and Presbyterian ones, among the Six Nations, which alarmed Wheelock. Johnson was generally supportive of Native American tribes' efforts to maintain their land and sovereignty. As the historian Linford Fisher has noted, "virtually every major Native group in southeastern New England successfully petitioned Johnson to act on their behalf during the late 1760s and early 1770s." Among these groups was the Brothertown Nation, a Christian composite tribe formed by Southern New England Algonquian Moor's alumni. Johnson helped them negotiate with the Oneidas, which proved essential to their successful land purchase and relocation to central New York.
Secutor, Mary
Mary Secutor, the daughter of John Secutor, grew up on the Narragansett tribal lands. In December of 1763 she became one of the few women to study with Eleazar Wheelock at Moor's Indian Charity School. Upon her arrival she met Hezekiah Calvin and the two remained at school together for a year and a half before Hezekiah was sent to teach school to Mohawk children. Later Calvin requested Mary's father's permission for the two to marry. John did not give his consent and asked Wheelock to intervene. Despite this, the two became engaged. However, Mary and Hezekiah never married. Mary appears to have been a model student initially, but began to falter as time went on. In December of 1767 she confessed to sins, taking the name of God in vain, and lewd behavior in front of male members of the school while intoxicated. She pledged to cease this behavior, but in March of 1768 she confessed again to unseemly conduct while under the infulence of alcohol. In July of 1768 she wrote to Wheelock expressing that she did not feel worthy and no longer wished to attend the school, and asking his permission to leave.
Daniel, Charles
Charles Daniel was a Narragansett student who studied at Moor's Indian Charity School from the end of 1765 until at least 1767. The Daniel family was prominent in Narragansett affairs and was generally an ally to the Ninigret sachems. Charles' father, John, attempted to withdraw Charles from Moor's in 1767 because of rumors that Wheelock was only teaching Native American students how to farm. It is unclear whether Charles actually left school at this point. By 1771, Charles was working as a schoolmaster in Stonington, Connecticut. Reverend Joseph Fish hired him sporadically until 1773, when Fish and Charles parted ways over a disagreement. At this point, Charles disappears from written sources.
Document Summary
People identified in this document:
| id | Text in document | Role in header | Authorized Name |
| --- | --- | --- | --- |
| pers0392.ocp | Sachem | mentioned | Ninigret, Thomas |
| pers0153.ocp | Earl of Dartmouth | mentioned | Legge, William |
| pers0292.ocp | S r Sir William | mentioned | Johnson, William |
| pers1762.ocp | m r Mr. Garret | mentioned | Garrett |
| pers0468.ocp | Moley Molly | mentioned | Secutor, Mary |
| pers0738.ocp | Charles | mentioned | Daniel, Charles |
| pers0476.ocp | Tobias Shattock | writer | Shattock, Tobias |
| pers0036.ocp | D r Dr. Wheelock | recipient | Wheelock, Eleazar |
Places identified in this document:
| id | Text in document | Authorized Name |
| --- | --- | --- |
| place0031.ocp | Charlestown | Charlestown |
| place0068.ocp | England | England |
| place0122.ocp | Lebanon | Lebanon |
Organizations identified in this document:
| id | Text in document | Authorized Name |
| --- | --- | --- |
| org0110.ocp | general AſsemblyAssembly | Rhode Island General Assembly |
| org0066.ocp | Tribe | Narragansett Tribe |
| org0098.ocp | School | Moor's Indian Charity School |
Dates identified in this document:
| Standard Form | Text |
| --- | --- |
| 1767-11-30 | 30. of Novr November AD: 1767 |
| 1767-11-09 | 9.th 9th Instant |
| 1767-11-30 | Novr November 30.th 30th 1767 |
Regularized text:
Type
Original
Regularized
modernization
y

e

the
modernization
Rev

d

Rev.
modernization
9.

th

9th
variation
Indeavour
endeavour
modernization
y

e

the
variation
desier
desire
modernization
preſent
present
modernization
Aſsembly
Assembly
modernization
Seſsions
sessions
modernization
y.

e

the
modernization
apprehenſion
apprehension
modernization
Inſists
insists
modernization
redreſs
redress
modernization
ourſelves
ourselves
variation
bettween
between
modernization
com‐
miſerate
com‐
miserate
modernization
commi‐
ſerated
commi‐
serated
modernization
Caſe
case
modernization
Your‐
ſelf
your‐
self
variation
chuse
choose
modernization
poſsible
possible
variation
compleat
complete
modernization
deſign
design
variation
poſsion
possession
variation
Imbrace
embrace
variation
Incouragement
encouragement
variation
dred‐
fully
dread‐
fully
modernization
m

r

Mr.
variation
Influance
influence
variation
Moley
Molly
modernization
Suppoſe
suppose
variation
too
two
modernization
not‐
withſtanding
not‐
withstanding
modernization
30.

th

30th
modernization
Rev

d

Rev.
modernization
D

r

Dr.
variation
att
at
Expanded abbreviations:
Abbreviation
Expansion
Nov

r

November
D

r

Doctor
receiv'd
received
&
and
furnish'd
furnished
Inform'd
informed
cou'd
could
wou'd
would
S

r

Sir
Shou'd
should
tho't
thought
advis'd
advised
Seem'd
seemed
S.

r

Sir
Nov

r

November
This document's header does not contain any mixed case attribute values.
Summary of errors found in this document:
| | |
| --- | --- |
| Number of dates with invalid 'when' attributes: | 0 |
| Number of nested "hi" tags: (consider merging the @rend attributes, or using other tags) | 0 |
| Number of tags with invalid 'rend' attributes: | 0 (out of 27) |
| Number of people/places/organizations with unknown keys: | 0 (out of 18) |
| Number of "add" tags with unknown 'place' attributes: | 0 (out of 2) |
| Mixed case attribute values in header (potential error): | 0 (out of 109) |