Peter Jillard, letter, to Eleazar Wheelock, 1767 March 2
ms-number: 767202
[note (type: abstract): Jillard writes to express his admiration for Occom, and notes that his opinion is shared by many in Great Britain. He proposes that provision should be made for Occom and his family out of the funds collected.]
[note (type: handwriting): Handwriting is loose though mostly legible; it is occasionally difficult to decipher letter case.]
[note (type: paper): Two sheets are in good condition, with moderate wear and creasing; tear around remnants of seal results in no loss of text.]
[note (type: noteworthy): The "Narrative" referred to on two recto was written by Wheelock and contained the credentials and recommendations of Whitaker and Occom, as well as an abbreviated account of the Indian Charity School and its mission. A note reading "Man 2. 1767 --" has been added in pencil to one verso.]
[note (type: layout): Second page of letter is on two recto not one verso.The second page of the letter is written in landscape orientation.]
---
[Opener]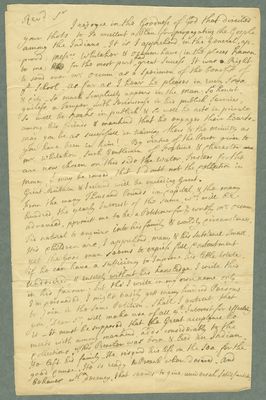 (View Page Image)
[Rev.

d

| Rev.]Rev.

d

Rev.

[S

r

| Sir]S

r

Sir

/

I
[rejoyce | rejoice]
rejoyce
rejoice
in the
[Goodneſs | goodness]
Goodneſs
goodness
of God that directed
your
[thots | thoughts]
thots
thoughts
to So excellent a Plan for propagating the
[Gosple | Gospel]
Gosple
Gospel
among the Indians— It is I apprehend, in the General,
[ap­
prov'd | ap­
proved]
ap­
prov'd
ap­
proved
.
[meſs.

rs

| Messrs.]
meſs.

rs
Messrs.
Whitaker

[pers0037.ocp]
&
[occum | Occom]
occum
Occom
[pers0030.ocp]
have (in the places known
to me)
had
for the most part
⇑
[above]
had
had
great
[Succeſs | success]
Succeſs
success
.. It was
a
Right
to send over
[m.

r

| Mr.]
m.

r
Mr.
[occum | Occom]
occum
Occom
[pers0030.ocp]
, as a Specimen of the
[benefitt | benefit]
benefitt
benefit
of
[y.

e

| the]y.

e

the

School

[org0098.ocp]
— As far as I hear he pleases in every Town
& city— So much Simplicity appears in the man: So honest,
[guileſs | guileless]
guileſs
guileless
a Temper, with
[Seriousneſs | seriousness]
Seriousneſs
seriousness
in his
[publick | public]
publick
public
Service.,
So well he speaks in
[publick | public]
publick
public
, & So well he acts in private,
among his friends & mankind, that he engages their hearts—
may you be as
[suceſsfull | successful]
suceſsfull
successful
in training others to the ministry as
you have been in him!— By virtue of the Power given to
[m.

r

| Mr.]m.

r

Mr.

Whitaker

[pers0037.ocp]
, Such Gentlemen of Fortune & Character
are
are now chosen on this side the Water, Trustees for the
Money
[y

t

| that]
y

t
that
may be raised, that I doubt not the Collection in
[Great-Britain | Great Britain]
Great-Britain
Great Britain
[place0090.ocp]
&
Ireland

[place0108.ocp]
will be exceeding Great.
From the many Thousand Pounds in Capital, & the many
hundred, the yearly Interest of the same,
[w.

ch

| which]
w.

ch
which
will be
advanced,
[permitt | permit]
permitt
permit
me to be a Petitioner for
[y

e

| the]
y

e
the
worthy
[m.

r

| Mr.]
m.

r
Mr.
[occum | Occom]
occum
Occom
[pers0030.ocp]
.
Tis
[naturel | natural]
naturel
natural
to enquire into his family & worldly Circumstances.
His Children are, I apprehend, many, & Substance Small—
yet the Good man seems to
[expreſs | express]
expreſs
express
full Contentment
if he can have a Sufficiency to Improve his little Estate.
Undesired
, &
entirely without his knowledge
I write this
in his favour; but
[tho' | though]
tho'
though
I write in my own name only,
I'm persuaded, I might easily
[gett | get]
gett
get
many hundred Persons
to join in the Same Petition— Shall I entreat, that
you, Dear
[S

r

| Sir]
S

r
Sir
, will make use of all
[y.

E

| the]
y.

E
the
Interest for Effecting
it— It must be supposed that the Great acceptance he
meets with among mankind, adds considerably to the
Collections, "
This Preacher was born & bred an Indian
—
He left his family— He
[risqued | risked]
risqued
risked
his life on the Sea, for the
good Cause. He is ready to Preach when desired— And
behaves
[ w.

th

| with]
w.

th
with
⇑
[above]
a
a
decency. that seems to give universal Satisfaction
⇑
[below]
—
—
(View Page Image)
[note (type: editorial): Blank page.]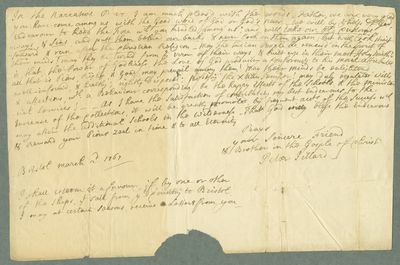 (View Page Image)
In the Narrative P 27, I am much
[pleas'd | pleased]
pleas'd
pleased
with the words, Father, we are very glad
you have come among us with
the Good word
of God, or God is news— we will by
[y

e

| the]
y

e
the
help of God,
Endeavour to keep the Fire
[w.

ch

| which]
w.

ch
which
you kindled among us; and,
will take our Old Customs
,
"
ways
, &
Sins
, and
[putt | put]

putt

put

them behind our backs
&
never look on them
again; but will look
[strait | straight]
strait
straight
"
forward
&
run
after
the Christian
Religion— May The Indian People be
[renewe'd | renewed]
renewe'd
renewed
' in the Spirit of
their minds (may they be
[turn'd | turned]
turn'd
turned
from
[y

e

| the]
y

e
the
error of their ways & built up in their most Holy Faith).
'o, that, the Power of
[Godlineſs | Godliness]
Godlineſs
Godliness
, the Love of God producing a Conformity to his moral attributes,
all that is Pious, Right, & Good, may prevail among them! May their minds be
[enlightend | enlightened]
enlightend
enlightened
,
[well-inform'd | well-informed]
well-inform'd
well-informed
, & healthy; rightly disposed;
[poſseſing | possessing]
poſseſing
possessing
the
[Xtian | Christian]
Xtian
Christian
Temper! may duly regulated wills
& affections,
[w.

th

| with]
w.

th
with
a Behaviour corresponding, be the happy Effects of the Schools, & the Ministe­
rial Services!— — As I have the Satisfaction of contributing my best Endeavours to the
Increase of the Collections, it will be greatly promoted, by frequent
[acc.

ts

| accounts]
acc.

ts
accounts
of the
[Succeſs | success]
Succeſs
success
[w.

ch

| which]
w.

ch
which
may attend the additional Schools in the
[Wilderneſs | Wilderness]
Wilderneſs
Wilderness
— That God
may
will
[bleſs | bless]
bleſs
bless
the Endeavors
& Reward your Pious zeal in time & to all Eternity
Prays
[Closer]
your Sincere Friend
& Brother in the

[Gosple | Gospel]

Gosple

Gospel

of Christ



 

Peter Jillard

[pers0280.ocp]


Bristol

[place0020.ocp]

march [2

d

| 2nd]2

d

2nd

1767

[1767-03-02]

/


[Postscript]
I shall esteem it a favour, if by one or other
of the Ships,
[y

t

| that]
y

t
that
sail from
[y

e

| the]y

e

the

Country

[place0003.ocp]
to
Bristol

[place0020.ocp]
,
I may at certain Seasons, receive
a
Letters from you—
(View Page Image)
[Trailer]
From
[Rev.

d

| Rev.]
Rev.

d
Rev.
Peter Jillard

[pers0280.ocp]
Bristol

[place0020.ocp]
March [2.

d

| 2nd]2.

d

2nd

1767

[1767-03-02]
[Brſh | Brsh]
Brſh
Brsh
3:8
To
The
[Rev.

d

| Rev.]
Rev.

d
Rev.
[ M.

r

| Mr.]
M.

r
Mr.
[Whelock | Wheelock]
Whelock
Wheelock
[pers0036.ocp]
at
Lebanon

[place0122.ocp]
In
Connecticut

[place0048.ocp]
America

[place0003.ocp]
/
p
d
[M

r

| Mr.]M

r

Mr.


Walker

[pers0556.ocp]
[illegible:

[guess (h-dawnd): 1/2]

1/2

]
Moor's Indian Charity School
Moor's Indian Charity School was a grammar school for Native Americans that Eleazar Wheelock opened in North Lebanon, Connecticut in 1754. The school was named for Colonel Joshua Moor, also spelled More, who donated the land and school building. Moor's was essentially an expansion of the grammar school that Wheelock opened in 1743 to support himself during the fallout from the First Great Awakening, when Wheelock, who'd participated in itinerant ministry during the Awakening, had his salary confiscated by the colony of Connecticut. In December of that year, Samson Occom asked Wheelock to teach him as well. Wheelock's work with Occom was so successful that Wheelock decided to replicate the experiment with other Native American boys. He accepted his first Indian students in 1754, and in 1761 began taking female students as well. Wheelock believed that in time, his school would become just one part of a larger missionary enterprise. He planned to send his Anglo American and Native American students to various tribes as missionaries and schoolmasters, with explicit instructions to pick out the best students and send them back to Moor's to continue the cycle. His ultimate goal was to turn his school into a model Christian Indian town that would include farms, a college, and vocational training. However, Wheelock's grand design did not survive the decade. Wheelock lost the vast majority of his Native American students; he fought with many of the best, including Samson Occom, Joseph Johnson, David Fowler, and Hezekiah Calvin, and other former and current students accused him of subjecting Native Americans to disproportionate amounts of manual labor. In 1769, perhaps due to concerns about corporal punishment, the Oneida withdrew all their children from Moor's. When Wheelock relocated to Hanover in 1769, only two Native American students came with him, and it became clear that Wheelock's focus was on Dartmouth and that Dartmouth was for white students. After Wheelock's death in 1779, Moor's Indian Charity School receded further into the background as John Wheelock, his father's reluctant successor, stopped taking Indian students. Some Native American students were enrolled in Moor's until 1850, when the school unofficially closed.
Ireland
The country of Ireland occupies an island that is located northwest of mainland Europe and west of England. Ireland's geographic isolation allowed it to develop a unique cultural identity linked to the Gaelic language. During most of the period of Gaelic Ireland, which lasted into the 17th century, there was no single overarching government. Instead, the land was divided into a number of different patchworks controlled by various clans. Christianity was introduced to the island in the fifth century when a wave of missionaries started organizing expeditions to Ireland. Beginning in the 12th century, English kings attempted to establish control over Ireland, culminating in the Plantation of Ulster, a 17th-century project of exporting English law and people in order to colonize Ireland. By the 18th century, England had established a policy of Protestant Ascendancy that favored the Protestant minority, made up of mostly English, over the Catholic majority, made up of mostly Irish. Today, the island is divided politically into the Republic of Ireland and Northern Ireland, the latter covering one-sixth of the land mass and remaining part of the United Kingdom. In 1765, Wheelock wrote a letter to his supporters in England, Scotland and Ireland imploring them to contribute funds for his Indian school project in the North American colonies so that American-Indians may be "civilized, and taught the Knowledge of the only true God and Saviour." In 1767, Occom writes to his wife, Mary, from London, telling her that he is headed for the English countryside and that he might even go to Ireland before he returns once again to London.
Bristol
A city in the southwest of England. In the mid-18th century, Bristol became England's second biggest city due to its thriving importation of sugar cane, tobacco, rum, and cocoa, all products of the slave trade. Its affluence made it an important and lucrative stop for Occom and Whitaker on the fundraising trip to the west of England.
Lebanon
Lebanon is a town located in the state of Connecticut southwest of the town of Hartford. The land that became Lebanon was inhabited at least 10,000 years ago based on the archeological record. By the 1600s, the land was permanently inhabited by the Mohegan Indians, who used the area primarily for hunting. Lebanon was officially formed in 1700 when English settlers consolidated a number of land tracts, including several land grants by the Connecticut General Assembly and lands purchased from the Mohegans. However, these purchases were controversial. In 1659, the Mohegans entrusted their reserve land to Major John Mason, and in the following year, Mason transferred this land to the Connecticut colonial government with the understanding that there would be enough land left for the Mohegans to farm. The Mohegans claimed that they never authorized a transfer to the colonial government and only Mason's heirs were entrusted with their land. In 1662, Connecticut, which included the Mohegan land that had been entrusted to the Masons, was incorporated by a royal charter. Based on this charter, the colony argued that the land was now the property of the government. In 1687, the colony began granting the Mohegan land to townships, and in 1704 the Masons petitioned the Crown on behalf of the Mohegans, claiming that such transfers of land to townships were illegal. Between the years of 1705 and 1773 legal disputes and controversies persisted, finally ending in a verdict by the Crown against the Mohegans. In 1755, Wheelock received property and housing in Lebanon that he would use as his house and school. While Lebanon was originally incorporated as a part of New London County in 1700, in 1724 it became a part of New Windham, before once again becoming a part of New London County in 1826. Lebanon was central to the American Revolution with half of its adult population fighting for the colonists and hundreds of meetings convened in the town for the revolutionary cause.
Connecticut
Connecticut is a state in southern New England that borders Massachusetts to the north and the Long Island Sound to the south. Its name is derived from the Algonquian "Quonehtacut," meaning "long river," referring to the Connecticut, which runs from the border with Canada into the Long Island Sound. The area was originally inhabited by Algonquian-speaking Pequots, Mohegans, and Quinnipiacs. European settlers took advantage of tribal divisions to establish dominance in the region. Dutch explorer Adrian Block sailed up the Connecticut River in 1614, establishing an active Dutch trading post at what is now Hartford. English claims to Connecticut began in 1630, but settlement truly began when Thomas Hooker, a Congregationalist minister now known as "The Father of Connecticut," left Boston to found Hartford in 1636. Hartford became the center of the Colony of Connecticut, which did not receive its charter until 1662 when Governor John Winthrop, Jr. secured it from Charles II. In 1665, the Colony of New Haven, established in 1638 by the Puritan minister John Davenport, joined the Colony of Connecticut under this charter. Early settler relations with local Indians were tense, and encouraged the New England colonies of Massachusetts Bay, Plymouth, Connecticut, and New Haven to unify as the "United Colonies" or "New England Confederation" and fight together, with Indian allies, in the Pequot War and again in King Philip's (Metacom's) War. These wars helped establish a specifically Connecticut and specifically American identity; the latter drove the colony to join the rebellion against Britain in 1776. Occom, born into a Mohegan household in Connecticut, was closely associated with the Colony and retained strong ties to the region throughout his life. He converted to Christianity in 1743 when the Great Awakening spread through Connecticut, and inspired Wheelock's Indian Charity School, which was founded in Lebanon, CT in 1754. He also became involved in the Mason Land Case, a long-standing dispute over the ownership of reserve Mohegan lands in Connecticut. Wheelock also had strong ties to Connecticut, moving his Indian Charity School only when the colony would not grant it a charter.
Wheelock, Eleazar
Eleazar Wheelock was a New Light Congregationalist minister who founded Dartmouth College. He was born into a very typical Congregationalist family, and began studying at Yale in 1729, where he fell in with the emerging New Light clique. The evangelical network that he built in college propelled him to fame as an itinerant minister during the First Great Awakening and gave him many of the contacts that he later drew on to support his charity school for Native Americans. Wheelock's time as an itinerant minister indirectly brought about his charity school. When the Colony of Connecticut retroactively punished itinerant preaching in 1743, Wheelock was among those who lost his salary. Thus, in 1743, he began operating a grammar school to support himself. He was joined that December by Samson Occom, a Mohegan Indian, who sought out an education in hopes of becoming a teacher among his people. Occom's academic success inspired Wheelock to train Native Americans as missionaries. To that end, he opened Moor's Indian Charity School in 1754 (where he continued to train Anglo-American students who paid their own way as well as students who functionally indentured themselves to Wheelock as missionaries in exchange for an education). Between 1754 and 1769, when he relocated to New Hampshire, Wheelock trained approximately 60 male and female Native American students from nearby Algonquian tribes and from the Haudenosaunee (Iroquois) of central New York. At the same time, he navigated the complicated politics of missionary societies by setting up his own board of the Society in Scotland for Propagating Christian Knowledge, although he continued to feud with the Boston Board of the SSPCK and the London Commissioners in Boston (more colloquially called the New England Company). By the late 1760s, Wheelock had become disillusioned with the idea of Native American education. He was increasingly convinced that educating Native Americans was futile (several of his students had failed to conform to his confusing and contradictory standards), and, in late 1768, he lost his connection to the Haudenosaunee. With his inclination and ability to sponsor Native American missionaries largely depleted, Wheelock sought instead to fulfill his ultimate ambition of obtaining a charter and opening a college, which he did in 1769. To fund this new enterprise, Wheelock drew on the £12,000 that Samson Occom had raised for Moor's Indian Charity School during a two-and-a-half year tour of Great Britain (1765 to 1768). Much of this money went towards clearing land and erecting buildings in New Hampshire for the Charity School's relocation — infrastructure that also happened to benefit Dartmouth. Many of Wheelock's contemporaries were outraged by what they saw as misuse of the money, as it was clear that Dartmouth College was not intended for Indians and that Moor's had become a side project. Although Wheelock tried to maintain at least some commitment to Native American education by recruiting students from Canadian communities, the move did a great deal of damage to his public image. The last decade of Wheelock's life was not easy. In addition to the problems of trying to set up a college far away from any Anglo-American urban center, Wheelock experienced the loss of relationships with two of his most famous and successful students, Samson Occom and Samuel Kirkland (an Anglo-American protégé). He also went into debt for Dartmouth College, especially after the fund raised in Britain was exhausted.
Occom, Samson
Samson Occom was a Mohegan leader and ordained Presbyterian minister. Occom began his public career in 1742, when he was chosen as a tribal counselor to Ben Uncas II. The following year, he sought out Eleazar Wheelock, a young Anglo-American minister in Lebanon, CT, in hopes of obtaining some education and becoming a teacher at Mohegan. Wheelock agreed to take on Occom as a student, and though Occom had anticipated staying for a few weeks or months, he remained with Wheelock for four years. Occom's academic success inspired Wheelock to open Moor's Indian Charity School in 1754, a project which gave him the financial and political capital to establish Dartmouth College in 1769. After his time with Wheelock, Occom embarked on a 12-year mission to the Montauk of Long Island (1749-1761). He married a Montauk woman, Mary Fowler, and served as both teacher and missionary to the Montauk and nearby Shinnecock, although he was grievously underpaid for his services. Occom conducted two brief missions to the Oneida in 1761 and 1762 before embarking on one of the defining journeys of his career: a fundraising tour of Great Britain that lasted from 1765 to 1768. During this journey, undertaken on behalf of Moor's Indian Charity School, Occom raised £12,000 (an enormous and unanticpated amount that translates roughly to more than two-million dollars), and won wide acclaim for his preaching and comportment. Upon his return to Mohegan in 1768, Occom discovered that Wheelock had failed to adequately care for his family while he was gone. Additionally, despite the vast sums of money that he had raised, Occom found himself unemployed. Wheelock tried to find Occom a missionary position, but Occom was in poor health and disinclined to leave his family again after seeing the treatment with which they had met while he was in Britain. Occom and Wheelock's relationship continued to sour as it became apparent to Occom that the money he had labored to raise would be going towards infrastructure at Dartmouth College, Wheelock's new project, rather than the education of Native Americans. After the dissolution of his relationship with Wheelock, Occom became increasingly focused on the needs of the Mohegan community and increasingly vocal in criticizing Anglo-Americans' un-Christian treatment of Native Americans. In September of 1772, he delivered his famous "Sermon on the Execution of Moses Paul," which took Anglo-American spiritual hypocrisy as one of its major themes, and which went into four printings before the end of the year. In 1773, Occom became further disillusioned when the Mason Land Case was decided in favor of the Colony of Connecticut. The details of the Mason Case are complicated, but to summarize: the Colony of Connecticut had gained control of Mohegan land early in the 18th century under very suspect circumstances, and successfully fended off the Mohegan's 70-year-long legal challenge. The conclusion of the case came as a blow to the Mohegans, and further convinced Occom of Anglo-American corruption. Along with David Fowler (Montauk Tribe), Occom's brother-in-law, and Joseph Johnson (Mohegan), Occom's son-in-law, Occom helped found Brothertown, an Indian tribe formed from the Christian Mohegans, Pequots, Narragansetts, Montauks, Tunxis, and Niantics. They eventually settled in Oneida country in upstate New York. Occom moved there with his family in 1789, spending the remaining years of his life serving as a minster to the Brothertown, Stockbridge, and Mohegan Indians. Harried by corrupt land agents, the Brothertown and Stockbridge groups relocated to the eastern shore of Lake Winnebago, though Occom died in 1792 before he could remove himself and his family there. Occom's writings and legacy have made him one of the best known and most eminent Native Americans of the 18th century and beyond.
Whitaker, Nathaniel
Nathaniel Whitaker was an outspoken Presbyterian minister with a long and wide-ranging career. Between his ordination in 1755 and his death in 1795, Whitaker ministered to five different congregations. His longest tenure was at Chelsea, CT (near Norwich), from 1761-1769, during which he joined Occom on his two-and-a-half-year fundraising tour of Britain. While in Chelsea, Whitaker was very involved in Wheelock's project. The two engaged in frequent correspondence, and Whitaker served on Eleazar Wheelock's Board of Correspondents in Connecticut, as well as on the Board of Trustees of Moor's Indian Charity School. At one time, he was Wheelock's presumed successor, but Dartmouth's Trustees demanded that Wheelock appoint another. Wheelock, in part due to his strongly-held belief that Native Americans were childlike and rash, was convinced that Occom needed an Anglo-American supervisor on his fundraising tour. After several candidates turned down the job, Wheelock selected Whitaker. He proved to be a poor choice; he was, by many accounts, a difficult man to get along with, and many of Wheelock's British allies, including George Whitefield and the English Trust (the organization that took control of the money Occom raised in England) preferred to deal with Occom, although Whitaker insisted on handling the tour's logistics. Furthermore, in Britain, Occom was the obvious star of the tour, and it was unclear to many why Whitaker asserted himself so prominently. Whitaker's poor decisions seriously alienated the English Trust and increased their suspicion of Wheelock's later dealings and treatment of Occom. He gave the English Trust the impression that they would have control over money raised in Scotland (which was in fact lodged with the parent organization of the SSPCK), and he was the executor of the "Eells Affair," a plan initiated by the CT Board of the SSPCK to bring the money that Occom and Whitaker raised back to the colonies by investing it in trade goods and selling them at a profit (Eells was one of the merchants who was to help with the resale of goods). The English Trust learned about the plan by reading letters that Whitaker had given them permission to open in his absence, and were immediately shocked. The wording of certain letters made it appear that only a percentage of the profit from the resale of the goods would go towards Moor's Indian Charity School, but beyond that detail, the English Trust was scandalized at the thought of money raised for charity being invested in trade. The English Trust blamed Whitaker entirely for these affairs, and issued specific instructions for Occom to notarize all documents requiring Whitaker's signature. In short, they wanted Occom to supervise Whitaker, when Wheelock had envisioned the opposite relationship (both Occom and Whitaker seem to have ignored their instructions, preferring to have as little contact with one another as possible). In 1769, a year after his return to Connecticut in 1768, Whitaker found himself dismissed by his Chelsea congregation (likely because he had spent two and a half years away from them). He went on to serve several more congregations before his death in 1795. Whitaker was an outspoken Whig, and during the Revolution he published several pamphlets on his political opinions.
Document Summary
People identified in this document:
| id | Text in document | Role in header | Authorized Name |
| --- | --- | --- | --- |
| pers0037.ocp | Whitaker | mentioned | Whitaker, Nathaniel |
| pers0030.ocp | occum Occom | mentioned | Occom, Samson |
| pers0030.ocp | m. r Mr. occum Occom | mentioned | Occom, Samson |
| pers0037.ocp | m. r Mr. Whitaker | mentioned | Whitaker, Nathaniel |
| pers0280.ocp | Peter Jillard | writer | Jillard, Peter |
| pers0036.ocp | M. r Mr. Whelock Wheelock | recipient | Wheelock, Eleazar |
| pers0556.ocp | M r Mr. Walker | mentioned | Walker |
Places identified in this document:
| id | Text in document | Authorized Name |
| --- | --- | --- |
| place0090.ocp | Great-Britain Great Britain | Great Britain |
| place0108.ocp | Ireland | Ireland |
| place0020.ocp | Bristol | Bristol |
| place0003.ocp | y e the Country | America |
| place0122.ocp | Lebanon | Lebanon |
| place0048.ocp | Connecticut | Connecticut |
| place0003.ocp | America | America |
Organizations identified in this document:
| id | Text in document | Authorized Name |
| --- | --- | --- |
| org0098.ocp | y.e the School | Moor's Indian Charity School |
Dates identified in this document:
| Standard Form | Text |
| --- | --- |
| 1767-03-02 | march 2d 2nd 1767 |
| 1767-03-02 | March 2.d 2nd 1767 |
Regularized text:
Type
Original
Regularized
modernization
Rev.

d

Rev.
variation
rejoyce
rejoice
modernization
Goodneſs
goodness
variation
thots
thoughts
variation
Gosple
Gospel
modernization
meſs.

rs

Messrs.
variation
occum
Occom
modernization
Succeſs
success
modernization
m.

r

Mr.
variation
benefitt
benefit
modernization
y.

e

the
modernization
guileſs
guileless
modernization
Seriousneſs
seriousness
variation
publick
public
variation
suceſsfull
successful
modernization
y

t

that
variation
Great-Britain
Great Britain
variation
permitt
permit
modernization
y

e

the
variation
naturel
natural
modernization
expreſs
express
variation
gett
get
modernization
y.

E

the
variation
risqued
risked
variation
putt
put
variation
strait
straight
modernization
Godlineſs
Godliness
variation
enlightend
enlightened
modernization
poſseſing
possessing
modernization
Wilderneſs
Wilderness
modernization
bleſs
bless
modernization
2

d

2nd
modernization
y

t

that
modernization
y

e

the
modernization
2.

d

2nd
modernization
Brſh
Brsh
modernization
Rev.

d

Rev.
modernization
M.

r

Mr.
variation
Whelock
Wheelock
modernization
M

r

Mr.
Expanded abbreviations:
Abbreviation
Expansion
S

r

Sir
ap­
prov'd
ap­
proved
w.

ch

which
tho'
though
S

r

Sir
w.

th

with
pleas'd
pleased
renewe'd
renewed
turn'd
turned
well-inform'd
well-informed
Xtian
Christian
w.

th

with
acc.

ts

accounts
Rev.

d

Rev.
This document's header does not contain any mixed case attribute values.
Summary of errors found in this document:
| | |
| --- | --- |
| Number of dates with invalid 'when' attributes: | 0 |
| Number of nested "hi" tags: (consider merging the @rend attributes, or using other tags) | 0 |
| Number of tags with invalid 'rend' attributes: | 0 (out of 43) |
| Number of people/places/organizations with unknown keys: | 0 (out of 19) |
| Number of "add" tags with unknown 'place' attributes: | 0 (out of 3) |
| Mixed case attribute values in header (potential error): | 0 (out of 104) |