George Whitefield, letter, to Peter Vanbrugh Livingston, 1766 February 27
ms-number: 766177
[note (type: abstract): Whitefield writes that Lord Dartmouth proves himself to be America's friend, that Occom preaches to acceptance and is meeting nobles, and that the king has become a benefactor of Wheelock's plan.]
[note (type: handwriting): Handwriting is formal, ornate and clear.]
[note (type: paper): Large single sheet is in good condition, with light-to-moderate creasing and wear; page is scattered with seemingly random ink dots. The copy is written on a smaller single sheet in good condition, with minor wear around the edges.]
[note (type: ink): Black-brown.]
[note (type: noteworthy): This document comes with a copy, written by Solomon Williams largely in shorthand. The copy has not been transcribed.]
[note (type: signature): Signature is abbreviated.]
events: Fundraising Tour of Great Britain
---
[Opener]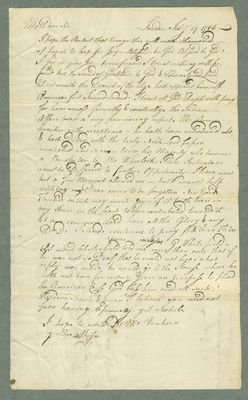 (View Page Image)
London

[place0128.ocp]

[Febr

y

| February]Febr

y

February

27.1766

[1766-02-27]

—

My Dear Sir

I hope the Packet that brings this will make thousands —
of hearts to leap for Joy —
[Bleſsed | Blessed]
Bleſsed
Blessed
be God.
[Bleſed | Blessed]
Bleſed
Blessed
be God.
I Joy in your Joy. henceforward I trust nothing will be
heard but the sound of Gratitude to God
[& | and]
&
and
Man. Good
Lord
Dartmouth

[pers0153.ocp]
the Daniel of the Age hath approved himself
America

[place0003.ocp]
s fast Friend indeed. I trust all Gods People will pray
for him
[moſt | most]
moſt
most
fervently
[& | and]
&
and
constantly. The Indian
[= | ­]
=
­
Affair bears a very promising aspect.
Mr

[Occum | Occom]

Occum

Occom

[pers0030.ocp]
[preeches | preaches]
preeches
preaches
with acceptance — he hath been introduced to
[& | and]
&
and
hath Dined with the truly Noble
Lord before
mentioned

[pers0153.ocp]
and is soon to see
his Majesty

[pers0305.ocp]
who becomes
a Benefactor to
Mr Wheelock

[pers0036.ocp]
s Plan
[Perticulars | particulars]
Perticulars
particulars
must be
[Differred | deferred]
Differred
deferred
to further
[Oppertunity | opportunity]
Oppertunity
opportunity
: I have now
but a few Moments allowed me — but I cannot help
wishing my Dear never to be forgotten
New York

[place0166.ocp]
Friends much very much Joy.— if it hath been in
my Power
in the least
to have contributed towards it
let our common Lord have all the Glory
[& | and]
&
and
my
[D

r

| dear]
D

r
dear
[D

r

| dear]
D

r
dear
Friends continue to pray for Ever
[illegible]
[Closer]
Yours

[illegible]

in

[Jeſus | Jesus]

Jeſus

Jesus
[G. | George]

G.

George

Whitefield

[pers0038.ocp]

—

[Postscript]
PS
Lord Chesterfield

[pers0125.ocp]
told me more than once that if
he was not so Deaf that he could not hear what
reply was made he would go to the
[Houſe | House]
Houſe
House
where he
hath not been for many Years on
[purpoſe | purpose]
purpoſe
purpose
to plead
the American
[Cauſe | cause]
Cauſe
cause
God
[Bleſs | bless]
Bleſs
bless
him and all such
Pleaders amen
[& | and]
&
and
amen I
[beleave | believe]
beleave
believe
you need not
fear having Ep___
[illegible]
y yet a while
I hope to write
[D.

r

| Dr.]D.

r

Dr.

[M

r.

| Mr.]M

r.

Mr.

Vanhorn

[pers0552.ocp]
by other Ships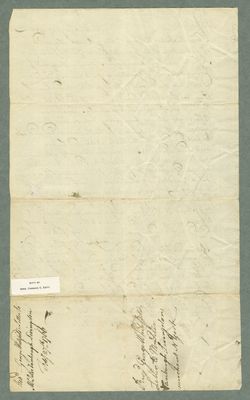 (View Page Image)
[Trailer]
[Rev

d

| Rev.]Rev

d

Rev.

George Whitefields

[pers0038.ocp]
Letter to
[M

r

| Mr.]M

r

Mr.

Peter Vanbrugh Livingston

[pers0332.ocp]
[Feb

y

| February]Feb

y

February

[27..

th

| 27th]27..

th

27th

1766

[1766-02-27]
—
[Rev

d

| Rev.]Rev

d

Rev.

George Whitefield

[pers0038.ocp]
Letter to
Mr. Peter


[Vanburgh | Vanbrugh]

Vanburgh

Vanbrugh

Livingston

[pers0332.ocp]
merchant
[N | New]

N

New

York

[place0166.ocp]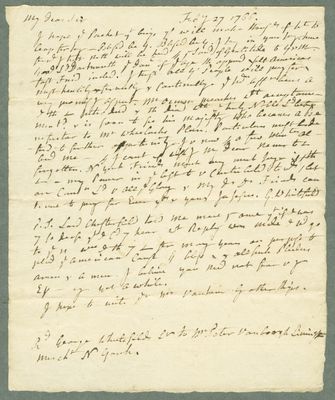 (View Page Image)
[note (type: editorial): Letter not transcribed.]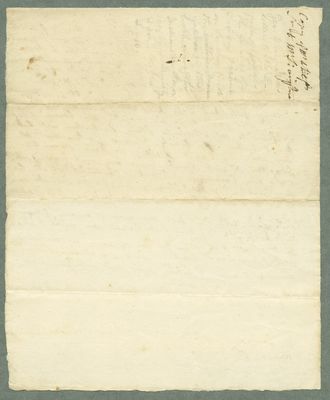 (View Page Image)
[note (type: editorial): Letter not transcribed]
London
The capital and largest city of the United Kingdom, London is located in the southeastern region of England along the Thames River. The outpost that would become London originated as a military storage post for the Romans when they invaded Britain in the year 43. It soon developed as a trading center and financial hub for Roman Britain. During a revolt against the Romans in 61, London was burned to the ground; the rebuilt town appeared in Tacitus's Annals as Londinium. With the decline of the Roman Empire in the 4th century, Londinium became a Saxon trading town. Following the Norman Conquest, London retained its central political and commercial importance. In the 14th century, under Edward II, Westminster became an administrative center and London became the capital of England. In the early 18th century, London was an important hub for evangelical Christianity and home to many influential people, like the charismatic Anglican minister, George Whitefield, who were sympathetic to Wheelock's missionary endeavors. Occom arrived in London in February 1766 on his fundraising tour for Wheelock's school and preached his first sermon at Whitefield's Tabernacle. London would be Occom's home base for the next two years, as he and Whitaker travelled throughout England and Scotland. Occom made many friends in London who would continue to support him after his break with Wheelock and the School. By the late 18th century, London had replaced Amsterdam as the center of world commerce, a role it would maintain until 1914.
Whitefield, George
George Whitefield, the English itinerant preacher who helped spark the Great Awakening, was an essential supporter of Eleazar Wheelock's project. Whitefield studied at Pembroke College, Oxford, where he met the pioneers of Methodism, John and Charles Wesley. He was ordained in 1736, and he made the first of his seven trips to America two years later. While abroad in 1740, Whitefield founded an orphanage in Georgia, and went on a preaching tour during which he met Wheelock and spread ideals that prompted the Great Awakening. Although Whitefield was ordained in the Church of England, his enthusiastic preaching style and charismatic personality made him a controversial figure, and traditional clergyman on both sides of the Atlantic censured him. Nonetheless, he continued to be an important contact and friend of Wheelock's, and his dedication to Wheelock's vision was evident. He contributed money to the cause, secured various other funders, and donated an eighty-pound prayer bell to the school. More importantly, Whitefield not only suggested to Wheelock the idea of a fundraising tour in Great Britain, he hosted Occom and Whitaker shortly after they arrived in England, provided a house for them to reside in for the remainder of their tour, and introduced the pair to influential figures such as William Legge, the Earl of Dartmouth. Whitefield tabernacle's was the setting of Occom's first sermon in England on February 16, 1766, and many believe that Whitefield wrote the introduction to a pamphlet printed in London during the campaign (although he was not credited). Whitefield continued to be involved in Wheelock's work until he died in Newburyport, MA in September of 1770.
Livingstone, Peter Vanbrugh
Wheelock, Eleazar
Eleazar Wheelock was a New Light Congregationalist minister who founded Dartmouth College. He was born into a very typical Congregationalist family, and began studying at Yale in 1729, where he fell in with the emerging New Light clique. The evangelical network that he built in college propelled him to fame as an itinerant minister during the First Great Awakening and gave him many of the contacts that he later drew on to support his charity school for Native Americans. Wheelock's time as an itinerant minister indirectly brought about his charity school. When the Colony of Connecticut retroactively punished itinerant preaching in 1743, Wheelock was among those who lost his salary. Thus, in 1743, he began operating a grammar school to support himself. He was joined that December by Samson Occom, a Mohegan Indian, who sought out an education in hopes of becoming a teacher among his people. Occom's academic success inspired Wheelock to train Native Americans as missionaries. To that end, he opened Moor's Indian Charity School in 1754 (where he continued to train Anglo-American students who paid their own way as well as students who functionally indentured themselves to Wheelock as missionaries in exchange for an education). Between 1754 and 1769, when he relocated to New Hampshire, Wheelock trained approximately 60 male and female Native American students from nearby Algonquian tribes and from the Haudenosaunee (Iroquois) of central New York. At the same time, he navigated the complicated politics of missionary societies by setting up his own board of the Society in Scotland for Propagating Christian Knowledge, although he continued to feud with the Boston Board of the SSPCK and the London Commissioners in Boston (more colloquially called the New England Company). By the late 1760s, Wheelock had become disillusioned with the idea of Native American education. He was increasingly convinced that educating Native Americans was futile (several of his students had failed to conform to his confusing and contradictory standards), and, in late 1768, he lost his connection to the Haudenosaunee. With his inclination and ability to sponsor Native American missionaries largely depleted, Wheelock sought instead to fulfill his ultimate ambition of obtaining a charter and opening a college, which he did in 1769. To fund this new enterprise, Wheelock drew on the £12,000 that Samson Occom had raised for Moor's Indian Charity School during a two-and-a-half year tour of Great Britain (1765 to 1768). Much of this money went towards clearing land and erecting buildings in New Hampshire for the Charity School's relocation — infrastructure that also happened to benefit Dartmouth. Many of Wheelock's contemporaries were outraged by what they saw as misuse of the money, as it was clear that Dartmouth College was not intended for Indians and that Moor's had become a side project. Although Wheelock tried to maintain at least some commitment to Native American education by recruiting students from Canadian communities, the move did a great deal of damage to his public image. The last decade of Wheelock's life was not easy. In addition to the problems of trying to set up a college far away from any Anglo-American urban center, Wheelock experienced the loss of relationships with two of his most famous and successful students, Samson Occom and Samuel Kirkland (an Anglo-American protégé). He also went into debt for Dartmouth College, especially after the fund raised in Britain was exhausted.
Occom, Samson
Samson Occom was a Mohegan leader and ordained Presbyterian minister. Occom began his public career in 1742, when he was chosen as a tribal counselor to Ben Uncas II. The following year, he sought out Eleazar Wheelock, a young Anglo-American minister in Lebanon, CT, in hopes of obtaining some education and becoming a teacher at Mohegan. Wheelock agreed to take on Occom as a student, and though Occom had anticipated staying for a few weeks or months, he remained with Wheelock for four years. Occom's academic success inspired Wheelock to open Moor's Indian Charity School in 1754, a project which gave him the financial and political capital to establish Dartmouth College in 1769. After his time with Wheelock, Occom embarked on a 12-year mission to the Montauk of Long Island (1749-1761). He married a Montauk woman, Mary Fowler, and served as both teacher and missionary to the Montauk and nearby Shinnecock, although he was grievously underpaid for his services. Occom conducted two brief missions to the Oneida in 1761 and 1762 before embarking on one of the defining journeys of his career: a fundraising tour of Great Britain that lasted from 1765 to 1768. During this journey, undertaken on behalf of Moor's Indian Charity School, Occom raised £12,000 (an enormous and unanticpated amount that translates roughly to more than two-million dollars), and won wide acclaim for his preaching and comportment. Upon his return to Mohegan in 1768, Occom discovered that Wheelock had failed to adequately care for his family while he was gone. Additionally, despite the vast sums of money that he had raised, Occom found himself unemployed. Wheelock tried to find Occom a missionary position, but Occom was in poor health and disinclined to leave his family again after seeing the treatment with which they had met while he was in Britain. Occom and Wheelock's relationship continued to sour as it became apparent to Occom that the money he had labored to raise would be going towards infrastructure at Dartmouth College, Wheelock's new project, rather than the education of Native Americans. After the dissolution of his relationship with Wheelock, Occom became increasingly focused on the needs of the Mohegan community and increasingly vocal in criticizing Anglo-Americans' un-Christian treatment of Native Americans. In September of 1772, he delivered his famous "Sermon on the Execution of Moses Paul," which took Anglo-American spiritual hypocrisy as one of its major themes, and which went into four printings before the end of the year. In 1773, Occom became further disillusioned when the Mason Land Case was decided in favor of the Colony of Connecticut. The details of the Mason Case are complicated, but to summarize: the Colony of Connecticut had gained control of Mohegan land early in the 18th century under very suspect circumstances, and successfully fended off the Mohegan's 70-year-long legal challenge. The conclusion of the case came as a blow to the Mohegans, and further convinced Occom of Anglo-American corruption. Along with David Fowler (Montauk Tribe), Occom's brother-in-law, and Joseph Johnson (Mohegan), Occom's son-in-law, Occom helped found Brothertown, an Indian tribe formed from the Christian Mohegans, Pequots, Narragansetts, Montauks, Tunxis, and Niantics. They eventually settled in Oneida country in upstate New York. Occom moved there with his family in 1789, spending the remaining years of his life serving as a minster to the Brothertown, Stockbridge, and Mohegan Indians. Harried by corrupt land agents, the Brothertown and Stockbridge groups relocated to the eastern shore of Lake Winnebago, though Occom died in 1792 before he could remove himself and his family there. Occom's writings and legacy have made him one of the best known and most eminent Native Americans of the 18th century and beyond.
Legge, William
William Legge, the second Earl of Dartmouth, was the reluctant namesake of Dartmouth College. Like many of his countrymen, Legge became involved in Eleazar Wheelock's plans through George Whitefield, the famous evangelical who introduced Samson Occom and Nathaniel Whitaker to Legge shortly after the pair's February 1766 arrival in London. Legge proved critical in promoting Occom's tour among the nobility, and took on a logistical role by helping to collect and oversee donations. Although Legge and Whitefield both felt it would be best if Wheelock were in total control of the funds raised in England, Occom eventually collected so much money that a formal trust was necessary to preserve propriety. This trust was formed in late 1766, with Legge as its president, to guarantee that Wheelock used the money appropriately. It soon proved that the Trust and Wheelock had different ideas as to what was, in fact, appropriate, but they were largely able to cooperate until 1769, when Wheelock obtained a charter for his school without informing the trust. (The trust, feeling that a charter would obviate its control over the British funds, had vehemently opposed it.) Adding insult to injury, Wheelock named the resulting institution Dartmouth—again without consulting Legge, and perhaps more to reassure the multitudes who had donated money than to honor the Earl. Legge never wrote to Wheelock again. Outside of his involvement with Wheelock, Legge had a brief political career. Although he was generally more concerned with religious and philanthropic matters, his station and connections (he was the step-brother of Frederick North, who was prime minister from 1770 to 1782) led him to take his first political post in 1765 as a member of the Board of Trade. During his tenure (1765-1767), and again while he was Secretary of State for the Colonies (1772-1775), Legge's search for cooperative solutions proved unsuccessful during the build-up to the Revolution. His later positions were primarily ceremonial.
Frederick, George William
George William Frederick (King George III) became heir to the throne of England in 1751 upon the death of his father Frederick, Prince of Wales. He became King George III of England in the fall of 1760 at age 22, following the death of his grandfather King George II. George III passed many important edicts during his reign including that of the Royal Marriage Act of 1772; the Treaty of Paris in 1762, which ended the Seven Years War; the Stamp Act of 1765; and the Townshend Duties of 1767. However, he is most well-known for being the reigning monarch during the Revolutionary War. After the surrender of British forces to the Americans in 1782, George III considered abdicating the throne, but chose not to do so because he felt it would be too detrimental to Britain. The last 30 years of George's life were plagued with illness. In 1788 he had the first of many attacks of insanity, now believed to have been caused by an inherited disease known as porphyria. With George III unfit to rule, it was decided that his son George would become regent, an arrangement which was made permanent in 1810. King George III died on January 29, 1820 at the age of 81 after a reign of nearly 60 years (the third longest in British history). He was succeeded by his son George IV.
Fundraising Tour of Great Britain
After many months of planning and shifting personnel, Occom, accompanied by the minister Nathaniel Whitaker, sets sail in December 1765 for a two-and-a-half year tour of England and Scotland in order to solicit contributions to Wheelock's Indian Charity School and missionary efforts. Introduced to aristocrats and prominent clergy by the minister George Whitefield, Occom preaches many sermons, travels widely, and collects a large sum of money.
Document Summary
People identified in this document:
| id | Text in document | Role in header | Authorized Name |
| --- | --- | --- | --- |
| pers0153.ocp | Lord Dartmouth | mentioned | Legge, William |
| pers0030.ocp | Mr Occum Occom | mentioned | Occom, Samson |
| pers0153.ocp | Lord before mentioned | mentioned | Legge, William |
| pers0305.ocp | his Majesty | mentioned | Frederick, George William |
| pers0036.ocp | Mr Wheelock | mentioned | Wheelock, Eleazar |
| pers0038.ocp | G. George Whitefield | writer | Whitefield, George |
| pers0125.ocp | Lord Chesterfield | mentioned | Stanhope, Phillip Dormer |
| pers0552.ocp | D. r Dr. M r. Mr. Vanhorn | mentioned | Vanhorn, David |
| pers0038.ocp | Rev d Rev. George Whitefields | writer | Whitefield, George |
| pers0332.ocp | M r Mr. Peter Vanbrugh Livingston | recipient | Livingstone, Peter Vanbrugh |
| pers0038.ocp | Rev d Rev. George Whitefield | writer | Whitefield, George |
| pers0332.ocp | Mr. Peter Vanburgh Vanbrugh Livingston | recipient | Livingstone, Peter Vanbrugh |
Places identified in this document:
| id | Text in document | Authorized Name |
| --- | --- | --- |
| place0128.ocp | London | London |
| place0003.ocp | America | America |
| place0166.ocp | New York | New York |
| place0166.ocp | N New York | New York |
This document does not contain any tagged organizations.
Dates identified in this document:
| Standard Form | Text |
| --- | --- |
| 1766-02-27 | Febry February 27.1766 |
| 1766-02-27 | Feby February 27..th 27th 1766 |
Regularized text:
Type
Original
Regularized
modernization
Bleſsed
Blessed
modernization
Bleſed
Blessed
modernization
moſt
most
modernization
=
­
variation
Occum
Occom
variation
preeches
preaches
variation
Perticulars
particulars
variation
Differred
deferred
variation
Oppertunity
opportunity
modernization
Jeſus
Jesus
modernization
Houſe
House
modernization
purpoſe
purpose
modernization
Cauſe
cause
modernization
Bleſs
bless
variation
beleave
believe
modernization
D.

r

Dr.
modernization
M

r.

Mr.
modernization
Rev

d

Rev.
modernization
M

r

Mr.
modernization
27..

th

27th
Expanded abbreviations:
Abbreviation
Expansion
Febr

y

February
&
and
D

r

dear
G.
George
Feb

y

February
N
New
This document's header does not contain any mixed case attribute values.
Summary of errors found in this document:
| | |
| --- | --- |
| Number of dates with invalid 'when' attributes: | 0 |
| Number of nested "hi" tags: (consider merging the @rend attributes, or using other tags) | 0 |
| Number of tags with invalid 'rend' attributes: | 0 (out of 11) |
| Number of people/places/organizations with unknown keys: | 0 (out of 16) |
| Number of "add" tags with unknown 'place' attributes: | 0 (out of 0) |
| Mixed case attribute values in header (potential error): | 0 (out of 108) |