Joseph Woolley, letter, to Eleazar Wheelock, 1765 February 9
ms-number: 765159.2
[note (type: abstract): Woolley writes that the two boys who were to come to the school are delayed because of winter snow and the risk of smallpox. He also remarks on the progress of his mission, his admiration for the Tuscaroras, and the wish of the Oneidas at Chenango to have Samuel Ashpo return to them.]
[note (type: handwriting): Handwriting is largely clear and legible.]
[note (type: paper): Wide sheet, folded vertically to make four pages, is in good condition, with light yellowing and wear. A large portion of the seal remains.]
[note (type: ink): Brown-black.]
[note (type: noteworthy): This letter is a follow-up to 765159.1, written on the same day by Woolley. It is not wholly certain that the two letters were written by the same hand, although it is likely.]
---
[Opener]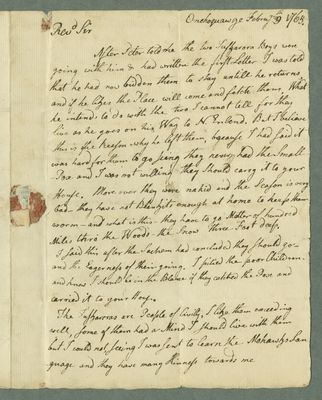 (View Page Image)
[Onohoquawge | Onaquaga]

Onohoquawge

Onaquaga

[place0182.ocp]

[Febru.

y

| February]Febru.

y

February

[illegible]

[9

th

| 9th]9

th

9th

1765

[1765-02-09]

.

[Rev

d

| Rev.]Rev

d

Rev.

Sir

After
Peter

[pers0419.ocp]
told
h
me the two
[Tuſkarora | Tuscarora]
Tuſkarora
Tuscarora
Boys were
going with him
[& | and]
&
and
had written the
[firſt | first]
firſt
first
Letter I was told
that he had now bidden them to stay
[untill | until]
untill
until
he returns,
and if he likes the Place will come and fetch them. What
he intends to do with the two I cannot tell for they
live as he goes on his Way to
[N. | New]
N.
New
[Enlend | England]
Enlend
England
[place0158.ocp]
. But I believe
this is
y
the
[Reaſon | reason]
Reaſon
reason
why he left them, b
[illegible]
[guess (ivys): g]
g
[ecauſe | ecause]
ecauſe
ecause
I had
[ſaid | said]
ſaid
said
it
was hard for them to go
[ſeeing | seeing]
ſeeing
seeing
they never
y
had the Small­
­Pox and I was not willing they Should carry it to your
[Houſe | house]
Houſe
house
.
[More over | Moreover]
More over
Moreover
they were
[nakid | naked]
nakid
naked
and the
[Seaſon | season]
Seaſon
season
is very
bad — they have not
[Blankits | blankets]
Blankits
blankets
enough at home to keep them
warm — and what is this — they have to go Matter of hundred
Miles
[thro' | through]
thro'
through
the Woods — the Snow three Foot deep.
I
[ſaid | said]
ſaid
said
this after the Sachem had concluded they
[ſhould | should]
ſhould
should
go —
and the
[Eagerneſs | eagerness]
Eagerneſs
eagerness
of their going. I pitied the poor Children —
and knew I should be in the Blame if they
[catched | caught]
catched
caught
the Pox and
carried it to your
[Houſe | house]
Houſe
house
.
The
[Tuſkaroras | Tuscaroras]
Tuſkaroras
Tuscaroras
[org0104.ocp]
are People of Civilty, I like them exceeding
well,
[ſome | some]
ſome
some
of them had a Mind I
[ſhould | should]
ſhould
should
live with them
but I could not,
[ſeeing | seeing]
ſeeing
seeing
I was
[ſent | sent]
ſent
sent
to learn the
Mohawk

[org0062.ocp]
s Lan
­guage and they have many
[Kinneſs | kindness]
Kinneſs
kindness
towards me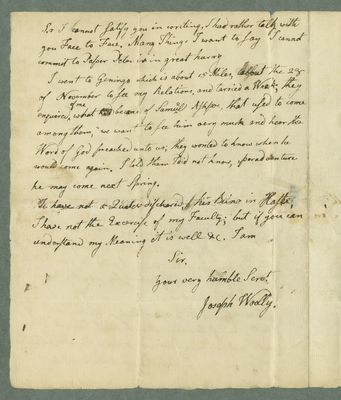 (View Page Image)
[S.r | Sir]
S.r
Sir
I
[illegible]
cannot
[ſatiſy | satisfy]
ſatiſy
satisfy
you in writing, I had rather talk with
you Face to Face. Many Things I want to
[ſay | say]
ſay
say
I cannot
commit to Paper
Peter

[pers0419.ocp]
is in great hurry
I went to
[Geningo | Chenango]
Geningo
Chenango
[place0110.ocp]
which is about 15 Miles,
[illegible]
[guess (ivys): to see]
to see
about the
28
of November

[1764-11-28]
to
[ſee | see]
ſee
see
my Relations, and tarried a We
[illegible]
ek; they
[enquired | inquired]
enquired
inquired
⇑
[above]
of me
of me
what
had
bec
[illegible]
[guess (ivys): o]
o
ame of
[Samu

⇑

[above]

e

e

l | Samuel]
Samu

⇑

[above]

e

e

l
Samuel
[Aſhpoe | Ashpo]
Aſhpoe
Ashpo
[pers0002.ocp]
, that
[uſed | used]
uſed
used
to come
among them, "we want to
[ſee | see]
ſee
see
him very much and hear the
Word of God preached unto us; they
[wonted | wanted]
wonted
wanted
to know when he
would come again. I told them I did not know, peradventure
he may come next Spring.
[illegible]
I have not a
[Quater | quarter]
Quater
quarter
[diſchared | discharged]
diſchared
discharged
, his Being in
[Haſ

e

te | haste]
Haſ

e

te
haste
,
I have not the
[Excerciſe | exercise]
Excerciſe
exercise
of my Faculty; but if you can
[underſtand | understand]
underſtand
understand
my Meaning it is well
[&c. | etc.]
&c.
etc.
I am
[Closer]
Sir,
Your very hu

[illegible]

mble [Serv.

t

| servant]Serv.

t

servant



Josephy Woolly

[pers0041.ocp]

.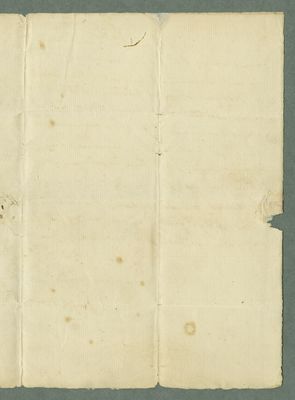 (View Page Image)
[note (type: editorial): Blank page.]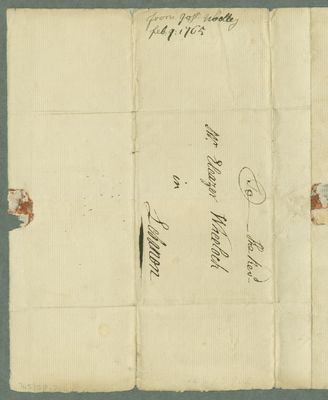 (View Page Image)
[Trailer]
from
[Jos

p

| Joseph]Jos

p

Joseph

Woolley

[pers0041.ocp]
[feb, | February]

feb,

February

9: 1765

[1765-02-09]
To — The
[Rev

d

| Rev.]
Rev

d
Rev.
[M.

r

| Mr.]M.

r

Mr.

[Eleazer | Eleazar]

Eleazer

Eleazar

Wheelock

[pers0036.ocp]
in
Lebanon

[place0122.ocp]
Mohawk Nation
The Mohawk Nation is one of the Six Nations of the Haudenosaunee (Iroquois) Confederacy. As the "eastern door" of the Confederacy, or easternmost Haudenosaunee nation, the Mohawks were perceived throughout the colonial period as a gateway to wider alliances, trade, and religious influence with the Six Nations as a whole. Thus, they received heavy missionary attention from Jesuits, Anglicans, and Congregationalists as early as the 17th century. Throughout the 17th and 18th centuries, the Mohawks and Six Nations more generally were a point of heated competition between Britain and France, as well as between Protestant Christian sects. Wheelock sent several missionaries and schoolmasters to the Mohawks between 1765 and 1767, including Theophilus Chamberlain (Anglo-American), Hezekiah Calvin (Delaware), Abraham Major and Minor (Mohawks), Peter (Mohawk), Moses (Mohawk), and Johannes (Mohawk). The two main towns or "castles" that the mission was based at were Canajoharie and Fort Hunter. Two of the most important figures in Mohawk history as it pertains to Moor's Indian Charity School were Sir William Johnson and Joseph Brant. Sir William Johnson was the British Superintendent of Indian Affairs in the Northeast, one of the most powerful men in British North America. He married into the Mohawk Tribe and had substantial influence among the Six Nations. Initially he supported Wheelock's missionary project, but by 1769 he was endorsing Anglican missionaries instead. Joseph Brant was Sir William Johnson's brother-in-law. He was the first of 19 Mohawk students at Moor's, where he studied from 1761-1763. Although his time at the school was short, Brant entertained a deep affection for it. He went on to be an influential Mohawk war chief and may have protected Dartmouth College from raids during the Revolution. The Revolution fractured the Haudenosaunee Confederacy, with some tribes siding with the colonists and others with the British. The Mohawks sided with the British, and many of them, Joseph Brant included, relocated to the Grand River Reserve in Canada after the war. There was also a substantial Mohawk settlement established by 1700 at Kahnawake in New France (Canada), which hosted Jesuit missionaries. The Kahnawake Mohawks were often called "Canadian Mohawks" and Wheelock recruited students from them after his move to Hanover.
Tuscarora Nation
The Tuscarora Nation is an Algonquian-speaking group related to the Haudenosaunee (Iroquois) peoples, who migrated south and occupied lands on the Roanoke, Neuse, Taw, and Pamlico Rivers in North Carolina. Their name means "hemp gatherers," from the Apocynum cunnabinum, or Indian hemp, a plant native to the area and used for many purposes by the Tuscaroras. They became populous and powerful, expanding their territory and establishing many large towns. But European settlers arrived who did not recognize their land rights, and met Tuscaroran resistance with broken treaties, kidnapping, rape, murder, enslavement of children, and appropriation of their towns. From 1711 to 1713, the Tuscaroras fought two devastating wars with the colonists of North Carolina, who were aided by settlers from South Carolina, Virginia, and the colonists' Indian allies. Many Tuscaroras were killed, while others were sold into slavery. About 1,500 remaining Tuscaroras asked the Five Nations of the Haudenosaunee for sponsorship and were accepted by the Oneidas, migrating north to live in central New York and Pennsylvania. In 1722, they became the sixth nation of the Confederacy. Another 1,500 sought refuge in Virginia, the majority of those ultimately returning to North Carolina, where the reservation set aside for them was eventually appropriated piecemeal by settlers. By the time of Occom's first mission to the Oneidas in 1761, the Haudenosaunee had been missionized by the French, the British, and colonial missionaries from the New England Company. The Tuscaroras were closely associated with their sponsors and neighbors, the Oneidas, but while the Oneidas welcomed missionaries and established their own Christian practice, the Tuscaroras did not. In 1764, Wheelock sent Occom north specifically to missionize to the Mohawks, Oneidas, and Tuscaroras. The missionary Samuel Kirkland reported that one Tuscarora sachem "continues to oppose & reproach the work of god with all his might, & uses every Artifice to dissuade his people from attending divine worship within here." During the Revolutionary War, some of the Tuscaroras and Oneidas allied with the Americans while the majority of the Confederacy supported the British, and these pro-British Indians formed the main forces that attacked frontier settlements of the central Mohawk and Cherry valleys. The pro-British Tuscaroras followed Mohawk Chief Joseph Brant north to to Ontario, establishing the reserve of the Six Nations of the Grand River First Nation. In 1803, a final group of southern Tuscaroras migrated to New York to the Tribe's reservation in the town of Lewiston, Niagara County, NY. They are a federally recognized Tribe.
Onaquaga
Onaquaga (more than 50 different spellings have been documented) was a cosmopolitan Indian town on the Susquehanna River, now the site of the town of Windsor, New York. It was initially established as an Oneida settlement by those seeking an alternative to the power politics of Kanawalohale, the new chief village of the Oneidas, and Old Oneida, the former capital. However, from the end of the 17th century onwards it became an immigration destination for displaced Indians from a wide range of tribes. Yet, from the late 1760s onward, Onaquaga's cosmopolitan composition proved to be its undoing. The community was fragmented by disputes over the extent and the proper style of Christian practice, with Sir William Johnson and Joseph Brant (who owned a farm at Onaquaga) urging Episcopalianism and the New England Company urging Congregationalism. An influx of Mohawk immigrants in the years after the 1768 Fort Stanwix treaty led the inhabitants of Onaquaga to side with the Crown in the Revolution, rather than with the colonies as most Oneida towns did, and it became Joseph Brant's base of operations. The town was destroyed by the Continental Army in 1778 as part of the wave of violent retaliation for British and Indian attacks on frontier communities that culminated in General Sullivan's ravaging of Cayuga and Seneca territory. The area was resettled by Americans after the Revolution.
Chenango
Chenango, a small Oneida Indian settlement near present-day Binghamton, New York, was known as "Jeningo" before 1787, when it was settled by Anglo-Americans and then incorporated as a town. Wheelock sent the Mohegan Indian Samuel Ashpo to Jeningo/Chenango to preach among the Indians in 1760, 1761, 1763, and 1766 with moderate success. The Oneida Indians there requested Ashpo specifically in 1760, wanting a Native-American rather than white missionary living among them. In 1762, Wheelock writes a letter to a British supporter, Dennys DeBerdt, recounting Ashpo and Charles Jeffrey Smith's missionary expedition to Jeningo/Chenango. Ashpo writes to Wheelock in 1763 that "Onohoquagee and Jeningo Indians" are in need of missionaries since their missionary left and proposes that Ashpo go himself. In 1769, Wheelock writes to Occom asking that he and Jacob Fowler go to Jeningo/Chenango to establish a village for Christianized Indians.
Lebanon
Lebanon is a town located in the state of Connecticut southwest of the town of Hartford. The land that became Lebanon was inhabited at least 10,000 years ago based on the archeological record. By the 1600s, the land was permanently inhabited by the Mohegan Indians, who used the area primarily for hunting. Lebanon was officially formed in 1700 when English settlers consolidated a number of land tracts, including several land grants by the Connecticut General Assembly and lands purchased from the Mohegans. However, these purchases were controversial. In 1659, the Mohegans entrusted their reserve land to Major John Mason, and in the following year, Mason transferred this land to the Connecticut colonial government with the understanding that there would be enough land left for the Mohegans to farm. The Mohegans claimed that they never authorized a transfer to the colonial government and only Mason's heirs were entrusted with their land. In 1662, Connecticut, which included the Mohegan land that had been entrusted to the Masons, was incorporated by a royal charter. Based on this charter, the colony argued that the land was now the property of the government. In 1687, the colony began granting the Mohegan land to townships, and in 1704 the Masons petitioned the Crown on behalf of the Mohegans, claiming that such transfers of land to townships were illegal. Between the years of 1705 and 1773 legal disputes and controversies persisted, finally ending in a verdict by the Crown against the Mohegans. In 1755, Wheelock received property and housing in Lebanon that he would use as his house and school. While Lebanon was originally incorporated as a part of New London County in 1700, in 1724 it became a part of New Windham, before once again becoming a part of New London County in 1826. Lebanon was central to the American Revolution with half of its adult population fighting for the colonists and hundreds of meetings convened in the town for the revolutionary cause.
Woolley, Joseph
Joseph Woolley was a Delaware who died of consumption while keeping school at Onaquaga. He came to Wheelock in 1757 as a replacement for John Pumshire, and although Wheelock labeled him as "fit for college" in late 1761, he never attended. In the fall of 1764, Joseph went to the Six Nations with Kirkland to learn the Mohawk language and keep school, and in March 1765, he was officially approved as a schoolmaster and returned to Onaquaga to teach. He was very popular there, but died unexpectedly in late November 1765. Joseph was engaged to Hannah Garrett, who later married David Fowler, but a letter from David (765302.2) suggests that Joseph may also have pursued Amy (David's object of interest before Hannah).
Wheelock, Eleazar
Eleazar Wheelock was a New Light Congregationalist minister who founded Dartmouth College. He was born into a very typical Congregationalist family, and began studying at Yale in 1729, where he fell in with the emerging New Light clique. The evangelical network that he built in college propelled him to fame as an itinerant minister during the First Great Awakening and gave him many of the contacts that he later drew on to support his charity school for Native Americans. Wheelock's time as an itinerant minister indirectly brought about his charity school. When the Colony of Connecticut retroactively punished itinerant preaching in 1743, Wheelock was among those who lost his salary. Thus, in 1743, he began operating a grammar school to support himself. He was joined that December by Samson Occom, a Mohegan Indian, who sought out an education in hopes of becoming a teacher among his people. Occom's academic success inspired Wheelock to train Native Americans as missionaries. To that end, he opened Moor's Indian Charity School in 1754 (where he continued to train Anglo-American students who paid their own way as well as students who functionally indentured themselves to Wheelock as missionaries in exchange for an education). Between 1754 and 1769, when he relocated to New Hampshire, Wheelock trained approximately 60 male and female Native American students from nearby Algonquian tribes and from the Haudenosaunee (Iroquois) of central New York. At the same time, he navigated the complicated politics of missionary societies by setting up his own board of the Society in Scotland for Propagating Christian Knowledge, although he continued to feud with the Boston Board of the SSPCK and the London Commissioners in Boston (more colloquially called the New England Company). By the late 1760s, Wheelock had become disillusioned with the idea of Native American education. He was increasingly convinced that educating Native Americans was futile (several of his students had failed to conform to his confusing and contradictory standards), and, in late 1768, he lost his connection to the Haudenosaunee. With his inclination and ability to sponsor Native American missionaries largely depleted, Wheelock sought instead to fulfill his ultimate ambition of obtaining a charter and opening a college, which he did in 1769. To fund this new enterprise, Wheelock drew on the £12,000 that Samson Occom had raised for Moor's Indian Charity School during a two-and-a-half year tour of Great Britain (1765 to 1768). Much of this money went towards clearing land and erecting buildings in New Hampshire for the Charity School's relocation — infrastructure that also happened to benefit Dartmouth. Many of Wheelock's contemporaries were outraged by what they saw as misuse of the money, as it was clear that Dartmouth College was not intended for Indians and that Moor's had become a side project. Although Wheelock tried to maintain at least some commitment to Native American education by recruiting students from Canadian communities, the move did a great deal of damage to his public image. The last decade of Wheelock's life was not easy. In addition to the problems of trying to set up a college far away from any Anglo-American urban center, Wheelock experienced the loss of relationships with two of his most famous and successful students, Samson Occom and Samuel Kirkland (an Anglo-American protégé). He also went into debt for Dartmouth College, especially after the fund raised in Britain was exhausted.
Agwirondongwas, Gwedelhes
Gwedelhes Agwirondongwas, also known as Good Peter, was an Oneida Christian leader who played a prominent role at Onaquaga (a composite Haudenosaunee, or Iroquois, town in Oneida territory) throughout the second half of the eighteenth century. He received missionaries from Eleazar Wheelock and worked with Samuel Kirkland, a Moor's alumnus who conducted a mission to the Oneidas from 1766 until his death in 1808. Elihu Spencer, a Yale-educated Anglo-American missionary, converted Good Peter to Christianity in 1748 and taught him to read and write Mohawk (a language very similar to Oneida). By 1757, Peter was preaching and leading services among the Oneidas. Along with Isaac Dakayenensere, another Oneida Christian leader, Good Peter sought missionaries (and, more especially, husbandry aid) from Eleazar Wheelock. He carried messages for General Schuyler during the Revolution, and was imprisoned by the British. After the Revolution, he worked vigorously to oppose illegal Oneida land sales and general exploitation by the state of New York. Good Peter worked closely with Samuel Kirkland throughout his mission and served as one of his deacons, even though he was cognizant of and opposed Kirkland's role in promoting illegal land sales.
Ashpo, Samuel
Ashpo was born into a very powerful Mohegan family, considered equal to the Uncas line, and became an influential Mohegan preacher. He was converted at Mohegan during the Great Awakening, and became a schoolteacher among the Indians at Mushantuxet from 1753 until 1757 and from 1759 until 1762, when he left to attend Moor's. Between 1757 and 1759, he worked as an interpreter, and supposedly struggled with alcohol. He attended Moor's for only six months, and then continued his teaching and missionary career on successive trips to Chenango (the first was cut short because of violence in the region). On July 1, 1767, the Connecticut Board dismissed him from their service because of further charges of drinking. He continued to preach successfully to various New England Indian tribes until his death in 1795. The variations of his name exist in part because Ashpo is an abbreviated form of Ashobapow.
Document Summary
People identified in this document:
| id | Text in document | Role in header | Authorized Name |
| --- | --- | --- | --- |
| pers0419.ocp | Peter | mentioned | Agwirondongwas, Gwedelhes |
| pers0002.ocp | Samu e l Samuel Aſhpoe Ashpo | mentioned | Ashpo, Samuel |
| pers0041.ocp | Josephy Woolly | writer | Woolley, Joseph |
| pers0041.ocp | Jos p Joseph Woolley | writer | Woolley, Joseph |
| pers0036.ocp | M. r Mr. Eleazer Eleazar Wheelock | recipient | Wheelock, Eleazar |
Places identified in this document:
| id | Text in document | Authorized Name |
| --- | --- | --- |
| place0182.ocp | Onohoquawge Onaquaga | Onaquaga |
| place0158.ocp | N. New Enlend England | New England |
| place0110.ocp | Geningo Chenango | Chenango |
| place0122.ocp | Lebanon | Lebanon |
Organizations identified in this document:
| id | Text in document | Authorized Name |
| --- | --- | --- |
| org0104.ocp | TuſkarorasTuscaroras | Tuscarora Nation |
| org0062.ocp | Mohawk | Mohawk Nation |
Dates identified in this document:
| Standard Form | Text |
| --- | --- |
| 1765-02-09 | Febru.y February 9th 9th 1765 |
| 1764-11-28 | 28 of November |
| 1765-02-09 | feb,February 9: 1765 |
Regularized text:
Type
Original
Regularized
variation
Onohoquawge
Onaquaga
modernization
9

th

9th
modernization
Rev

d

Rev.
variation
Tuſkarora
Tuscarora
modernization
firſt
first
variation
untill
until
variation
Enlend
England
modernization
Reaſon
reason
modernization
ecauſe
ecause
modernization
ſaid
said
modernization
ſeeing
seeing
modernization
Houſe
house
variation
More over
Moreover
variation
nakid
naked
modernization
Seaſon
season
variation
Blankits
blankets
modernization
ſhould
should
modernization
Eagerneſs
eagerness
variation
catched
caught
variation
Tuſkaroras
Tuscaroras
modernization
ſome
some
modernization
ſent
sent
modernization
Kinneſs
kindness
modernization
ſatiſy
satisfy
modernization
ſay
say
variation
Geningo
Chenango
modernization
ſee
see
variation
enquired
inquired
modernization
Aſhpoe
Ashpo
modernization
uſed
used
variation
wonted
wanted
variation
Quater
quarter
variation
diſchared
discharged
modernization
Haſ

e

te
haste
modernization
Excerciſe
exercise
modernization
underſtand
understand
modernization
&c.
etc.
modernization
Rev

d

Rev.
modernization
M.

r

Mr.
variation
Eleazer
Eleazar
Expanded abbreviations:
Abbreviation
Expansion
Febru.

y

February
&
and
N.
New
thro'
through
S.r
Sir
Samu

⇑

[above]

e

e

l
Samuel
Serv.

t

servant
Jos

p

Joseph
feb,
February
This document's header does not contain any mixed case attribute values.
Summary of errors found in this document:
| | |
| --- | --- |
| Number of dates with invalid 'when' attributes: | 0 |
| Number of nested "hi" tags: (consider merging the @rend attributes, or using other tags) | 0 |
| Number of tags with invalid 'rend' attributes: | 0 (out of 11) |
| Number of people/places/organizations with unknown keys: | 0 (out of 12) |
| Number of "add" tags with unknown 'place' attributes: | 0 (out of 2) |
| Mixed case attribute values in header (potential error): | 0 (out of 102) |