Gideon Hawley, letter, to Eleazar Wheelock, 1763 January 27
ms-number: 763127
[note (type: abstract): Hawley writes to tell of Occom's lack of tact in dealing with the Oneidas.]
[note (type: handwriting): Handwriting is small, but mostly clear and legible, with some additions and deletions.]
[note (type: paper): Single large sheet is in good condition, with moderate creasing and staining.]
[note (type: ink): Black-brown.]
[note (type: signature): Signature is abbreviated.]
events: Occom's First Mission to the Oneidas
---
[Opener]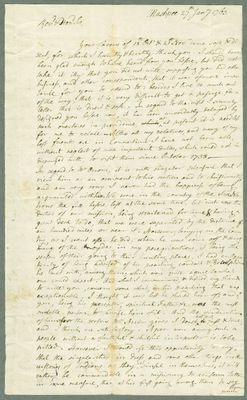 (View Page Image)
Mashpee

[place0133.ocp]
[27

th

| 27th]27

th

27th

[Jan

ry

| January]Jan

ry

January

1763.

[1763-01-27]
[Rev

d

| Rev.]Rev

d

Rev.

[& | and]

&

and

[Hon

d

| Honoured]Hon

d

Honoured

Sir,


Your favours of
[18

th

| 18th]
18

th
18th
[Oct

r

| October]
Oct

r
October
[& | and]
&
and
[21

st

| 21st]
21

st
21st
[Nov

r

| November]
Nov

r
November
[1762-11-21]
[1762-10-18]
came safe
[& | and]
&
and
di­
rect, for which I humbly
[& | and]
&
and
heartily thank you. I should have
been glad enough to have heard from you before, but did not
take it illy that you did not write,
[suppoſing | supposing]
suppoſing
supposing
you had other
[buſineſs | business]
buſineſs
business
, and other correspondents, that it was of more impor
tance for you to attend to: besides I live so much out
of the way, that it is very Difficult to get a
[paſssage | passage]
paſssage
passage
for a
letter that is direct
[& | and]
&
and
safe. In regard to the
[viſit | visit]
viſit
visit
I sincerely
[deſigned | designed]
deſigned
designed
you before now, it has been unvoidably delayed by
such overtures in providence,
which
⇑
[above]
as
as
at
[preſent | present]
preſent
present
it is
[needleſs | needless]
needleſs
needless
for me to relate —
[Altho | although]
Altho
although
all my relatives, and many of my
[beſt | best]
beſt
best
friends are in
Connecticut

[place0048.ocp]
, I have not been able,
without neglect of more important duties, which could not be
[dispenſed | dispensed]
dispenſed
dispensed
with, to
[viſit | visit]
viſit
visit
them since
October 1758

[1758-10]
—
In regard to
[M

r

| Mr.]M

r

Mr.

Occom

[pers0030.ocp]
, it is with singular
[pleaſure | pleasure]
pleaſure
pleasure
that I
view him as an
[orniment | ornament]
orniment
ornament
to his nation and to
[chriſtianity | christianity]
chriſtianity
christianity
,
and am very sorry I never had the
[happineſs | happiness]
happineſs
happiness
of being
acquainted with him. We were in the country of the
Six Na
tions

[org0090.ocp]
the fall before
[laſt | last]
laſt
last
at the same time, but such were the
duties of our
[miſsion | mission]
miſsion
mission
, being straitened for time
[& | and]
&
and
having a
great deal to do, that we were
[seperated | separated]
seperated
separated
by the distance of
an hundred miles or near it. However, tarrying in the Coun
try, as I went after he did, when he was come off
[& | and]
&
and
[seing | seeing]
seing
seeing
many of the
[Onoydas | Oneidas]
Onoydas
Oneidas
[org0075.ocp]
in my peregrinations, it being the
[seaſon | season]
seaſon
season
of their going to their hunting places, I had an
[Opper
tunity | oppor
tunity]
Opper
tunity
oppor
tunity
of being
[adviſed | advised]
adviſed
advised
of his preaching, conduct
[& | and]
&
and
⇑
[above]
the
the
rec
[illegible]
eption
he met with, among them; which were quite equal to what
one could expect. and what I communicated,
[& | and]
&
and
[deſired | desired]
deſired
desired
my friend
to write you, concern some what, in his preaching that was
exceptionable, I thought it was
[beſt | best]
beſt
best
he should hear of; and
[y

t

| that]
y

t
that
you, being his preceptor, spiritual Father
[&c | etc.]
&c
etc.
was the
[moſt | most]
moſt
most
suitable
[perſon | person]
perſon
person
to
[adviſe | advise]
adviſe
advise
him of it. and the vindication
of himself
[illegible: for]
the
[reaſons | reasons]
reaſons
reasons
[M.

r

| Mr.]
M.

r
Mr.
[Accom | Occom]
Accom
Occom
[pers0030.ocp]
gives I doubt
⇑
[above]
not are
not are
[illegible]
just
[& | and]
&
and
true,
and I think are satisfactory. A poor man among such a
people without a faithful
[& | and]
&
and
[skilful | skillful]
skilful
skillful
interpreter is to be
pitied. However I would
[uſe | use]
uſe
use
this opportunity to say,
that the
[iregularities | irregularities]
iregularities
irregularities
in
[dreſs | dress]
dreſs
dress
and some other things in the
customs of Indians as they
⇑
[above]
not
not
sinful in themselves, it will
rather be commendable in a
[miſsionary | missionary]
miſsionary
missionary
to conform to them
in some
[meaſure | measure]
meaſure
measure
, than at his
[firſt | first]
firſt
first
going among them to
[ſay | say]
ſay
say
much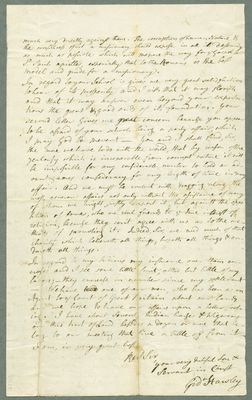 (View Page Image)
much very directly
[againſt | against]
againſt
against
them. The corruption of human Nature
[& | and]
&
and
the
[sinfulneſs | sinfulness]
sinfulneſs
sinfulness
of it a
[miſsionary | missionary]
miſsionary
missionary
should
[expoſe | expose]
expoſe
expose
in all
[it's | its]
it's
its
deformity
as much as
[poſsible | possible]
poſsible
possible
which will prepare the way for
[y

e

| the]
y

e
the
Gospel.
[S

t

| St.]
S

t
St.
[Pauls | Paul's]
Pauls
Paul's
[apistles | epistles]
apistles
epistles
, especially that to the Romans is the
[beſt | best]
beſt
best
model and guide for a
[miſsionary | missionary]
miſsionary
missionary
.
In regard to
your School

[org0098.ocp]
is gives me very great satisfaction
to hear of its
[proſperity | prosperity]
proſperity
prosperity
and I
[wiſh | wish]
wiſh
wish
that it may
[floriſh | flourish]
floriſh
flourish
and that it may
[anſwer | answer]
anſwer
answer
even beyond your expecta -
tions the great
[& | and]
&
and
good ends of its foundation. your
second letter gives me great concern
[becauſe | because]
becauſe
because
you appear
to be afraid of your schools being a party affair, which
I pray God to prevent — you and I shall find, Sir,
the more we have to do with the world, that by
[reaſon | reason]
reaſon
reason
of the
[jealouſy | jealousy]
jealouſy
jealousy
which is
[inseperable | inseparable]
inseperable
inseparable
from corrupt nature it will
be
[impoſsible | impossible]
impoſsible
impossible
for any
[conſiderable | considerable]
conſiderable
considerable
number to hold an ad-
vantageous confederacy for any length of time in any
affair. And we
[muſt | must]
muſt
must
be content with dragging along the
[moſt | most]
moſt
most
generous affairs not only without the
[aſsiſtance | assistance]
aſsiſtance
assistance
of many
of whom we might
[juſtly | justly]
juſtly
justly
expect it, but
[againſt | against]
againſt
against
the
[oppo
ſition | oppo
sition]
oppo
ſition
oppo
sition
of some, who are real friends to
[y

e

| the]
y

e
the
true
[intireſt | interest]
intireſt
interest
of
religion,
[becauſe | because]
becauſe
because
they can't agree with us as to the me-
thods of promoting it. Indeed, Sir, we need much of that
charity which believeth all things, Loveth all things
[& | and]
&
and
en-
dureth all things.
In regard to my Indians my influence over them
[en-
creaſes | in-
creases]
en-
creaſes
in-
creases
and I see some little fruit,
[altho | although]
altho
although
but little of my
labour; — they
[encreaſe | increase]
encreaſe
increase
in number since my settlement
— We have
[illegible]
one of our men, who has been as an
Agent to
[y

e

| the]
y

e
the
Court of Great Britain

[org0036.ocp]
about our lands
and we hope to have our affairs upon a better foot-
ing. I have about Seventy Indian
[houſes | houses]
houſes
houses
[& | and]
&
and
Wigwams
on this tract of Land
[beſides | besides]
beſides
besides
a dozen or more that be-
long to our meeting that live a little off from it —
[Closer]
I am, in very great

[haſte | haste]

haſte

haste


[Rev

d

| Rev.]Rev

d

Rev.

Sir,
your very Dutiful Son

[& | and]

&

and


Servant in

[Chriſt | Christ]

Chriſt

Christ



[Gid

n

| Gideon]Gid

n

Gideon

Hawley

[pers0021.ocp]
Six Nations
The Six Nations (often called the Haudenosaunee or Iroquois) is a confederacy composed of the Mohawks, Oneidas, Onondagas, Cayugas, Senecas, and Tuscaroras. The first five tribes unified at some point before European contact (dates differ by centuries), and the Tuscaroras joined them in 1722, after colonial violence drove the tribe out of Carolina. The Haudenosaunee occupied much of what is now central New York, and, thus, were sandwiched between French, English, and Dutch territories. They allied with the English against the French early on, just as their arch-enemies, the Huron, allied with the French. Despite the Six Nations' unity, the constituent nations experienced European contact in different ways. The Mohawks and Oneidas, as the two easternmost tribes, had by far the most contact with the English, while the Senecas and Cayugas, the westernmost nations, had little contact with the English (although both hosted French Jesuit missionaries). Mohawk territory was the site of Johnson Hall, the administrative center and home of Sir William Johnson, the British Superintendent for Indian Affairs in the Northeast. The Oneidas, meanwhile, played host to several prominent Anglo-American missionaries and were thought of as the most Christianized Haudenosaunee tribe by many colonists. Eleazar Wheelock became fixated on the Haudenosaunee soon after he established Moor's Indian Charity School in 1754. He saw in them the opportunity for a fresh start, since he believed that New England Indians had assimilated to Anglo-American norms in all the wrong ways (too much rum, too little Christianity). Wheelock established contact with the Haudenosaunee through Sir William Johnson and made the Mohawks and Oneidas the focal point of his missionary efforts for much of the 1760s. The American Revolution had dramatic repercussions for the Haudenosaunee Confederacy. The Mohawks, Senecas, Onondagas, and Cayugas sided with the British, while the Oneidas and Tuscaroras sided with the Americans. Since all Haudenosaunee hold membership in both a tribe (Mohawk, Oneida, etcetera) and a matrilineal clan (bear, wolf, and others), the tribes' divergent alliances brought about political schism and violence within extended families. Furthermore, Haudenosaunee territory was devastated during the war, especially in General Sullivan's 1779 raid on Cayuga and Seneca territory. After the Revolution, many Haudenosaunee who had affiliated with the British relocated to the Grand River Reserve in Canada, while many of the Oneidas and Tuscaroras remained in New York. The Haudenosaunee at the Grand River Reserve established their own council fire, which operated in parallel with the original council fire at Onondaga. Today, both council fires are still active, and each tribe also has its own independent government (as do displaced Haudenosaunee populations, such as the Oneidas of Wisconsin).
Oneida Nation
The Oneidas are one of the Haudenosaunee (Iroquois) Six Nations. During the 18th century, they were largely considered the most Christianized Haudenosaunee tribe. The Oneidas had a rich tradition of indigenous ministers, including Good Peter, Deacon Thomas, and Isaac Dakayenensere, and played host to several Moor's missionaries, including Samson Occom, David Fowler, Samuel Ashpo, Joseph Johnson, Joseph Woolley, Titus Smith, and Samuel Kirkland (who went on to found Hamilton Oneida Academy, now Hamilton College). They were also the interpreter James Dean's adoptive tribe. Notable Oneida towns included Onaquaga, Kanawalohale, and Old Oneida. Onaquaga was the central fire of the Six Nations. By the 18th century, it also had a sizeable contingent of Onondagas and Tuscaroras. Good Peter and Isaac Dakayenensere taught there, as did Joseph Woolley. Kanawalohale and Old Oneida were more predominantly Oneida. The Oneidas were involved in several crucial moments in the history of Moor's Indian Charity School. Onaquaga was the site of the 1765 confrontation between Wheelock and the New England Company, in which the New England Company disrupted Titus Smith's mission, first by sending their own missionary, and second by repossessing Elisha Gunn, the interpreter they had agreed to "loan" to Titus Smith. Left without an interpreter, Titus Smith was forced to abandon his mission (Wheelock repaid the favor a few years later by hiring James Dean away from the New England Company). A few years later, in 1769, Deacon Thomas led the Oneidas in withdrawing all their children from Moor's. The Oneidas' departure struck a devastating blow against Wheelock's Indian education plans, and provided more momentum for his shift to educating predominantly Anglo-Americans. The Oneidas sided with the colonists during the Revolution, but they were still affected by the general devastation in Six Nations territory, especially the Sullivan Expedition (1779). After the Revolution, the Oneidas granted tracts of their land to two Christian Indian organizations: the Brothertown tribe, a composite tribe of Moor's alumni from New England, and the Stockbridge Indians. It was not long before the groups came into conflict with one another. Encroachment from the new State of New York put increasing pressure on Oneida land, and the Oneidas tried to renegotiate their treaties with the Brothertown and Stockbridge Indians to compensate. The Brothertown and Stockbridge Indians fought back, but by the 1820s all three groups had lost, and many of them relocated to Wisconsin.
Moor's Indian Charity School
Moor's Indian Charity School was a grammar school for Native Americans that Eleazar Wheelock opened in North Lebanon, Connecticut in 1754. The school was named for Colonel Joshua Moor, also spelled More, who donated the land and school building. Moor's was essentially an expansion of the grammar school that Wheelock opened in 1743 to support himself during the fallout from the First Great Awakening, when Wheelock, who'd participated in itinerant ministry during the Awakening, had his salary confiscated by the colony of Connecticut. In December of that year, Samson Occom asked Wheelock to teach him as well. Wheelock's work with Occom was so successful that Wheelock decided to replicate the experiment with other Native American boys. He accepted his first Indian students in 1754, and in 1761 began taking female students as well. Wheelock believed that in time, his school would become just one part of a larger missionary enterprise. He planned to send his Anglo American and Native American students to various tribes as missionaries and schoolmasters, with explicit instructions to pick out the best students and send them back to Moor's to continue the cycle. His ultimate goal was to turn his school into a model Christian Indian town that would include farms, a college, and vocational training. However, Wheelock's grand design did not survive the decade. Wheelock lost the vast majority of his Native American students; he fought with many of the best, including Samson Occom, Joseph Johnson, David Fowler, and Hezekiah Calvin, and other former and current students accused him of subjecting Native Americans to disproportionate amounts of manual labor. In 1769, perhaps due to concerns about corporal punishment, the Oneida withdrew all their children from Moor's. When Wheelock relocated to Hanover in 1769, only two Native American students came with him, and it became clear that Wheelock's focus was on Dartmouth and that Dartmouth was for white students. After Wheelock's death in 1779, Moor's Indian Charity School receded further into the background as John Wheelock, his father's reluctant successor, stopped taking Indian students. Some Native American students were enrolled in Moor's until 1850, when the school unofficially closed.
Court of Great Britain
The "Court" is the government of King George III of England, which in 1760 heard the plea of the Mashpee Wampanoag Tribe in defense of their sovereignty. From the inception of the English guardianship system of North American Indians, the Mashpee Wampanoags of Cape Cod had resisted, complaining to the Massachusetts General Court and demanding the right to elect their guardians. In 1757, they enlisted the help of Gideon Hawley, an Anglo-American missionary to the Haudenosaunees (Iroquois) who corresponded with Wheelock about the situation, but when the General Court ignored their petition, they took the radical step of sending their schoolmaster, Reuben Cognehew, to London to plead with the King at his court directly. The King's Royal Council, eager for tighter controls over its American colonies, gave Cognehew a favorable reception and ordered the Bay Colony's governor to investigate and insure justice for all Indians in their jurisdiction. The Bay Colony avoided this broad demand, but in 1763 approved an act restoring self-government to the Mashpee Wampanoags. Massachusetts repealed this law and restored the guardian system after the Revolution, but in 1833 the tribe staged a bloodless revolt and won back some measure of self-government.
Connecticut
Connecticut is a state in southern New England that borders Massachusetts to the north and the Long Island Sound to the south. Its name is derived from the Algonquian "Quonehtacut," meaning "long river," referring to the Connecticut, which runs from the border with Canada into the Long Island Sound. The area was originally inhabited by Algonquian-speaking Pequots, Mohegans, and Quinnipiacs. European settlers took advantage of tribal divisions to establish dominance in the region. Dutch explorer Adrian Block sailed up the Connecticut River in 1614, establishing an active Dutch trading post at what is now Hartford. English claims to Connecticut began in 1630, but settlement truly began when Thomas Hooker, a Congregationalist minister now known as "The Father of Connecticut," left Boston to found Hartford in 1636. Hartford became the center of the Colony of Connecticut, which did not receive its charter until 1662 when Governor John Winthrop, Jr. secured it from Charles II. In 1665, the Colony of New Haven, established in 1638 by the Puritan minister John Davenport, joined the Colony of Connecticut under this charter. Early settler relations with local Indians were tense, and encouraged the New England colonies of Massachusetts Bay, Plymouth, Connecticut, and New Haven to unify as the "United Colonies" or "New England Confederation" and fight together, with Indian allies, in the Pequot War and again in King Philip's (Metacom's) War. These wars helped establish a specifically Connecticut and specifically American identity; the latter drove the colony to join the rebellion against Britain in 1776. Occom, born into a Mohegan household in Connecticut, was closely associated with the Colony and retained strong ties to the region throughout his life. He converted to Christianity in 1743 when the Great Awakening spread through Connecticut, and inspired Wheelock's Indian Charity School, which was founded in Lebanon, CT in 1754. He also became involved in the Mason Land Case, a long-standing dispute over the ownership of reserve Mohegan lands in Connecticut. Wheelock also had strong ties to Connecticut, moving his Indian Charity School only when the colony would not grant it a charter.
Hawley, Gideon
Gideon Hawley was born in Stratford (Bridgeport) CT, the son of Gideon, a descendant of Joseph Hawley, who immigrated to America in 1629, and Hannah Bennett, daughter of Lieutenant James Bennett of Stratford. Hawley's mother died at his birth, and his father died when he was three; he was raised mostly by his older brother. A very good student, Hawley graduated from Yale College in 1749 and was liscensed to preach by the Fairfield East Association. Sponsored by the Company for Propagation of the Gospel in New England and the Parts Adjacent in America (the New England Company), Hawley accepted a position as schoolteacer in Stockbridge in 1752, under the supervision of the noted theologian Jonathan Edwards, who was a preacher to whites and Housatonic Indians in the region. But because of the contentious politics in Stockbridge, Hawley accepted the NEC's offer to take over the mission among the Six Nations on the Susquehanna, in the multi-tribal town of Onaquaga, where Elihu Spencer has served five years before as missionary. Hawley was ordained in 1754 and acted successfully as missionary and interpreter, but was forced to leave in May 1756 during the hostilities of the French and Indian War. He returned to Boston and accepted a commission as chaplain to Colonel Richard Gridley's regiment, but resigned because of illness. The NEC then sent him to the large plantation of Mashpee Wompanoags at Plymouth, MA, who approved of him and requested his permanent appointment in 1758. Hawley was a staunch supporter of traditional tribal land ownership and Indian rights; the Mashpees enlisted his help in petitioning the Massachusetts General Court for their rights to self-government. During the Revolution, Hawley did not enlist in order to protect the tribe, and in 1789, he succeeded in abolishing Masphee as a "district" subject to state rule and served as the only resident overseer and treasurer until 1795. He opposed the mixing of whites and Indians, as in Stockbridge, which ultimately disenfranchised and drove out the Indians, but insisted the Mashpee Wampanoags learn English, the only language in which he preached, and practice agriculture. He married Lucy Fessenden in 1759; they had five children, four of whom lived to maturity. Their youngest son graduated from Harvard in 1792. Lucy died in 1777 and at age 50, Hawley remarried Mrs. Elizabeth Burchard in 1778, a widow twice over with a large estate. He died beloved and respected by the Mashpee Wampanoags, whose village he helped to sustain.
Wheelock, Eleazar
Eleazar Wheelock was a New Light Congregationalist minister who founded Dartmouth College. He was born into a very typical Congregationalist family, and began studying at Yale in 1729, where he fell in with the emerging New Light clique. The evangelical network that he built in college propelled him to fame as an itinerant minister during the First Great Awakening and gave him many of the contacts that he later drew on to support his charity school for Native Americans. Wheelock's time as an itinerant minister indirectly brought about his charity school. When the Colony of Connecticut retroactively punished itinerant preaching in 1743, Wheelock was among those who lost his salary. Thus, in 1743, he began operating a grammar school to support himself. He was joined that December by Samson Occom, a Mohegan Indian, who sought out an education in hopes of becoming a teacher among his people. Occom's academic success inspired Wheelock to train Native Americans as missionaries. To that end, he opened Moor's Indian Charity School in 1754 (where he continued to train Anglo-American students who paid their own way as well as students who functionally indentured themselves to Wheelock as missionaries in exchange for an education). Between 1754 and 1769, when he relocated to New Hampshire, Wheelock trained approximately 60 male and female Native American students from nearby Algonquian tribes and from the Haudenosaunee (Iroquois) of central New York. At the same time, he navigated the complicated politics of missionary societies by setting up his own board of the Society in Scotland for Propagating Christian Knowledge, although he continued to feud with the Boston Board of the SSPCK and the London Commissioners in Boston (more colloquially called the New England Company). By the late 1760s, Wheelock had become disillusioned with the idea of Native American education. He was increasingly convinced that educating Native Americans was futile (several of his students had failed to conform to his confusing and contradictory standards), and, in late 1768, he lost his connection to the Haudenosaunee. With his inclination and ability to sponsor Native American missionaries largely depleted, Wheelock sought instead to fulfill his ultimate ambition of obtaining a charter and opening a college, which he did in 1769. To fund this new enterprise, Wheelock drew on the £12,000 that Samson Occom had raised for Moor's Indian Charity School during a two-and-a-half year tour of Great Britain (1765 to 1768). Much of this money went towards clearing land and erecting buildings in New Hampshire for the Charity School's relocation — infrastructure that also happened to benefit Dartmouth. Many of Wheelock's contemporaries were outraged by what they saw as misuse of the money, as it was clear that Dartmouth College was not intended for Indians and that Moor's had become a side project. Although Wheelock tried to maintain at least some commitment to Native American education by recruiting students from Canadian communities, the move did a great deal of damage to his public image. The last decade of Wheelock's life was not easy. In addition to the problems of trying to set up a college far away from any Anglo-American urban center, Wheelock experienced the loss of relationships with two of his most famous and successful students, Samson Occom and Samuel Kirkland (an Anglo-American protégé). He also went into debt for Dartmouth College, especially after the fund raised in Britain was exhausted.
Occom, Samson
Samson Occom was a Mohegan leader and ordained Presbyterian minister. Occom began his public career in 1742, when he was chosen as a tribal counselor to Ben Uncas II. The following year, he sought out Eleazar Wheelock, a young Anglo-American minister in Lebanon, CT, in hopes of obtaining some education and becoming a teacher at Mohegan. Wheelock agreed to take on Occom as a student, and though Occom had anticipated staying for a few weeks or months, he remained with Wheelock for four years. Occom's academic success inspired Wheelock to open Moor's Indian Charity School in 1754, a project which gave him the financial and political capital to establish Dartmouth College in 1769. After his time with Wheelock, Occom embarked on a 12-year mission to the Montauk of Long Island (1749-1761). He married a Montauk woman, Mary Fowler, and served as both teacher and missionary to the Montauk and nearby Shinnecock, although he was grievously underpaid for his services. Occom conducted two brief missions to the Oneida in 1761 and 1762 before embarking on one of the defining journeys of his career: a fundraising tour of Great Britain that lasted from 1765 to 1768. During this journey, undertaken on behalf of Moor's Indian Charity School, Occom raised £12,000 (an enormous and unanticpated amount that translates roughly to more than two-million dollars), and won wide acclaim for his preaching and comportment. Upon his return to Mohegan in 1768, Occom discovered that Wheelock had failed to adequately care for his family while he was gone. Additionally, despite the vast sums of money that he had raised, Occom found himself unemployed. Wheelock tried to find Occom a missionary position, but Occom was in poor health and disinclined to leave his family again after seeing the treatment with which they had met while he was in Britain. Occom and Wheelock's relationship continued to sour as it became apparent to Occom that the money he had labored to raise would be going towards infrastructure at Dartmouth College, Wheelock's new project, rather than the education of Native Americans. After the dissolution of his relationship with Wheelock, Occom became increasingly focused on the needs of the Mohegan community and increasingly vocal in criticizing Anglo-Americans' un-Christian treatment of Native Americans. In September of 1772, he delivered his famous "Sermon on the Execution of Moses Paul," which took Anglo-American spiritual hypocrisy as one of its major themes, and which went into four printings before the end of the year. In 1773, Occom became further disillusioned when the Mason Land Case was decided in favor of the Colony of Connecticut. The details of the Mason Case are complicated, but to summarize: the Colony of Connecticut had gained control of Mohegan land early in the 18th century under very suspect circumstances, and successfully fended off the Mohegan's 70-year-long legal challenge. The conclusion of the case came as a blow to the Mohegans, and further convinced Occom of Anglo-American corruption. Along with David Fowler (Montauk Tribe), Occom's brother-in-law, and Joseph Johnson (Mohegan), Occom's son-in-law, Occom helped found Brothertown, an Indian tribe formed from the Christian Mohegans, Pequots, Narragansetts, Montauks, Tunxis, and Niantics. They eventually settled in Oneida country in upstate New York. Occom moved there with his family in 1789, spending the remaining years of his life serving as a minster to the Brothertown, Stockbridge, and Mohegan Indians. Harried by corrupt land agents, the Brothertown and Stockbridge groups relocated to the eastern shore of Lake Winnebago, though Occom died in 1792 before he could remove himself and his family there. Occom's writings and legacy have made him one of the best known and most eminent Native Americans of the 18th century and beyond.
Occom's First Mission to the Oneidas
Recruited in November by the New York Commissioners of the Society in Scotland for Propagating Christian Knowledge, Occom leaves in May 1761 with his brother-in-law David Fowler, for a mission among the Oneida in western New York. He preaches, establishes a school, and recruits three young Mohawk men to attend Wheelock's Indian Charity School. He returns home at the end of September.
Document Summary
People identified in this document:
| id | Text in document | Role in header | Authorized Name |
| --- | --- | --- | --- |
| pers0030.ocp | M r Mr. Occom | mentioned | Occom, Samson |
| pers0030.ocp | M. r Mr. Accom Occom | mentioned | Occom, Samson |
| pers0021.ocp | Gid n Gideon Hawley | writer | Hawley, Gideon |
Places identified in this document:
| id | Text in document | Authorized Name |
| --- | --- | --- |
| place0133.ocp | Mashpee | Mashpee |
| place0048.ocp | Connecticut | Connecticut |
Organizations identified in this document:
| id | Text in document | Authorized Name |
| --- | --- | --- |
| org0090.ocp | Six Na tions | Six Nations |
| org0075.ocp | OnoydasOneidas | Oneida Nation |
| org0098.ocp | your School | Moor's Indian Charity School |
| org0036.ocp | Court of Great Britain | Court of Great Britain |
Dates identified in this document:
| Standard Form | Text |
| --- | --- |
| 1763-01-27 | 27th 27th Janry January 1763. |
| 1762-10-18 | 18th 18th Octr October &and 21st 21st Novr November |
| 1762-11-21 | 21st 21st Novr November |
| 1758-10 | October 1758 |
Regularized text:
Type
Original
Regularized
modernization
27

th

27th
modernization
Rev

d

Rev.
modernization
18

th

18th
modernization
21

st

21st
modernization
suppoſing
supposing
modernization
buſineſs
business
modernization
paſssage
passage
modernization
viſit
visit
modernization
deſigned
designed
modernization
preſent
present
modernization
needleſs
needless
variation
Altho
although
modernization
beſt
best
modernization
dispenſed
dispensed
modernization
M

r

Mr.
modernization
pleaſure
pleasure
variation
orniment
ornament
modernization
chriſtianity
christianity
modernization
happineſs
happiness
modernization
laſt
last
modernization
miſsion
mission
variation
seperated
separated
variation
seing
seeing
variation
Onoydas
Oneidas
modernization
seaſon
season
variation
Opper
tunity
oppor
tunity
modernization
adviſed
advised
modernization
deſired
desired
modernization
y

t

that
modernization
&c
etc.
modernization
moſt
most
modernization
perſon
person
modernization
adviſe
advise
modernization
reaſons
reasons
modernization
M.

r

Mr.
variation
Accom
Occom
variation
skilful
skillful
modernization
uſe
use
variation
iregularities
irregularities
modernization
dreſs
dress
modernization
miſsionary
missionary
modernization
meaſure
measure
modernization
firſt
first
modernization
ſay
say
modernization
againſt
against
modernization
sinfulneſs
sinfulness
modernization
expoſe
expose
modernization
poſsible
possible
modernization
y

e

the
modernization
S

t

St.
variation
apistles
epistles
modernization
proſperity
prosperity
modernization
wiſh
wish
variation
floriſh
flourish
modernization
anſwer
answer
modernization
becauſe
because
modernization
reaſon
reason
modernization
jealouſy
jealousy
variation
inseperable
inseparable
modernization
impoſsible
impossible
modernization
conſiderable
considerable
modernization
muſt
must
modernization
aſsiſtance
assistance
modernization
juſtly
justly
modernization
oppo
ſition
oppo
sition
variation
intireſt
interest
variation
en-
creaſes
in-
creases
variation
altho
although
variation
encreaſe
increase
modernization
houſes
houses
modernization
beſides
besides
modernization
haſte
haste
modernization
Chriſt
Christ
Expanded abbreviations:
Abbreviation
Expansion
Jan

ry

January
&
and
Hon

d

Honoured
Oct

r

October
Nov

r

November
Gid

n

Gideon
This document's header does not contain any mixed case attribute values.
Summary of errors found in this document:
| | |
| --- | --- |
| Number of dates with invalid 'when' attributes: | 0 |
| Number of nested "hi" tags: (consider merging the @rend attributes, or using other tags) | 0 |
| Number of tags with invalid 'rend' attributes: | 0 (out of 18) |
| Number of people/places/organizations with unknown keys: | 0 (out of 9) |
| Number of "add" tags with unknown 'place' attributes: | 0 (out of 4) |
| Mixed case attribute values in header (potential error): | 0 (out of 110) |