John Smith, letter, to unknown, 1761 July 16
ms-number: 761416
[note (type: abstract): Smith writes to an unknown recipient about Wheelock's work among the Indians, and of the need for Indian missionaries. Mention is made of Occom.]
[note (type: handwriting): Curly cursive writing. Letter case often difficult to discern. Several uncrossed "t's".]
[note (type: paper): Good condition with minor creasing, staining and wear. ]
[note (type: layout): Four total sides of paper, only first two contain writing.]
[note (type: noteworthy): Smith describes a visit from E. Wheelock and an Indian scholar. The Indian mentioned is likely David Fowler. Mention is made of the idea that American Indians are the descendents of the 10 tribes of Israel. Although this letter is clearly not written to Wheelock, a likely timeline is indicated by a comparison of this letter and 761515: 1) Wheelock and Smith visited in spring 1761, along with David Fowler, and talked about several things, including the idea that Indians might be the 10 tribes of Israel; 2) Smith wrote a letter (761416) on this and other topics, and sent it to a friend (in Great Britain, likely), and also sent a copy of the letter to Wheelock; 3) Wheelock continued their discussion in his next letter to Smith (761515), in which he also corrects some mistakes in 761416.]
---
[Opener]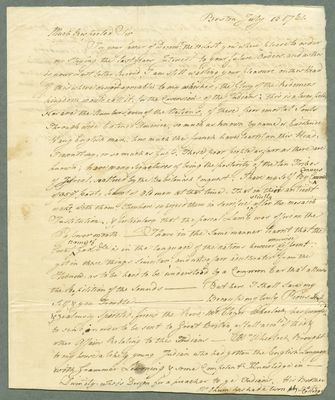 (View Page Image)
Boston

[place0013.ocp]
July 16 1761.

[1761-07-16]
Much Respected Sir

For your favour of
[Decem:

r

| December]Decem:

r

December

the 10

[1760-12-10]
Last you where
[pleasd | pleased]
pleasd
pleased
to order
my Staying the last years Interest to your future orders. and as this
is your Last letter
[Reciv'd | received]
Reciv'd
received
, I am still waiting your pleasure on this Head
If this
[where | were]
where
were
[design.

d

| designed]
design.

d
designed
agreable to my
[whishes | wishes]
whishes
wishes
, the Glory of the
[Redemers | Redeemer's]
Redemers
Redeemer's
kingdom would call it, for the Conversion's of the Indians; this is a large field,
Nor are the Numbers, even of the
Nations

[org0090.ocp]
, of these poor
[imortal | immortal]
imortal
immortal
Souls
Through wide
[illegible]
[guess (h-dawnd): Eaten]
Eaten
[illegible]
ed
America

[place0003.ocp]
, so much as known by name or Existence
to any English man, how much the
french

[org0045.ocp]
have learnt on this Head,
I cannot say, or so much as
[Gueſs | guess]
Gueſs
guess
, These poor people as
[farr | far]
farr
far
as there are
known; have many signatures of being the posterity of the ten Tribes
of
[illegible]
[Iſreal | Israel]
Iſreal
Israel
, scattered by the Babilonish Conquest; I have my Self By
Conver
⇑
[above]
Convers
Convers
of 35
[y.

s

| years]
y.

s
years
past, learnt of old men at that time, That in their
[antient | ancient]
antient
ancient
[war

⇑

[above]

r

r

s | wars]
war

⇑

[above]

r

r

s
wars
with them, They have
[suprized | surprised]
suprized
surprised
them in sacrifice,
⇑
[above]
strictly
strictly
after the mosaich
Institution, &
[particulary | particularly]
particulary
particularly
that the pascal Lamb was
[offerd | offered]
offerd
offered
on the
[Paſsover | Passover]
Paſsover
Passover
month — I have in the same manner learnt that the
Great
⇑
[above]
name of
name of
God
[&c | etc.]
&c
etc.
is in the language of the nations however
⇑
[above]
otherwise
otherwise
[diffirent | different]
diffirent
different
,
yet in these things
[simular | similar]
simular
similar
; and not so
[farr | far]
farr
far
adulterated from the
Hebrew, as to be hard to be understood by a Common Ear that attend.
the
[Repitition | repetition]
Repitition
repetition
of the sounds — But here I shall save my
self & you Trouble —
[Becauſe | because]
Becauſe
because
my truly Pious
[Lear.

d

| learned]
Lear.

d
learned
& zealously
[spireted | spirited]
spireted
spirited
, friend the
[Rev.

d

| Rev.]
Rev.

d
Rev.
[M.

r

| Mr.]M.

r

Mr.

[Elezer | Eleazar]

Elezer

Eleazar

Wheelock

[pers0036.ocp]
has
[promiſe

⇑

[above]

d

d

| promised]
promiſe

⇑

[above]

d

d
promised
to send, in order to be sent to
Great

[Britan | Britain]

Britan

Britain

[place0090.ocp]
,
[illegible: [guess (h-dawnd):

[aſ | as]

aſ

as

]

[aſ | as]

aſ

as

]
full
[acco

ts

| accounts]
acco

ts
accounts
of this &
other Affairs Relating to the Indians —
[M

r

| Mr.]M

r

Mr.

Wheelock

[pers0036.ocp]
Brought
to my house a likely young Indian who had gotten the English Language
with
[Grammer | grammar]
Grammer
grammar
Learning & some Competent Knowledge in —
Divinity, whose Design for a preacher to
[ye | the]
ye
the
Indians, His Brother
[M

r

| Mr.]
M

r
Mr.
[Okum | Occom]
Okum
Occom
[pers0030.ocp]
has had a turn at
yale


[Colledge | college]

Colledge

college

[org0107.ocp]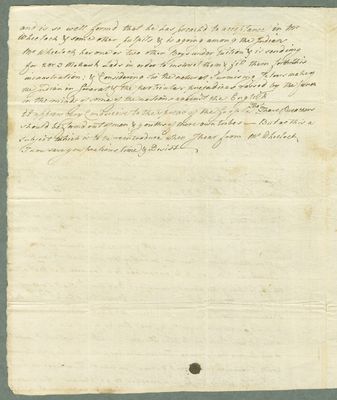 (View Page Image)
and is so well
[formd | formed]
formd
formed
that he has
[preach'd | preached]
preach'd
preached
to acceptance in
[M

r

| Mr.]M

r

Mr.


Wheelock

[pers0036.ocp]
& some other pulpits & is going among the Indians
[M

r

| Mr.]M

r

Mr.

Wheelock

[pers0036.ocp]
has one or two other Boys under tuition & is sending
for 2 or 3
Mohawk

[org0062.ocp]
Lads in order to instruct them &
[fitt | fit]
fitt
fit
them for
thi
this
[minastration | ministration]
minastration
ministration
: & Considering sic the natural Surmising
[Jelous | jealous]
Jelous
jealous
make
[illegible: [guess (h-dawnd):

g

]

g

]
of
the Indian in general & the
[perticular | particular]
perticular
particular
prejudices raised by the furor
in the minds of some of the nations against the
English

[org0041.ocp]
it appears very Conducive to the spread of the
[Gosple | gospel]
Gosple
gospel
⇑
[above]
That
That
Those Preachers
should be
[formd | formed]
formd
formed
out of men & youths of
[there | their]
there
their
own tribes — But as this a
subject which is to be
[reintroducd | reintroduced]
reintroducd
reintroduced
when I hear from
[M

r

| Mr.]M

r

Mr.

Wheelock

[pers0036.ocp]
I now save you
[pretious | precious]
pretious
precious
time & Desist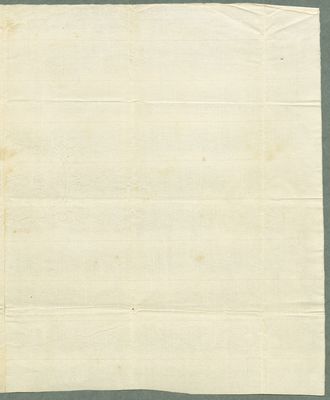 (View Page Image)
[note (type: editorial): Blank page.]
(View Page Image)
[note (type: editorial): Blank page.]
Yale University
Yale University is a private research university and member of the Ivy League located in New Haven, CT. It was founded in nearby Saybrook in 1701 by a group of 10 Congregationalist ministers from Harvard, who felt their alma mater had become too liberal in terms of church polity. They established the "Collegiate School," whose mission was to educate men for public service, and ministers in theology and the sacred languages, in the hopes the school would maintain Puritan religious orthodoxy. Chartered by the Colony of Connecticut, Yale is the third oldest institution of higher education in the US. It moved to New Haven in 1716 and in 1718 was renamed "Yale College" in recognition of a gift from Elihu Yale, a Welsh merchant and philanthropist who had made his fortune in trade through the East India Company. In 1777, the College's curriculum began to incorporate humanities and sciences, and during the 19th century it established graduate and professional courses, awarding the first doctoral degree in the US in 1861, and becoming a university in 1887. Today, the undergraduate school is called "Yale College." From its inception, Yale was committed to training Christian missionaries. During the first Great Awakening, Yale graduates missionized Indian tribes in the Northeast and mid-Atlantic; in the Second Great Awakening in the 19th century, Yale missionaries travelled world-wide. Many Yale graduates, some associated with Wheelock, who graduated in 1733, became missionaries. The best-known of these include: Jonathan Edwards (Yale MA 1720), who missionized to the Stockbridge Indians; David Brainerd, who had to leave Yale because of illness and died young, but whose diary inspired many to missionary work; John Sergeant (Yale MA 1729), whose outline for an Indian boarding school influenced Wheelock; John Brainerd (Yale MA 1746) who continued the work of his brother David. Other associates of Wheelock who graduated from Yale, such as James Davenport, a notorious itinerant preacher (who converted Occom), and Benjamin Pomeroy, a life-long friend and colleague, became caught up in the New Light revivalism of the 1740s. Their "enthusiasm" did not necessarily sit well with their alma mater; President Clap refused to allow Wheelock to preach at Yale in 1742, at the height of the revivals. Still, Wheelock had strong connections with the school. During the 1740s and 1750s, to help support his growing family, Wheelock prepared young men, including Occom, to enter Yale (In 1744, Wheelock took Occom to see the commencement exercises, but Occom did not matriculate because of severe eye strain). The initial curriculum at Dartmouth College was closely modeled on Yale's.
Mohawk Nation
The Mohawk Nation is one of the Six Nations of the Haudenosaunee (Iroquois) Confederacy. As the "eastern door" of the Confederacy, or easternmost Haudenosaunee nation, the Mohawks were perceived throughout the colonial period as a gateway to wider alliances, trade, and religious influence with the Six Nations as a whole. Thus, they received heavy missionary attention from Jesuits, Anglicans, and Congregationalists as early as the 17th century. Throughout the 17th and 18th centuries, the Mohawks and Six Nations more generally were a point of heated competition between Britain and France, as well as between Protestant Christian sects. Wheelock sent several missionaries and schoolmasters to the Mohawks between 1765 and 1767, including Theophilus Chamberlain (Anglo-American), Hezekiah Calvin (Delaware), Abraham Major and Minor (Mohawks), Peter (Mohawk), Moses (Mohawk), and Johannes (Mohawk). The two main towns or "castles" that the mission was based at were Canajoharie and Fort Hunter. Two of the most important figures in Mohawk history as it pertains to Moor's Indian Charity School were Sir William Johnson and Joseph Brant. Sir William Johnson was the British Superintendent of Indian Affairs in the Northeast, one of the most powerful men in British North America. He married into the Mohawk Tribe and had substantial influence among the Six Nations. Initially he supported Wheelock's missionary project, but by 1769 he was endorsing Anglican missionaries instead. Joseph Brant was Sir William Johnson's brother-in-law. He was the first of 19 Mohawk students at Moor's, where he studied from 1761-1763. Although his time at the school was short, Brant entertained a deep affection for it. He went on to be an influential Mohawk war chief and may have protected Dartmouth College from raids during the Revolution. The Revolution fractured the Haudenosaunee Confederacy, with some tribes siding with the colonists and others with the British. The Mohawks sided with the British, and many of them, Joseph Brant included, relocated to the Grand River Reserve in Canada after the war. There was also a substantial Mohawk settlement established by 1700 at Kahnawake in New France (Canada), which hosted Jesuit missionaries. The Kahnawake Mohawks were often called "Canadian Mohawks" and Wheelock recruited students from them after his move to Hanover.
Six Nations
The Six Nations (often called the Haudenosaunee or Iroquois) is a confederacy composed of the Mohawks, Oneidas, Onondagas, Cayugas, Senecas, and Tuscaroras. The first five tribes unified at some point before European contact (dates differ by centuries), and the Tuscaroras joined them in 1722, after colonial violence drove the tribe out of Carolina. The Haudenosaunee occupied much of what is now central New York, and, thus, were sandwiched between French, English, and Dutch territories. They allied with the English against the French early on, just as their arch-enemies, the Huron, allied with the French. Despite the Six Nations' unity, the constituent nations experienced European contact in different ways. The Mohawks and Oneidas, as the two easternmost tribes, had by far the most contact with the English, while the Senecas and Cayugas, the westernmost nations, had little contact with the English (although both hosted French Jesuit missionaries). Mohawk territory was the site of Johnson Hall, the administrative center and home of Sir William Johnson, the British Superintendent for Indian Affairs in the Northeast. The Oneidas, meanwhile, played host to several prominent Anglo-American missionaries and were thought of as the most Christianized Haudenosaunee tribe by many colonists. Eleazar Wheelock became fixated on the Haudenosaunee soon after he established Moor's Indian Charity School in 1754. He saw in them the opportunity for a fresh start, since he believed that New England Indians had assimilated to Anglo-American norms in all the wrong ways (too much rum, too little Christianity). Wheelock established contact with the Haudenosaunee through Sir William Johnson and made the Mohawks and Oneidas the focal point of his missionary efforts for much of the 1760s. The American Revolution had dramatic repercussions for the Haudenosaunee Confederacy. The Mohawks, Senecas, Onondagas, and Cayugas sided with the British, while the Oneidas and Tuscaroras sided with the Americans. Since all Haudenosaunee hold membership in both a tribe (Mohawk, Oneida, etcetera) and a matrilineal clan (bear, wolf, and others), the tribes' divergent alliances brought about political schism and violence within extended families. Furthermore, Haudenosaunee territory was devastated during the war, especially in General Sullivan's 1779 raid on Cayuga and Seneca territory. After the Revolution, many Haudenosaunee who had affiliated with the British relocated to the Grand River Reserve in Canada, while many of the Oneidas and Tuscaroras remained in New York. The Haudenosaunee at the Grand River Reserve established their own council fire, which operated in parallel with the original council fire at Onondaga. Today, both council fires are still active, and each tribe also has its own independent government (as do displaced Haudenosaunee populations, such as the Oneidas of Wisconsin).
Boston
The first English immigrant to settle on a peninsula in a harbor on the northeastern coast of North America the local Algonquin Indians called "Shawmet" was William Blackstone in 1629. A year later, John Winthrop arrived with a group of English Puritans and other settlers and named the area Boston after his hometown in Lincolnshire, England. The colony quickly developed representative political institutions that would help shape a democratic nation. Over the next few centuries, Boston emerged as an intellectual and educational center, and, because of its excellent harbor, became a leading commercial hub and a primary port for North America. It is the capital and largest city of the Commonwealth of Massachusetts, and the largest city in New England. Boston was the home for the Boards of Commissioners of several overseas religious societies who sent missionaries throughout the colonies in the 18th century, and was the site of many important events of the American Revolution.
Smith, John
John Smith was an affluent Boston merchant who supported Wheelock's school throughout the 1760s. It is likely that Smith and Wheelock were introduced by George Whitefield or someone similarly involved in evangelical and missionary efforts in the British Atlantic world: John Smith made somewhat regular trips to London for business, and had been in contact with Whitefield since the 1740s. Like the other Boston merchants who supported Moor's Indian Charity School (including Moses Peck, William Hyslop, and Nathaniel Eells), Smith traded with Wheelock and kept him up to date on political developments in Boston, especially as they concerned attitudes towards Moor's Indian Charity School. However, Smith was better educated (and likely more affluent) than the other merchants that Wheelock worked with, and, correspondingly, played a more important role than his brethren in Wheelock's efforts. Smith publicized the school independently (his letter to an unnamed friend, catalogued as 764318.2, is one of the most cited letters on the organization of Moor's) and assisted Wheelock in publishing the Narratives. John Smith's greatest contribution to Wheelock's design was his support during Samson Occom and Nathaniel Whitaker's fundraising tour of Great Britain (1765-1768). Smith set out for Britain in July 1765 to improve his health, and while there, acted as a vanguard for Occom and Whitaker. He managed their correspondence, suggested destinations, and served on an ad hoc advisory council that included George Whitefield, Samuel Savage, Robert Keen, and several other influential men. The pace of the journey caught up with John Smith, however, and he died in 1768 while in Britain.
Wheelock, Eleazar
Eleazar Wheelock was a New Light Congregationalist minister who founded Dartmouth College. He was born into a very typical Congregationalist family, and began studying at Yale in 1729, where he fell in with the emerging New Light clique. The evangelical network that he built in college propelled him to fame as an itinerant minister during the First Great Awakening and gave him many of the contacts that he later drew on to support his charity school for Native Americans. Wheelock's time as an itinerant minister indirectly brought about his charity school. When the Colony of Connecticut retroactively punished itinerant preaching in 1743, Wheelock was among those who lost his salary. Thus, in 1743, he began operating a grammar school to support himself. He was joined that December by Samson Occom, a Mohegan Indian, who sought out an education in hopes of becoming a teacher among his people. Occom's academic success inspired Wheelock to train Native Americans as missionaries. To that end, he opened Moor's Indian Charity School in 1754 (where he continued to train Anglo-American students who paid their own way as well as students who functionally indentured themselves to Wheelock as missionaries in exchange for an education). Between 1754 and 1769, when he relocated to New Hampshire, Wheelock trained approximately 60 male and female Native American students from nearby Algonquian tribes and from the Haudenosaunee (Iroquois) of central New York. At the same time, he navigated the complicated politics of missionary societies by setting up his own board of the Society in Scotland for Propagating Christian Knowledge, although he continued to feud with the Boston Board of the SSPCK and the London Commissioners in Boston (more colloquially called the New England Company). By the late 1760s, Wheelock had become disillusioned with the idea of Native American education. He was increasingly convinced that educating Native Americans was futile (several of his students had failed to conform to his confusing and contradictory standards), and, in late 1768, he lost his connection to the Haudenosaunee. With his inclination and ability to sponsor Native American missionaries largely depleted, Wheelock sought instead to fulfill his ultimate ambition of obtaining a charter and opening a college, which he did in 1769. To fund this new enterprise, Wheelock drew on the £12,000 that Samson Occom had raised for Moor's Indian Charity School during a two-and-a-half year tour of Great Britain (1765 to 1768). Much of this money went towards clearing land and erecting buildings in New Hampshire for the Charity School's relocation — infrastructure that also happened to benefit Dartmouth. Many of Wheelock's contemporaries were outraged by what they saw as misuse of the money, as it was clear that Dartmouth College was not intended for Indians and that Moor's had become a side project. Although Wheelock tried to maintain at least some commitment to Native American education by recruiting students from Canadian communities, the move did a great deal of damage to his public image. The last decade of Wheelock's life was not easy. In addition to the problems of trying to set up a college far away from any Anglo-American urban center, Wheelock experienced the loss of relationships with two of his most famous and successful students, Samson Occom and Samuel Kirkland (an Anglo-American protégé). He also went into debt for Dartmouth College, especially after the fund raised in Britain was exhausted.
Occom, Samson
Samson Occom was a Mohegan leader and ordained Presbyterian minister. Occom began his public career in 1742, when he was chosen as a tribal counselor to Ben Uncas II. The following year, he sought out Eleazar Wheelock, a young Anglo-American minister in Lebanon, CT, in hopes of obtaining some education and becoming a teacher at Mohegan. Wheelock agreed to take on Occom as a student, and though Occom had anticipated staying for a few weeks or months, he remained with Wheelock for four years. Occom's academic success inspired Wheelock to open Moor's Indian Charity School in 1754, a project which gave him the financial and political capital to establish Dartmouth College in 1769. After his time with Wheelock, Occom embarked on a 12-year mission to the Montauk of Long Island (1749-1761). He married a Montauk woman, Mary Fowler, and served as both teacher and missionary to the Montauk and nearby Shinnecock, although he was grievously underpaid for his services. Occom conducted two brief missions to the Oneida in 1761 and 1762 before embarking on one of the defining journeys of his career: a fundraising tour of Great Britain that lasted from 1765 to 1768. During this journey, undertaken on behalf of Moor's Indian Charity School, Occom raised £12,000 (an enormous and unanticpated amount that translates roughly to more than two-million dollars), and won wide acclaim for his preaching and comportment. Upon his return to Mohegan in 1768, Occom discovered that Wheelock had failed to adequately care for his family while he was gone. Additionally, despite the vast sums of money that he had raised, Occom found himself unemployed. Wheelock tried to find Occom a missionary position, but Occom was in poor health and disinclined to leave his family again after seeing the treatment with which they had met while he was in Britain. Occom and Wheelock's relationship continued to sour as it became apparent to Occom that the money he had labored to raise would be going towards infrastructure at Dartmouth College, Wheelock's new project, rather than the education of Native Americans. After the dissolution of his relationship with Wheelock, Occom became increasingly focused on the needs of the Mohegan community and increasingly vocal in criticizing Anglo-Americans' un-Christian treatment of Native Americans. In September of 1772, he delivered his famous "Sermon on the Execution of Moses Paul," which took Anglo-American spiritual hypocrisy as one of its major themes, and which went into four printings before the end of the year. In 1773, Occom became further disillusioned when the Mason Land Case was decided in favor of the Colony of Connecticut. The details of the Mason Case are complicated, but to summarize: the Colony of Connecticut had gained control of Mohegan land early in the 18th century under very suspect circumstances, and successfully fended off the Mohegan's 70-year-long legal challenge. The conclusion of the case came as a blow to the Mohegans, and further convinced Occom of Anglo-American corruption. Along with David Fowler (Montauk Tribe), Occom's brother-in-law, and Joseph Johnson (Mohegan), Occom's son-in-law, Occom helped found Brothertown, an Indian tribe formed from the Christian Mohegans, Pequots, Narragansetts, Montauks, Tunxis, and Niantics. They eventually settled in Oneida country in upstate New York. Occom moved there with his family in 1789, spending the remaining years of his life serving as a minster to the Brothertown, Stockbridge, and Mohegan Indians. Harried by corrupt land agents, the Brothertown and Stockbridge groups relocated to the eastern shore of Lake Winnebago, though Occom died in 1792 before he could remove himself and his family there. Occom's writings and legacy have made him one of the best known and most eminent Native Americans of the 18th century and beyond.
Document Summary
People identified in this document:
| id | Text in document | Role in header | Authorized Name |
| --- | --- | --- | --- |
| pers0036.ocp | M. r Mr. Elezer Eleazar Wheelock | mentioned | Wheelock, Eleazar |
| pers0036.ocp | M r Mr. Wheelock | mentioned | Wheelock, Eleazar |
| pers0030.ocp | M r Mr. Okum Occom | mentioned | Occom, Samson |
| pers0036.ocp | M r Mr. Wheelock | mentioned | Wheelock, Eleazar |
Places identified in this document:
| id | Text in document | Authorized Name |
| --- | --- | --- |
| place0013.ocp | Boston | Boston |
| place0003.ocp | America | America |
| place0090.ocp | Great Britan Britain | Great Britain |
Organizations identified in this document:
| id | Text in document | Authorized Name |
| --- | --- | --- |
| org0090.ocp | Nations | Six Nations |
| org0045.ocp | french | |
| org0107.ocp | yale Colledgecollege | Yale University |
| org0062.ocp | Mohawk | Mohawk Nation |
| org0041.ocp | English | |
Dates identified in this document:
| Standard Form | Text |
| --- | --- |
| 1761-07-16 | July 16 1761. |
| 1760-12-10 | Decem:r December the 10 |
Regularized text:
Type
Original
Regularized
variation
pleasd
pleased
variation
Redemers
Redeemer's
variation
imortal
immortal
modernization
Gueſs
guess
variation
farr
far
variation
Iſreal
Israel
variation
antient
ancient
variation
war

⇑

[above]

r

r

s
wars
variation
suprized
surprised
variation
particulary
particularly
variation
offerd
offered
modernization
Paſsover
Passover
modernization
&c
etc.
variation
diffirent
different
variation
simular
similar
variation
Repitition
repetition
modernization
Becauſe
because
variation
spireted
spirited
modernization
Rev.

d

Rev.
modernization
M.

r

Mr.
variation
Elezer
Eleazar
modernization
promiſe

⇑

[above]

d

d

promised
variation
Britan
Britain
modernization
aſ
as
modernization
M

r

Mr.
variation
Grammer
grammar
modernization
ye
the
variation
Okum
Occom
variation
Colledge
college
variation
formd
formed
variation
fitt
fit
variation
minastration
ministration
variation
Jelous
jealous
variation
perticular
particular
variation
Gosple
gospel
variation
reintroducd
reintroduced
variation
pretious
precious
Expanded abbreviations:
Abbreviation
Expansion
Decem:

r

December
Reciv'd
received
design.

d

designed
y.

s

years
Lear.

d

learned
acco

ts

accounts
preach'd
preached
This document's header does not contain any mixed case attribute values.
Summary of errors found in this document:
| | |
| --- | --- |
| Number of dates with invalid 'when' attributes: | 0 |
| Number of nested "hi" tags: (consider merging the @rend attributes, or using other tags) | 0 |
| Number of tags with invalid 'rend' attributes: | 0 (out of 15) |
| Number of people/places/organizations with unknown keys: | 0 (out of 14) |
| Number of "add" tags with unknown 'place' attributes: | 0 (out of 7) |
| Mixed case attribute values in header (potential error): | 0 (out of 116) |