Willard Hubbard, letter, to Eleazar Wheelock, 1767 October 8
ms-number: 767558.2
abstract: Hubbard writes regarding reports of drunkenness among Joseph Johnson and company.
handwriting: Handwriting is formal and mostly clear if somewhat small and slanting.
paper: Single sheet is in fair condition, with moderate-to-heavy creasing, staining and wear.
ink: Brown-black ink is faded.
noteworthy: It is uncertain as to whether or not Hubbard is referring to the same person when he mentions the Oneida Sachem and Sachem Thomas.
---
Modernized Version -- deletions removed; additions added in; modern spelling and capitalization added; unfamiliar abbreviations expanded.
---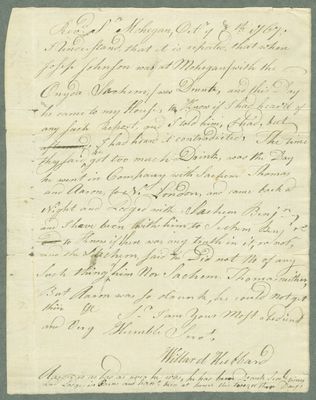 (View Page Image)
Mohegan

,

October the 8th 1767

,
Rev. Sir

I understand, that it is reported, that when
Joseph Johnson
was at
Mohegan
/with the—
Oneida Sachem
,/was Drunk, and this Day
he came to my house, to Know if I had heard of
any such Report, and I told him, I had, but
I had heard it contradicted, The time
they said he got too much Drink, was the Day
he went in Company with
Sachem. Thomas
and
Aaron
, to
New London
, and came back at
Night and Lodged with
Sachem Benjamin
,
and I have been with him to
Sachem Benjamin
s
to Know if there was any truth in it, or not,
and the
Sachem
, said he Did not know of any
Such thing of him Nor
Sachem Thomas
neither,
But
Aaron
was so drunk, he could not get
there etc.
Sir I am your Most obedient
and Very Humble Servant,
Willard Hubbard
Aaron
is as bad as ever he was, he has been Drunk several times
and Lodges in Barns and hasn't been at home this two or three Days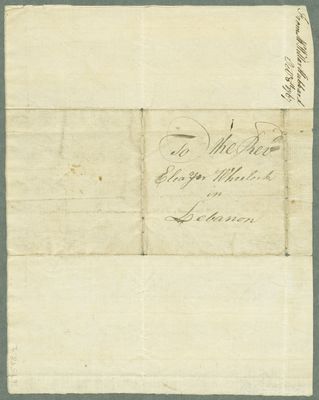 (View Page Image)
From Mr.
Willard Hubbard
October 8th 1767
To the Rev.
Eleazar Wheelock
in
Lebanon
Mohegan
Mohegan is a village in southeastern Connecticut at the site of the present-day town of Montville, and is the location of the Mohegan Indian Reservation. The village gets its name from the Mohegan Tribe, or wolf people, who split from the Pequots in the early 17th century under the leadership of the sachem Uncas. In the 1720s, the Mohegans requested the colony of Connecticut provide them with an English educator. An English minister and schoolteacher named John Mason (no relation to Captain John Mason) moved to Mohegan in order to provide English-styled education to the Mohegans, convinced his sponsors, the New England Company, to build a schoolhouse at Mohegan, which eventually served as a boarding school for other Native American children from the surrounding area. During the 17th century, the Mohegan Tribe became embroiled in a complicated controversy over control of Mohegan land — known as the Mason Land Case or, more specifically, Mohegan Indians v. Connecticut — that included the village of Mohegan. The Tribe claimed that it never authorized a transfer of their lands, held in trust by the Mason family, to the colonial government. In 1662, the colony of Connecticut was incorporated by a royal charter, which included the disputed tribal land. The land controversy was revived in 1704 when descendants of John Mason, the original trustee, petitioned the Crown on behalf of the Mohegans, but the suit was finally decided against the Tribe in 1773. Born in Mohegan, Occom became involved in the Mason Land Case and vehemently argued for the rights of the Mohegan Indians to maintain their land, opposing Eleazar Wheelock and other ministers in the area. Although Occom left Mohegan for a 12-year mission with the Montauk Indians of Long Island, he returned at the end of 1763 with his large family to build a house in Mohegan, establishing it as his base of operations. Even after the creation of the Brothertown settlement in Oneida country, for which he served as minister, Occom continued to commute back and forth from Mohegan; he didn't sell his house in Mohegan and move his family to Brothertown until 1789. Many members of his family remained in Mohegan, including his sister Lucy Tantaquidgeon, who lived there until her death at 99 in 1830.
New London
New London is a city located in southeastern Connecticut along an estuary of the Atlantic Ocean called Long Island Sound. The area that would become New London was inhabited by the Pequots who called it Nameaug when the Europeans arrived in North America. Pequot villages bordered Long Island Sound and the Tribe had authority over the neighboring Tribes of the Mohegans and Niantics (all Algonquian-speaking tribes). The Dutch first explored this land in 1614 and established trade with the Native peoples, but the English soon gained possession of the land east of the Hudson in the 1630s. English animosity toward their Indian neighbors led to the Pequot War (1634-38), part of which took place in the present city of New London. The Pequots lost the war and their population deteriorated due to the violence and disease. The General Court of Massachusetts granted John Winthrop possession of Pequot territory in 1644 after which it was to be opened for settlement. By 1646, which is considered the official year of its founding, New London had permanent colonial inhabitants and municipal laws, and jurisdiction was granted to the colony of Connecticut in 1647. In 1658, the inhabitants renamed the town New London after London, England. New London was the colony of Connecticut's first trading port and was a hub of trade with the West Indies and other colonies. Though initially part of the town of New London when it was first settled by the colonists, Groton, Montville, and Waterford were each separated from New London in 1705, 1786, and 1801 respectively. Present-day Salem was also part of New London when it was settled, but in 1819, it became a separate incorporated town composed of parts of Lyme, Colchester, and Montville. Occom kept a school in New London in the winter in 1748. New London was the home of Captain Nathaniel Shaw, one of the wealthiest merchants in the area, who gave money to Occom in the 1750s for the missionary cause and also sold materials to Occom for the building of his home. However, their positive relationship ended when Shaw refused to provide supplies for Mary Occom while Occom was in England. New London served as the port from which Occom and other missionaries traveled to reach Long Island. During the American Revolution, New London's location and its status as a seaport made it both vulnerable to invasion and integral to colonial naval operations as well as the exchange of prisoners.New London was incorporated as a city in 1784.
Lebanon
Lebanon is a town located in the state of Connecticut southwest of the town of Hartford. The land that became Lebanon was inhabited at least 10,000 years ago based on the archeological record. By the 1600s, the land was permanently inhabited by the Mohegan Indians, who used the area primarily for hunting. Lebanon was officially formed in 1700 when English settlers consolidated a number of land tracts, including several land grants by the Connecticut General Assembly and lands purchased from the Mohegans. However, these purchases were controversial. In 1659, the Mohegans entrusted their reserve land to Major John Mason, and in the following year, Mason transferred this land to the Connecticut colonial government with the understanding that there would be enough land left for the Mohegans to farm. The Mohegans claimed that they never authorized a transfer to the colonial government and only Mason's heirs were entrusted with their land. In 1662, Connecticut, which included the Mohegan land that had been entrusted to the Masons, was incorporated by a royal charter. Based on this charter, the colony argued that the land was now the property of the government. In 1687, the colony began granting the Mohegan land to townships, and in 1704 the Masons petitioned the Crown on behalf of the Mohegans, claiming that such transfers of land to townships were illegal. Between the years of 1705 and 1773 legal disputes and controversies persisted, finally ending in a verdict by the Crown against the Mohegans. In 1755, Wheelock received property and housing in Lebanon that he would use as his house and school. While Lebanon was originally incorporated as a part of New London County in 1700, in 1724 it became a part of New Windham, before once again becoming a part of New London County in 1826. Lebanon was central to the American Revolution with half of its adult population fighting for the colonists and hundreds of meetings convened in the town for the revolutionary cause.
Wheelock, Eleazar
Eleazar Wheelock was a New Light Congregationalist minister who founded Dartmouth College. He was born into a very typical Congregationalist family, and began studying at Yale in 1729, where he fell in with the emerging New Light clique. The evangelical network that he built in college propelled him to fame as an itinerant minister during the First Great Awakening and gave him many of the contacts that he later drew on to support his charity school for Native Americans. Wheelock's time as an itinerant minister indirectly brought about his charity school. When the Colony of Connecticut retroactively punished itinerant preaching in 1743, Wheelock was among those who lost his salary. Thus, in 1743, he began operating a grammar school to support himself. He was joined that December by Samson Occom, a Mohegan Indian, who sought out an education in hopes of becoming a teacher among his people. Occom's academic success inspired Wheelock to train Native Americans as missionaries. To that end, he opened Moor's Indian Charity School in 1754 (where he continued to train Anglo-American students who paid their own way as well as students who functionally indentured themselves to Wheelock as missionaries in exchange for an education). Between 1754 and 1769, when he relocated to New Hampshire, Wheelock trained approximately 60 male and female Native American students from nearby Algonquian tribes and from the Haudenosaunee (Iroquois) of central New York. At the same time, he navigated the complicated politics of missionary societies by setting up his own board of the Society in Scotland for Propagating Christian Knowledge, although he continued to feud with the Boston Board of the SSPCK and the London Commissioners in Boston (more colloquially called the New England Company). By the late 1760s, Wheelock had become disillusioned with the idea of Native American education. He was increasingly convinced that educating Native Americans was futile (several of his students had failed to conform to his confusing and contradictory standards), and, in late 1768, he lost his connection to the Haudenosaunee. With his inclination and ability to sponsor Native American missionaries largely depleted, Wheelock sought instead to fulfill his ultimate ambition of obtaining a charter and opening a college, which he did in 1769. To fund this new enterprise, Wheelock drew on the £12,000 that Samson Occom had raised for Moor's Indian Charity School during a two-and-a-half year tour of Great Britain (1765 to 1768). Much of this money went towards clearing land and erecting buildings in New Hampshire for the Charity School's relocation — infrastructure that also happened to benefit Dartmouth. Many of Wheelock's contemporaries were outraged by what they saw as misuse of the money, as it was clear that Dartmouth College was not intended for Indians and that Moor's had become a side project. Although Wheelock tried to maintain at least some commitment to Native American education by recruiting students from Canadian communities, the move did a great deal of damage to his public image. The last decade of Wheelock's life was not easy. In addition to the problems of trying to set up a college far away from any Anglo-American urban center, Wheelock experienced the loss of relationships with two of his most famous and successful students, Samson Occom and Samuel Kirkland (an Anglo-American protégé). He also went into debt for Dartmouth College, especially after the fund raised in Britain was exhausted.
Johnson, Joseph
Joseph Johnson was a Mohegan who studied at Moor's Indian Charity School and became one of the most important organizers of the Brothertown Movement (a composite tribe composed of Christian members of seven Southern New England Algonquian settlements). He was a prolific writer and his papers are relatively well-preserved. Johnson's writing is especially noteworthy for his skillful use of Biblical allusion and his awareness of the contradiction that he, as an educated Native American, presented to white colonists. Johnson arrived at Moor's in 1758, when he was seven years old, and studied there until 1766, when he became David Fowler's usher at Kanawalohale. He continued teaching in Oneida territory until the end of 1768, when Samuel Kirkland sent him home in disgrace for drunkeness and bad behavior. After a stint teaching at Providence, Rhode Island, and working on a whaling ship, Johnson returned to Mohegan in 1771 and became a zealous Christian. He opened a school at Farmington, CT, in 1772, for which he seems to have received some minimal support from the New England Company. From his base at Farmington, he began organizing Southern New England Algonquians for the Brothertown project. The goal was to purchase land from the Oneidas, the most Christianized of the Six Nations, and form a Christian Indian town incorporating Algonquian and Anglo-American elements. Johnson spent the rest of his short life garnering necessary support and legal clearance for the Brothertown project. Johnson died sometime between June 10, 1776 and May 1777, at 25 or 26 years old, six or seven years before Brothertown was definitively established in 1783. He was married to Tabitha Occom, one of Samson Occom's daughters. She lived at Mohegan with their children even after Brothertown's founding, and none of their children settled at Brothertown permanently. Like most of Wheelock's successful Native American students, Johnson found that he could not satisfy his teacher's contradictory standards for Native Americans. Although Johnson's 1768 dismissal created a hiatus in their relationship, Johnson reopened contact with Wheelock after his re-conversion to a degree that other former students, such as Samson Occom, David Fowler, and Hezekiah Calvin, never did.
Uncas, Ben III
Ben Uncas III was the Mohegan sachem from 1749 until his death in 1769. He was heir to Sachem Ben I (elected 1721) and Sachem Ben Uncas II (elected 1723). The Ben Uncas dynasty was characterized by an informal quid pro quo with the colony of Connecticut, in which the sachems won the colony's backing in exchange for tacitly accepting the Colony's control of tribal land. Because Ben II was a proponent of Anglo-American style education, Ben Uncas III received quite a bit of training as a boy in hopes that he might become a missionary. He did not, but he did keep school at Mohegan from 1739 until his election in 1749. His sachemship, like that of his father and grandfather before him, was characterized by his involvement (or lack thereof) in the Mason Case, a 70-year-long (1704-1773) legal battle between the Mohegan Tribe and the Colony of Connecticut over who controlled the Mohegan tribe's lands. The Colony maintained that it controlled the land, and since the Ben Uncas line did not question that claim, the Colony supported their sachemships over others (John Uncas II and Mahomet II, specifically) who would have opposed the colony more vehemently. This support proved critical, as Ben Uncas II and III both faced significant opposition from within their tribe. The colony also benefited: because the supposed sachem did not oppose its claim, it could more easily portray the anti-sachem, pro-Mason party as illegitimate rabble rousers. The argument over who ought to be sachem expanded beyond politics to accommodation of the English. Thus, the sachem party was characterized by its approbation of Robert Clelland, the schoolmaster appointed by the New England Company (NEC), and David Jewett, the NEC-backed minister at nearby New London. (It is ironic, in this light, that Clelland wrote so frequently to complain about Ben Uncas III's drunkenness and opposition to Jewett. Perhaps Clelland thought Mohegan politics so irrelevant that he failed to realize that he and Uncas were yoked together). Ben Uncas III died in 1769, and the Mohegan tribe blocked the colony of Connecticut from establishing his son, Isaiah Uncas, as sachem in his stead. At Ben Uncas III's funeral, the pallbearers (Samson Occom among them) dropped his coffin unceremoniously in front of the delegation of Connecticut officials.
Occom, Aaron
Aaron Occom was Samson and Mary Occom's prodigal second child and oldest son. He was born in 1753, during Samson's mission to the Montauketts of Long Island. The Occoms entered Aaron in Moor's Indian Charity School when he was seven, in the hope that he would "be Brought up." However, Aaron proved ill-suited to school, and returned home in October 1761. He had two more brief stints at Moor's Indian Charity School: the first in December 1765, after Samson departed for his two-and-a-half-year fundraising tour of Great Britain, and the second in November 1766, when Mary found herself unable to control Aaron's wild behavior (which included attempting to run away with "a very bad girl" and forging store orders in Mary's name). After his last enrollment at Moor's, Aaron ran away to sea. He had returned to Mohegan by November 1768, and at age 18, he married Ann Robin. Aaron died in 1771, leaving a son also named Aaron. Samson periodically entertained the idea of apprenticing Aaron to a master, but never seems to have done so. One letter written by Aaron survives: an epistle to Joseph Johnson, another young Mohegan who studied at Moor's.