Samuel Ashpo, letter, to Eleazar Wheelock, 1766 August 22
ms-number: 766472
abstract: Ashpo relates the status of negotiations in Chenango as to a possible minister and schoolmaster, and notes the success of a sermon he recently preached.
handwriting: Handwriting is clear and legible, yet letter case is frequently difficult to discern. The trailer is in an unknown hand.
paper: Single sheet is in good-to-fair condition, with light-to-moderate staining, creasing and wear that results in a minor loss of text.
ink: Brown ink is somewhat faded.
noteworthy: The identity of "the King" is uncertain, and so he has been left untagged. In the first paragraph, the meaning of the word "unedogke" is uncertain.
---
Modernized Version -- deletions removed; additions added in; modern spelling and capitalization added; unfamiliar abbreviations expanded.
---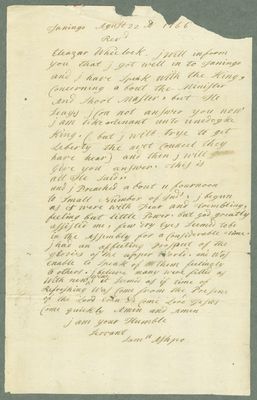 (View Page Image)
Chenango
August 22 AD 1766
Rev.


Eleazar Wheelock

,

I Will inform
you that I got well into
Chenango
and I have Speak with the King,
Concerning about the minister
And schoolmaster, but He
says I can not answer you now
I am like a Tenant to unedogke
King. (but I will try to get
liberty the next Council they
have here) and then I will
Give you answer, This is
all He Said,,
and I Preached about 11 forenoon
to Small Number of Indians, I begun
as it were with Fear and Trembling,
feeling but little Power, but god greatly
assisted me, few dry Eyes Seemed to be
in the assembly for a considerable Time.
I had an affecting prospect of the
glories of the upper World. and Was
enable to Speak of them feelingly
to others. I believe many were filled as
With new wine it Seemed as if time of
refreshing was Come from the presence
of the Lord Even
[gap: hole]
[guess: so ]
Come Lord Jesus
Come quickly Amen and Amen
I am your Humble
Servant
Samuel Ashpo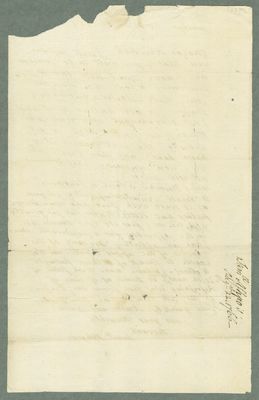 (View Page Image)
Samuel Ashpo
's —
August 22. 1766—
Chenango
Chenango, a small Oneida Indian settlement near present-day Binghamton, New York, was known as "Jeningo" before 1787, when it was settled by Anglo-Americans and then incorporated as a town. Wheelock sent the Mohegan Indian Samuel Ashpo to Jeningo/Chenango to preach among the Indians in 1760, 1761, 1763, and 1766 with moderate success. The Oneida Indians there requested Ashpo specifically in 1760, wanting a Native-American rather than white missionary living among them. In 1762, Wheelock writes a letter to a British supporter, Dennys DeBerdt, recounting Ashpo and Charles Jeffrey Smith's missionary expedition to Jeningo/Chenango. Ashpo writes to Wheelock in 1763 that "Onohoquagee and Jeningo Indians" are in need of missionaries since their missionary left and proposes that Ashpo go himself. In 1769, Wheelock writes to Occom asking that he and Jacob Fowler go to Jeningo/Chenango to establish a village for Christianized Indians.
Ashpo, Samuel
Ashpo was born into a very powerful Mohegan family, considered equal to the Uncas line, and became an influential Mohegan preacher. He was converted at Mohegan during the Great Awakening, and became a schoolteacher among the Indians at Mushantuxet from 1753 until 1757 and from 1759 until 1762, when he left to attend Moor's. Between 1757 and 1759, he worked as an interpreter, and supposedly struggled with alcohol. He attended Moor's for only six months, and then continued his teaching and missionary career on successive trips to Chenango (the first was cut short because of violence in the region). On July 1, 1767, the Connecticut Board dismissed him from their service because of further charges of drinking. He continued to preach successfully to various New England Indian tribes until his death in 1795. The variations of his name exist in part because Ashpo is an abbreviated form of Ashobapow.
Wheelock, Eleazar
Eleazar Wheelock was a New Light Congregationalist minister who founded Dartmouth College. He was born into a very typical Congregationalist family, and began studying at Yale in 1729, where he fell in with the emerging New Light clique. The evangelical network that he built in college propelled him to fame as an itinerant minister during the First Great Awakening and gave him many of the contacts that he later drew on to support his charity school for Native Americans. Wheelock's time as an itinerant minister indirectly brought about his charity school. When the Colony of Connecticut retroactively punished itinerant preaching in 1743, Wheelock was among those who lost his salary. Thus, in 1743, he began operating a grammar school to support himself. He was joined that December by Samson Occom, a Mohegan Indian, who sought out an education in hopes of becoming a teacher among his people. Occom's academic success inspired Wheelock to train Native Americans as missionaries. To that end, he opened Moor's Indian Charity School in 1754 (where he continued to train Anglo-American students who paid their own way as well as students who functionally indentured themselves to Wheelock as missionaries in exchange for an education). Between 1754 and 1769, when he relocated to New Hampshire, Wheelock trained approximately 60 male and female Native American students from nearby Algonquian tribes and from the Haudenosaunee (Iroquois) of central New York. At the same time, he navigated the complicated politics of missionary societies by setting up his own board of the Society in Scotland for Propagating Christian Knowledge, although he continued to feud with the Boston Board of the SSPCK and the London Commissioners in Boston (more colloquially called the New England Company). By the late 1760s, Wheelock had become disillusioned with the idea of Native American education. He was increasingly convinced that educating Native Americans was futile (several of his students had failed to conform to his confusing and contradictory standards), and, in late 1768, he lost his connection to the Haudenosaunee. With his inclination and ability to sponsor Native American missionaries largely depleted, Wheelock sought instead to fulfill his ultimate ambition of obtaining a charter and opening a college, which he did in 1769. To fund this new enterprise, Wheelock drew on the £12,000 that Samson Occom had raised for Moor's Indian Charity School during a two-and-a-half year tour of Great Britain (1765 to 1768). Much of this money went towards clearing land and erecting buildings in New Hampshire for the Charity School's relocation — infrastructure that also happened to benefit Dartmouth. Many of Wheelock's contemporaries were outraged by what they saw as misuse of the money, as it was clear that Dartmouth College was not intended for Indians and that Moor's had become a side project. Although Wheelock tried to maintain at least some commitment to Native American education by recruiting students from Canadian communities, the move did a great deal of damage to his public image. The last decade of Wheelock's life was not easy. In addition to the problems of trying to set up a college far away from any Anglo-American urban center, Wheelock experienced the loss of relationships with two of his most famous and successful students, Samson Occom and Samuel Kirkland (an Anglo-American protégé). He also went into debt for Dartmouth College, especially after the fund raised in Britain was exhausted.