Isaac Dakayenensere, letter, to Eleazar Wheelock, 1765 September 29
ms-number: 765529
abstract: Dakanyenensere extends his gratitude for Wheelock's reply to his letter, and informs Wheelock that he has related its contents to the "great Men".
handwriting: Handwriting is clear and legible.
paper: Large sheet folded in half to make four pages is in fair condition, with moderate-to-heavy staining, creasing and wear.
ink: Black-brown.
---
Modernized Version -- deletions removed; additions added in; modern spelling and capitalization added; unfamiliar abbreviations expanded.
---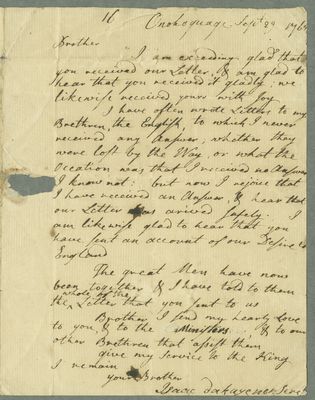 (View Page Image)
16

Onaquaga

September 29 1765
Brother

I am exceeding glad that
you received our Letter, and am glad to
hear that you received it gladly; we
likewise received yours with Joy
I have often wrote letters to my
Brethren, the English, to which I never
received any answer; whether they
were lost by the Way, or what the
occasion was that I received no answer
I know not: but now I rejoice that
I have received an answer, and hear that
our Letter
[gap: stain]
[guess: h]
as arrived safely. I
am likewise glad to hear that you
have sent an account of our desire to
England
The great Men have now
been together and I have told to them
the whole of the Letter that you sent to us
Brother I send my hearty Love
to you, and to the Ministers, and to our
other Brethren that assist them
give my Service to
the King
I remain


 

your Brother
Isaac Dakayenensere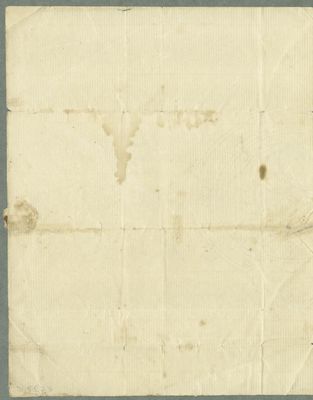 (View Page Image)
Blank page.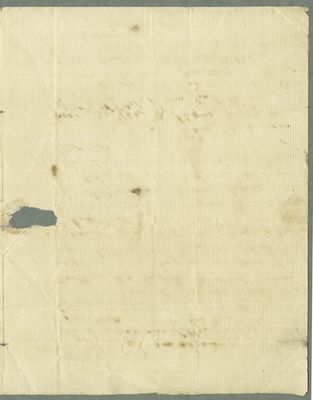 (View Page Image)
Blank page.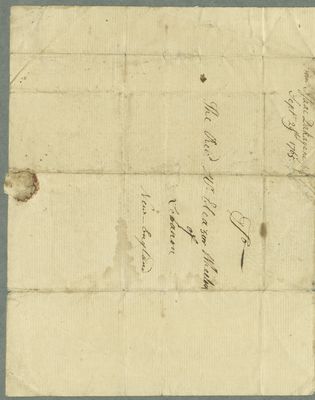 (View Page Image)
From
Isaac Dakayenensere
September 29th 1765.
To —
The
Rev. Mr. Eleazar Wheelock
of
Lebanon
New England
Onaquaga
Onaquaga (more than 50 different spellings have been documented) was a cosmopolitan Indian town on the Susquehanna River, now the site of the town of Windsor, New York. It was initially established as an Oneida settlement by those seeking an alternative to the power politics of Kanawalohale, the new chief village of the Oneidas, and Old Oneida, the former capital. However, from the end of the 17th century onwards it became an immigration destination for displaced Indians from a wide range of tribes. Yet, from the late 1760s onward, Onaquaga's cosmopolitan composition proved to be its undoing. The community was fragmented by disputes over the extent and the proper style of Christian practice, with Sir William Johnson and Joseph Brant (who owned a farm at Onaquaga) urging Episcopalianism and the New England Company urging Congregationalism. An influx of Mohawk immigrants in the years after the 1768 Fort Stanwix treaty led the inhabitants of Onaquaga to side with the Crown in the Revolution, rather than with the colonies as most Oneida towns did, and it became Joseph Brant's base of operations. The town was destroyed by the Continental Army in 1778 as part of the wave of violent retaliation for British and Indian attacks on frontier communities that culminated in General Sullivan's ravaging of Cayuga and Seneca territory. The area was resettled by Americans after the Revolution.
Lebanon
Lebanon is a town located in the state of Connecticut southwest of the town of Hartford. The land that became Lebanon was inhabited at least 10,000 years ago based on the archeological record. By the 1600s, the land was permanently inhabited by the Mohegan Indians, who used the area primarily for hunting. Lebanon was officially formed in 1700 when English settlers consolidated a number of land tracts, including several land grants by the Connecticut General Assembly and lands purchased from the Mohegans. However, these purchases were controversial. In 1659, the Mohegans entrusted their reserve land to Major John Mason, and in the following year, Mason transferred this land to the Connecticut colonial government with the understanding that there would be enough land left for the Mohegans to farm. The Mohegans claimed that they never authorized a transfer to the colonial government and only Mason's heirs were entrusted with their land. In 1662, Connecticut, which included the Mohegan land that had been entrusted to the Masons, was incorporated by a royal charter. Based on this charter, the colony argued that the land was now the property of the government. In 1687, the colony began granting the Mohegan land to townships, and in 1704 the Masons petitioned the Crown on behalf of the Mohegans, claiming that such transfers of land to townships were illegal. Between the years of 1705 and 1773 legal disputes and controversies persisted, finally ending in a verdict by the Crown against the Mohegans. In 1755, Wheelock received property and housing in Lebanon that he would use as his house and school. While Lebanon was originally incorporated as a part of New London County in 1700, in 1724 it became a part of New Windham, before once again becoming a part of New London County in 1826. Lebanon was central to the American Revolution with half of its adult population fighting for the colonists and hundreds of meetings convened in the town for the revolutionary cause.
Dakayenensere, Isaac
Isaac Dakayenensere was a chief and spiritual leader at Onaquaga. Dakayenensere worked closely with Good Peter to minister to the Haudenosaunee (Iroquois) community at Onaquaga, a predominantly Oneida town with a diverse population. After converting during the 1740s, both men took up the mantle of evangelism and Christian education at Onaquaga. They cooperated with Gideon Hawley, an Anglo-American missionary, throughout his missions in the 1750s, and in the 1760s they began writing to Wheelock for missionaries and assistance with farming. They received Joseph Woolley, who kept school at Onaquaga from late August/early September of 1765 until his death at the end of that November, but they do not seem to have received the promised farming assistance. Dakayenensere's daughter, Neggen Aoghyatonghsera (alias Margaret or Peggie) married Joseph Brant, a Moor's alumnus and famous Mohawk war chief. In some scholarship, Isaac is misidentified as a Mohawk.
Wheelock, Eleazar
Eleazar Wheelock was a New Light Congregationalist minister who founded Dartmouth College. He was born into a very typical Congregationalist family, and began studying at Yale in 1729, where he fell in with the emerging New Light clique. The evangelical network that he built in college propelled him to fame as an itinerant minister during the First Great Awakening and gave him many of the contacts that he later drew on to support his charity school for Native Americans. Wheelock's time as an itinerant minister indirectly brought about his charity school. When the Colony of Connecticut retroactively punished itinerant preaching in 1743, Wheelock was among those who lost his salary. Thus, in 1743, he began operating a grammar school to support himself. He was joined that December by Samson Occom, a Mohegan Indian, who sought out an education in hopes of becoming a teacher among his people. Occom's academic success inspired Wheelock to train Native Americans as missionaries. To that end, he opened Moor's Indian Charity School in 1754 (where he continued to train Anglo-American students who paid their own way as well as students who functionally indentured themselves to Wheelock as missionaries in exchange for an education). Between 1754 and 1769, when he relocated to New Hampshire, Wheelock trained approximately 60 male and female Native American students from nearby Algonquian tribes and from the Haudenosaunee (Iroquois) of central New York. At the same time, he navigated the complicated politics of missionary societies by setting up his own board of the Society in Scotland for Propagating Christian Knowledge, although he continued to feud with the Boston Board of the SSPCK and the London Commissioners in Boston (more colloquially called the New England Company). By the late 1760s, Wheelock had become disillusioned with the idea of Native American education. He was increasingly convinced that educating Native Americans was futile (several of his students had failed to conform to his confusing and contradictory standards), and, in late 1768, he lost his connection to the Haudenosaunee. With his inclination and ability to sponsor Native American missionaries largely depleted, Wheelock sought instead to fulfill his ultimate ambition of obtaining a charter and opening a college, which he did in 1769. To fund this new enterprise, Wheelock drew on the £12,000 that Samson Occom had raised for Moor's Indian Charity School during a two-and-a-half year tour of Great Britain (1765 to 1768). Much of this money went towards clearing land and erecting buildings in New Hampshire for the Charity School's relocation — infrastructure that also happened to benefit Dartmouth. Many of Wheelock's contemporaries were outraged by what they saw as misuse of the money, as it was clear that Dartmouth College was not intended for Indians and that Moor's had become a side project. Although Wheelock tried to maintain at least some commitment to Native American education by recruiting students from Canadian communities, the move did a great deal of damage to his public image. The last decade of Wheelock's life was not easy. In addition to the problems of trying to set up a college far away from any Anglo-American urban center, Wheelock experienced the loss of relationships with two of his most famous and successful students, Samson Occom and Samuel Kirkland (an Anglo-American protégé). He also went into debt for Dartmouth College, especially after the fund raised in Britain was exhausted.
Frederick, George William
George William Frederick (King George III) became heir to the throne of England in 1751 upon the death of his father Frederick, Prince of Wales. He became King George III of England in the fall of 1760 at age 22, following the death of his grandfather King George II. George III passed many important edicts during his reign including that of the Royal Marriage Act of 1772; the Treaty of Paris in 1762, which ended the Seven Years War; the Stamp Act of 1765; and the Townshend Duties of 1767. However, he is most well-known for being the reigning monarch during the Revolutionary War. After the surrender of British forces to the Americans in 1782, George III considered abdicating the throne, but chose not to do so because he felt it would be too detrimental to Britain. The last 30 years of George's life were plagued with illness. In 1788 he had the first of many attacks of insanity, now believed to have been caused by an inherited disease known as porphyria. With George III unfit to rule, it was decided that his son George would become regent, an arrangement which was made permanent in 1810. King George III died on January 29, 1820 at the age of 81 after a reign of nearly 60 years (the third longest in British history). He was succeeded by his son George IV.