Isaac Dakayenensere and Gwedelhes Agwirondongwas (Good Peter), letter, to Eleazar Wheelock, 1764 November 12
ms-number: 764612.3
abstract: Dakayenensere and Agwirongdongwas write to thank Wheelock for his interest in sending missionaries and assistance with husbandry. Agwirondongwas regrets that he cannot, at present, visit the Charity School.
handwriting: As noted at the bottom of the document, Samuel Kirkland served as scribe. The handwriting is somewhat informal, yet clear and legible.
paper: Large single sheet is in good condition with light staining, and light-to-moderate creasing and wear.Tearing on sides of paper does not result in a loss of text.
signature: Unlike the body of the document, the signatures appear to be in both Dakayenensere's and Akwirondongwas's own hands.
---
Modernized Version -- deletions removed; additions added in; modern spelling and capitalization added; unfamiliar abbreviations expanded.
---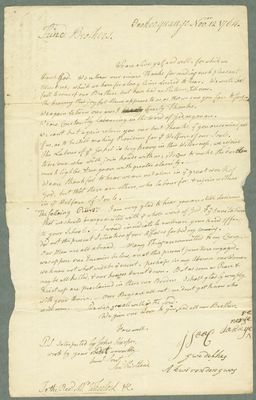 (View Page Image)
Onaquaga

November 12 1764

.
Kind Brothers.

We are alive yet, and well, for which we
thank God. We return our sincere Thanks for sending such pleasant
News to us; which we have for a long Time desired to hear. We wrote last
Fall to some of our Brothers, but have had no Return, 'til now.
The hearing this joyful News, appears to us, as thus we saw you face to face.
We again return our most hearty Thanks.
We are Constantly labouring in the Word of God, as you are.
We can't but again return you our best Thanks, that you are so mindful
of us, as to be still making Provision for the Welfare of our Souls.
The Labour of the Gospel is very heavy in this Wilderness, we rejoice
to see one. who will join hands with us; it seems to make the burden
much lighter, and we go on with greater alacrity.—
We are thankful to hear we are not alone in the great work of
God, but that there are others, who labour for, and rejoice with us
in the Welfare of Souls.—
"The following
Peter
's." I am very glad to hear you are still desirous
that we should be acquainted with the whole word of God, and of the Invitation
to your
School
.— I would immediately embrace your kind offer,
did not the present Situation of our Affairs forbid my coming.
Our Men are all abroad,— Many Things are committed to my Charge.—
we suppose our Enemies below, are at this present juncture engaged.
we know not what will be the event. perhaps in my Absence our Women
may be all killed, and our houses burnt down. But as soon as Peace and
quietness are proclaimed in these our Borders, I shall gladly comply
with your Desire.— our Boys are all out— we dont yet know who
will come.—
We wish you all well in the Lord.
We give our Love to you, and all our Brothers.
Farewell.
isaac dakayenensere
gwedethes
Akwirondongwas
P.S. Interpreted by
John Harper
,
wrote by your obedient unworthy
humble Servant
Samuel Kirtland
.
To
the Rev.

Mr. Wheelock
etc.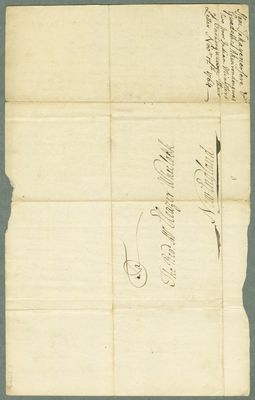 (View Page Image)
Isaac Takayenersere
and
Gwedelhes Agwirondongwas
two poor Indian Ministers
at
Onaquaga
their
Letter
November 12

th

1764
—
To
The Rev.
Mr. Eleazar Wheelock
—
New-England
Moor's Indian Charity School
Moor's Indian Charity School was a grammar school for Native Americans that Eleazar Wheelock opened in North Lebanon, Connecticut in 1754. The school was named for Colonel Joshua Moor, also spelled More, who donated the land and school building. Moor's was essentially an expansion of the grammar school that Wheelock opened in 1743 to support himself during the fallout from the First Great Awakening, when Wheelock, who'd participated in itinerant ministry during the Awakening, had his salary confiscated by the colony of Connecticut. In December of that year, Samson Occom asked Wheelock to teach him as well. Wheelock's work with Occom was so successful that Wheelock decided to replicate the experiment with other Native American boys. He accepted his first Indian students in 1754, and in 1761 began taking female students as well. Wheelock believed that in time, his school would become just one part of a larger missionary enterprise. He planned to send his Anglo American and Native American students to various tribes as missionaries and schoolmasters, with explicit instructions to pick out the best students and send them back to Moor's to continue the cycle. His ultimate goal was to turn his school into a model Christian Indian town that would include farms, a college, and vocational training. However, Wheelock's grand design did not survive the decade. Wheelock lost the vast majority of his Native American students; he fought with many of the best, including Samson Occom, Joseph Johnson, David Fowler, and Hezekiah Calvin, and other former and current students accused him of subjecting Native Americans to disproportionate amounts of manual labor. In 1769, perhaps due to concerns about corporal punishment, the Oneida withdrew all their children from Moor's. When Wheelock relocated to Hanover in 1769, only two Native American students came with him, and it became clear that Wheelock's focus was on Dartmouth and that Dartmouth was for white students. After Wheelock's death in 1779, Moor's Indian Charity School receded further into the background as John Wheelock, his father's reluctant successor, stopped taking Indian students. Some Native American students were enrolled in Moor's until 1850, when the school unofficially closed.
Onaquaga
Onaquaga (more than 50 different spellings have been documented) was a cosmopolitan Indian town on the Susquehanna River, now the site of the town of Windsor, New York. It was initially established as an Oneida settlement by those seeking an alternative to the power politics of Kanawalohale, the new chief village of the Oneidas, and Old Oneida, the former capital. However, from the end of the 17th century onwards it became an immigration destination for displaced Indians from a wide range of tribes. Yet, from the late 1760s onward, Onaquaga's cosmopolitan composition proved to be its undoing. The community was fragmented by disputes over the extent and the proper style of Christian practice, with Sir William Johnson and Joseph Brant (who owned a farm at Onaquaga) urging Episcopalianism and the New England Company urging Congregationalism. An influx of Mohawk immigrants in the years after the 1768 Fort Stanwix treaty led the inhabitants of Onaquaga to side with the Crown in the Revolution, rather than with the colonies as most Oneida towns did, and it became Joseph Brant's base of operations. The town was destroyed by the Continental Army in 1778 as part of the wave of violent retaliation for British and Indian attacks on frontier communities that culminated in General Sullivan's ravaging of Cayuga and Seneca territory. The area was resettled by Americans after the Revolution.
Dakayenensere, Isaac
Isaac Dakayenensere was a chief and spiritual leader at Onaquaga. Dakayenensere worked closely with Good Peter to minister to the Haudenosaunee (Iroquois) community at Onaquaga, a predominantly Oneida town with a diverse population. After converting during the 1740s, both men took up the mantle of evangelism and Christian education at Onaquaga. They cooperated with Gideon Hawley, an Anglo-American missionary, throughout his missions in the 1750s, and in the 1760s they began writing to Wheelock for missionaries and assistance with farming. They received Joseph Woolley, who kept school at Onaquaga from late August/early September of 1765 until his death at the end of that November, but they do not seem to have received the promised farming assistance. Dakayenensere's daughter, Neggen Aoghyatonghsera (alias Margaret or Peggie) married Joseph Brant, a Moor's alumnus and famous Mohawk war chief. In some scholarship, Isaac is misidentified as a Mohawk.
Agwirondongwas, Gwedelhes
Gwedelhes Agwirondongwas, also known as Good Peter, was an Oneida Christian leader who played a prominent role at Onaquaga (a composite Haudenosaunee, or Iroquois, town in Oneida territory) throughout the second half of the eighteenth century. He received missionaries from Eleazar Wheelock and worked with Samuel Kirkland, a Moor's alumnus who conducted a mission to the Oneidas from 1766 until his death in 1808. Elihu Spencer, a Yale-educated Anglo-American missionary, converted Good Peter to Christianity in 1748 and taught him to read and write Mohawk (a language very similar to Oneida). By 1757, Peter was preaching and leading services among the Oneidas. Along with Isaac Dakayenensere, another Oneida Christian leader, Good Peter sought missionaries (and, more especially, husbandry aid) from Eleazar Wheelock. He carried messages for General Schuyler during the Revolution, and was imprisoned by the British. After the Revolution, he worked vigorously to oppose illegal Oneida land sales and general exploitation by the state of New York. Good Peter worked closely with Samuel Kirkland throughout his mission and served as one of his deacons, even though he was cognizant of and opposed Kirkland's role in promoting illegal land sales.
Wheelock, Eleazar
Eleazar Wheelock was a New Light Congregationalist minister who founded Dartmouth College. He was born into a very typical Congregationalist family, and began studying at Yale in 1729, where he fell in with the emerging New Light clique. The evangelical network that he built in college propelled him to fame as an itinerant minister during the First Great Awakening and gave him many of the contacts that he later drew on to support his charity school for Native Americans. Wheelock's time as an itinerant minister indirectly brought about his charity school. When the Colony of Connecticut retroactively punished itinerant preaching in 1743, Wheelock was among those who lost his salary. Thus, in 1743, he began operating a grammar school to support himself. He was joined that December by Samson Occom, a Mohegan Indian, who sought out an education in hopes of becoming a teacher among his people. Occom's academic success inspired Wheelock to train Native Americans as missionaries. To that end, he opened Moor's Indian Charity School in 1754 (where he continued to train Anglo-American students who paid their own way as well as students who functionally indentured themselves to Wheelock as missionaries in exchange for an education). Between 1754 and 1769, when he relocated to New Hampshire, Wheelock trained approximately 60 male and female Native American students from nearby Algonquian tribes and from the Haudenosaunee (Iroquois) of central New York. At the same time, he navigated the complicated politics of missionary societies by setting up his own board of the Society in Scotland for Propagating Christian Knowledge, although he continued to feud with the Boston Board of the SSPCK and the London Commissioners in Boston (more colloquially called the New England Company). By the late 1760s, Wheelock had become disillusioned with the idea of Native American education. He was increasingly convinced that educating Native Americans was futile (several of his students had failed to conform to his confusing and contradictory standards), and, in late 1768, he lost his connection to the Haudenosaunee. With his inclination and ability to sponsor Native American missionaries largely depleted, Wheelock sought instead to fulfill his ultimate ambition of obtaining a charter and opening a college, which he did in 1769. To fund this new enterprise, Wheelock drew on the £12,000 that Samson Occom had raised for Moor's Indian Charity School during a two-and-a-half year tour of Great Britain (1765 to 1768). Much of this money went towards clearing land and erecting buildings in New Hampshire for the Charity School's relocation — infrastructure that also happened to benefit Dartmouth. Many of Wheelock's contemporaries were outraged by what they saw as misuse of the money, as it was clear that Dartmouth College was not intended for Indians and that Moor's had become a side project. Although Wheelock tried to maintain at least some commitment to Native American education by recruiting students from Canadian communities, the move did a great deal of damage to his public image. The last decade of Wheelock's life was not easy. In addition to the problems of trying to set up a college far away from any Anglo-American urban center, Wheelock experienced the loss of relationships with two of his most famous and successful students, Samson Occom and Samuel Kirkland (an Anglo-American protégé). He also went into debt for Dartmouth College, especially after the fund raised in Britain was exhausted.
Kirkland, Samuel
Samuel Kirkland (b. Kirtland) was Eleazar Wheelock's most famous Anglo American student. He conducted a 40-year mission to the Oneidas and founded Hamilton College (established in 1793 as Hamilton Oneida Academy). Kirkland won acclaim as a missionary at a young age by conducting an adventurous and risky mission to the Senecas, the westernmost of the Haudenosaunee (Iroquois) Six Nations. After his year and a half among them, which was well publicized by Wheelock, he was ordained and sent as a missionary to the Oneidas under the auspices of the Connecticut Board of the Society in Scotland for Propagating Christian Knowledge. He spent most of the rest of his life serving the Oneidas as a minister. Kirkland's sincere devotion to serving as a missionary was excellent publicity for Wheelock's program, but it also brought the two men into conflict. Wheelock became jealous of Kirkland when the school's British benefactors began urging Wheelock to make Kirkland his heir, and Kirkland, meanwhile, was upset that Wheelock had failed to provide him with sufficient supplies on his mission — a complaint that he was unafraid to publicize (and that almost all of Wheelock's other students shared). The breaking point came in 1770, when Kirkland split from Wheelock's Connecticut Board and affiliated with the New England Company, a missionary society that had abruptly turned against Wheelock in 1765. Wheelock and Kirkland briefly made up in 1771, but their relationship quickly dissolved into further acrimony. Although Kirkland spent most of his life as a missionary to the Six Nations, he generally held disparaging views of Native Americans. He did not approve of Wheelock's plan to educate Indians as missionaries, and was haughty towards the Moor's alumni that worked with him (notably David Fowler, Joseph Johnson, and Joseph Woolley). Prior to the Revolution, Kirkland had been stringent in his refusals to take Oneida land, even when offered to him. The Revolution seems to have shifted his loyalties from the Oneidas to local Anglo Americans. Kirkland served as a chaplain in the American army and was instrumental in convincing the Oneidas to remain neutral (or, more accurately, to side with the Americans). At one point he was the chaplain with General Sullivan's army, the force sent to ransack Seneca and Cayuga territory in 1779. It is unclear what emotions this aroused in Kirkland, who had served the Senecas less than 15 years earlier, yet after the war, Kirkland freely engaged in Oneida dispossession. Along with James Dean, another Wheelock alumnus with close ties to the Oneidas, Kirkland played a pivotal role in urging the Oneidas to sell land illegally to the state of New York. The land deals that resulted gave Kirkland the property, financial capital, and connections to establish Hamilton Oneida Academy. The last decades of Kirkland's life were difficult. He found himself in a three-way battle with Samson Occom and John Sergeant Jr., who were also ministers in Oneida territory, for the hearts and minds of their congregations; he was fired as a missionary in 1797, although he continued to serve sans salary; one of his son's business enterprises failed, leaving Kirkland nearly destitute; and two of his three sons died unexpectedly. Hamilton Oneida Academy, like Moor's Indian Charity School, largely failed at its goal of educating Indians, and in 1812, four years after Kirkland's death, it was re-purposed as Hamilton College, a largely Anglo-American institution. At some point in the mid-to-late 18th century, Kirkland changed his name from Kirtland, although the reasons for this are uncertain.