John Smith, letter, to his friend, 1764 May 18
ms-number: 764318.2
abstract: Smith gives an account of his visit to Wheelock's school, and to the Mohegan country, where he saw Occom.
handwriting: Handwriting is formal and clear.
paper: Large sheet folded in half to form four pages is followed by two single sheets. Paper is in good condition, although there appears to be some preservation work on heavier creases.
noteworthy: There are many variant spellings and abbreviations; colons are used for superscripts, not periods. The trailer appears to be in Wheelock's hand.
---
Modernized Version -- deletions removed; additions added in; modern spelling and capitalization added; unfamiliar abbreviations expanded.
---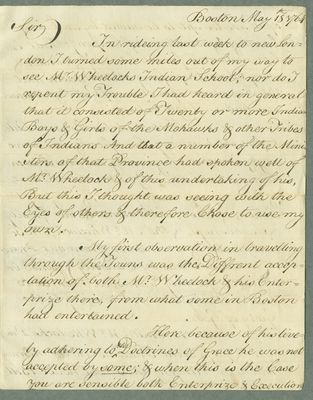 (View Page Image)
Boston
May 18th 1764
Sir,

In riding last week to
new Lon=
don
I turned some miles out of my way to
see
Mr. Wheelocks
Indian School
; nor do I
repent my Trouble I had heard in general
that it consisted of Twenty or more Indian
Boys and Girls of the
Mohawks
and other Tribes
of Indians And that a number of the Mini­
­sters of that Province had spoken well of
Mr. Wheelock
and of this undertaking of his,
But this I thought was seeing with the
Eyes of others and therefore Chose to use my
own.
My first observation in traveling
through the Towns was the different accep­
­tation of both
Mr. Wheelock
and his enter­
prise there, from what some in
Boston
had entertained.
Here because of his live­
­ly adhering to the Doctrines of Grace he was not
accepted by
some
; and when this is the Case
you are sensible both enterprise and Execution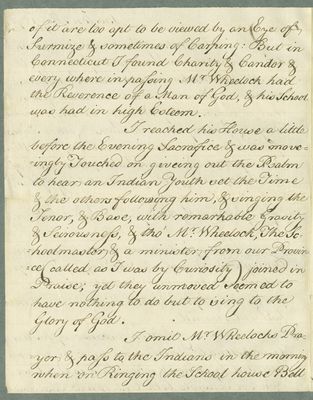 (View Page Image)
of it are too apt to be viewed by an Eye of
surmise and sometimes of Carping: But in
Connecticut
I found Charity and Candor and
everywhere in passing
Mr. Wheelock
had
the Reverence of a Man of God, and his
School
was had in high Esteem.
I reached his House a little
before the Evening sacrifice and was mov­
ingly Touched on giving out the Psalm
to hear an Indian Youth set the Time
and the others following him, and singing the
Tenor, and bass, with remarkable Gravity
and seriousness, and though
Mr. Wheelock
, The sc­
hoolmaster and a minister from our Provin
=ce (called as I was by Curiosity) joined in
Praise; yet they unmoved seemed to
have nothing to do but to sing to the
Glory of God.
I omit
Mr. Wheelocks
Pra=
=yer and pass to the Indians in the morning
when on Ringing the schoolhouse Bell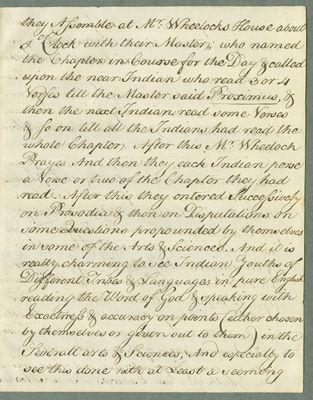 (View Page Image)
they assemble at
Mr. Wheelocks
House about
5 o'clock with their Master; who named
the Chapter in Course for the Day and called
upon the near Indian who read 3 or 4
verses 'til the Master said
Proximus
, and
then the next Indian read some Verses
and so on 'til all the Indians had read the
whole Chapter. After this
Mr. Wheelock
prays And then they each Indian parse
a Verse or two of the Chapter they had
read. After this they entered successively
on Prosodia and then on Disputations on
some Questions propounded by themselves
in some of the Arts and Sciences. And it is
really charming to see Indian Youths of
Different Tribes and Languages in pure English
reading the Word of God and speaking with
exactness and accuracy on points (either chosen
by themselves or given out to them) in the
several arts and Sciences, And especially to
see this done with at Least a seeming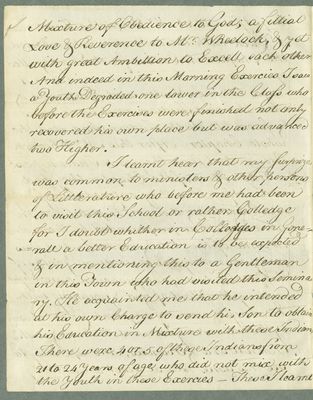 (View Page Image)
Mixture of Obedience to God; a filial
Love and Reverence to
Mr. Wheelock
, and yet
with great ambition to excel each other
And indeed in this Morning exercise I saw
a Youth Degraded one lower in the class who
before the Exercises were finished not only
recovered his own place but was advanced
two Higher.
I learned here that my surprise
was common to ministers and other persons
of literature who before me had been
to visit this
School
or rather
college
for I doubt whither in colleges in gene­
ral a better Education is to be expected
and in mentioning this to a Gentleman
in this Town who had visited this
Semina=
=ry
. He acquainted me that he intended
at his own Charge to send his Son to obtain
his Education in Mixture with these Indians
There were 4 or 5 of these Indians from
21 to 24 years of age who did not mix with
the youth in these exercises — These I learned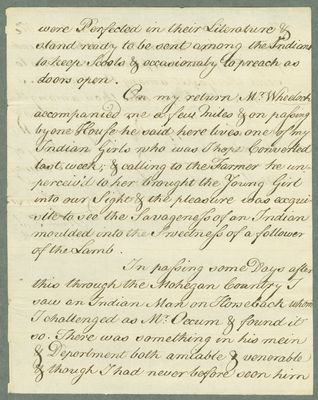 (View Page Image)
were Perfected in their Literature and
stand ready to be sent among the Indians
to keep schools and occasionally to preach as
doors open.
On my return
Mr. Wheelock
accompanied me a few miles and on passing
by one house he said here lives one of my
Indian Girls who was I hope Converted
last week; and calling to the Farmer he un­
perceived to her brought the Young Girl
into our Sight and the pleasure was exqui­
=site to see the savageness of an Indian
molded into the sweetness of a follower
of the Lamb.
In passing some Days after
this through the
Mohegan Country
I
saw an Indian Man on Horseback whom
I challenged as
Mr. Occom
and found it
so. There was something in his mien
and Deportment both amiable and venerable
and though I had never before seen him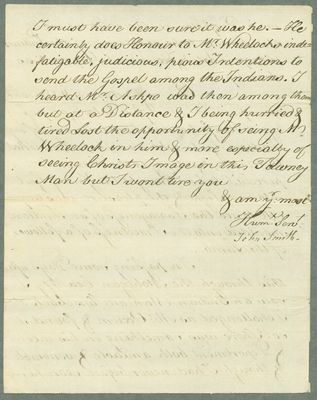 (View Page Image)
I must have been sure it was he. — He
certainly does Honour to
Mr. Wheelocks
inde=
=fatigable, judicious, pious Intentions to
send the Gospel among the Indians. I
heard
Mr. Ashpo
was then among them
but at a Distance and I being hurried and
tired Lost the opportunity of seing
Mr.
Wheelock
in him and more especially of
seeing Christs Image in this tawny
Man but I wont tire you
and am your most
humble servant

John Smith

.

(View Page Image)
Blank page.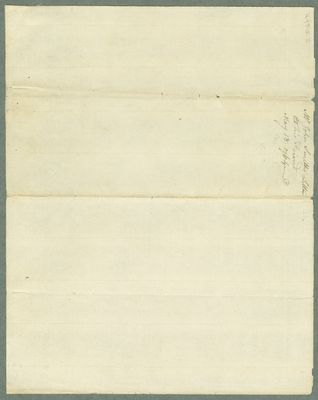 (View Page Image)
Mr. John Smiths
Letter
to his Friend
May 18. 1764
Mohegan Tribe
The Mohegans are an Algonquian tribe located in New London County, Connecticut. The Mohegan Tribe spent most of the 18th century struggling to regain control over its territory from the colony of Connecticut in a protracted affair known as the Mason Land Case. The groundwork for the dispute was laid in 1659, when Uncas, the first Mohegan sachem after the tribe separated from the Pequot, entrusted the Tribe's lands to John Mason, an Anglo-American who had been Uncas' ally in the war against the Pequot. The following year, the colony of Connecticut persuaded Mason to transfer his stewardship of the Mohegan land to the colony. However, since Mason continued to act as trustee, it was unclear to what degree the colony was the tribe's legal steward. Nonetheless, in the 1690s, Connecticut began selling off the land specifically set aside for Mohegan use. The Tribe brought its first legal challenges in 1704, and the case was tried multiple times in the colonies and England before it was decided in favor of the colony in 1773. The case split the Mohegan Tribe into two camps and led to serious interference in tribal self-government. When the sachem Caeser died in 1723 (when his son Mahomet was too young to lead), the Tribe split over whether the new sachem should be Caesar's younger brother Ben Uncas, or John Uncas Jr., a more direct descendent of Uncas I. When Ben took the post, John gathered his supporters and moved half a mile down the road in protest. The Mohegans thus split into "Ben's Town" and "John's Town" (these designations correlated with the "sachem party" and the "Mason party," respectively). When Ben Uncas II, Ben Uncas I's son, became sachem in 1726, he maintained his family's shaky hold on power by allying himself with the colony of Connecticut. In an unstated quid pro quo, Ben Uncas II and his son, Ben Uncas III, did not pursue the Mason Case, and in return, they received favors and political support from the colony, which proved critical on multiple occasions when the Mohegans elected alternate sachems. The colony, meanwhile, got to parade a supposedly legitimate sachem in front of Anglo-American and British authorities as proof that the Mason party was composed of rabble rousers. Ben Uncas II and Ben Uncas III, as part of their project of tying themselves to the colony, worshiped at the Anglo-American parish in New London under the ministry of David Jewett, a minister sponsored by the New England Company, a powerful missionary organization. As a form of resistance to Jewett and, by extension, the sachem party, many Mohegans elected to worship with indigenous leaders such as Samson Occom and Samuel Ashpo. Jewett was none too pleased, and the affair drew the New England Company in on the side of the sachem party and inspired its backlash against Samson Occom and his mentor, Eleazar Wheelock, throughout the 1760s. Something of a resolution came in 1769, when Ben Uncas III died. At his funeral, the pallbearers (Occom included) dropped his coffin in front of the representatives from the Connecticut Assembly — a clear indication of what they thought of the company the sachem kept. The Tribe dissolved the office of sachem rather than instituting Ben Uncas III's son Isaiah (who died shortly afterwards, in 1770), but the damage had been done. The case was decided in favor of the colony in 1773. Samson Occom and Joseph Johnson, both Mohegan, were essential architects of the Brothertown movement, a coalition of Southern New England Algonquians that migrated to Oneida territory in 1775 and again in 1783. However, the majority of the Tribe did not emigrate, and today the Mohegan Tribe is federally recognized and still holds land in Connecticut.
Mohawk Nation
The Mohawk Nation is one of the Six Nations of the Haudenosaunee (Iroquois) Confederacy. As the "eastern door" of the Confederacy, or easternmost Haudenosaunee nation, the Mohawks were perceived throughout the colonial period as a gateway to wider alliances, trade, and religious influence with the Six Nations as a whole. Thus, they received heavy missionary attention from Jesuits, Anglicans, and Congregationalists as early as the 17th century. Throughout the 17th and 18th centuries, the Mohawks and Six Nations more generally were a point of heated competition between Britain and France, as well as between Protestant Christian sects. Wheelock sent several missionaries and schoolmasters to the Mohawks between 1765 and 1767, including Theophilus Chamberlain (Anglo-American), Hezekiah Calvin (Delaware), Abraham Major and Minor (Mohawks), Peter (Mohawk), Moses (Mohawk), and Johannes (Mohawk). The two main towns or "castles" that the mission was based at were Canajoharie and Fort Hunter. Two of the most important figures in Mohawk history as it pertains to Moor's Indian Charity School were Sir William Johnson and Joseph Brant. Sir William Johnson was the British Superintendent of Indian Affairs in the Northeast, one of the most powerful men in British North America. He married into the Mohawk Tribe and had substantial influence among the Six Nations. Initially he supported Wheelock's missionary project, but by 1769 he was endorsing Anglican missionaries instead. Joseph Brant was Sir William Johnson's brother-in-law. He was the first of 19 Mohawk students at Moor's, where he studied from 1761-1763. Although his time at the school was short, Brant entertained a deep affection for it. He went on to be an influential Mohawk war chief and may have protected Dartmouth College from raids during the Revolution. The Revolution fractured the Haudenosaunee Confederacy, with some tribes siding with the colonists and others with the British. The Mohawks sided with the British, and many of them, Joseph Brant included, relocated to the Grand River Reserve in Canada after the war. There was also a substantial Mohawk settlement established by 1700 at Kahnawake in New France (Canada), which hosted Jesuit missionaries. The Kahnawake Mohawks were often called "Canadian Mohawks" and Wheelock recruited students from them after his move to Hanover.
Moor's Indian Charity School
Moor's Indian Charity School was a grammar school for Native Americans that Eleazar Wheelock opened in North Lebanon, Connecticut in 1754. The school was named for Colonel Joshua Moor, also spelled More, who donated the land and school building. Moor's was essentially an expansion of the grammar school that Wheelock opened in 1743 to support himself during the fallout from the First Great Awakening, when Wheelock, who'd participated in itinerant ministry during the Awakening, had his salary confiscated by the colony of Connecticut. In December of that year, Samson Occom asked Wheelock to teach him as well. Wheelock's work with Occom was so successful that Wheelock decided to replicate the experiment with other Native American boys. He accepted his first Indian students in 1754, and in 1761 began taking female students as well. Wheelock believed that in time, his school would become just one part of a larger missionary enterprise. He planned to send his Anglo American and Native American students to various tribes as missionaries and schoolmasters, with explicit instructions to pick out the best students and send them back to Moor's to continue the cycle. His ultimate goal was to turn his school into a model Christian Indian town that would include farms, a college, and vocational training. However, Wheelock's grand design did not survive the decade. Wheelock lost the vast majority of his Native American students; he fought with many of the best, including Samson Occom, Joseph Johnson, David Fowler, and Hezekiah Calvin, and other former and current students accused him of subjecting Native Americans to disproportionate amounts of manual labor. In 1769, perhaps due to concerns about corporal punishment, the Oneida withdrew all their children from Moor's. When Wheelock relocated to Hanover in 1769, only two Native American students came with him, and it became clear that Wheelock's focus was on Dartmouth and that Dartmouth was for white students. After Wheelock's death in 1779, Moor's Indian Charity School receded further into the background as John Wheelock, his father's reluctant successor, stopped taking Indian students. Some Native American students were enrolled in Moor's until 1850, when the school unofficially closed.
New London
New London is a city located in southeastern Connecticut along an estuary of the Atlantic Ocean called Long Island Sound. The area that would become New London was inhabited by the Pequots who called it Nameaug when the Europeans arrived in North America. Pequot villages bordered Long Island Sound and the Tribe had authority over the neighboring Tribes of the Mohegans and Niantics (all Algonquian-speaking tribes). The Dutch first explored this land in 1614 and established trade with the Native peoples, but the English soon gained possession of the land east of the Hudson in the 1630s. English animosity toward their Indian neighbors led to the Pequot War (1634-38), part of which took place in the present city of New London. The Pequots lost the war and their population deteriorated due to the violence and disease. The General Court of Massachusetts granted John Winthrop possession of Pequot territory in 1644 after which it was to be opened for settlement. By 1646, which is considered the official year of its founding, New London had permanent colonial inhabitants and municipal laws, and jurisdiction was granted to the colony of Connecticut in 1647. In 1658, the inhabitants renamed the town New London after London, England. New London was the colony of Connecticut's first trading port and was a hub of trade with the West Indies and other colonies. Though initially part of the town of New London when it was first settled by the colonists, Groton, Montville, and Waterford were each separated from New London in 1705, 1786, and 1801 respectively. Present-day Salem was also part of New London when it was settled, but in 1819, it became a separate incorporated town composed of parts of Lyme, Colchester, and Montville. Occom kept a school in New London in the winter in 1748. New London was the home of Captain Nathaniel Shaw, one of the wealthiest merchants in the area, who gave money to Occom in the 1750s for the missionary cause and also sold materials to Occom for the building of his home. However, their positive relationship ended when Shaw refused to provide supplies for Mary Occom while Occom was in England. New London served as the port from which Occom and other missionaries traveled to reach Long Island. During the American Revolution, New London's location and its status as a seaport made it both vulnerable to invasion and integral to colonial naval operations as well as the exchange of prisoners.New London was incorporated as a city in 1784.
Boston
The first English immigrant to settle on a peninsula in a harbor on the northeastern coast of North America the local Algonquin Indians called "Shawmet" was William Blackstone in 1629. A year later, John Winthrop arrived with a group of English Puritans and other settlers and named the area Boston after his hometown in Lincolnshire, England. The colony quickly developed representative political institutions that would help shape a democratic nation. Over the next few centuries, Boston emerged as an intellectual and educational center, and, because of its excellent harbor, became a leading commercial hub and a primary port for North America. It is the capital and largest city of the Commonwealth of Massachusetts, and the largest city in New England. Boston was the home for the Boards of Commissioners of several overseas religious societies who sent missionaries throughout the colonies in the 18th century, and was the site of many important events of the American Revolution.
Connecticut
Connecticut is a state in southern New England that borders Massachusetts to the north and the Long Island Sound to the south. Its name is derived from the Algonquian "Quonehtacut," meaning "long river," referring to the Connecticut, which runs from the border with Canada into the Long Island Sound. The area was originally inhabited by Algonquian-speaking Pequots, Mohegans, and Quinnipiacs. European settlers took advantage of tribal divisions to establish dominance in the region. Dutch explorer Adrian Block sailed up the Connecticut River in 1614, establishing an active Dutch trading post at what is now Hartford. English claims to Connecticut began in 1630, but settlement truly began when Thomas Hooker, a Congregationalist minister now known as "The Father of Connecticut," left Boston to found Hartford in 1636. Hartford became the center of the Colony of Connecticut, which did not receive its charter until 1662 when Governor John Winthrop, Jr. secured it from Charles II. In 1665, the Colony of New Haven, established in 1638 by the Puritan minister John Davenport, joined the Colony of Connecticut under this charter. Early settler relations with local Indians were tense, and encouraged the New England colonies of Massachusetts Bay, Plymouth, Connecticut, and New Haven to unify as the "United Colonies" or "New England Confederation" and fight together, with Indian allies, in the Pequot War and again in King Philip's (Metacom's) War. These wars helped establish a specifically Connecticut and specifically American identity; the latter drove the colony to join the rebellion against Britain in 1776. Occom, born into a Mohegan household in Connecticut, was closely associated with the Colony and retained strong ties to the region throughout his life. He converted to Christianity in 1743 when the Great Awakening spread through Connecticut, and inspired Wheelock's Indian Charity School, which was founded in Lebanon, CT in 1754. He also became involved in the Mason Land Case, a long-standing dispute over the ownership of reserve Mohegan lands in Connecticut. Wheelock also had strong ties to Connecticut, moving his Indian Charity School only when the colony would not grant it a charter.
Mohegan
Mohegan is a village in southeastern Connecticut at the site of the present-day town of Montville, and is the location of the Mohegan Indian Reservation. The village gets its name from the Mohegan Tribe, or wolf people, who split from the Pequots in the early 17th century under the leadership of the sachem Uncas. In the 1720s, the Mohegans requested the colony of Connecticut provide them with an English educator. An English minister and schoolteacher named John Mason (no relation to Captain John Mason) moved to Mohegan in order to provide English-styled education to the Mohegans, convinced his sponsors, the New England Company, to build a schoolhouse at Mohegan, which eventually served as a boarding school for other Native American children from the surrounding area. During the 17th century, the Mohegan Tribe became embroiled in a complicated controversy over control of Mohegan land — known as the Mason Land Case or, more specifically, Mohegan Indians v. Connecticut — that included the village of Mohegan. The Tribe claimed that it never authorized a transfer of their lands, held in trust by the Mason family, to the colonial government. In 1662, the colony of Connecticut was incorporated by a royal charter, which included the disputed tribal land. The land controversy was revived in 1704 when descendants of John Mason, the original trustee, petitioned the Crown on behalf of the Mohegans, but the suit was finally decided against the Tribe in 1773. Born in Mohegan, Occom became involved in the Mason Land Case and vehemently argued for the rights of the Mohegan Indians to maintain their land, opposing Eleazar Wheelock and other ministers in the area. Although Occom left Mohegan for a 12-year mission with the Montauk Indians of Long Island, he returned at the end of 1763 with his large family to build a house in Mohegan, establishing it as his base of operations. Even after the creation of the Brothertown settlement in Oneida country, for which he served as minister, Occom continued to commute back and forth from Mohegan; he didn't sell his house in Mohegan and move his family to Brothertown until 1789. Many members of his family remained in Mohegan, including his sister Lucy Tantaquidgeon, who lived there until her death at 99 in 1830.
Smith, John
John Smith was an affluent Boston merchant who supported Wheelock's school throughout the 1760s. It is likely that Smith and Wheelock were introduced by George Whitefield or someone similarly involved in evangelical and missionary efforts in the British Atlantic world: John Smith made somewhat regular trips to London for business, and had been in contact with Whitefield since the 1740s. Like the other Boston merchants who supported Moor's Indian Charity School (including Moses Peck, William Hyslop, and Nathaniel Eells), Smith traded with Wheelock and kept him up to date on political developments in Boston, especially as they concerned attitudes towards Moor's Indian Charity School. However, Smith was better educated (and likely more affluent) than the other merchants that Wheelock worked with, and, correspondingly, played a more important role than his brethren in Wheelock's efforts. Smith publicized the school independently (his letter to an unnamed friend, catalogued as 764318.2, is one of the most cited letters on the organization of Moor's) and assisted Wheelock in publishing the Narratives. John Smith's greatest contribution to Wheelock's design was his support during Samson Occom and Nathaniel Whitaker's fundraising tour of Great Britain (1765-1768). Smith set out for Britain in July 1765 to improve his health, and while there, acted as a vanguard for Occom and Whitaker. He managed their correspondence, suggested destinations, and served on an ad hoc advisory council that included George Whitefield, Samuel Savage, Robert Keen, and several other influential men. The pace of the journey caught up with John Smith, however, and he died in 1768 while in Britain.
Wheelock, Eleazar
Eleazar Wheelock was a New Light Congregationalist minister who founded Dartmouth College. He was born into a very typical Congregationalist family, and began studying at Yale in 1729, where he fell in with the emerging New Light clique. The evangelical network that he built in college propelled him to fame as an itinerant minister during the First Great Awakening and gave him many of the contacts that he later drew on to support his charity school for Native Americans. Wheelock's time as an itinerant minister indirectly brought about his charity school. When the Colony of Connecticut retroactively punished itinerant preaching in 1743, Wheelock was among those who lost his salary. Thus, in 1743, he began operating a grammar school to support himself. He was joined that December by Samson Occom, a Mohegan Indian, who sought out an education in hopes of becoming a teacher among his people. Occom's academic success inspired Wheelock to train Native Americans as missionaries. To that end, he opened Moor's Indian Charity School in 1754 (where he continued to train Anglo-American students who paid their own way as well as students who functionally indentured themselves to Wheelock as missionaries in exchange for an education). Between 1754 and 1769, when he relocated to New Hampshire, Wheelock trained approximately 60 male and female Native American students from nearby Algonquian tribes and from the Haudenosaunee (Iroquois) of central New York. At the same time, he navigated the complicated politics of missionary societies by setting up his own board of the Society in Scotland for Propagating Christian Knowledge, although he continued to feud with the Boston Board of the SSPCK and the London Commissioners in Boston (more colloquially called the New England Company). By the late 1760s, Wheelock had become disillusioned with the idea of Native American education. He was increasingly convinced that educating Native Americans was futile (several of his students had failed to conform to his confusing and contradictory standards), and, in late 1768, he lost his connection to the Haudenosaunee. With his inclination and ability to sponsor Native American missionaries largely depleted, Wheelock sought instead to fulfill his ultimate ambition of obtaining a charter and opening a college, which he did in 1769. To fund this new enterprise, Wheelock drew on the £12,000 that Samson Occom had raised for Moor's Indian Charity School during a two-and-a-half year tour of Great Britain (1765 to 1768). Much of this money went towards clearing land and erecting buildings in New Hampshire for the Charity School's relocation — infrastructure that also happened to benefit Dartmouth. Many of Wheelock's contemporaries were outraged by what they saw as misuse of the money, as it was clear that Dartmouth College was not intended for Indians and that Moor's had become a side project. Although Wheelock tried to maintain at least some commitment to Native American education by recruiting students from Canadian communities, the move did a great deal of damage to his public image. The last decade of Wheelock's life was not easy. In addition to the problems of trying to set up a college far away from any Anglo-American urban center, Wheelock experienced the loss of relationships with two of his most famous and successful students, Samson Occom and Samuel Kirkland (an Anglo-American protégé). He also went into debt for Dartmouth College, especially after the fund raised in Britain was exhausted.
Occom, Samson
Samson Occom was a Mohegan leader and ordained Presbyterian minister. Occom began his public career in 1742, when he was chosen as a tribal counselor to Ben Uncas II. The following year, he sought out Eleazar Wheelock, a young Anglo-American minister in Lebanon, CT, in hopes of obtaining some education and becoming a teacher at Mohegan. Wheelock agreed to take on Occom as a student, and though Occom had anticipated staying for a few weeks or months, he remained with Wheelock for four years. Occom's academic success inspired Wheelock to open Moor's Indian Charity School in 1754, a project which gave him the financial and political capital to establish Dartmouth College in 1769. After his time with Wheelock, Occom embarked on a 12-year mission to the Montauk of Long Island (1749-1761). He married a Montauk woman, Mary Fowler, and served as both teacher and missionary to the Montauk and nearby Shinnecock, although he was grievously underpaid for his services. Occom conducted two brief missions to the Oneida in 1761 and 1762 before embarking on one of the defining journeys of his career: a fundraising tour of Great Britain that lasted from 1765 to 1768. During this journey, undertaken on behalf of Moor's Indian Charity School, Occom raised £12,000 (an enormous and unanticpated amount that translates roughly to more than two-million dollars), and won wide acclaim for his preaching and comportment. Upon his return to Mohegan in 1768, Occom discovered that Wheelock had failed to adequately care for his family while he was gone. Additionally, despite the vast sums of money that he had raised, Occom found himself unemployed. Wheelock tried to find Occom a missionary position, but Occom was in poor health and disinclined to leave his family again after seeing the treatment with which they had met while he was in Britain. Occom and Wheelock's relationship continued to sour as it became apparent to Occom that the money he had labored to raise would be going towards infrastructure at Dartmouth College, Wheelock's new project, rather than the education of Native Americans. After the dissolution of his relationship with Wheelock, Occom became increasingly focused on the needs of the Mohegan community and increasingly vocal in criticizing Anglo-Americans' un-Christian treatment of Native Americans. In September of 1772, he delivered his famous "Sermon on the Execution of Moses Paul," which took Anglo-American spiritual hypocrisy as one of its major themes, and which went into four printings before the end of the year. In 1773, Occom became further disillusioned when the Mason Land Case was decided in favor of the Colony of Connecticut. The details of the Mason Case are complicated, but to summarize: the Colony of Connecticut had gained control of Mohegan land early in the 18th century under very suspect circumstances, and successfully fended off the Mohegan's 70-year-long legal challenge. The conclusion of the case came as a blow to the Mohegans, and further convinced Occom of Anglo-American corruption. Along with David Fowler (Montauk Tribe), Occom's brother-in-law, and Joseph Johnson (Mohegan), Occom's son-in-law, Occom helped found Brothertown, an Indian tribe formed from the Christian Mohegans, Pequots, Narragansetts, Montauks, Tunxis, and Niantics. They eventually settled in Oneida country in upstate New York. Occom moved there with his family in 1789, spending the remaining years of his life serving as a minster to the Brothertown, Stockbridge, and Mohegan Indians. Harried by corrupt land agents, the Brothertown and Stockbridge groups relocated to the eastern shore of Lake Winnebago, though Occom died in 1792 before he could remove himself and his family there. Occom's writings and legacy have made him one of the best known and most eminent Native Americans of the 18th century and beyond.
Ashpo, Samuel
Ashpo was born into a very powerful Mohegan family, considered equal to the Uncas line, and became an influential Mohegan preacher. He was converted at Mohegan during the Great Awakening, and became a schoolteacher among the Indians at Mushantuxet from 1753 until 1757 and from 1759 until 1762, when he left to attend Moor's. Between 1757 and 1759, he worked as an interpreter, and supposedly struggled with alcohol. He attended Moor's for only six months, and then continued his teaching and missionary career on successive trips to Chenango (the first was cut short because of violence in the region). On July 1, 1767, the Connecticut Board dismissed him from their service because of further charges of drinking. He continued to preach successfully to various New England Indian tribes until his death in 1795. The variations of his name exist in part because Ashpo is an abbreviated form of Ashobapow.