William Leete Stone, letter, to the President of Dartmouth College, 1866 December 12
ms-number: 866662
abstract: Stone encloses a letter from "the first Indian student (or scholar)" at Dartmouth.
handwriting: Handwriting is loose, informal and not highly legible; transcriber has transcribed words as they appear rather than attempting to decipher each individual letter.
paper: Square sheet of white paper is folded vertically and is in good condition.
ink: Black.
noteworthy: It is undetermined to which letter, or to which Indian student, the author is referring. This appears to be the same hand, or at least is very similar to, the one that has made many non-contemporary notations on Occom-project manuscripts. The word Ms with a circle around it is at the top in a different hand and ink. Trailer is in different hand from letter and may be same hand as "Ms" note at top.
signature: The signature is abbreviated.
layout: Page one of the letter is on one recto, but one verso contains page three of the letter, which is written in landscape orientation. Page two of the letter is on two recto, and two verso contains the trailer, which is upside-down.
---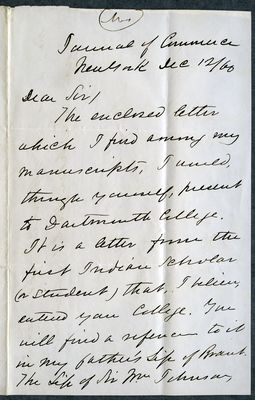 (View Page Image)
Journal of Commerce
New York
dec 12/66
Dear Sir/

The enclosed letter
which I find among my
manuscripts, I would,
through yourself, present
to
Dartmouth College
.
It is a letter from the
first Indian Scholar
(or Student) that, I believe,
entered
your College
. You
will find a reference to it
in
my father
's Life of
Brant
.
The Life of
Sir W.

m

Johnson
,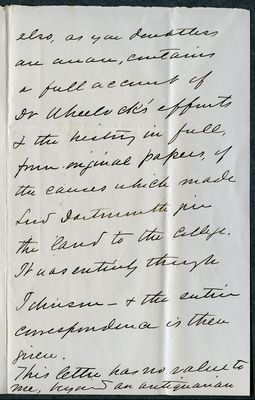 (View Page Image)
also, as you doubtless
are aware, contains
a full account of
Dr Wheelock
's efforts
& the history in full,
from original papers, of
the causes which made
Lord Dartmouth
give
the land to
the College
.
It was entirely through
Johnson
— & the entire
correspondence is there
given.
This Letter has no value to
me, beyond an antiquarian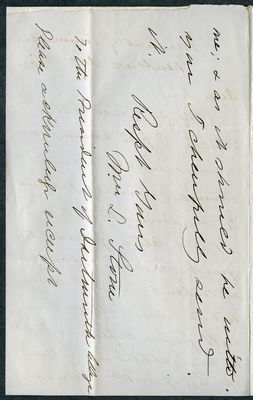 (View Page Image)
one; & as it should be with
you I cheerfully send
it.

Rspt Yours

M.

r

L. Stone

To The

President of Dartmouth College


Please acknowledge receipt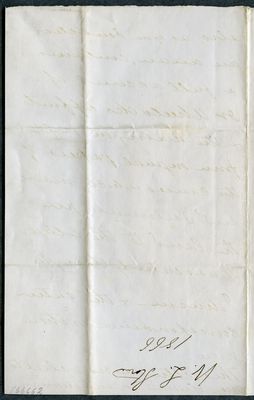 (View Page Image)
W. L. Stone
1866
Journal of Commerce
The Journal of Commerce began on September 1, 1827, as a newspaper covering a range of business topics including banking, commodities, insurance, energy and transportation. It was started by a group of upstanding New York businessmen, including Arthur and Lewis Tappan, wealthy silk merchants and prominent abolitionists; and Samuel B. Morse, an artist who invented the telegraph. The journal owned two schooners that it used to get "scoops" from ships entering New York harbor. The Journal supported free trade and because of the Tappan brothers' abolitionism, kept the case of the Amistad rebellion in the public eye. Today, it is a weekly newsmagazine and a breaking-news website that emphasizes international trade and logistics.
Dartmouth College
Dartmouth College is small liberal arts institution in Hanover, New Hampshire. It has about four thousand undergraduate students taking courses in Arts and Sciences, and another two thousand in graduate schools in the Sciences, Comparative Literature, and Liberal Studies, as well as the Geisel School of Medicine, the Thayer School of Engineering, and the Tuck School of Business. It is a member of the Ivy League, and the ninth oldest institution of higher learning in the U.S. The charter establishing the College was signed in 1769 by John Wentworth, Royal Governor of New Hamsphire, who wanted an academy of higher learning in the colony. Its founder, Eleazar Wheelock, was a Congregational minister from Connecticut who, after his success in educating Samson Occom as a school teacher and Indian missionary in the 1740's, started Moor's Indian Charity School in 1754 to continue what he regarded as a divine mission to educate Native boys and girls to become missionaries. As the school grew, Wheelock began looking for a new location closer to Indian Country where he could expand. But in the 1760's he became disillusioned by the relative failure of his progam and began turning his attention to the education of Anglo-American men as missionaries. After a protracted search, he secured the royal charter in New Hampshire and in 1769 moved his family and base of operations to Hanover, where he established the College. It is named for William Legge, 2nd Earl of Dartmouth, who contributed to the funds raised by Occom and Whitaker on their fund-raising tour of Great Britain in 1766-68 and became a member of the London Trust that administered those funds. The College's charter announced its purpose as "the education and instruction of youth of the Indian tribes in this land [in] all parts of learning which shall appear necessary and expedient for civilizing and christianizing children of pagans…, and also of English youth and any others." But Wheelock's priorities were, in reality, the reverse. While he gave public notice in 1770 that "My Indian charity school … is now become a body corporate and politic, under the name of DARTMOUTH COLLEGE," he created this parallel structure to allow him to use the funds that were collected specifically for the education of Indians. Only around 75 Native students enrolled at the College before 1972, when it rededicated itself to educating Indians and established the Native American Studies Program. This is also the year Dartmouth went co-ed. Occom was angry and embittered at Wheelock's abandonment of his "great design," for which he had sacrificed so much. Their relations cooled after Occom's return from England, and he never visited his mentor again, or, for that matter, Dartmouth College.
Smith, Asa Dodge
Asa Dodge Smith, Dartmouth class of 1830, was the seventh president of Dartmouth College (1863-1877). He came to the post after a long career as a minister at the 14th Street Presbyterian Church in New York City. Under his tenure, the college saw a major expansion in financial resources, enrollment, and academic breadth. In 1866, Asa Dodge Smith received a letter from William Leete Stone (Jr.), a historian who wanted to donate a manuscript he had used in his research on Sir William Johnson to the college. The manuscript was a letter written by the college's "First Indian student," presumably to Sir William Johnson. It is not clear which student Stone was referring to, nor has the manuscript been identified. It is unclear whether Smith had any special interest in Dartmouth history; Stone's letter seems to have been unsolicited.
Brant, Joseph
Joseph Brant studied briefly with Wheelock and went on to be a very influential Mohawk leader. He was born into a prominent Mohawk family, and his connections only improved when his sister, Molly, began a long-lasting relationship with Sir William Johnson. Brant came to study with Wheelock in 1761. He played the part of a model pupil, as he was already partially assimilated and took to his studies quickly. Wheelock had high hopes for him, but in 1763, Brant visited Mohawk country with CJ Smith and never returned. This was likely a result of Johnson's increasing desire to promote only Anglican missionary efforts, as Brant seems to have harbored no ill-will towards Wheelock: Calloway hypothesizes that Brant's influence protected Dartmouth during the Revolution, and in 1800 Brant sent two of his sons to Moor's Indian Charity School. After leaving Wheelock, Brant went on to accumulate influence both as a British civil servant and Mohawk leader (historians debate how much genuine power and influence he had among the Mohawks and Six Nations more generally). The British government employed him as an interpreter, and in 1775, he visited England to argue for Mohawk interests. During the Revolution, he remained loyal to the British and encouraged other tribes to do the same. After the Revolution, when the British abandoned Indian land interests, he battled militarily and politically for Native land rights. Culturally, Brant was very much a pro-assimilation Anglican. He translated the Gospel of Mark, as well as other religious documents, into Mohawk, and lived a generally anglicized lifestyle, although he criticized what he saw as severe moral failings in white society.
Johnson, William
Sir William Johnson was a powerful British colonial official who amassed wealth and influence by integrating into the Mohawk tribe. For a brief window of time (1761-1768), he provided support for Wheelock's missionary efforts among the Six Nations. He also helped the Brothertown Nation of Indians procure land from the Oneidas. Johnson was born in Ireland in 1715. His family had been part of the Catholic elite, but after William of Orange's 1690 victory at the Battle of the Boyne, they at least nominally converted to the Episcopalian Church. In 1738, Johnson emigrated to America to manage his uncle Peter Warren's estate in Mohawk territory. Over the next decade, Johnson became wealthy in his own right through trade and land sales, acquiring a vast estate crowned by his manor house, Johnson Hall, which became the central location for British and Indian treaty making. In 1745, Johnson began collecting official British titles and positions. He played an important military role in the French and Indian War and was named Superintendent of Indian Affairs in 1756 and first baronet of New York in 1757. Much of Johnson's success was due to his influence among the Mohawks, which he obtained by learning their language and customs and integrating himself into their society. He participated in Mohawk rituals and entered into a common-law marriage with a powerful Mohawk woman, Molly Brant (also called Mary Brant). Because Haudenosaunee (Iroquois) society is matrilineal, this marriage was an essential element of his participation in Indian affairs. Wheelock desperately wanted to wield missionary influence among the Six Nations, and sought to obtain Johnson as an ally in his endeavors. At first, the two found grounds for cooperation. Wheelock sent Occom as a missionary to the Oneidas in 1761 and again in 1762, and sent a substantially larger group of missionaries and schoolmasters in 1765, 1766, and 1767. Johnson, meanwhile, encouraged Haudenosaunee children, including his brother-in-law Joseph Brant, to attend Moor's. Johnson's support proved indispensible to missionaries in the field; he helped with supplies, language skills, and relations with the Mohawks and Oneidas. Wheelock also valued Johnson for his influence in Britain, and drew on him for recommendations and public statements of support numerous times. From 1763 on, however, Johnson found himself decidedly uncomfortable with Wheelock's missionary efforts, and by 1769, their relationship had dissolved completely. In 1766, Johnson was invited to join the Society for the Propagation of the Gospel in Foreign Parts (SPG), the largest and most influential Anglican missionary society in the 18th-century British-Atlantic world. He began working to place Anglican missionaries, rather than Congregationalist and Presbyterian ones, among the Six Nations, which alarmed Wheelock. Johnson was generally supportive of Native American tribes' efforts to maintain their land and sovereignty. As the historian Linford Fisher has noted, "virtually every major Native group in southeastern New England successfully petitioned Johnson to act on their behalf during the late 1760s and early 1770s." Among these groups was the Brothertown Nation, a Christian composite tribe formed by Southern New England Algonquian Moor's alumni. Johnson helped them negotiate with the Oneidas, which proved essential to their successful land purchase and relocation to central New York.
Wheelock, Eleazar
Eleazar Wheelock was a New Light Congregationalist minister who founded Dartmouth College. He was born into a very typical Congregationalist family, and began studying at Yale in 1729, where he fell in with the emerging New Light clique. The evangelical network that he built in college propelled him to fame as an itinerant minister during the First Great Awakening and gave him many of the contacts that he later drew on to support his charity school for Native Americans. Wheelock's time as an itinerant minister indirectly brought about his charity school. When the Colony of Connecticut retroactively punished itinerant preaching in 1743, Wheelock was among those who lost his salary. Thus, in 1743, he began operating a grammar school to support himself. He was joined that December by Samson Occom, a Mohegan Indian, who sought out an education in hopes of becoming a teacher among his people. Occom's academic success inspired Wheelock to train Native Americans as missionaries. To that end, he opened Moor's Indian Charity School in 1754 (where he continued to train Anglo-American students who paid their own way as well as students who functionally indentured themselves to Wheelock as missionaries in exchange for an education). Between 1754 and 1769, when he relocated to New Hampshire, Wheelock trained approximately 60 male and female Native American students from nearby Algonquian tribes and from the Haudenosaunee (Iroquois) of central New York. At the same time, he navigated the complicated politics of missionary societies by setting up his own board of the Society in Scotland for Propagating Christian Knowledge, although he continued to feud with the Boston Board of the SSPCK and the London Commissioners in Boston (more colloquially called the New England Company). By the late 1760s, Wheelock had become disillusioned with the idea of Native American education. He was increasingly convinced that educating Native Americans was futile (several of his students had failed to conform to his confusing and contradictory standards), and, in late 1768, he lost his connection to the Haudenosaunee. With his inclination and ability to sponsor Native American missionaries largely depleted, Wheelock sought instead to fulfill his ultimate ambition of obtaining a charter and opening a college, which he did in 1769. To fund this new enterprise, Wheelock drew on the £12,000 that Samson Occom had raised for Moor's Indian Charity School during a two-and-a-half year tour of Great Britain (1765 to 1768). Much of this money went towards clearing land and erecting buildings in New Hampshire for the Charity School's relocation — infrastructure that also happened to benefit Dartmouth. Many of Wheelock's contemporaries were outraged by what they saw as misuse of the money, as it was clear that Dartmouth College was not intended for Indians and that Moor's had become a side project. Although Wheelock tried to maintain at least some commitment to Native American education by recruiting students from Canadian communities, the move did a great deal of damage to his public image. The last decade of Wheelock's life was not easy. In addition to the problems of trying to set up a college far away from any Anglo-American urban center, Wheelock experienced the loss of relationships with two of his most famous and successful students, Samson Occom and Samuel Kirkland (an Anglo-American protégé). He also went into debt for Dartmouth College, especially after the fund raised in Britain was exhausted.
Legge, William
William Legge, the second Earl of Dartmouth, was the reluctant namesake of Dartmouth College. Like many of his countrymen, Legge became involved in Eleazar Wheelock's plans through George Whitefield, the famous evangelical who introduced Samson Occom and Nathaniel Whitaker to Legge shortly after the pair's February 1766 arrival in London. Legge proved critical in promoting Occom's tour among the nobility, and took on a logistical role by helping to collect and oversee donations. Although Legge and Whitefield both felt it would be best if Wheelock were in total control of the funds raised in England, Occom eventually collected so much money that a formal trust was necessary to preserve propriety. This trust was formed in late 1766, with Legge as its president, to guarantee that Wheelock used the money appropriately. It soon proved that the Trust and Wheelock had different ideas as to what was, in fact, appropriate, but they were largely able to cooperate until 1769, when Wheelock obtained a charter for his school without informing the trust. (The trust, feeling that a charter would obviate its control over the British funds, had vehemently opposed it.) Adding insult to injury, Wheelock named the resulting institution Dartmouth—again without consulting Legge, and perhaps more to reassure the multitudes who had donated money than to honor the Earl. Legge never wrote to Wheelock again. Outside of his involvement with Wheelock, Legge had a brief political career. Although he was generally more concerned with religious and philanthropic matters, his station and connections (he was the step-brother of Frederick North, who was prime minister from 1770 to 1782) led him to take his first political post in 1765 as a member of the Board of Trade. During his tenure (1765-1767), and again while he was Secretary of State for the Colonies (1772-1775), Legge's search for cooperative solutions proved unsuccessful during the build-up to the Revolution. His later positions were primarily ceremonial.