Samson Occom, letter, to Benoni Occom, 1791 January 17
ms-number: 791117
abstract: Occom writes that he is attending on the Assembly in New York about land, and urges Benoni to write and say whether or not he will come to Oneida. He also notes that he does not think he will live much longer.
handwriting: Occom's hand is clear and legible.
paper: Single sheet is in moderate-to-poor condition, with significant creasing, staining and wear that results in some loss of text.
ink: Brown ink is heavily faded.
noteworthy: The trailer on one verso is written in an unknown, likely 19th-century, hand. Because it is not contemporary, it has not been included in the transcription; it reads: "Mr Occom to his / son Benoni / Jn 17th 1791/ Selected for / Dr Sprague / Albany 1837." In Rauner Special Collections, the letter is accompanied by a sales slip, library notes, and catalogue clipping.
---
(View Page Image)
Jan

r

17: 1791
My Son

Benoni
I am now at
Poughkeſey
, going on
to
New York
to attend on
the Aſsembly
, a bout our Land
and, it is not likely, that I shall
⇑
get
Home, till, the latter
end of Next Month,— and I want, if You intend to
[gap: tear]
up at all to
Onieda
[illegible]
to Set out, So as you may
[gap: tear]
there Time to Plant,— As I Came down I
[gap: tear]
[guess: was]
Anthony
's, and the Children had Hooping Cou
[gap: tear]
[guess: gh]
other wiſe they were well,— And they expected
[gap: tear]
there, where they live, last Fall, and they wo
[gap: tear]
you dont Come,—
Anthony
Says, You talk very
Strong that You wou'd Come — and if you don't in­
tend to Come, Send us a word, that we may know —
I don't expect to live but few Days longer, but
you may Die before me, and therefore think of Death
and remember Death
c
Comes the Judgement, and So
beg of god to prepare you — This with Love to you
both is —from
you

[gap: tear]

[guess: r]

Tender Father
Samſon Occom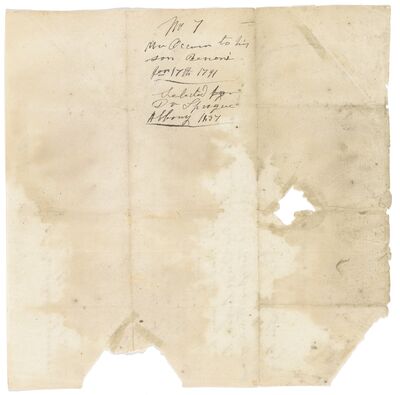 (View Page Image)
Not transcribed.
New York State Legislature
The Legislature of the State of New York is composed of two houses: the Senate, or upper house, led by the President (a post held ex officio by the Lieutenant Governor but usually filled by the Majority Leader), and the Assembly, or lower house, led by the Speaker. It meets at the New York State capitol in Albany. Members of both houses are elected for two year terms. The number of Senators varies, according to population, and stands now at 63. The Assembly has 150 members. The Legislature originated in the revolutionary New York Provincial Congress, assembled by patriots during the Revolutionary War, and has had a history of corruption. It is empowered to make laws subject to the governor's veto, which may be overridden by a two-thirds majority. It can also propose amendments to the New York State Constitution. In the late eighteenth century, this Legislature played a key role in the establishment of Brothertown. On a preaching tour of New York in 1784 to raise funds for Indian families moving up to Oneida country, Occom reported meeting a group of "agreeable" gentlemen who were members of the New York Assembly on a sloop he took to Albany, who are very pleased by the prospect of New England Indians moving to New York. Occom's journals for this period indicate that he was actively campaigning for the move, raising monies and meeting sympathetic ministers in upstate New York. He apparently made a good impresion, becaue in 1791, the New York Assembly and Senate paid Occom £15 for expenses to attend the Legislature on behalf of the Brotherton and New Stockbridge Indians (ms. 791174), indicating recognition of Occom's leadership. But the new settlement was beset with land troubles. In Fall 1786, the Oneidas, who had granted the New England Indians a tract of land in 1774 without reservations, wanted them to surrender the grant. Occom advised the Brothertown group to reject this dangerous proposal. When the Oneidas ceded all their lands to the State of New York in the Fort Schuyler Treaty of 1788, the Legislature intervened to recognize the Brothertown deed of 1774. But Occom and his group could not form the town's government and elect trustees until they ejected a group of whites who had won a ten-year lease from a group of trusting Indians. Again, the Legislature took action, passing the Act of March 31, 1795, insuring a large part of the Brothertown and New Stockbridge lands. Occom was responsible for this important measure, but it only slowed down the land grabbing that, after Occom's death, would eventually force the Brothertown Indians to move further west.
Poughkeepsie
Poughkeepsie is a city in New York's Dutchess County on the eastern shore of the Hudson River, located about halfway between Albany and New York City. The area was originally inhabited by the Algonquin-speaking Wappinger Indians who named the area Apokeepsing, meaning "safe harbor." Europeans were slow to colonize the eastern bank of the Hudson, but in 1683 the expanding English presence in New York prompted a Wappinger named Massany to sign a deed granting Wappinger land to two Dutch settlers who planned to build a mill on the land. In 1687, a colonial land patent given to Thomas Sanders and Myndert Harmse superseded this deed, and Wappinger land was quickly parceled off to the Dutch and English as homesteads. Wappingers continued to inhabit the area until the mid-1700s, when disease and overcrowding forced them to migrate to Stockbridge, MA, an Indian Town to which many New England Indian tribes fled. Occom often preached in Poughkeepsie beginning in the 1760s until the end of his life, though it was to a primarily European audience. He stopped by the town while traveling between Albany and New York on a route known as the Indian Trail. Poughkeepsie was spared during the American Revolution and, as a result, it became the capital of New York in 1778, until Albany took that honor in 1797.
Oneida
Oneida is a city in Madison County located at the geographical center of New York state. Before European settlement of the area, the Oneida Tribe, one of the Six Nations of the Haudenosaunee (Iroquois) Confederacy, inhabited a large territory adjacent to nearby Oneida Lake. Around 1533, they built their first village on the south shore of the lake, at or near the mouth of Oneida Creek. At the end of the 17th century, this area began suffering raids by parties from the French colony of Quebec, in a battle to control the fur trade. In 1696, Oneida village was burned by the French. As a result, the Oneidas moved their chief village east of the original site, called Old Oneida, to a new site called Kanawalohale, also known as Oneida Castle, which was fortified by tall palisades and a moat. This is the site of the present-day village of Oneida Castle, a small hamlet west of the city of Oneida in the northwest corner of the town of Vernon. When used in Occom Circle documents, the place name "Oneida" usually refers to the territory inhabited by the Tribe east of Oneida Lake, but can also refer specifically to Oneida Castle. Although the Oneidas sided with the patriots during the Revolutionary War, much of their territory was sold or appropriated by the state of New York. In 1790, the first European settlers moved into the area of Old Oneida village, and the district began to expand. In the 1830s, the state built a feeder from Oneida Creek through the present city site to provide water for the new canal system, which enabled canal boats to ship freight into the town. Eventually, the railroad came through the town and helped with its expansion. This led to the incorporation of the Village of Oneida in 1848 and the establishment of the Town of Oneida in 1896. The town was chartered as the City of Oneida in 1901, and with two more railroad lines transecting the area, it became a thriving manufacturing center for the first half of the 20th century.
Occom, Samson
Samson Occom was a Mohegan leader and ordained Presbyterian minister. Occom began his public career in 1742, when he was chosen as a tribal counselor to Ben Uncas II. The following year, he sought out Eleazar Wheelock, a young Anglo-American minister in Lebanon, CT, in hopes of obtaining some education and becoming a teacher at Mohegan. Wheelock agreed to take on Occom as a student, and though Occom had anticipated staying for a few weeks or months, he remained with Wheelock for four years. Occom's academic success inspired Wheelock to open Moor's Indian Charity School in 1754, a project which gave him the financial and political capital to establish Dartmouth College in 1769. After his time with Wheelock, Occom embarked on a 12-year mission to the Montauk of Long Island (1749-1761). He married a Montauk woman, Mary Fowler, and served as both teacher and missionary to the Montauk and nearby Shinnecock, although he was grievously underpaid for his services. Occom conducted two brief missions to the Oneida in 1761 and 1762 before embarking on one of the defining journeys of his career: a fundraising tour of Great Britain that lasted from 1765 to 1768. During this journey, undertaken on behalf of Moor's Indian Charity School, Occom raised £12,000 (an enormous and unanticpated amount that translates roughly to more than two-million dollars), and won wide acclaim for his preaching and comportment. Upon his return to Mohegan in 1768, Occom discovered that Wheelock had failed to adequately care for his family while he was gone. Additionally, despite the vast sums of money that he had raised, Occom found himself unemployed. Wheelock tried to find Occom a missionary position, but Occom was in poor health and disinclined to leave his family again after seeing the treatment with which they had met while he was in Britain. Occom and Wheelock's relationship continued to sour as it became apparent to Occom that the money he had labored to raise would be going towards infrastructure at Dartmouth College, Wheelock's new project, rather than the education of Native Americans. After the dissolution of his relationship with Wheelock, Occom became increasingly focused on the needs of the Mohegan community and increasingly vocal in criticizing Anglo-Americans' un-Christian treatment of Native Americans. In September of 1772, he delivered his famous "Sermon on the Execution of Moses Paul," which took Anglo-American spiritual hypocrisy as one of its major themes, and which went into four printings before the end of the year. In 1773, Occom became further disillusioned when the Mason Land Case was decided in favor of the Colony of Connecticut. The details of the Mason Case are complicated, but to summarize: the Colony of Connecticut had gained control of Mohegan land early in the 18th century under very suspect circumstances, and successfully fended off the Mohegan's 70-year-long legal challenge. The conclusion of the case came as a blow to the Mohegans, and further convinced Occom of Anglo-American corruption. Along with David Fowler (Montauk Tribe), Occom's brother-in-law, and Joseph Johnson (Mohegan), Occom's son-in-law, Occom helped found Brothertown, an Indian tribe formed from the Christian Mohegans, Pequots, Narragansetts, Montauks, Tunxis, and Niantics. They eventually settled in Oneida country in upstate New York. Occom moved there with his family in 1789, spending the remaining years of his life serving as a minster to the Brothertown, Stockbridge, and Mohegan Indians. Harried by corrupt land agents, the Brothertown and Stockbridge groups relocated to the eastern shore of Lake Winnebago, though Occom died in 1792 before he could remove himself and his family there. Occom's writings and legacy have made him one of the best known and most eminent Native Americans of the 18th century and beyond.
Occom, Benoni
Benoni Occom (also known as Benjamin, Noney, and Nony) was Samson Occom and Mary Fowler's seventh child and second son. Like Aaron Occom (Benoni's elder brother, who died in 1771 after a wild young adulthood), Benoni did not live up to his parents' standards for behavior. Unlike Aaron, he was not sent to Moor's Indian Charity School; the difference may reflect Samson and Mary's declining opinion of Eleazar Wheelock. Benoni's behavior led Samson and Mary to kick him out of the house in July 1780, but the family had reconciled by 1788 (perhaps following 1787 rumors that Benoni had been hanged in Boston for murder). Although Benoni remained at Mohegan instead of moving to Brothertown, later letters from Occom to Benoni suggest that they were close and that Benoni visited his parents frequently. Later in life, Benoni was active in attempts to define Mohegan identity by petitioning to exclude anyone of African descent from tribal membership. His petition in this affair might indicate broader political involvement in tribal matters.
Paul, Anthony
Anthony Paul was born in Charlestown, Rhode Island, to Mary and James Paul. His family was a part of the Narragansett peoples who lived in Charlestown. There is not much information detailing Paul's early years, but he is believed to have attended Wheelock's school in Connecticut. It is through this connection that Paul is likely to have met Christiana Occom, daughter of Samson Occom and Mary Fowler. Paul married Christiana in 1777 and, after spending some time in Mohegan, the two settled in Brotherton in 1784. Paul worked as a preacher and helped raise at least six children with Christiana. Occom was fond of his son-in-law, and his journals tell of many happy times visiting the couple, including fishing trips and the day in 1787 when Samson baptized Paul and four of his children. As further indication of Occom's fondness for his son-in-law, he is believed to have left the books and papers that he kept in his New York home with Paul. In 1797, Paul and Christiana left Brotherton to live in Lake George, NY, where they spent the rest of their years.