New Stockbridge Indians, letter, to Samson Occom, 1787 August 29
ms-number: 787479
abstract: The New Stockbridge Indians testify to their faith in the Christian religion and request that Occom become their pastor.
handwriting: Handwriting is possibly that of Joseph Johnson; it is small yet mostly legible. Letter case, especially with regard to the letter "S" is difficult to discern.
paper: Heavily creased sheet of paper has been treated with silk overlay. This repair work is beginning to age, particularly on the verso. Separated creases lead to some loss of text.
ink: Brown ink is slightly obscured by the silk overlay.
noteworthy: Letter is a contemporary copy. On the bottom left of one verso, the word "Call" appears to be written in Occom's hand. On one verso, written in pencil underneath the trailer is the note: "Ind. Miſ. This is a copy of the call to Occom 1787 Original in C.H.S."
signature: There are nine signatories, yet the signatures are all in the same hand.
---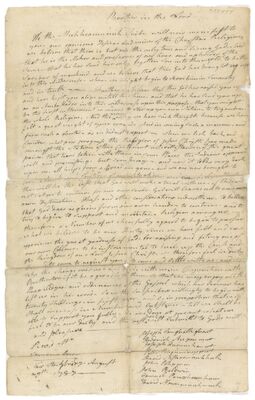 (View Page Image)
Brother in the Lord —

We the
Muhheacunnuk Tribe
, will now manifiſt to
you — our opinions Deſires and veiws of the Chriſtian Religion.
we believe that there is but one, the only true and living God, And
that he is the Maker and preſerver of our lives, and upholder of the
Same — that he has Send his only begotten Son into this w
[illegible]
orld, to be the
Saviour of mankind, and we believe that this God has brought u
[illegible]
s up
in to this wilderneſs — where we might begin to Serve him in Sincerity
and in truth — Further we believe that this God has raiſed you u
[gap: tear]
[guess: p]
and have kept you alive untill this time. and that he has Send you up
as an Ambaſsador into this wilderneſs upon this purpoſe that you might
be the firſt inſtrument or means to Stir up you own Nation — to try embrace
His whole Religion. And the,
⇑
resons
why we have such thoughts becauſe we have
felt a great weight of your errand — And in coming such a manner, and
from such a quarter — as we did not expect — when we look back, and
Consider, what poor progreſs the Re
[illegible]
ligion of Jeſus Chriſt, has made
amongſt the Natives of this Continent not withſtanding
⇑
of
the great
pains, that have taken with them in some Places the Indians appeared
well and promiſing, but soon decay. — and now it looks very dark
upon us, all helps from a Broad are gone — and we are now brought to
look about
[gap: tear]
[guess: and]
Conſider of our Situation and we bel
[gap: tear]
[guess: ieve]
that
this will be the laſt. that God will make a trial with us — if this w
[gap: tear]
not set us to contrive for our own souls — God will leaves us to our
[illegible]
own Deſtruction — Theſe and other conſiderations induceth us — to believe
that God d
[illegible]
oes require from our own hands — to contrive — and to
try to bigin to support and maintain Religion among us — we
therefore, a Number of us chearfully agreed to begin to purſue
what we bilieve to be our Duty since we have felt and ex=
=perience the great goodneſs of God — for raiſing and fiting one of
our own Collour — to be inſtrumental to build up the Cauſe and
the Kingdom of our Lord Jeſus Chriſt — we therefore feel in duty
[gap: tear]
[guess: boun]
d to come to requeſt you to come and settle with us — and to
take the charge over us — and to die with us. in Conjunction with
Brotherton
if it be agreable to them. so that we may enjoy all the
Previlidges and ordinances of the Goſpel which our Saviour has
left us in his word — So we the Subſcribers wittingly to begin with
twenty shillings — in firſt year and so in proportion that we
shall increaſe in Number and Subſtance — till we shall be
able to support you fully — so we done at present what we
feel to be our duty and the reſt
⇑
we
will submitt to Gods will
and pleaſure —
Joſeph Sauquethquaut
Hendrick Aupaumut
Joſeph Quonnekanut
Peter Pohquannop

[illegible]

eet
David Neſhoonnuhhuk
John Pohpmon
John Baldwin
Samuel Pa

[illegible]

[guess: uphaun]

hum
David N

[illegible]

[guess: aun]

annuknuck
Rev.
d
M
r
Samson Occom
New Stockbridge
Auguſt
29

th

1787
—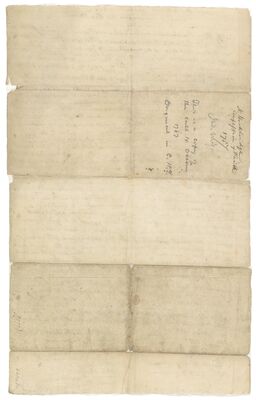 (View Page Image)
N. Stockbridge
confeſsion of Faith
1787
⇑
[left]
Call
New Stockbridge Tribe
New Stockbridge Indians (also frequently called "Stockbridgers" by Occom) refers to the Stockbridge Indians who inhabited the town of New Stockbridge, NY, between 1785 and 1829. During the Revolution, Stockbridge, Massachusetts (a Christian Indian town containing members of several different tribes), hosted displaced members of the Brothertown Tribe, a group of Southern New England Algonquians who were in the process of immigrating to Oneida territory when the war broke out. The groups became close, and when the Brothertown Indians finally settled in Oneida territory in 1783, they secured an invitation from the Oneidas for the Stockbridgers to join them. Samson Occom, Brothertown's minister, also preached at New Stockbridge, and he even moved there in 1789 due to political drama at Brothertown. Between the 1780s and the 1820s, all three groups struggled with each other and with encroaching American settlers for land. Unlike the Brothertown and Oneida Indians, the New Stockbridge Indians were steadfast in refusing to lease land to white Americans. Despite New Stockbridge's perseverance, white settlers found ways to obtain Oneida, Brothertown, and Stockbridge land, and, by the 1790s, relocation was again appealing. In 1802, the New Stockbridge Indians were joined by the Delawares of Brotherton (a New Jersey Christian Indian town, distinct from Brothertown), and between 1806 and 1829, all of the New Stockbridge Indians left New York to move west. Moving west proved to be more easily said than done. Multiple times, the New Stockbridge, Brothertown, and Oneida tribes' land deals fell through, and they were forced to relocate to less and less desirable territory. By the mid-18th century, many were living in Wisconsin, where they continued to face poverty and land encroachment. In 1843, a portion of the Stockbridge tribe accepted American citizenship to try to avoid further displacement. Another portion of the tribe refused citizenship. Political change in the 1930s enabled the Stockbridges to put some of their lands in trust, and, in 1972, that trust was expanded. Today, they maintain a reservation in Wisconsin and are known as the Mohican Indians or the Stockbridge-Munsee Band of Mohican Indians.
Brothertown
Brothertown was a multi-tribal Indian settlement in the center of what is now New York state. In the 1760s, Indians in New England and New York were devastated by war, disease, and European settlement, and many who had converted to Christianity believed that pressures and influences from surrounding European settlers impeded them from living Christian lives. The Brothertown Indians began as a group of Christian Indians including members of the Mohegan, Pequot, Narragansett, Montauk, Tunxis, Wangunk, and Niantic tribes. In the 1770s, led by Occom and Joseph Johnson, this group of Indians moved to land granted to them by the Oneida in New York. They named the land Brothertown to both reflect their intention to live with fellow tribes as brothers and also to pay tribute to Brotherton, a Delaware Indian reservation in New Jersey that served as an inspiration for the Christian Indian settlement. When the Revolutionary War began, the Indians of Brothertown sided with the Patriots, and as a result, British sympathizers burnt the Brothertown settlement in 1777. After this, many Brothertown settlers moved east while others remained and fought alongside the colonists.In the 1780s, many more New England Indians, including Occom and his family, moved to Brothertown and the nearby settlement of New Stockbridge, forming a town government, church and schools. In the early 1800s, the state of New York began to purchase tracts of Oneida land, and the Indians were forced to leave New York and settle in Greenbay, Wisconsin.
Stockbridge
Stockbridge is a town in Madison County in central New York state, named for the Stockbridge Indians of Western Massachusetts. During the Revolutionary war, the Stockbridge Indians had befriended the Oneidas, whose villages were burned down by Indians allied to the British. When the Stockbridge tribe lost ownership of their Christian Indian town, the Oneidas invited them to settle on a six-mile square township, known as "The New Stockbridge Indian Territory." Although the details are unclear, a letter from the Stockbridge chief, Hendrick Aupaumut, to Governor George Clinton of New York suggests that the Oneidas gave the Stockbridge Indians a written deed in 1784, possibly at the Treaty of Fort Stanwix that year. The state of New York confirmed the Tribe's ownership of the town on several later occasions, but would ultimately rescind its promise, forcing the Stockbridge Indians to remove further west to Indiana and Wisconsin, where they ultimately settled in the early 19th century. By 1785, the majority of the Stockbridge tribe from Massachusetts had moved to the town of New Stockbridge, originally called "Tuscarora" or "Old Oneida" by the white settlers. In 1787, the Scottish Society for the Propagation of Christian Knowledge hired John Sergeant, son of the original missionary in Massachusetts, as minister for the tribe; Sergeant travelled between his home in Stockbrige, MA, to New Stockbridge every year for nearly forty years in that capacity. In 1788, Occom, who had been invited as minister for the Brothertown settlement nearby, opposed Sergeant's mission but Occom's death in 1792 settled the conflict. In 1795, three New York Quakers visited New Stockbridge and began an exchange that helped the village to flourish. The first Europeans settlers arrived in 1791, and the present day town was created in 1836 from parts of four adjoining towns.
Aupaumut, Hendrick
Hendrick Aupaumut, most likely a descendant of the Mohawk chief Hendrick, was a Mahican Indian who was born in Stockbridge, Massachusetts in 1757. He was educated by the Moravians and became very involved in tribal affairs and relations with the United States. Along with other Stockbridge Indians, Aupaumut fought as part of Captain William Goodrich's company in the Revolutionary War, rising to captain in 1778. In 1777, when Joseph Quanaukaunt became sachem, Aupaumut became a member of his council along with Peter Pohqunnoppeet and John Konkapot. He also became close friends with Samson Occom and would often host the preacher or translate his sermons when the latter visited New Stockbridge, to where the Stockbridges moved in the mid 1780s. In 1787 he was one of nine Indians to write to Occom declaring their faith and asking Occom to become their minster. He was also one of the Indians to sign the proclamation that Occom, Pohqunnooppeet, and David Fowler carried during their tour to raise funds to support Occom as their pastor. By the 1790s, Aupaumut was acting as an agent for the United States. He helped the government combat Tecumseh and his brother Elskwatawa, and he fought under General Harrison in the War of 1812. Both conflicts interrupted the various land deals between tribes, as well as treaties and other negotiations, in which he was involved. Although he encouraged Indians to convert to Christianity and learn English, Aupaumut opposed leasing land to whites. Occom and Aupaumut agreed that the Stockbridges must move west to escape the influence of outside cultures, and to preserve their Christianity. In the 1820s, Aupaumut led land deals with Wisconsin tribes, and he finally moved west in 1829 along with the remainder of the Stockbridge tribe.
Pauquunnuppeet, Peter
Sir Peter Pauquunnuppeet (there are several variant spellings), a son of an Indian deacon by the same name, was a Stockbridge Mohican Indian and student of Eleazar Wheelock, who studied at Moor's Indian Charity School from 1771 until 1775, and graduated from Dartmouth College in 1780. Together with Daniel Simon, class of 1777, and Lewis Vincent, class of 1781, he was one of the three Indian students to graduate before the turn of the century, and they became the last native graduates until 1835. The "Sir" that precedes Pohquonnoppeet's forename originated from his status as a senior in school, and remained a part of his name for the rest of his life. After graduating, Pauquunnuppeet returned to Stockbridge, where he taught school and was involved in tribal affairs. Joseph Quanaukaunt (Quinney) became sachem in 1777, and along with Hendrick Aupaumut and John Konkapot, Pauquunnuppeet was a member of the his council. Pauquunnuppeet was also influential in the Brothertown movement and the founding of New Stockbridge six miles from Brothertown, New York. In 1785, when Americans in New York were driving the Oneidas to cede land that bordered Pennsylvania, Pauquunnuppeet represented the Stockbridge Indians in what became the Treaty of Herkimer. Pauquunnuppeet had an influential friendship with Samson Occom. Occom recorded many occasions in his diary during his missionary tours of 1785-1787 when Peter hosted him, and noted a few instances when they traveled together. Often during Occom's visits to New Stockbridge Captain Hendrick and Pauquunnuppeet would translate his sermons for those who could not understand English. The Stockbridge Indians favored Occom over the white missionary John Sergeant, Jr., and on August 29, 1787 Pauquunnuppeet was one of nine Indians to write to Occom declaring their devotion and inviting Occom to become their minister. However, the tribe had no means by which to pay Occom, and so, in the winter of 1787 Pauquunnuppeet, Occom, and David Fowler embarked on a fundraising journey through New Jersey, Pennsylvania, and New York. They were not, however, able to raise as much money as they had sought to collect. Pauquunnuppeet's strong presence within the tribe may have led to his death, although the precise date and circumstances of his decease is unknown. Sectionalism within New Stockbridge was growing due to the friction between those who supported Occom and those who preferred Sergeant, Jr. as their minister. The politics of Brothertown as an independent entity contributed to the tension. Finally, when Hendrick Aupaumet rose to the position of chief, Pauquunnuppeet became the leader of a rival faction. It has been suggested that Pauquunnuppeet's increasing authority provoked his enemies to poison him.
Johnson, Joseph
Joseph Johnson was a Mohegan who studied at Moor's Indian Charity School and became one of the most important organizers of the Brothertown Movement (a composite tribe composed of Christian members of seven Southern New England Algonquian settlements). He was a prolific writer and his papers are relatively well-preserved. Johnson's writing is especially noteworthy for his skillful use of Biblical allusion and his awareness of the contradiction that he, as an educated Native American, presented to white colonists. Johnson arrived at Moor's in 1758, when he was seven years old, and studied there until 1766, when he became David Fowler's usher at Kanawalohale. He continued teaching in Oneida territory until the end of 1768, when Samuel Kirkland sent him home in disgrace for drunkeness and bad behavior. After a stint teaching at Providence, Rhode Island, and working on a whaling ship, Johnson returned to Mohegan in 1771 and became a zealous Christian. He opened a school at Farmington, CT, in 1772, for which he seems to have received some minimal support from the New England Company. From his base at Farmington, he began organizing Southern New England Algonquians for the Brothertown project. The goal was to purchase land from the Oneidas, the most Christianized of the Six Nations, and form a Christian Indian town incorporating Algonquian and Anglo-American elements. Johnson spent the rest of his short life garnering necessary support and legal clearance for the Brothertown project. Johnson died sometime between June 10, 1776 and May 1777, at 25 or 26 years old, six or seven years before Brothertown was definitively established in 1783. He was married to Tabitha Occom, one of Samson Occom's daughters. She lived at Mohegan with their children even after Brothertown's founding, and none of their children settled at Brothertown permanently. Like most of Wheelock's successful Native American students, Johnson found that he could not satisfy his teacher's contradictory standards for Native Americans. Although Johnson's 1768 dismissal created a hiatus in their relationship, Johnson reopened contact with Wheelock after his re-conversion to a degree that other former students, such as Samson Occom, David Fowler, and Hezekiah Calvin, never did.
Occom, Samson
Samson Occom was a Mohegan leader and ordained Presbyterian minister. Occom began his public career in 1742, when he was chosen as a tribal counselor to Ben Uncas II. The following year, he sought out Eleazar Wheelock, a young Anglo-American minister in Lebanon, CT, in hopes of obtaining some education and becoming a teacher at Mohegan. Wheelock agreed to take on Occom as a student, and though Occom had anticipated staying for a few weeks or months, he remained with Wheelock for four years. Occom's academic success inspired Wheelock to open Moor's Indian Charity School in 1754, a project which gave him the financial and political capital to establish Dartmouth College in 1769. After his time with Wheelock, Occom embarked on a 12-year mission to the Montauk of Long Island (1749-1761). He married a Montauk woman, Mary Fowler, and served as both teacher and missionary to the Montauk and nearby Shinnecock, although he was grievously underpaid for his services. Occom conducted two brief missions to the Oneida in 1761 and 1762 before embarking on one of the defining journeys of his career: a fundraising tour of Great Britain that lasted from 1765 to 1768. During this journey, undertaken on behalf of Moor's Indian Charity School, Occom raised £12,000 (an enormous and unanticpated amount that translates roughly to more than two-million dollars), and won wide acclaim for his preaching and comportment. Upon his return to Mohegan in 1768, Occom discovered that Wheelock had failed to adequately care for his family while he was gone. Additionally, despite the vast sums of money that he had raised, Occom found himself unemployed. Wheelock tried to find Occom a missionary position, but Occom was in poor health and disinclined to leave his family again after seeing the treatment with which they had met while he was in Britain. Occom and Wheelock's relationship continued to sour as it became apparent to Occom that the money he had labored to raise would be going towards infrastructure at Dartmouth College, Wheelock's new project, rather than the education of Native Americans. After the dissolution of his relationship with Wheelock, Occom became increasingly focused on the needs of the Mohegan community and increasingly vocal in criticizing Anglo-Americans' un-Christian treatment of Native Americans. In September of 1772, he delivered his famous "Sermon on the Execution of Moses Paul," which took Anglo-American spiritual hypocrisy as one of its major themes, and which went into four printings before the end of the year. In 1773, Occom became further disillusioned when the Mason Land Case was decided in favor of the Colony of Connecticut. The details of the Mason Case are complicated, but to summarize: the Colony of Connecticut had gained control of Mohegan land early in the 18th century under very suspect circumstances, and successfully fended off the Mohegan's 70-year-long legal challenge. The conclusion of the case came as a blow to the Mohegans, and further convinced Occom of Anglo-American corruption. Along with David Fowler (Montauk Tribe), Occom's brother-in-law, and Joseph Johnson (Mohegan), Occom's son-in-law, Occom helped found Brothertown, an Indian tribe formed from the Christian Mohegans, Pequots, Narragansetts, Montauks, Tunxis, and Niantics. They eventually settled in Oneida country in upstate New York. Occom moved there with his family in 1789, spending the remaining years of his life serving as a minster to the Brothertown, Stockbridge, and Mohegan Indians. Harried by corrupt land agents, the Brothertown and Stockbridge groups relocated to the eastern shore of Lake Winnebago, though Occom died in 1792 before he could remove himself and his family there. Occom's writings and legacy have made him one of the best known and most eminent Native Americans of the 18th century and beyond.