Joseph Johnson, letter, to Eleazar Wheelock, 1774 December 4
ms-number: 774654
abstract: Johnson humbly requests money to pay his debts, as well as an answer to a letter he sent to Wheelock through Jacob Fowler. He notes that soon he must go take possession of land granted to the New England Indians.
handwriting: Hand is mostly clear and legible, although occasional overwrites make it difficult to differentiate between original words and corrections. The transcriber has used her discretion.
paper: Two separate pieces of paper of unequal size and shape are in good-to-fair condition, with light-to-moderate creasing, staining and wear.
noteworthy: When Johnson refers to "your Seminary" it is uncertain whether he refers to Moor's Indian Charity School or Dartmouth College. The postscript is contained within a large, parenthesis-like bracket, which has been indicated in the transcription by a closed parenthesis at the end of each line. Unexplained numbers are written upside-down under the trailer.
---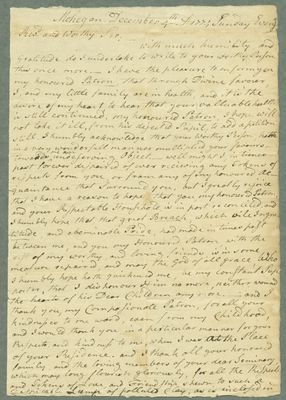 (View Page Image)
Mohegan

. December 4

th

AD 1774. Sunday Even.

g.

Rev

d

and Worthy Sir; —

with much humility, and
gratitude do I undertake to write to your worthy Perſon
this once more. — I have the pleasure to enform you,
my honoured
Patron
, that through Divine favour,
I, and my little family are in health, and it is the
desire of my heart, to hear that your valuable health
is still continued. my honoured
Patron
, I hope will
not take it ill, from his dejected Pupil, to add a petition
still. I humbly acknowledge that your worthy Perſon, hath
in a very wonderfull manner multiplied your favours —
towa
[illegible]
rds
⇑
me an
undeſerving Object. — well might I, in times
past forever deſpaired of ever recieving any Tokens of
reſpects from you, or from any of my honoured Ac-
-quaintance that Surround you. but I greatly rejoice
that I have a reason to hope, that you, my honoured
Patron
,
and your Reſpectable Houſehold, is in part reconciled, and
I humbly hope th
e
at, that great
Breach
, which
w
vile
Ingra-
-titude
, and abominable
Pride
, had made in times paſt
between me, and you my Honoured Patron, with the
reſt of my worthy, and loving friends, is in some
meaſure repaired, and may the God of all grace, Who
I humbly hope hath quickened me, be my conſtant Sup-
-porter, that I dishonour Him no more, neither wound
the hearts of his Dear Children anymore. — and I
thank you, my Compaſionate
Patron
, for all your
kindneſses to me w
[illegible]
[guess: a]
rd, even from my Childhood,
and I would thank you, in a perticular manner for your
Reſpects, and kindneſs to me, when I was
[illegible]
At the Place
of your Reſidence. and I thank all your honoured
family, and the loving members of your dear
Seminary
,
which may long flourish
gloriously
, for all the Reſpects
and Tokens of Love, and Friendſhip shewn to such a
Deſpicable Lump of polluted Clay, as is incloſed in
—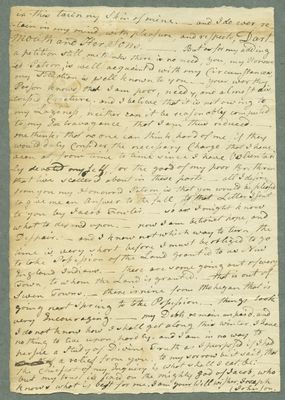 (View Page Image)
in this tawnny Skin of mine. — and I do ever, re-
-tain in my mind, with pleaſure, and reſpects,
Dart­
­mouth
and Her Sons. — But as for my adding
a petition still, methinks there is no need, you, my Honour-
-ed
Patron
, is well acquainted with my Circumſtances,
my Situation is w
[illegible]
ell known to you — — your worthy
Perſon knows that I am poor, needy, and almoſt dis-
-treſsed Creature. and I believe that it is not owing to
my Lazineſs, neither can it be reaſonably computed
to my Extravagance, that I am thus reduced. —
methinks that no one can think hard of me, if they
would duly Conſider, the neceſsary Charge that I have
been at, from time to time since I have voluntari
-ly devoted myſelf, for the good of my poor Brethren
that live scattered about in these parts. — all I deſire
from you my Honoured
Patron
, is that you would be pleaſed
to give me an Anſwer to the full,
[illegible]
to that Letter I ſent
to you by
Jacob Fowler
. — so as I might know
what to depend upon. — now I am betwixt hope, and
Deſpair. — and I know not which way to turn, the
time is very short before I must be obliged to go
to take Poſseſsion of the Land granted to us
New
England Indians
. — there are some going out of every
Town, to whom the Land is granted. — that is out of
Seven Towns. — there is nine from
Mohegan
that is
going next spring to take Poſseſsion. — things look
very Encouraging. — my Debts remain unpaid. and
I do not know how I shall get along this winter. I have
nothing to live upon, hardly. and I am in no way to
perſue a Study of Divine Truth as I purpoſed if I had
[illegible]
a relief from you. to my sorrow be it said, that
the chiefest of my Enquiry is what shall I eat. &c: —
but my trust is fixed on the mighty god of Jacob, who
knows what is beſt for me.
I am your Well wiſher.
Joseph
(Johnſon
.

(View Page Image)
I have recieved no Letter)
or Inteligence from you)
my Honoured Patron)
Since I wrote to you by friend)
Jacob Fowler
. — I am your)
humble well wiſher
Joſeph Johnſon
.)
To
The
Rev

d

Eleazar Wheelock
.
D.D. and Preſident of
Dartmouth College
: —

(View Page Image)
from
Jos. Johnſon
Dec.

r

4. 1774
[bottom]
220./720/3
660
—
0
Dartmouth College
Dartmouth College is small liberal arts institution in Hanover, New Hampshire. It has about four thousand undergraduate students taking courses in Arts and Sciences, and another two thousand in graduate schools in the Sciences, Comparative Literature, and Liberal Studies, as well as the Geisel School of Medicine, the Thayer School of Engineering, and the Tuck School of Business. It is a member of the Ivy League, and the ninth oldest institution of higher learning in the U.S. The charter establishing the College was signed in 1769 by John Wentworth, Royal Governor of New Hamsphire, who wanted an academy of higher learning in the colony. Its founder, Eleazar Wheelock, was a Congregational minister from Connecticut who, after his success in educating Samson Occom as a school teacher and Indian missionary in the 1740's, started Moor's Indian Charity School in 1754 to continue what he regarded as a divine mission to educate Native boys and girls to become missionaries. As the school grew, Wheelock began looking for a new location closer to Indian Country where he could expand. But in the 1760's he became disillusioned by the relative failure of his progam and began turning his attention to the education of Anglo-American men as missionaries. After a protracted search, he secured the royal charter in New Hampshire and in 1769 moved his family and base of operations to Hanover, where he established the College. It is named for William Legge, 2nd Earl of Dartmouth, who contributed to the funds raised by Occom and Whitaker on their fund-raising tour of Great Britain in 1766-68 and became a member of the London Trust that administered those funds. The College's charter announced its purpose as "the education and instruction of youth of the Indian tribes in this land [in] all parts of learning which shall appear necessary and expedient for civilizing and christianizing children of pagans…, and also of English youth and any others." But Wheelock's priorities were, in reality, the reverse. While he gave public notice in 1770 that "My Indian charity school … is now become a body corporate and politic, under the name of DARTMOUTH COLLEGE," he created this parallel structure to allow him to use the funds that were collected specifically for the education of Indians. Only around 75 Native students enrolled at the College before 1972, when it rededicated itself to educating Indians and established the Native American Studies Program. This is also the year Dartmouth went co-ed. Occom was angry and embittered at Wheelock's abandonment of his "great design," for which he had sacrificed so much. Their relations cooled after Occom's return from England, and he never visited his mentor again, or, for that matter, Dartmouth College.
Brothertown Tribe
The Brothertown Nation of Indians was a composite tribe of Southern New England Algonquians that was organized largely by alumni of Moor's Indian Charity School. Four of the most important organizers were Samson Occom, Joseph Johnson, David Fowler, and Jacob Fowler. The Brothertown Indians lived on land purchased from the Oneidas beginning 1783 until 1831, when the Brothertown Indians moved on to Green Bay, Wisconsin. Brothertown, NY, should not be confused with Brotherton, NJ (sometimes spelled Brothertown), a Christian Indian settlement that John Brainerd established in 1758. The idea of relocating to central New York became increasingly popular in 18th-century New England as Indian tribes saw colonists take more and more of their land. Joseph Johnson began taking definitive steps to organize a migration in the 1770s. Despite reluctance from New England Indians and colonial authorities, Johnson was able to secure a tract of land from the Oneidas -- largely believed to be the most Christian of the Haudenosaunee (Iroquois) Six Nations -- and organize a composite tribe from members of seven New England Indian settlements: Niantic, Montauk, Mohegan, Charlestown (Narragansett), Groton (Pequot), Stonington (Pequot), and Farmington (Tuxnis). The first migrants moved to Oneida territory in 1775, just in time to be displaced by the Revolution. Joseph Johnson died in 1776 or 1777 at the age of 25. Nevertheless, the Brothertown tribe made a second attempt after the war, this time with considerably more government support. In 1783, the first 50 settlers arrived in Brothertown. A hundred more followed in 1784, along with the Stockbridge Indians of Massachusetts, a Mahican group. It is important to remember that the Brothertown movement was by no means a mass migration: most New England Algonquians elected to remain. Brothertown's leaders drew on Algonquian and Anglo-American influences to regulate their town, including policies based on a Connecticut law book and a community ethic emphasizing a communal decision-making process and care for the elderly. However, Brothertown was not a politically tranquil place. In addition to internecine struggles, the Brothertown Indians faced pressure from the Oneidas, who in 1786 tried to renegotiate their treaties with the Brothertown and Stockbridge Indians to alleviate demands on land driven by Anglo-Americans in the area. While the Brothertown Indians were able to defend their claim to the land in court, the fact of the matter was that land was becoming scarce. As early as 1791, the Stockbridge Indians began exploring the possibility of moving to the Midwest, and the Brothertown Indians followed suit in 1809. After a series of failed land deals, in 1831 the Brothertown Indians, Stockbridge Indians, and Munsee Indians (a subtribe of the Delaware) were awarded a tract of land in Green Bay, Wisconsin. The Brothertown Nation is still based in Wisconsin and is currently struggling to obtain federal recognition.
Mohegan
Mohegan is a village in southeastern Connecticut at the site of the present-day town of Montville, and is the location of the Mohegan Indian Reservation. The village gets its name from the Mohegan Tribe, or wolf people, who split from the Pequots in the early 17th century under the leadership of the sachem Uncas. In the 1720s, the Mohegans requested the colony of Connecticut provide them with an English educator. An English minister and schoolteacher named John Mason (no relation to Captain John Mason) moved to Mohegan in order to provide English-styled education to the Mohegans, convinced his sponsors, the New England Company, to build a schoolhouse at Mohegan, which eventually served as a boarding school for other Native American children from the surrounding area. During the 17th century, the Mohegan Tribe became embroiled in a complicated controversy over control of Mohegan land — known as the Mason Land Case or, more specifically, Mohegan Indians v. Connecticut — that included the village of Mohegan. The Tribe claimed that it never authorized a transfer of their lands, held in trust by the Mason family, to the colonial government. In 1662, the colony of Connecticut was incorporated by a royal charter, which included the disputed tribal land. The land controversy was revived in 1704 when descendants of John Mason, the original trustee, petitioned the Crown on behalf of the Mohegans, but the suit was finally decided against the Tribe in 1773. Born in Mohegan, Occom became involved in the Mason Land Case and vehemently argued for the rights of the Mohegan Indians to maintain their land, opposing Eleazar Wheelock and other ministers in the area. Although Occom left Mohegan for a 12-year mission with the Montauk Indians of Long Island, he returned at the end of 1763 with his large family to build a house in Mohegan, establishing it as his base of operations. Even after the creation of the Brothertown settlement in Oneida country, for which he served as minister, Occom continued to commute back and forth from Mohegan; he didn't sell his house in Mohegan and move his family to Brothertown until 1789. Many members of his family remained in Mohegan, including his sister Lucy Tantaquidgeon, who lived there until her death at 99 in 1830.
Johnson, Joseph
Joseph Johnson was a Mohegan who studied at Moor's Indian Charity School and became one of the most important organizers of the Brothertown Movement (a composite tribe composed of Christian members of seven Southern New England Algonquian settlements). He was a prolific writer and his papers are relatively well-preserved. Johnson's writing is especially noteworthy for his skillful use of Biblical allusion and his awareness of the contradiction that he, as an educated Native American, presented to white colonists. Johnson arrived at Moor's in 1758, when he was seven years old, and studied there until 1766, when he became David Fowler's usher at Kanawalohale. He continued teaching in Oneida territory until the end of 1768, when Samuel Kirkland sent him home in disgrace for drunkeness and bad behavior. After a stint teaching at Providence, Rhode Island, and working on a whaling ship, Johnson returned to Mohegan in 1771 and became a zealous Christian. He opened a school at Farmington, CT, in 1772, for which he seems to have received some minimal support from the New England Company. From his base at Farmington, he began organizing Southern New England Algonquians for the Brothertown project. The goal was to purchase land from the Oneidas, the most Christianized of the Six Nations, and form a Christian Indian town incorporating Algonquian and Anglo-American elements. Johnson spent the rest of his short life garnering necessary support and legal clearance for the Brothertown project. Johnson died sometime between June 10, 1776 and May 1777, at 25 or 26 years old, six or seven years before Brothertown was definitively established in 1783. He was married to Tabitha Occom, one of Samson Occom's daughters. She lived at Mohegan with their children even after Brothertown's founding, and none of their children settled at Brothertown permanently. Like most of Wheelock's successful Native American students, Johnson found that he could not satisfy his teacher's contradictory standards for Native Americans. Although Johnson's 1768 dismissal created a hiatus in their relationship, Johnson reopened contact with Wheelock after his re-conversion to a degree that other former students, such as Samson Occom, David Fowler, and Hezekiah Calvin, never did.
Wheelock, Eleazar
Eleazar Wheelock was a New Light Congregationalist minister who founded Dartmouth College. He was born into a very typical Congregationalist family, and began studying at Yale in 1729, where he fell in with the emerging New Light clique. The evangelical network that he built in college propelled him to fame as an itinerant minister during the First Great Awakening and gave him many of the contacts that he later drew on to support his charity school for Native Americans. Wheelock's time as an itinerant minister indirectly brought about his charity school. When the Colony of Connecticut retroactively punished itinerant preaching in 1743, Wheelock was among those who lost his salary. Thus, in 1743, he began operating a grammar school to support himself. He was joined that December by Samson Occom, a Mohegan Indian, who sought out an education in hopes of becoming a teacher among his people. Occom's academic success inspired Wheelock to train Native Americans as missionaries. To that end, he opened Moor's Indian Charity School in 1754 (where he continued to train Anglo-American students who paid their own way as well as students who functionally indentured themselves to Wheelock as missionaries in exchange for an education). Between 1754 and 1769, when he relocated to New Hampshire, Wheelock trained approximately 60 male and female Native American students from nearby Algonquian tribes and from the Haudenosaunee (Iroquois) of central New York. At the same time, he navigated the complicated politics of missionary societies by setting up his own board of the Society in Scotland for Propagating Christian Knowledge, although he continued to feud with the Boston Board of the SSPCK and the London Commissioners in Boston (more colloquially called the New England Company). By the late 1760s, Wheelock had become disillusioned with the idea of Native American education. He was increasingly convinced that educating Native Americans was futile (several of his students had failed to conform to his confusing and contradictory standards), and, in late 1768, he lost his connection to the Haudenosaunee. With his inclination and ability to sponsor Native American missionaries largely depleted, Wheelock sought instead to fulfill his ultimate ambition of obtaining a charter and opening a college, which he did in 1769. To fund this new enterprise, Wheelock drew on the £12,000 that Samson Occom had raised for Moor's Indian Charity School during a two-and-a-half year tour of Great Britain (1765 to 1768). Much of this money went towards clearing land and erecting buildings in New Hampshire for the Charity School's relocation — infrastructure that also happened to benefit Dartmouth. Many of Wheelock's contemporaries were outraged by what they saw as misuse of the money, as it was clear that Dartmouth College was not intended for Indians and that Moor's had become a side project. Although Wheelock tried to maintain at least some commitment to Native American education by recruiting students from Canadian communities, the move did a great deal of damage to his public image. The last decade of Wheelock's life was not easy. In addition to the problems of trying to set up a college far away from any Anglo-American urban center, Wheelock experienced the loss of relationships with two of his most famous and successful students, Samson Occom and Samuel Kirkland (an Anglo-American protégé). He also went into debt for Dartmouth College, especially after the fund raised in Britain was exhausted.
Fowler, Jacob
Jacob Fowler was a Montauk Indian whose life was dramatically shaped by Samson Occom, his brother-in-law. Occom taught Jacob when he was a child, and in 1762, Jacob followed his older brother David Fowler to Moor's. After three years he was approved as an usher in the 1765 examination, and in 1766 he went to assist Samuel Johnson at Canajoharie. He taught among the Six Nations until at least mid-1767. In early 1770, Occom procured him a job teaching at Mushantuxet through the Boston Board of the Society in Scotland for Propagating Christian Knowledge. Jacob taught and preached among the Pequots at Mushantuxet and Stonington until 1774, when Wheelock hired him to teach at Moor's, which had relocated to Hanover, NH as a complement to Dartmouth College. During this time, Jacob also assisted Joseph Johnson with efforts to rally the New England Christian tribes for a move to Oneida territory (the Brothertown Movement). By 1776, there were no Indians enrolled in Moor's and Jacob moved on to serve Governor John Trumbull of CT as a messenger to the Six Nations during the Revolution. After the Revolution, he continued organizing the Brothertown Movement and was among those who initially emigrated in 1784. He was elected clerk at Brothertown, and died sometime in the spring of 1787.