Joseph Johnson, letter, to Andrew Oliver, 1773 October 10
ms-number: 773560
abstract: Johnson writes to Oliver about his service among the Farmington Indians, and requests funds to pay off his debts.
handwriting: Handwriting is small, but mostly formal and clear.
paper: Large sheet folded in half to make four pages is in fair-to-poor condition, with moderate-to-heavy staining, creasing and wear that results in a minor loss of text.
ink: Dark-brown ink is faded, heavily in spots.
noteworthy: An editor, likely 19th-century, has added the note "Jos. Johnſon's letter to Commiſsrs Oct. 10. 1773. ." to two verso. This note has not been included in the transcription.
---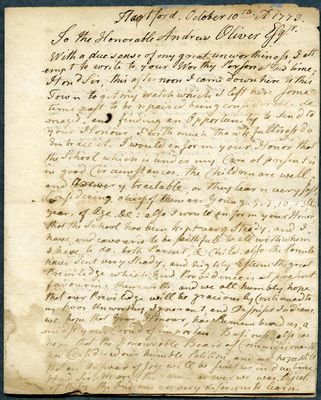 (View Page Image)
Hartford

. October 10

th.

AD 1773.

To the Honorable

Andrew Oliver

Eſq

r.



With a due sense of my great unworthineſs, I att
‐empt to write to your Worthy Perſon at this time;
Hon
d
Sir, this afternoon I came down here to this
Town to get my watch which I left here ſome
time paſt to be repaired being conſiderable da‐
‐maged. and finding an Opportunity to Send to
your Honour, I with much thankfullneſs do
Embrace it. I would enform your Honor that
the School which is under my Care at preſent is
in good Circumſtances. the Children are well;
and
learn
Are very tractable; or they learn very faſt,
Conſidering chief of them are young, 5, 7, 10, 13
[illegible]
years of Age. &c: alſo I would enform your Honor,
that the School has been kept very Steady, and I
have endeavoured to be faithfull to all with whom
I have to do. both Parent, & Child. alſo the Parents
have Sent very Steady, and highly Eſteem the great
Previledge which Kind Providence is at preſent
favouring them with. and we all humbly hope
that our Previledge will be graciously Continued to
us poor Unworthy, Ignorant, and Deſpiſed Indians.
we hope that Your Honour, has Remembered us, a‐
‐midſt your Croud of important Buſineſs. alſo we
hope that the
Honourable Board of Commiſsionaries
has Conſidered our humble Petition, and we hope still
that an Anſwer of Joy will be ſent us in due time.
Hon
d
Sir. We are the Same as ever we was. Objects
of Pity. the Indians are very deſireous to learn.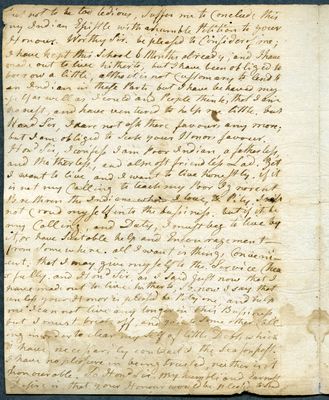 (View Page Image)
[gap: worn_edge]
[guess: b]
ut not to be too tedious, Suffer me to Conclude this
my Indian Epiſtle with ahumble Petition to your
Honour. Worthy Sir. be pleaſed to Conſider of me;
I have kept this School 6 Months already, and I have
made out to live hitherto, but I have been obliged to
borrow a little; altho it is not Cuſtomary to lend to
an Indian in theſe Parts, but I have behaved my
‐ſelf as well as I could and People think, that I am
no
[illegible]
[guess: r]
eſt, and have ventured to help me little. but
H
[illegible]
on
d
Sir, I dare not aſk there favours any more;
but I am obliged to Seek your Honors favour.
Hon
d
Sir, I confeſs I am Poor Indian, a fatherleſs,
and Motherleſs, and almoſt friendleſs Lad. Yet
I want to live and I want to live honeſtly. if it
is not my Calling to teach my Poor Ignorant
Brethren the Indians whom I love, & Pity. I
[illegible]
[guess: will]
not Croud myſelf into the buſsineſs. but if it be
my Calling, and Duty, I muſt beg to live by
it, or have Suitable help and Encouragement —
from Some where. all I want is things Conveni‐
‐ent. that I may give myſelf to the Service Chea
‐rfully. and Hon
d
Sir, as I Said Juſt now that I
have made out to live hitherto, So now I say that
unleſs your Honor is pleaſed to Pity me, and help
me I can not live any longer in this Buſsineſs
but I must break off, and go into Some other Call‐
‐ing in order to clear my Self of little Debt, which
I have neceſsarily contracted the Seaſon paſt.
I have no pleaſure in being trusted, neither is it
honourable. So Hon
d
Sir. my humble and Earneſt
Deſire is that your Honour would be pleaſed to Send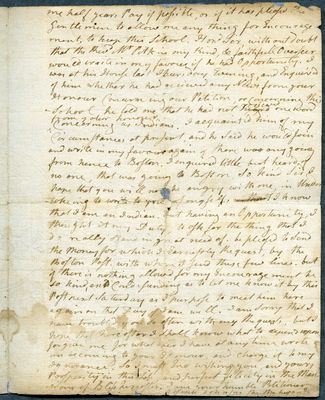 (View Page Image)
me half years Pay if poſsible, or if it has pleaſed the
Gentlemen to allow me any thing for Encourage‐
ment, to keep this School. Hon
d
Sir, without doubt
that the Rev
d
M

r

Pitkin
my Kind, & faithfull Overſeer
would write in my favour if he had Opportunity. I
was at his Houſe last Thursday Evening, and Enquired
of him whether he had recieved any News from your
Honour Concerning our Petition, or Concerning this
School he told me that he had not
heard
⇑
recieved
one word
⇑
from your honour
Concerning us Indians. I acquainted him of my
Circumſtances at preſent, and he Said he would Join
and write in my favour again if there was any going
from hence to
Boſton
. I enquired little but heard of
no one, that was going to
Boſton
. So kind Sir I
hope that you will no
[gap: hole]
[guess: t]
be angry with me in Under
‐takeing to write to you of myſelf.
without
I know
that I am an Indian. but having an Opportunity, I
thought it my Duty, to aſk for the thing that I
do really Stand in great need of. be pleaſed to Send
the Money for which I Earneſtly Request, by the
Boſton
Poſt. with whom I ſend these few lines. but
if there is nothing allowd for my Encouragement be
so kind, an
[illegible]
d Condeſcending as to let me know it by
Poſt next Saturday as I purpoſe to meet him here —
again on that Day if I am well. I am Sorry that I
have troubled you So often with my Requests, but I
hope that hereafter I Shall know what to depend upon
forgive me for what ever I have at any time wrote
un becoming to your Honour, and charge it to my
Ignorance. So I muſt End wiſhing you, and yours
Proſperity in this Life, and perfect felicity in the Man‐
‐sions of Bliſs hereafter.
I am your humble Petitioner



Joſeph Johnſon

the

Mohegan

In

[illegible]

[guess: d

n

]
(View Page Image)
To
[illegible]
[gap: stain]
[guess: Esq

r

]
Farmington Tribe
The Farmington Indians were the inhabitants of the Algonquian town of Farmington, CT. Before European contact, the Indians at Farmington were predominantly Tunxis. Disease and violence decimated the tribe and, by 1725, only 50 members survived. They were joined in the mid-18th century by members of the Quinnipiac, Sukiaugk, and Wangunck tribes, and the new group became known as the Farmington Indians. Farmington was one of the seven towns (along with Mohegan, Montauk, Niantic, Charlestown, Groton, and Stonington) that participated in the Brothertown movement, a composite tribe comprised of Algonquians from around the Long Island Sound that immigrated to Oneida territory in 1775, and again in 1783. Farmington was a predominantly Christian town. It was first evangelized by Rev. Samuel Whitman, a minister under the employ of the New England Company, who preached and taught at Farmington from 1732 until his death in 1751. Although Whitman's successor, Rev. Timothy Pitkin, did not pursue the mission with the same zeal, the Farmington Indians were more than capable of attending to their own religious needs. Farmington became an active participant in regional networks of Algonquian Christian worship, along with the six other settlements that eventually joined the Brothertown movement. Samson Occom preached there, and, in 1772, he introduced his soon-to-be son-in-law Joseph Johnson as a schoolteacher and preacher. Although Johnson only formally taught at Farmington for 10 weeks, he subsequently used the town as his base of operations for organizing the Brothertown movement. The Farmingtons were instrumental in Johnson's cause. They made up the bulk of immigrants in the aborted 1775 expedition (which then found shelter at Stockbridge, MA, where some Tunxis were already living) and, when Brothertown was re-founded in 1783, Elijah Wampy (a Farmington leader) formed part of the town's leadership. Some Farmington Indians remained at Farmington rather than immigrating to Brothertown. However, by the late 19th century, those Farmington Indians had emigrated, died out, or been assimilated.
Mohegan Tribe
The Mohegans are an Algonquian tribe located in New London County, Connecticut. The Mohegan Tribe spent most of the 18th century struggling to regain control over its territory from the colony of Connecticut in a protracted affair known as the Mason Land Case. The groundwork for the dispute was laid in 1659, when Uncas, the first Mohegan sachem after the tribe separated from the Pequot, entrusted the Tribe's lands to John Mason, an Anglo-American who had been Uncas' ally in the war against the Pequot. The following year, the colony of Connecticut persuaded Mason to transfer his stewardship of the Mohegan land to the colony. However, since Mason continued to act as trustee, it was unclear to what degree the colony was the tribe's legal steward. Nonetheless, in the 1690s, Connecticut began selling off the land specifically set aside for Mohegan use. The Tribe brought its first legal challenges in 1704, and the case was tried multiple times in the colonies and England before it was decided in favor of the colony in 1773. The case split the Mohegan Tribe into two camps and led to serious interference in tribal self-government. When the sachem Caeser died in 1723 (when his son Mahomet was too young to lead), the Tribe split over whether the new sachem should be Caesar's younger brother Ben Uncas, or John Uncas Jr., a more direct descendent of Uncas I. When Ben took the post, John gathered his supporters and moved half a mile down the road in protest. The Mohegans thus split into "Ben's Town" and "John's Town" (these designations correlated with the "sachem party" and the "Mason party," respectively). When Ben Uncas II, Ben Uncas I's son, became sachem in 1726, he maintained his family's shaky hold on power by allying himself with the colony of Connecticut. In an unstated quid pro quo, Ben Uncas II and his son, Ben Uncas III, did not pursue the Mason Case, and in return, they received favors and political support from the colony, which proved critical on multiple occasions when the Mohegans elected alternate sachems. The colony, meanwhile, got to parade a supposedly legitimate sachem in front of Anglo-American and British authorities as proof that the Mason party was composed of rabble rousers. Ben Uncas II and Ben Uncas III, as part of their project of tying themselves to the colony, worshiped at the Anglo-American parish in New London under the ministry of David Jewett, a minister sponsored by the New England Company, a powerful missionary organization. As a form of resistance to Jewett and, by extension, the sachem party, many Mohegans elected to worship with indigenous leaders such as Samson Occom and Samuel Ashpo. Jewett was none too pleased, and the affair drew the New England Company in on the side of the sachem party and inspired its backlash against Samson Occom and his mentor, Eleazar Wheelock, throughout the 1760s. Something of a resolution came in 1769, when Ben Uncas III died. At his funeral, the pallbearers (Occom included) dropped his coffin in front of the representatives from the Connecticut Assembly — a clear indication of what they thought of the company the sachem kept. The Tribe dissolved the office of sachem rather than instituting Ben Uncas III's son Isaiah (who died shortly afterwards, in 1770), but the damage had been done. The case was decided in favor of the colony in 1773. Samson Occom and Joseph Johnson, both Mohegan, were essential architects of the Brothertown movement, a coalition of Southern New England Algonquians that migrated to Oneida territory in 1775 and again in 1783. However, the majority of the Tribe did not emigrate, and today the Mohegan Tribe is federally recognized and still holds land in Connecticut.
The Company for Propagation of the Gospel in New England and the parts adjacent in America
The Company for Propagation of the Gospel in New England and the parts adjacent in America was a missionary society active in America from 1649 until 1786. It was first called the "New England Company" in 1770. Most secondary literature uses that name for convenience and to distinguish it from other missionary societies. The company was first chartered in 1649 as the "President and Society for the Propagation of the Gospel in New England," largely in response to John Eliot's missionary efforts. After the Restoration (1660), it was rechartered as the "Company for Propagation of the Gospel in New England and the parts adjacent in America." The New England Company was very powerful and influential, in large part because it was a coalition between Anglicans and Dissenters. It supported a range of missionaries from the Mayhews to the Sergeants to Moor's alumnus Samuel Kirkland. After the Revolution, the New England Company refocused its attentions on New Brunswick and Canadian Indians. Wheelock had a very rocky relationship with the New England Company. Initially, it supported Wheelock's efforts. The Company funded Occom's education at Moor's and paid him a small salary during his time among the Montauketts. However, from 1765 onwards, its relationship with Wheelock rapidly deteriorated. The Company opposed the fundraising tour of Great Britain and went so far as to interfere with it by sending a widely circulated letter to England questioning Occom's background. The New England Company also interferred with Titus Smith's mission to Onaquaga by sending a rival missionary, Mr. Moseley, and stealing Titus' interpreter, Elisha Gunn. In 1767 it formally withdrew its financial support from Wheelock on the grounds that the fundraising tour had raised sufficient money. It is unclear what led the New England Company to suddenly change its stance towards Wheelock. Perhaps it wanted exclusive power over missionary distribution in New England, or perhaps it was thought that focusing on education over numbers in the field was counterproductive. Most secondary sources have conflated the New England Company's Boston Board and the Society in Scotland for Promoting Christian Knowledge's Boston Board, an easy mistake to make since both are sometimes referred to as the Boston Board and both vigorously opposed Wheelock. Any secondary source's statement about either should be carefully researched.
Hartford
Hartford is the capital city of Connecticut, located in the central part of the state. The land that would become Hartford was first inhabited by the Saukiog Indians (Saukiog was also the name of a village on the Connecticut River) along with the Podunks to the east and the Tunxis to the west. The Dutch explorer Adriaen Block was the first European to visit Saukiog, and by the early 1620s, the Dutch had established a fort in the area. They brought with them a smallpox epidemic that killed many Native Americans. By the mid-17th century the Dutch, outnumbered by the English, had retreated south. In order to protect themselves against the powerful Mohawk and Pequot Indians, tribes around Saukiog allied with the English. By 1635, the Puritan preacher Thomas Hooker and one hundred of his followers moved into the area, first calling their new home Newtown but later changing it to Hartford after Hertford, England. In a 1638 sermon, Hooker claimed that the new Connecticut government should authorize itself according to the consent of the people, words that inspired Connecticut's Fundamental Orders, considered America's first written constitution. Missionaries began to preach to the Tunxis near Hartford in 1670. By 1734, Indians at Hartford requested and received English ministers for reading and religious instruction, and used the missionary interest in their community to their advantage in several ways. Minister Samuel Woodbridge reported that Indians at Hartford would attend his church and learn to read if they had the proper clothing, and the New England Company sent blankets and primers as encouragement. Hartford served as the meeting place for Congregational ministers associated with Wheelock and his School to examine the acceptability of Native missionaries, such as Mohegan minister Samuel Ashpo. In 1775, Joseph Johnson went to the Hartford Assembly to deliver letters declaring the allegiance to the colonists of the Indians who had moved to upstate New York.
Boston
The first English immigrant to settle on a peninsula in a harbor on the northeastern coast of North America the local Algonquin Indians called "Shawmet" was William Blackstone in 1629. A year later, John Winthrop arrived with a group of English Puritans and other settlers and named the area Boston after his hometown in Lincolnshire, England. The colony quickly developed representative political institutions that would help shape a democratic nation. Over the next few centuries, Boston emerged as an intellectual and educational center, and, because of its excellent harbor, became a leading commercial hub and a primary port for North America. It is the capital and largest city of the Commonwealth of Massachusetts, and the largest city in New England. Boston was the home for the Boards of Commissioners of several overseas religious societies who sent missionaries throughout the colonies in the 18th century, and was the site of many important events of the American Revolution.
Johnson, Joseph
Joseph Johnson was a Mohegan who studied at Moor's Indian Charity School and became one of the most important organizers of the Brothertown Movement (a composite tribe composed of Christian members of seven Southern New England Algonquian settlements). He was a prolific writer and his papers are relatively well-preserved. Johnson's writing is especially noteworthy for his skillful use of Biblical allusion and his awareness of the contradiction that he, as an educated Native American, presented to white colonists. Johnson arrived at Moor's in 1758, when he was seven years old, and studied there until 1766, when he became David Fowler's usher at Kanawalohale. He continued teaching in Oneida territory until the end of 1768, when Samuel Kirkland sent him home in disgrace for drunkeness and bad behavior. After a stint teaching at Providence, Rhode Island, and working on a whaling ship, Johnson returned to Mohegan in 1771 and became a zealous Christian. He opened a school at Farmington, CT, in 1772, for which he seems to have received some minimal support from the New England Company. From his base at Farmington, he began organizing Southern New England Algonquians for the Brothertown project. The goal was to purchase land from the Oneidas, the most Christianized of the Six Nations, and form a Christian Indian town incorporating Algonquian and Anglo-American elements. Johnson spent the rest of his short life garnering necessary support and legal clearance for the Brothertown project. Johnson died sometime between June 10, 1776 and May 1777, at 25 or 26 years old, six or seven years before Brothertown was definitively established in 1783. He was married to Tabitha Occom, one of Samson Occom's daughters. She lived at Mohegan with their children even after Brothertown's founding, and none of their children settled at Brothertown permanently. Like most of Wheelock's successful Native American students, Johnson found that he could not satisfy his teacher's contradictory standards for Native Americans. Although Johnson's 1768 dismissal created a hiatus in their relationship, Johnson reopened contact with Wheelock after his re-conversion to a degree that other former students, such as Samson Occom, David Fowler, and Hezekiah Calvin, never did.
Oliver, Andrew
Andrew Oliver was an influential Boston merchant and politician, who was a member of several societies that funded Eleazar Wheelock, including the Boston Board of the New England Company (treasurer) and Massachusetts General Assembly (secretary). Oliver played an important political role in pre-Revolutionary Massachusetts and, as a firm advocate of Indian missions, attended multiple conferences with Indian tribes. He believed that Anglican and Dissenter missionaries and societies could cooperate, and after Oliver and Wheelock were introduced in 1756, Oliver helped Wheelock access funding from the New England Company, the Massachusetts Assembly, and the Boston Board of the Society in Scotland for Propagating Christian Knowledge. Their relationship deteriorated, however, when the London Board of the New England Company turned against Wheelock late in 1765. Wheelock became aware of the London Board's change of heart through the "Oliver letter," a letter purportedly written by Oliver (actually written by Ebenezer Pemberton) that was "injurious" to the characters of Wheelock, Whitaker, and Occom. In 1765, Wheelock also lost his funding from the Massachusetts Assembly. It is unclear what role Oliver played in these events. On the one hand, the breach between Wheelock and the New England Company coincided with the collapse of Oliver's political career over his attempts to enforce the Stamp Act. Oliver may have been too preoccupied to be involved in the London Board's change of heart; after all, Boston mobs were burning him in effigy. On the other hand, if Oliver was not involved, it is more difficult to explain why his correspondence with Wheelock ended abruptly in 1767 or why Wheelock lost funding from the Assembly and the London Board at the same time. Oliver would be the obvious link; but of course, Wheelock had many detractors in Boston and another explanation is certainly possible.