Eleazar Wheelock, letter, to John Thornton, 1773 February 22
ms-number: 773172.1
abstract: Wheelock informs Thornton of Occom's activities, including that Occom has had a sermon, preached at the execution of an Indian, printed. He also notes that he has drawn more money on Thornton, and mentions his petitions to the King for more land.
handwriting: Aside from the trailer, the letter is not in Wheelock's hand; the informal handwriting appears to be that of Solomon Williams.
paper: Single sheet is in good condition, with light staining, creasing and wear.
ink: Brown-black.
noteworthy: This document is almost certainly a copy. When Wheelock refers to "this school," he is likely referring, for the benefit of Thornton, to Moor's Indian Charity School and not Dartmouth College.
---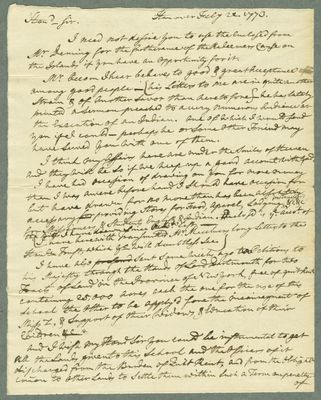 (View Page Image)
Hanover
Feb

y

22. 1773.

Hon

d

ſir.

I need not deſire you to uſe the encloſed from
M.

r

Deming
for the furtherance of the Redeemers Cauſe on
the Islands if you have an opportunity for it.
M.

r

Occom
I hear behaves to good & great Acceptance
of
among good people — (his Litters to me are in quite another
strain & of Another savor than heretofore) — he has lately
printed a Sermon preached to a very numerous Audience at
the Execution of an Indian. One of which I would ſend
you if I could — perhaps he or Some other Friend may
have Served you with one of them.
I think my Affairs here are under the Smiles of Heaven
and they will be So if we keep up a good account with God.
I have had occaſion of drawing on you for more money
than I was aware beforehand I should have occaſion for
but have drawn for no more than has been abſolutely
neceſsary
for
providing stores for Food, aparel, Lodging,
⇑
instructors
&c &c
for Miſsioners, & students Engliſh & Indian.
H
Encloſed is y.
e
acco.
t
of
the Bills I have drawn since
[illegible]
Oct.
r
laſt —
(I have herewith Tranſmitted
M.

r

Maccluers
long Letters to
the
Hon

le

Truſt
, which y.
o
will doubtleſs see.)
I have also
pr

[illegible]

[guess: o]

ferred
Sent Some weeks ago
[illegible]
two Petitions to
his Majeſty
through the Hands of
Lord Dartmouth
for two
Tracts of Land in the
Province of New York
, free of quit Rent
containing 25,000 acres each the one for the use of this
school the other to be apply'd fore the incouragement of
Miſs
[illegible]
[guess: rs]
& Support of their widows & Education of their
Children &c
And I wiſh my Hond Sir you could be inſtrumental to get
All the Lands given to this School and the officers of it
diſcharged from the Burden of Quit Rent, and from the obligat
n
com̅on to other Lands to Settle them within such a Term on penalty
of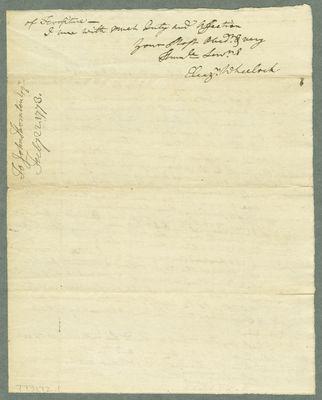 (View Page Image)
of Forfiture —
I am with much Duty and Affection
Your Moſt Obed.
t
& very
Hum
le
Serv.
t
[illegible]
Eleaz.

r

Wheelock
To
John Thornton
Esq
r
Feb

y

22. 1773.
Moor's Indian Charity School
Moor's Indian Charity School was a grammar school for Native Americans that Eleazar Wheelock opened in North Lebanon, Connecticut in 1754. The school was named for Colonel Joshua Moor, also spelled More, who donated the land and school building. Moor's was essentially an expansion of the grammar school that Wheelock opened in 1743 to support himself during the fallout from the First Great Awakening, when Wheelock, who'd participated in itinerant ministry during the Awakening, had his salary confiscated by the colony of Connecticut. In December of that year, Samson Occom asked Wheelock to teach him as well. Wheelock's work with Occom was so successful that Wheelock decided to replicate the experiment with other Native American boys. He accepted his first Indian students in 1754, and in 1761 began taking female students as well. Wheelock believed that in time, his school would become just one part of a larger missionary enterprise. He planned to send his Anglo American and Native American students to various tribes as missionaries and schoolmasters, with explicit instructions to pick out the best students and send them back to Moor's to continue the cycle. His ultimate goal was to turn his school into a model Christian Indian town that would include farms, a college, and vocational training. However, Wheelock's grand design did not survive the decade. Wheelock lost the vast majority of his Native American students; he fought with many of the best, including Samson Occom, Joseph Johnson, David Fowler, and Hezekiah Calvin, and other former and current students accused him of subjecting Native Americans to disproportionate amounts of manual labor. In 1769, perhaps due to concerns about corporal punishment, the Oneida withdrew all their children from Moor's. When Wheelock relocated to Hanover in 1769, only two Native American students came with him, and it became clear that Wheelock's focus was on Dartmouth and that Dartmouth was for white students. After Wheelock's death in 1779, Moor's Indian Charity School receded further into the background as John Wheelock, his father's reluctant successor, stopped taking Indian students. Some Native American students were enrolled in Moor's until 1850, when the school unofficially closed.
Dartmouth College
Dartmouth College is small liberal arts institution in Hanover, New Hampshire. It has about four thousand undergraduate students taking courses in Arts and Sciences, and another two thousand in graduate schools in the Sciences, Comparative Literature, and Liberal Studies, as well as the Geisel School of Medicine, the Thayer School of Engineering, and the Tuck School of Business. It is a member of the Ivy League, and the ninth oldest institution of higher learning in the U.S. The charter establishing the College was signed in 1769 by John Wentworth, Royal Governor of New Hamsphire, who wanted an academy of higher learning in the colony. Its founder, Eleazar Wheelock, was a Congregational minister from Connecticut who, after his success in educating Samson Occom as a school teacher and Indian missionary in the 1740's, started Moor's Indian Charity School in 1754 to continue what he regarded as a divine mission to educate Native boys and girls to become missionaries. As the school grew, Wheelock began looking for a new location closer to Indian Country where he could expand. But in the 1760's he became disillusioned by the relative failure of his progam and began turning his attention to the education of Anglo-American men as missionaries. After a protracted search, he secured the royal charter in New Hampshire and in 1769 moved his family and base of operations to Hanover, where he established the College. It is named for William Legge, 2nd Earl of Dartmouth, who contributed to the funds raised by Occom and Whitaker on their fund-raising tour of Great Britain in 1766-68 and became a member of the London Trust that administered those funds. The College's charter announced its purpose as "the education and instruction of youth of the Indian tribes in this land [in] all parts of learning which shall appear necessary and expedient for civilizing and christianizing children of pagans…, and also of English youth and any others." But Wheelock's priorities were, in reality, the reverse. While he gave public notice in 1770 that "My Indian charity school … is now become a body corporate and politic, under the name of DARTMOUTH COLLEGE," he created this parallel structure to allow him to use the funds that were collected specifically for the education of Indians. Only around 75 Native students enrolled at the College before 1972, when it rededicated itself to educating Indians and established the Native American Studies Program. This is also the year Dartmouth went co-ed. Occom was angry and embittered at Wheelock's abandonment of his "great design," for which he had sacrificed so much. Their relations cooled after Occom's return from England, and he never visited his mentor again, or, for that matter, Dartmouth College.
Trust in England
The Trust in England was an organization formed in 1766 to safeguard money raised by Samson Occom and Nathaniel Whitaker on their fundraising tour of Great Britain. Initially, no trust had been planned, but less than a year into their trip, Occom and Whitaker had raised so much money it became clear that a trust was necessary to keep the money raised reputable and thus protect the images of those involved. On November 28, 1766, a trust was formed consisting of William Legge (the Earl of Dartmouth), Baron Smyth, John Thornton, Samuel Roffey, Charles Hardey, Daniel West, Samuel Savage, Josiah Robarts, and Robert Keen. These men all had prominent public reputations, and by association provided a guarantee that funds would be used for the purposes for which they had been given. All told, Occom and Whitaker raised nearly £10,000 (not including £2,000 in Scotland, which was put under the control of the Society in Scotland for Propagating Christian Knowledge), a far greater sum than initially projected. The amount raised attracted intense public scrutiny and, given that its members had tied their reputations to the money's collection and maintenance, the trust became enormously concerned with how Wheelock would employ it. Despite a minor scandal involving an impolitic and ultimately abandoned plan to transmit funds to America by buying trade goods and selling them at a profit, Wheelock and the English Trust managed to avoid any serious breach until March 1770, when Wheelock informed the men in England that he had obtained a charter for Dartmouth College. Wheelock had tried to get a charter for Moor's Indian Charity School in Connecticut throughout the late 1750s and early 1760s, and there were two components to his plan: he wanted to move the school to a place where he could have room to expand, and he wanted to obtain a charter to open a college. The English Trust supported the first goal, but not the second, as a charter would interfere with its control of the funds. Wheelock was determined to have his charter, however, and when the time came, he told the English Trust only about his plan to move. The trust helped Wheelock select New Hampshire as the site for his relocation, but it did not learn about the charter -- granted by New Hampshire governor John Wentworth, with whom Wheelock had been secretly negotiating -- until more than three months after it had been issued. Adding insult to injury, Wheelock, without consultation, named the college after Lord Dartmouth, informing the man himself after the fact. (After the charter was issued, Dartmouth never wrote to Wheelock again.) The members of the English Trust were outraged; to placate them, Wheelock made superficial motions to keep Moor's and Dartmouth separate, though in practice the institutions were one and the same. Despite its displeasure, the English Trust continued to honor Wheelock's requests for money until 1775, when the fund ran out. It also drew from the fund to support Occom, whom it believed Wheelock had mistreated, and Kirkland, whom it saw as more faithful to the design of Christianizing Indians than Wheelock. Once the fund ran out, Thornton and Savage continued to provide Wheelock with some financial assistance when he found himself in debt.
Hanover
Hanover is a town in Grafton County, New Hampshire, which is located along the Connecticut River in the west-central area of the state, originally occupied by the Abenaki Tribe. It was chartered by Governor Benning Wentworth in 1761 as "Hannover," and four years later, European settlers arrived, mostly from the colony of Connecticut. Although heavily wooded, Hanover became an agricultural community. In 1769, Eleazar Wheelock established Dartmouth College near the Common at a village called "the Plain," a level tract of land about a mile above the River. For a few years in the 1780s, the southwest corner of the town, called "Dresden," along with several other disgruntled villages along the River who felt they were not being adequately represented in the state legislature, defected from New Hampshire and joined the independent Republic of Vermont. The village of Hanover, not to be confused with Hanover Center, another village located in the center of the township, grew up around the College and became the locus for the Presbytery of Grafton.
Wheelock, Eleazar
Eleazar Wheelock was a New Light Congregationalist minister who founded Dartmouth College. He was born into a very typical Congregationalist family, and began studying at Yale in 1729, where he fell in with the emerging New Light clique. The evangelical network that he built in college propelled him to fame as an itinerant minister during the First Great Awakening and gave him many of the contacts that he later drew on to support his charity school for Native Americans. Wheelock's time as an itinerant minister indirectly brought about his charity school. When the Colony of Connecticut retroactively punished itinerant preaching in 1743, Wheelock was among those who lost his salary. Thus, in 1743, he began operating a grammar school to support himself. He was joined that December by Samson Occom, a Mohegan Indian, who sought out an education in hopes of becoming a teacher among his people. Occom's academic success inspired Wheelock to train Native Americans as missionaries. To that end, he opened Moor's Indian Charity School in 1754 (where he continued to train Anglo-American students who paid their own way as well as students who functionally indentured themselves to Wheelock as missionaries in exchange for an education). Between 1754 and 1769, when he relocated to New Hampshire, Wheelock trained approximately 60 male and female Native American students from nearby Algonquian tribes and from the Haudenosaunee (Iroquois) of central New York. At the same time, he navigated the complicated politics of missionary societies by setting up his own board of the Society in Scotland for Propagating Christian Knowledge, although he continued to feud with the Boston Board of the SSPCK and the London Commissioners in Boston (more colloquially called the New England Company). By the late 1760s, Wheelock had become disillusioned with the idea of Native American education. He was increasingly convinced that educating Native Americans was futile (several of his students had failed to conform to his confusing and contradictory standards), and, in late 1768, he lost his connection to the Haudenosaunee. With his inclination and ability to sponsor Native American missionaries largely depleted, Wheelock sought instead to fulfill his ultimate ambition of obtaining a charter and opening a college, which he did in 1769. To fund this new enterprise, Wheelock drew on the £12,000 that Samson Occom had raised for Moor's Indian Charity School during a two-and-a-half year tour of Great Britain (1765 to 1768). Much of this money went towards clearing land and erecting buildings in New Hampshire for the Charity School's relocation — infrastructure that also happened to benefit Dartmouth. Many of Wheelock's contemporaries were outraged by what they saw as misuse of the money, as it was clear that Dartmouth College was not intended for Indians and that Moor's had become a side project. Although Wheelock tried to maintain at least some commitment to Native American education by recruiting students from Canadian communities, the move did a great deal of damage to his public image. The last decade of Wheelock's life was not easy. In addition to the problems of trying to set up a college far away from any Anglo-American urban center, Wheelock experienced the loss of relationships with two of his most famous and successful students, Samson Occom and Samuel Kirkland (an Anglo-American protégé). He also went into debt for Dartmouth College, especially after the fund raised in Britain was exhausted.
Williams, Solomon
Solomon Williams was a Congregationalist pastor in Lebanon, CT from 1722 until his death in 1776. As pastor at Lebanon, Williams rose to prominence as a theologian and engaged in extensive correspondence and debate with some of the most eminent minds of the day. He was one of the rare truly moderate New Lights during the Great Awakening: he managed to maintain the respect of both Charles Chauncy, the rabid anti-revivalist, and George Whitefield, the famous evangelical. Williams also established a library in Lebanon and a very well-known grammar school, which became something of a feeder for Yale. Williams supported Eleazar Wheelock and Moor's Indian Charity School through much of the 1750s and 1760s. He was something of a mentor to Samson Occom, and he became president of Wheelock's Connecticut Board of the Society in Scotland for Propagating Christian Knowledge (SSPCK). It is unclear why Williams is not named as a trustee of Moor's in Wheelock's 1768 will; perhaps Wheelock feared that Williams would not outlive him. Williams continued to run the Connecticut Board even after Wheelock relocated to New Hampshire in 1770. Despite the SSPCK's disappointment in Wheelock, Williams and Wheelock seem to have remained on cordial terms. Their correspondence ceased in 1772, after Wheelock tried (and failed) to open a New Hampshire Board to replace the one in Connecticut (with, it might be added, the Connecticut Board's blessing).
Thornton, John
John Thornton was born in Yorkshire on April 1, 1720. As a young man, Thornton inherited money from his father Robert Thornton, who was the Director of the Bank of England, which he used to begin his career as a merchant. In 1753, Thornton married Lucy Watson, with whom he had four children. Watson had a Christianizing influence on Thornton, which ultimately led to his 1754 conversion to evangelical Anglicanism under Henry Venn, the curate of Clapham. Thornton's and Venn's sons would continue their fathers' religious traditions, going on to form the "Clapham sect," an influential group of evangelical Christians who championed social reforms. As a result of his conversion, Thornton pursued charity just as much as trade, a major part of which involved managing the English Trust that oversaw the funds Occom and Whitaker collected for Wheelock's Indian Charity School. Thornton met and hosted Occom several times during his stay in England, and eventually became the Treasurer of the Trust. After Wheelock moved the School to Hanover, however, he focused on the establishment of Dartmouth College to educate Anglo-American men as missionaries, and was accused of using the Trust's funds to this end. This shift in focus contributed to the rift that developed between Occom and Wheelock upon Occom's return to America –- a rift Thornton tried to repair. Thornton thought of Occom as an equal and, in his role as Treasurer of the Trust, often reminded Wheelock of Occom's vital role in securing the funds that made the School possible. Thornton financed Occom's further missionary activities and insured that Wheelock did not forget Occom's hard work and Christian morals. In addition, Wheelock –- who knew that Occom respected Thornton –- often called upon the merchant when he himself could not convince Occom to undertake further missionary activity. The exchanges between Wheelock and Thornton ended once Wheelock had used up the funds that Occom had raised in England, yet Occom and Thornton kept in touch up through the Revolutionary War, with Thornton remaining one of Occom's most prominent supporters. He died on November 7th, 1790 as one of the wealthiest men in England, despite giving away nearly half his salary each year. In 1828, Thornton's role in the establishment of Dartmouth was memorialized in the College's naming of Thornton Hall.
Occom, Samson
Samson Occom was a Mohegan leader and ordained Presbyterian minister. Occom began his public career in 1742, when he was chosen as a tribal counselor to Ben Uncas II. The following year, he sought out Eleazar Wheelock, a young Anglo-American minister in Lebanon, CT, in hopes of obtaining some education and becoming a teacher at Mohegan. Wheelock agreed to take on Occom as a student, and though Occom had anticipated staying for a few weeks or months, he remained with Wheelock for four years. Occom's academic success inspired Wheelock to open Moor's Indian Charity School in 1754, a project which gave him the financial and political capital to establish Dartmouth College in 1769. After his time with Wheelock, Occom embarked on a 12-year mission to the Montauk of Long Island (1749-1761). He married a Montauk woman, Mary Fowler, and served as both teacher and missionary to the Montauk and nearby Shinnecock, although he was grievously underpaid for his services. Occom conducted two brief missions to the Oneida in 1761 and 1762 before embarking on one of the defining journeys of his career: a fundraising tour of Great Britain that lasted from 1765 to 1768. During this journey, undertaken on behalf of Moor's Indian Charity School, Occom raised £12,000 (an enormous and unanticpated amount that translates roughly to more than two-million dollars), and won wide acclaim for his preaching and comportment. Upon his return to Mohegan in 1768, Occom discovered that Wheelock had failed to adequately care for his family while he was gone. Additionally, despite the vast sums of money that he had raised, Occom found himself unemployed. Wheelock tried to find Occom a missionary position, but Occom was in poor health and disinclined to leave his family again after seeing the treatment with which they had met while he was in Britain. Occom and Wheelock's relationship continued to sour as it became apparent to Occom that the money he had labored to raise would be going towards infrastructure at Dartmouth College, Wheelock's new project, rather than the education of Native Americans. After the dissolution of his relationship with Wheelock, Occom became increasingly focused on the needs of the Mohegan community and increasingly vocal in criticizing Anglo-Americans' un-Christian treatment of Native Americans. In September of 1772, he delivered his famous "Sermon on the Execution of Moses Paul," which took Anglo-American spiritual hypocrisy as one of its major themes, and which went into four printings before the end of the year. In 1773, Occom became further disillusioned when the Mason Land Case was decided in favor of the Colony of Connecticut. The details of the Mason Case are complicated, but to summarize: the Colony of Connecticut had gained control of Mohegan land early in the 18th century under very suspect circumstances, and successfully fended off the Mohegan's 70-year-long legal challenge. The conclusion of the case came as a blow to the Mohegans, and further convinced Occom of Anglo-American corruption. Along with David Fowler (Montauk Tribe), Occom's brother-in-law, and Joseph Johnson (Mohegan), Occom's son-in-law, Occom helped found Brothertown, an Indian tribe formed from the Christian Mohegans, Pequots, Narragansetts, Montauks, Tunxis, and Niantics. They eventually settled in Oneida country in upstate New York. Occom moved there with his family in 1789, spending the remaining years of his life serving as a minster to the Brothertown, Stockbridge, and Mohegan Indians. Harried by corrupt land agents, the Brothertown and Stockbridge groups relocated to the eastern shore of Lake Winnebago, though Occom died in 1792 before he could remove himself and his family there. Occom's writings and legacy have made him one of the best known and most eminent Native Americans of the 18th century and beyond.
Frederick, George William
George William Frederick (King George III) became heir to the throne of England in 1751 upon the death of his father Frederick, Prince of Wales. He became King George III of England in the fall of 1760 at age 22, following the death of his grandfather King George II. George III passed many important edicts during his reign including that of the Royal Marriage Act of 1772; the Treaty of Paris in 1762, which ended the Seven Years War; the Stamp Act of 1765; and the Townshend Duties of 1767. However, he is most well-known for being the reigning monarch during the Revolutionary War. After the surrender of British forces to the Americans in 1782, George III considered abdicating the throne, but chose not to do so because he felt it would be too detrimental to Britain. The last 30 years of George's life were plagued with illness. In 1788 he had the first of many attacks of insanity, now believed to have been caused by an inherited disease known as porphyria. With George III unfit to rule, it was decided that his son George would become regent, an arrangement which was made permanent in 1810. King George III died on January 29, 1820 at the age of 81 after a reign of nearly 60 years (the third longest in British history). He was succeeded by his son George IV.
Legge, William
William Legge, the second Earl of Dartmouth, was the reluctant namesake of Dartmouth College. Like many of his countrymen, Legge became involved in Eleazar Wheelock's plans through George Whitefield, the famous evangelical who introduced Samson Occom and Nathaniel Whitaker to Legge shortly after the pair's February 1766 arrival in London. Legge proved critical in promoting Occom's tour among the nobility, and took on a logistical role by helping to collect and oversee donations. Although Legge and Whitefield both felt it would be best if Wheelock were in total control of the funds raised in England, Occom eventually collected so much money that a formal trust was necessary to preserve propriety. This trust was formed in late 1766, with Legge as its president, to guarantee that Wheelock used the money appropriately. It soon proved that the Trust and Wheelock had different ideas as to what was, in fact, appropriate, but they were largely able to cooperate until 1769, when Wheelock obtained a charter for his school without informing the trust. (The trust, feeling that a charter would obviate its control over the British funds, had vehemently opposed it.) Adding insult to injury, Wheelock named the resulting institution Dartmouth—again without consulting Legge, and perhaps more to reassure the multitudes who had donated money than to honor the Earl. Legge never wrote to Wheelock again. Outside of his involvement with Wheelock, Legge had a brief political career. Although he was generally more concerned with religious and philanthropic matters, his station and connections (he was the step-brother of Frederick North, who was prime minister from 1770 to 1782) led him to take his first political post in 1765 as a member of the Board of Trade. During his tenure (1765-1767), and again while he was Secretary of State for the Colonies (1772-1775), Legge's search for cooperative solutions proved unsuccessful during the build-up to the Revolution. His later positions were primarily ceremonial.
McClure, David
David McClure was an Anglo-American charity scholar at Moor's Indian Charity School. He went on to become a minister, and remained exceptionally loyal to Eleazar Wheelock throughout his life. McClure is important as a primary source on Moor's Indian Charity School: his diary (more accurately, an autobiography that he composed between 1805 and 1816) includes eyewitness accounts of the school, Samson Occom's home life, and Separatist worship among the Charlestown Narragansett. McClure also became Wheelock's first biographer (Memoirs of the Reverend Eleazar Wheelock, 1811). McClure was a typical charity scholar, in that he attended Moor's primarily to obtain an education that his family could not have afforded otherwise. After a year at Moor's, McClure enrolled in Yale, where he attended sporadically between 1765 and September 1769, when he received his degree. After graduating, McClure kept school at Moor's (then in New Hampshire) for several years, until he undertook his only career mission in 1772. McClure was exceptionally ill-suited to the missionary business. He was a city boy from Boston, and was so unfit for farm labor at Moor's that Wheelock had him copy out correspondence instead. Aside from a brief 1766 foray into teaching at Kanawalohale under Samuel Kirkland's tutelage, McClure's only mission was an aborted sixteen month effort (1772-1773) to proselytize the Delaware of the Muskingum River, during which he spent far more time preaching to Anglo-American congregations. McClure had a long career as a minister, teacher, and writer. He remained close to Wheelock throughout his life: he married into Wheelock's family in 1780, served as a trustee of Dartmouth from 1778 until 1800, consistently informed Wheelock of Dartmouth's PR problems, and took Wheelock's side in his dispute with former charity scholar Samuel Kirkland.