Eleazar Wheelock, letter, to Samson Occom, 1772 June 16
ms-number: 772366
abstract: Wheelock urges Occom to go on the mission to Muskingum, adding that he has no doubt John Thornton will clear Occom of debt.
handwriting: Handwriting is small yet relatively clear, with some deletions and additions.
paper: Large single sheet is in fair condition, with moderate creasing, and water damage that results in some loss of text.
ink: Black-brown ink is somewhat faded.
noteworthy: An editor, likely 19th-century, has added notes to one recto; these notes have not been transcribed.
---
(View Page Image)
Hanover

June 16.

th

1772.

My dear M.

r

Occom.

The Proſpects of the preſent Miſsion which the
Bearers have now undertaken to
Muſkingham
appear
more & more
i
encouraging. and I am almoſt perſwaded
you will be fired with Such Zeal to help it forward as
will induce you to break through many & great Difficul-
-ties to embarke with them in it.
If you will conclude upon it and Set yourſelf to prepare
for it, they will do any thing they can do conſiſtantly
to help you forward. and I will give orders to
Capt

n


Backus
to let you have Such Cloathing, and Horſe &c &c
as Shall be Neceſsary for you or your family to the
amount of ₤50. pounds, which he will do at the cheapeſt
Rate it can be afforded at, and if you are now in the
arears as to Debt, pleaſe to let me know what it is and
I will recommend your Caſe to
Eſq.

r

Thornton
who I
doubt not will, agreable to what he has so kindly expreſsd
towards you, either clear you of Debt out of his private
Intereſt or See it done Some other way. — —
Who
⇑
[illegible]
knows my dear man what glorious things are
in the womb of Providence, & ready to be brought forth
by your Inſtrumentality. I have a precious number of
youths preparing for the Service, deſigned to follow one
another as fast as Doors shall be opened for them. and
who knows but that in a few years we may have a ſtring
of godly Miſsionaries & Schoolmaſters from
Muſkingham
to
Montreal
.
It Seems to me my dear Sir If I were at Liberty
from my Chains as you are & had your Color and
Tongue
s,
that the offer of Crowns and Kingdoms
would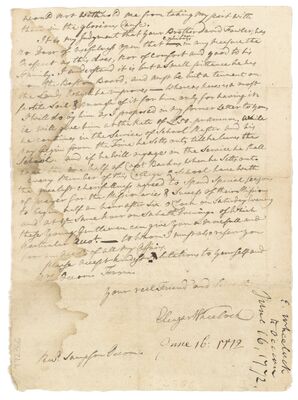 (View Page Image)
would not withold me from taking my part with
them in the glorious Cauſe.
It is my Judgment that your Brother
David Fowler
, has
no Door of usefulneſs open that
[illegible]
⇑
exhibits
in any meaſure the
Proſpect as this does, nor of comfort and good to his
Family. I underſtand it is but a Small pittance he has
from the
Boſton Board
, and muſt be but a tenant on
the Lands which he improves — Whereas here is a moſt
fertile Soil & enough of it for him only for having it.
I will do by him as I proposed in my former Letter to you,
ie will give him at the Rate of ₤50. p
r
annum, while
he continues in the Service of School Maſter and his
pay begin from the Time he Setts out, till he leaves the
School. and if he will ingage in the Service he ſhall
take
[gap: stain]
half of
Cap.

t

Backus
when he Setts out.
every Member of this
College
& School have with
the greateſt cheirfullneſs agreed to Spend Special ſeaſons
of prayer for the Miſsionaries & Succeſs of their Miſsions
to begin half an hour after Six o Clock on Saturday Evening
and at y
e
Same hour on Sabath Evening of which
theſe Young Gentlemen can give you a more full and
particular Acco.
t
— to whom I muſt also refer you
for an Acco.
t
of all my Affairs.
pleaſe accept kindeſt Salutations to yourſelf and

your real Friend and Serv

[gap: faded]

[guess: ant]
Eleazar Wheelock
Rev.

d

Sampſon Occom
.
June 16: 1772
The Company for Propagation of the Gospel in New England and the parts adjacent in America
The Company for Propagation of the Gospel in New England and the parts adjacent in America was a missionary society active in America from 1649 until 1786. It was first called the "New England Company" in 1770. Most secondary literature uses that name for convenience and to distinguish it from other missionary societies. The company was first chartered in 1649 as the "President and Society for the Propagation of the Gospel in New England," largely in response to John Eliot's missionary efforts. After the Restoration (1660), it was rechartered as the "Company for Propagation of the Gospel in New England and the parts adjacent in America." The New England Company was very powerful and influential, in large part because it was a coalition between Anglicans and Dissenters. It supported a range of missionaries from the Mayhews to the Sergeants to Moor's alumnus Samuel Kirkland. After the Revolution, the New England Company refocused its attentions on New Brunswick and Canadian Indians. Wheelock had a very rocky relationship with the New England Company. Initially, it supported Wheelock's efforts. The Company funded Occom's education at Moor's and paid him a small salary during his time among the Montauketts. However, from 1765 onwards, its relationship with Wheelock rapidly deteriorated. The Company opposed the fundraising tour of Great Britain and went so far as to interfere with it by sending a widely circulated letter to England questioning Occom's background. The New England Company also interferred with Titus Smith's mission to Onaquaga by sending a rival missionary, Mr. Moseley, and stealing Titus' interpreter, Elisha Gunn. In 1767 it formally withdrew its financial support from Wheelock on the grounds that the fundraising tour had raised sufficient money. It is unclear what led the New England Company to suddenly change its stance towards Wheelock. Perhaps it wanted exclusive power over missionary distribution in New England, or perhaps it was thought that focusing on education over numbers in the field was counterproductive. Most secondary sources have conflated the New England Company's Boston Board and the Society in Scotland for Promoting Christian Knowledge's Boston Board, an easy mistake to make since both are sometimes referred to as the Boston Board and both vigorously opposed Wheelock. Any secondary source's statement about either should be carefully researched.
Dartmouth College
Dartmouth College is small liberal arts institution in Hanover, New Hampshire. It has about four thousand undergraduate students taking courses in Arts and Sciences, and another two thousand in graduate schools in the Sciences, Comparative Literature, and Liberal Studies, as well as the Geisel School of Medicine, the Thayer School of Engineering, and the Tuck School of Business. It is a member of the Ivy League, and the ninth oldest institution of higher learning in the U.S. The charter establishing the College was signed in 1769 by John Wentworth, Royal Governor of New Hamsphire, who wanted an academy of higher learning in the colony. Its founder, Eleazar Wheelock, was a Congregational minister from Connecticut who, after his success in educating Samson Occom as a school teacher and Indian missionary in the 1740's, started Moor's Indian Charity School in 1754 to continue what he regarded as a divine mission to educate Native boys and girls to become missionaries. As the school grew, Wheelock began looking for a new location closer to Indian Country where he could expand. But in the 1760's he became disillusioned by the relative failure of his progam and began turning his attention to the education of Anglo-American men as missionaries. After a protracted search, he secured the royal charter in New Hampshire and in 1769 moved his family and base of operations to Hanover, where he established the College. It is named for William Legge, 2nd Earl of Dartmouth, who contributed to the funds raised by Occom and Whitaker on their fund-raising tour of Great Britain in 1766-68 and became a member of the London Trust that administered those funds. The College's charter announced its purpose as "the education and instruction of youth of the Indian tribes in this land [in] all parts of learning which shall appear necessary and expedient for civilizing and christianizing children of pagans…, and also of English youth and any others." But Wheelock's priorities were, in reality, the reverse. While he gave public notice in 1770 that "My Indian charity school … is now become a body corporate and politic, under the name of DARTMOUTH COLLEGE," he created this parallel structure to allow him to use the funds that were collected specifically for the education of Indians. Only around 75 Native students enrolled at the College before 1972, when it rededicated itself to educating Indians and established the Native American Studies Program. This is also the year Dartmouth went co-ed. Occom was angry and embittered at Wheelock's abandonment of his "great design," for which he had sacrificed so much. Their relations cooled after Occom's return from England, and he never visited his mentor again, or, for that matter, Dartmouth College.
Hanover
Hanover is a town in Grafton County, New Hampshire, which is located along the Connecticut River in the west-central area of the state, originally occupied by the Abenaki Tribe. It was chartered by Governor Benning Wentworth in 1761 as "Hannover," and four years later, European settlers arrived, mostly from the colony of Connecticut. Although heavily wooded, Hanover became an agricultural community. In 1769, Eleazar Wheelock established Dartmouth College near the Common at a village called "the Plain," a level tract of land about a mile above the River. For a few years in the 1780s, the southwest corner of the town, called "Dresden," along with several other disgruntled villages along the River who felt they were not being adequately represented in the state legislature, defected from New Hampshire and joined the independent Republic of Vermont. The village of Hanover, not to be confused with Hanover Center, another village located in the center of the township, grew up around the College and became the locus for the Presbytery of Grafton.
Muskingum County
Muskingum is a county in eastern Ohio that is divided by a river of the same name, which is derived from the Algonquian word for "by the river." The Shawnee, Wyandot, and Delaware Indians all lived in proximity to the Muskingum River. In 1772, Wheelock wanted Occom to accompany Levi Frisbie and David McClure on a mission to the Delaware Indians at Muskingum. Wheelock mistakenly thought this Tribe spoke Mohegan, Occom's language. More particularly, relations between Wheelock and Occom had soured after Occom returned from his fundraising tour of Great Britain to find his family in dire financial straits, and the School and Wheelock removed to New Hampshire with very few Native students. Wanting to help out Occom financially and get him away from the scandals in Mohegan (there were allegations of public drunkeness), Wheelock sent several letters to Occom urging him to undertake the mission to Muskingum, but they never arrived. When Frisbie and McClure visited Occom in Mohegan on their way out to Ohio, he protested that the short notice and family responsibilities prevented him from accompanying them, and never went on the mission. Nor would Frisbie and McClure make it all the way to Muskingum.
Montreal
Montreal is a city in the southwest of the province of Quebec in eastern Canada. Before the arrival of Europeans, present-day Montreal was an Haudenosaunee (Iroquois) village called Hochelaga at the base of the mountain in the middle of the island in the St. Lawrence River. In 1535, Jacques Cartier arrived and named the mountain Mont-Royal. In 1609, Samuel de Champlain founded New France and established a trading post and many Catholic missionaries came to the area to convert the Native peoples to Catholicism. Champlain reported that the St. Lawrence Haudenosaunee of Hochelaga were no longer in St. Lawrence Valley. In 1642, the French established a colony and named it Ville-Marie de Montreal to indicate that it was under the protection of the Virgin Mary. In 1701, the French colonists and the Haudenosaunee signed a peace treaty, yet fighting between the French and English continued throughout the 18th century. During the French and Indian War (1754-1763), the French and British both had Native American allies, and many tribes remained neutral. The Haudenosaunee Confederacy remained neutral for a while and then sided with the British. In 1759, when the French lost Quebec City to the English, the French named Montreal the capital of New France. The French surrendered Montreal to the British in 1760, and in 1763, the signing of the Treaty of Paris officially marked the beginning of British rule (despite the fact that almost the entire population of Montreal was French). In 1775, American troops tried to expand their territory and occupied Quebec for seven months before their defeat by the British. American troops again invaded Montreal during the War of 1812 and were again defeated by the British. Under British rule, Montreal flourished as a fur trade hub. In 1832, Montreal was incorporated as a city, and between 1841 and 1849, it was the capital of the United Canadas. Wheelock hoped to gain students from tribes in Montreal and wrote about his desire to do so, but he also was aware that there would be strong opposition from Catholic priests in the area.
Wheelock, Eleazar
Eleazar Wheelock was a New Light Congregationalist minister who founded Dartmouth College. He was born into a very typical Congregationalist family, and began studying at Yale in 1729, where he fell in with the emerging New Light clique. The evangelical network that he built in college propelled him to fame as an itinerant minister during the First Great Awakening and gave him many of the contacts that he later drew on to support his charity school for Native Americans. Wheelock's time as an itinerant minister indirectly brought about his charity school. When the Colony of Connecticut retroactively punished itinerant preaching in 1743, Wheelock was among those who lost his salary. Thus, in 1743, he began operating a grammar school to support himself. He was joined that December by Samson Occom, a Mohegan Indian, who sought out an education in hopes of becoming a teacher among his people. Occom's academic success inspired Wheelock to train Native Americans as missionaries. To that end, he opened Moor's Indian Charity School in 1754 (where he continued to train Anglo-American students who paid their own way as well as students who functionally indentured themselves to Wheelock as missionaries in exchange for an education). Between 1754 and 1769, when he relocated to New Hampshire, Wheelock trained approximately 60 male and female Native American students from nearby Algonquian tribes and from the Haudenosaunee (Iroquois) of central New York. At the same time, he navigated the complicated politics of missionary societies by setting up his own board of the Society in Scotland for Propagating Christian Knowledge, although he continued to feud with the Boston Board of the SSPCK and the London Commissioners in Boston (more colloquially called the New England Company). By the late 1760s, Wheelock had become disillusioned with the idea of Native American education. He was increasingly convinced that educating Native Americans was futile (several of his students had failed to conform to his confusing and contradictory standards), and, in late 1768, he lost his connection to the Haudenosaunee. With his inclination and ability to sponsor Native American missionaries largely depleted, Wheelock sought instead to fulfill his ultimate ambition of obtaining a charter and opening a college, which he did in 1769. To fund this new enterprise, Wheelock drew on the £12,000 that Samson Occom had raised for Moor's Indian Charity School during a two-and-a-half year tour of Great Britain (1765 to 1768). Much of this money went towards clearing land and erecting buildings in New Hampshire for the Charity School's relocation — infrastructure that also happened to benefit Dartmouth. Many of Wheelock's contemporaries were outraged by what they saw as misuse of the money, as it was clear that Dartmouth College was not intended for Indians and that Moor's had become a side project. Although Wheelock tried to maintain at least some commitment to Native American education by recruiting students from Canadian communities, the move did a great deal of damage to his public image. The last decade of Wheelock's life was not easy. In addition to the problems of trying to set up a college far away from any Anglo-American urban center, Wheelock experienced the loss of relationships with two of his most famous and successful students, Samson Occom and Samuel Kirkland (an Anglo-American protégé). He also went into debt for Dartmouth College, especially after the fund raised in Britain was exhausted.
Occom, Samson
Samson Occom was a Mohegan leader and ordained Presbyterian minister. Occom began his public career in 1742, when he was chosen as a tribal counselor to Ben Uncas II. The following year, he sought out Eleazar Wheelock, a young Anglo-American minister in Lebanon, CT, in hopes of obtaining some education and becoming a teacher at Mohegan. Wheelock agreed to take on Occom as a student, and though Occom had anticipated staying for a few weeks or months, he remained with Wheelock for four years. Occom's academic success inspired Wheelock to open Moor's Indian Charity School in 1754, a project which gave him the financial and political capital to establish Dartmouth College in 1769. After his time with Wheelock, Occom embarked on a 12-year mission to the Montauk of Long Island (1749-1761). He married a Montauk woman, Mary Fowler, and served as both teacher and missionary to the Montauk and nearby Shinnecock, although he was grievously underpaid for his services. Occom conducted two brief missions to the Oneida in 1761 and 1762 before embarking on one of the defining journeys of his career: a fundraising tour of Great Britain that lasted from 1765 to 1768. During this journey, undertaken on behalf of Moor's Indian Charity School, Occom raised £12,000 (an enormous and unanticpated amount that translates roughly to more than two-million dollars), and won wide acclaim for his preaching and comportment. Upon his return to Mohegan in 1768, Occom discovered that Wheelock had failed to adequately care for his family while he was gone. Additionally, despite the vast sums of money that he had raised, Occom found himself unemployed. Wheelock tried to find Occom a missionary position, but Occom was in poor health and disinclined to leave his family again after seeing the treatment with which they had met while he was in Britain. Occom and Wheelock's relationship continued to sour as it became apparent to Occom that the money he had labored to raise would be going towards infrastructure at Dartmouth College, Wheelock's new project, rather than the education of Native Americans. After the dissolution of his relationship with Wheelock, Occom became increasingly focused on the needs of the Mohegan community and increasingly vocal in criticizing Anglo-Americans' un-Christian treatment of Native Americans. In September of 1772, he delivered his famous "Sermon on the Execution of Moses Paul," which took Anglo-American spiritual hypocrisy as one of its major themes, and which went into four printings before the end of the year. In 1773, Occom became further disillusioned when the Mason Land Case was decided in favor of the Colony of Connecticut. The details of the Mason Case are complicated, but to summarize: the Colony of Connecticut had gained control of Mohegan land early in the 18th century under very suspect circumstances, and successfully fended off the Mohegan's 70-year-long legal challenge. The conclusion of the case came as a blow to the Mohegans, and further convinced Occom of Anglo-American corruption. Along with David Fowler (Montauk Tribe), Occom's brother-in-law, and Joseph Johnson (Mohegan), Occom's son-in-law, Occom helped found Brothertown, an Indian tribe formed from the Christian Mohegans, Pequots, Narragansetts, Montauks, Tunxis, and Niantics. They eventually settled in Oneida country in upstate New York. Occom moved there with his family in 1789, spending the remaining years of his life serving as a minster to the Brothertown, Stockbridge, and Mohegan Indians. Harried by corrupt land agents, the Brothertown and Stockbridge groups relocated to the eastern shore of Lake Winnebago, though Occom died in 1792 before he could remove himself and his family there. Occom's writings and legacy have made him one of the best known and most eminent Native Americans of the 18th century and beyond.
Backus, Nathaniel
Captain Nathaniel Backus Junior (II) provided Occom with supplies. Like Elijah Backus, he was a member of the prominent Backus family. Although he also had a son named Nathaniel Backus (III), it is more likely that Nathaniel Backus Jr. refers to Nathaniel Backus II, as Nathaniel Backus II regularly went by N. Backus Jr, since he co-existed in Norwich politics with his father, Nathaniel Backus Sr. (I).
Thornton, John
John Thornton was born in Yorkshire on April 1, 1720. As a young man, Thornton inherited money from his father Robert Thornton, who was the Director of the Bank of England, which he used to begin his career as a merchant. In 1753, Thornton married Lucy Watson, with whom he had four children. Watson had a Christianizing influence on Thornton, which ultimately led to his 1754 conversion to evangelical Anglicanism under Henry Venn, the curate of Clapham. Thornton's and Venn's sons would continue their fathers' religious traditions, going on to form the "Clapham sect," an influential group of evangelical Christians who championed social reforms. As a result of his conversion, Thornton pursued charity just as much as trade, a major part of which involved managing the English Trust that oversaw the funds Occom and Whitaker collected for Wheelock's Indian Charity School. Thornton met and hosted Occom several times during his stay in England, and eventually became the Treasurer of the Trust. After Wheelock moved the School to Hanover, however, he focused on the establishment of Dartmouth College to educate Anglo-American men as missionaries, and was accused of using the Trust's funds to this end. This shift in focus contributed to the rift that developed between Occom and Wheelock upon Occom's return to America –- a rift Thornton tried to repair. Thornton thought of Occom as an equal and, in his role as Treasurer of the Trust, often reminded Wheelock of Occom's vital role in securing the funds that made the School possible. Thornton financed Occom's further missionary activities and insured that Wheelock did not forget Occom's hard work and Christian morals. In addition, Wheelock –- who knew that Occom respected Thornton –- often called upon the merchant when he himself could not convince Occom to undertake further missionary activity. The exchanges between Wheelock and Thornton ended once Wheelock had used up the funds that Occom had raised in England, yet Occom and Thornton kept in touch up through the Revolutionary War, with Thornton remaining one of Occom's most prominent supporters. He died on November 7th, 1790 as one of the wealthiest men in England, despite giving away nearly half his salary each year. In 1828, Thornton's role in the establishment of Dartmouth was memorialized in the College's naming of Thornton Hall.
Fowler, David
David Fowler was Jacob Fowler's older brother, Samson Occom's brother-in-law, and an important leader of the Brothertown Tribe. He came to Moor's in 1759, at age 24, and studied there until 1765. While at school, he accompanied Occom on a mission to the Six Nations in 1761. He was licensed as a school master in the 1765 mass graduation, and immediately went to the Six Nations to keep school, first at Oneida and then at Kanawalohale. Fowler saw himself as very close to Wheelock, but their relationship fragmented over the course of Fowler's mission, primarily because Wheelock wrote back to Kirkland, with whom Fowler clashed, but not to Fowler, and because Wheelock refused to reimburse Fowler for some expenses on his mission (767667.4 provides the details most clearly). Fowler went on to teach school at Montauk, and played a major role in negotiations with the Oneidas for the lands that became Brothertown. He was among the first wave of immigrants to that town, and held several important posts there until his death in 1807.
Occom, Mary (née Fowler)
Mary Occom (née Fowler) was a Montaukett woman who married Samson Occom. Although information about her is limited and often comes from male, Anglo-American sources, it offers a tantalizing glimpse of her strength, as well as an alternative to the Eleazar Wheelock-centered narrative of Occom's life that often dominates the latter's biography. Mary was born into the influential Fowler family at Montauk, Long Island. She met Samson during his missionary service there (1749-1761). Mary studied at Samson's school along with her brothers David and Jacob, and was almost certainly literate. She and Samson married in 1751. Wheelock and several other Anglo-American powers opposed their union because they worried it might distract Occom from being a missionary (as, indeed, family life did), and thus many scholars have read in Samson and Mary's marriage an act of resistance against Samson's domineering former teacher. Little information about the minutiae of Mary's life survives, but existing sources speak volumes about her character and priorities. In front of Anglo-American missionaries visiting the Occoms' English-style house at Mohegan, Mary would insist on wearing Montaukett garb and, when Samson spoke to her in English, she would only reply in Montaukett, despite the fact that she was fluent in English. Mary Occom was, in many ways, Wheelock's worst fear: that his carefully groomed male students would marry un-Anglicized Indian women. It is not a stretch to imagine that Mary provided much of the incentive for Wheelock to begin taking Indian girls into his school, lest his other protégés replicate Samson's choice. Much of our information about Mary comes from between 1765 and 1768, when Samson was fundraising in Great Britain. Despite promising to care for Samson's wife and family (at the time they had seven children), Wheelock, by every objective measure, failed to do so, and Mary's complaints are well documented. Hilary Wyss reads in Wheelock's neglect (and in letters from the time) a more sinister story, and concludes that on some level Wheelock was holding Samson's family hostage, in return for Occom curtailing his political beliefs on the Mason Case. Wyss also notes Mary's remarkable survivance in this situation. Mary drew on various modes of contact, from letters to verbal communication with influential women (including Sarah Whitaker, the wife of Samson's traveling companion, and Wheelock's own daughters), to shame Wheelock into action and demand what she needed. One of the major struggles in Mary's life, and in Samson's, was with their sons. Both Aaron and Benoni failed to live up to their parents' expectations. Aaron attended, and left, Moor's Indian Charity School three times, and both Aaron and Benoni struggled with alcohol and refused to settle down. The Occom daughters did not cause similar problems. Given the nature of existing sources, little is known about Mary after Samson and Wheelock lessened their communication in 1771. Joanna Brooks has conjectured that Mary was likely influential in Samson's Mohegan community involvement later in life, for instance, in his continued ministry to Mohegan and, perhaps, his increasingly vehement rejection of Anglo-American colonial practices.