David McClure and Levi Frisbie, letter, to Samson Occom, 1772 May 28
ms-number: 772328
abstract: McClure and Frisbie write to suggest that Occom join them on the mission soon to be undertaken near the Ohio.
handwriting: Handwriting is small, yet formal and clear.
paper: Single sheet is in fair-to-poor condition, with moderate-to-heavy creasing, staining and wear.
ink: Brown-black ink fades in and out.
---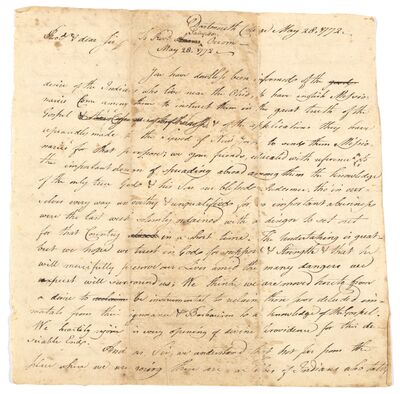 (View Page Image)
Dartmouth College

May 28, 1772

—

Rev.

d

& dear ſir //

[top]
To Rev.

d

[illegible]

Samson Occom
May 28. 1772
You have doutleſs been informed of the
good
desire of
the Indians
who live near the
Ohio
, to have english Miſsio=
naries
t
Come among them to instruct them in the great truth of the
Gospel
[illegible]
& of the applications they have
repeatedly made in the
Synod of New York
to send them Miſsio=
naries for that purpose; we your friends, educated with reference to
the important
design
of spreading abroad among them the knowledge
of the only true God & his Son our bleſsed Redeemer, tho' in our=
selves every way unworthy & unqualified for so important a busineſs
were the last week solemly ordained with a design to set out
for that Country
[illegible]
[guess: abroad]
in a short time. The undertaking is great —
but we hope we trust in God for support & Strength & that he
will mercifully preserve our Lives amid the many dangers we
[illegible]
expect will surround us; We think we are moved hereto from
a desire to
reclaim
be instrumental to reclaim those poor deluded
[illegible]
[guess: im‐]
[illegible]
[guess: matals]
from their ignorance & Barbarism to a knowledge of the Gospel.
We heartily
[illegible]
[guess: re]
join in every opening of divine providence for this de‐
sirable End.
And as, Sir, we understand that not far from the
place where we are going there are a Tribe of Indians who talk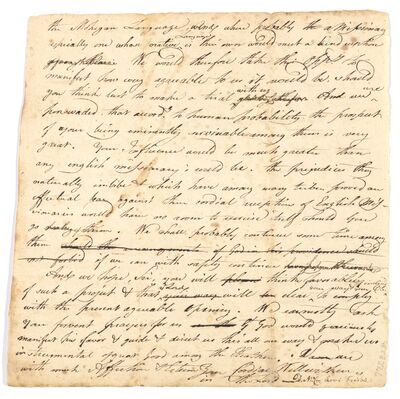 (View Page Image)
the
Mohegan
Language,
w
And where probably
th
a Miſsionay
espeially one whose native
⇑
Language
is their own would meet a kind reception
among

[illegible]

:
We would therefore take this Opp.
y
to
manifest how very agreeable to us it would be, should
you think but to make a trial
⇑
with us
[illegible]
. And we
⇑
are
perswaded that accord.
g
to human probability the prospect
of your being eminently survivable among them is very
great. Your Influence would be much greater than
any english miſsionary's would be. the prejudice they
naturally imbibe & which have amog many tribes proved an
effectual bar against their cordial reception of English Miſ‐
sionaries would have no room to exercise itself Should You
go
[illegible]
. We shall probably continue some time among
them
should the arrangments of God in his providence should
not forbid
if we can with safety continue
[illegible]
And we hope, Sir, you will
[illegible]
[guess: please]
think favorablely
of such a project & that
⇑
y

e

Lord
your way
will
be
clear
⇑
your way & your

[illegible]

⇑

inclin'd

to comply
with the present agreeable opening. We earnestly ask
your fervent Prayers for us
[illegible]
y
t
God would graciously
manifest his favor & guide & direct us thro' all our way & makes us
instrumental of great Good among the Heathen.
[illegible]

[illegible]

[illegible:

[guess: are]

]
with much Affection & Esteem Your Cordial Wellwisher[illegible:

[guess: s]

]


 

in this Lord —
D. M:C–
Levi Frisbie
Synod of New York and Philadelphia
The Synod of New York and Philadelphia was the governing body of the Presbyterian Church in the mid-Atlantic region, including New York and New England. It worked closely with other Presbyterian organizations in the region, including the New York (and, after 1769, New Jersey) Board of the Society in Scotland for Propagating Christian Knowledge, and the College of New Jersey. Like those organizations, the Synod was a potential source of funding for missionaries involved in Indian ministry, although it tended to support primarily Presbyterian efforts (e.g., John Brainerd's long ministry among the Delaware). For a period of time, the New York and Pennsylvania synods existed independently. In 1745, the Presbyteries of New York, New Brunswick, and Newcastle split from the Synod of Philadelphia over tensions resulting from the First Great Awakening, a transatlantic evangelical movement that spanned roughly 1734 until 1742. As within the Congregationalist church, the major points of contention were focused on 1) itinerant ministry and 2) qualifications for new ministers (namely, whether a college degree or demonstration of new birth was more important in a minister). The two synods reunified in 1758 as the Synod of New York and Philadelphia, although the member presbyteries continued to disagree over many of the same issues. The fact that these disagreements continued may be why writers often refer to the Synod of New York or the Synod of Philadelphia in letters from the 1760s and 1770s, even though the two synods were nominally reunified.
Delaware Tribe
The Delaware Tribe, or Lenape Tribe, is a conglomeration of linguistically and culturally similar Native American groups that initially inhabited the mid-Atlantic region, including New Jersey, Pennsylvania, eastern Connecticut, and southeastern New York. The three main groups comprising the Delawares are the Munsees, Unamis, and Unalaqtgos. Several Delawares attended Moor's Indian Charity School, including some of Wheelock's earliest students. Because the Delawares were not a politically unified entity, contact with Europeans and subsequent conflict over land and trade proved especially devastating for them. During 17th-century battles over trade access, the Delawares found themselves in conflict with the Dutch and the English as well as with other Native American groups that wanted to trade with Europeans. By the time the Dutch left in the mid-17th century, the Delawares were tributaries of the Haudenosaunee (Iroquois). Scholars estimate that by 1750, through a combination of war and disease, the Delaware population had fallen by as much as 90 percent. Many Delawares responded to the situation by leaving. Some migrated west with Moravian missionaries; others joined different tribes, including the Cayugas in New York and the Stockbridge Mahicans in Massachusetts (who later migrated to Oneida territory, near Brothertown, NY, and from thence to Wisconsin). Still others migrated to Ohio and ended up in Kansas or Oklahoma as a result of American expansion. Those who stayed oversaw a century of complex treaty negotiation, including two of the more egregious instances of Native American dispossession: the infamous "walking treaty" between the Delawares and the colony of Philadelphia in 1686, and the American government's (unfulfilled) promise to give the Delawares their own fully-enfranchised state in the union for their support during the Revolution. The Delawares played an important role in the history of Moor's Indian Charity School. John Brainerd, a Presbyterian missionary to the Delaware and a friend of Wheelock's, sent Wheelock his first "planned" Native American students from among the Delawares in 1754. J. Brainerd also oversaw the establishment of a Christian Delaware settlement at Brotherton, New Jersey in 1758 (not to be confused with Brothertown in Oneida, New York).
Mohegan Tribe
The Mohegans are an Algonquian tribe located in New London County, Connecticut. The Mohegan Tribe spent most of the 18th century struggling to regain control over its territory from the colony of Connecticut in a protracted affair known as the Mason Land Case. The groundwork for the dispute was laid in 1659, when Uncas, the first Mohegan sachem after the tribe separated from the Pequot, entrusted the Tribe's lands to John Mason, an Anglo-American who had been Uncas' ally in the war against the Pequot. The following year, the colony of Connecticut persuaded Mason to transfer his stewardship of the Mohegan land to the colony. However, since Mason continued to act as trustee, it was unclear to what degree the colony was the tribe's legal steward. Nonetheless, in the 1690s, Connecticut began selling off the land specifically set aside for Mohegan use. The Tribe brought its first legal challenges in 1704, and the case was tried multiple times in the colonies and England before it was decided in favor of the colony in 1773. The case split the Mohegan Tribe into two camps and led to serious interference in tribal self-government. When the sachem Caeser died in 1723 (when his son Mahomet was too young to lead), the Tribe split over whether the new sachem should be Caesar's younger brother Ben Uncas, or John Uncas Jr., a more direct descendent of Uncas I. When Ben took the post, John gathered his supporters and moved half a mile down the road in protest. The Mohegans thus split into "Ben's Town" and "John's Town" (these designations correlated with the "sachem party" and the "Mason party," respectively). When Ben Uncas II, Ben Uncas I's son, became sachem in 1726, he maintained his family's shaky hold on power by allying himself with the colony of Connecticut. In an unstated quid pro quo, Ben Uncas II and his son, Ben Uncas III, did not pursue the Mason Case, and in return, they received favors and political support from the colony, which proved critical on multiple occasions when the Mohegans elected alternate sachems. The colony, meanwhile, got to parade a supposedly legitimate sachem in front of Anglo-American and British authorities as proof that the Mason party was composed of rabble rousers. Ben Uncas II and Ben Uncas III, as part of their project of tying themselves to the colony, worshiped at the Anglo-American parish in New London under the ministry of David Jewett, a minister sponsored by the New England Company, a powerful missionary organization. As a form of resistance to Jewett and, by extension, the sachem party, many Mohegans elected to worship with indigenous leaders such as Samson Occom and Samuel Ashpo. Jewett was none too pleased, and the affair drew the New England Company in on the side of the sachem party and inspired its backlash against Samson Occom and his mentor, Eleazar Wheelock, throughout the 1760s. Something of a resolution came in 1769, when Ben Uncas III died. At his funeral, the pallbearers (Occom included) dropped his coffin in front of the representatives from the Connecticut Assembly — a clear indication of what they thought of the company the sachem kept. The Tribe dissolved the office of sachem rather than instituting Ben Uncas III's son Isaiah (who died shortly afterwards, in 1770), but the damage had been done. The case was decided in favor of the colony in 1773. Samson Occom and Joseph Johnson, both Mohegan, were essential architects of the Brothertown movement, a coalition of Southern New England Algonquians that migrated to Oneida territory in 1775 and again in 1783. However, the majority of the Tribe did not emigrate, and today the Mohegan Tribe is federally recognized and still holds land in Connecticut.
Dartmouth College
Dartmouth College is small liberal arts institution in Hanover, New Hampshire. It has about four thousand undergraduate students taking courses in Arts and Sciences, and another two thousand in graduate schools in the Sciences, Comparative Literature, and Liberal Studies, as well as the Geisel School of Medicine, the Thayer School of Engineering, and the Tuck School of Business. It is a member of the Ivy League, and the ninth oldest institution of higher learning in the U.S. The charter establishing the College was signed in 1769 by John Wentworth, Royal Governor of New Hamsphire, who wanted an academy of higher learning in the colony. Its founder, Eleazar Wheelock, was a Congregational minister from Connecticut who, after his success in educating Samson Occom as a school teacher and Indian missionary in the 1740's, started Moor's Indian Charity School in 1754 to continue what he regarded as a divine mission to educate Native boys and girls to become missionaries. As the school grew, Wheelock began looking for a new location closer to Indian Country where he could expand. But in the 1760's he became disillusioned by the relative failure of his progam and began turning his attention to the education of Anglo-American men as missionaries. After a protracted search, he secured the royal charter in New Hampshire and in 1769 moved his family and base of operations to Hanover, where he established the College. It is named for William Legge, 2nd Earl of Dartmouth, who contributed to the funds raised by Occom and Whitaker on their fund-raising tour of Great Britain in 1766-68 and became a member of the London Trust that administered those funds. The College's charter announced its purpose as "the education and instruction of youth of the Indian tribes in this land [in] all parts of learning which shall appear necessary and expedient for civilizing and christianizing children of pagans…, and also of English youth and any others." But Wheelock's priorities were, in reality, the reverse. While he gave public notice in 1770 that "My Indian charity school … is now become a body corporate and politic, under the name of DARTMOUTH COLLEGE," he created this parallel structure to allow him to use the funds that were collected specifically for the education of Indians. Only around 75 Native students enrolled at the College before 1972, when it rededicated itself to educating Indians and established the Native American Studies Program. This is also the year Dartmouth went co-ed. Occom was angry and embittered at Wheelock's abandonment of his "great design," for which he had sacrificed so much. Their relations cooled after Occom's return from England, and he never visited his mentor again, or, for that matter, Dartmouth College.
Ohio River
The Ohio River runs westward for 981 miles from Pittsburgh, PA, to Cairo, IL. Its valley was originally inhabited by many different Indigenous peoples, including Shawnees, Lenapes, and Susquehannocks. During the 17th century, the Senecas, the western-most nation of the Haudenosaunee (Iroquois) Confederacy, began to move south into the Ohio River Valley in order to monopolize the fur trade with Europeans. This migration displaced many tribes from the Ohio River Valley in the 1660s. The name Ohio is derived from the Seneca word Ohiyo, meaning "it is beautiful." In the 1760s, when Wheelock began looking for a new location for Moor's Indian Charity School, the Ohio River Valley was, compared with New England, still largely untouched by white settlers. The location's relative isolation and large Indian population made it an attractive spot for Moor's relocation. Wheelock tried to obtain land along the Ohio River through his friendship with General Phineas Lyman, who sought a grant from England for his service in the Seven Year's War. Wheelock hoped that Lyman would include Moor's Indian Charity School in his request. In 1769, however, Wheelock learned that Lyman had not included Moor's in his petition. By then, however, Wheelock had already selected Hanover, NH, as as Moor's new location.
Hanover
Hanover is a town in Grafton County, New Hampshire, which is located along the Connecticut River in the west-central area of the state, originally occupied by the Abenaki Tribe. It was chartered by Governor Benning Wentworth in 1761 as "Hannover," and four years later, European settlers arrived, mostly from the colony of Connecticut. Although heavily wooded, Hanover became an agricultural community. In 1769, Eleazar Wheelock established Dartmouth College near the Common at a village called "the Plain," a level tract of land about a mile above the River. For a few years in the 1780s, the southwest corner of the town, called "Dresden," along with several other disgruntled villages along the River who felt they were not being adequately represented in the state legislature, defected from New Hampshire and joined the independent Republic of Vermont. The village of Hanover, not to be confused with Hanover Center, another village located in the center of the township, grew up around the College and became the locus for the Presbytery of Grafton.
McClure, David
David McClure was an Anglo-American charity scholar at Moor's Indian Charity School. He went on to become a minister, and remained exceptionally loyal to Eleazar Wheelock throughout his life. McClure is important as a primary source on Moor's Indian Charity School: his diary (more accurately, an autobiography that he composed between 1805 and 1816) includes eyewitness accounts of the school, Samson Occom's home life, and Separatist worship among the Charlestown Narragansett. McClure also became Wheelock's first biographer (Memoirs of the Reverend Eleazar Wheelock, 1811). McClure was a typical charity scholar, in that he attended Moor's primarily to obtain an education that his family could not have afforded otherwise. After a year at Moor's, McClure enrolled in Yale, where he attended sporadically between 1765 and September 1769, when he received his degree. After graduating, McClure kept school at Moor's (then in New Hampshire) for several years, until he undertook his only career mission in 1772. McClure was exceptionally ill-suited to the missionary business. He was a city boy from Boston, and was so unfit for farm labor at Moor's that Wheelock had him copy out correspondence instead. Aside from a brief 1766 foray into teaching at Kanawalohale under Samuel Kirkland's tutelage, McClure's only mission was an aborted sixteen month effort (1772-1773) to proselytize the Delaware of the Muskingum River, during which he spent far more time preaching to Anglo-American congregations. McClure had a long career as a minister, teacher, and writer. He remained close to Wheelock throughout his life: he married into Wheelock's family in 1780, served as a trustee of Dartmouth from 1778 until 1800, consistently informed Wheelock of Dartmouth's PR problems, and took Wheelock's side in his dispute with former charity scholar Samuel Kirkland.
Frisbie, Levi
Levi Frisbie was a very intelligent and unreligious charity scholar. He came to Wheelock with substantial schooling already, and after a few months at Moor's, Wheelock sent him on to Yale. There, Frisbie excelled academically. However, he never wanted to be a missionary. He arrived at Moor's sometime during April of 1767, and by May 5, he was already writing Wheelock asking to be released from missionary obligations. While at Yale, this trend continued: Levi went so far as to confess to Wheelock that he was not even a church member. Although he was not passionate about Scripture, he was quite the classicist. Under the name Philo Musae, he would write Wheelock long chains of heroic couplets styled on epic about the Indian mission. In 1769, Levi went on his first mission (a short stint to the Oneidas). Shortly thereafter, Wheelock pulled Levi out of Yale to help make up Dartmouth's first class. Levi graduated in 1771, and was ordained with David McClure in May 1772. He and McClure set out on a mission on June 19, 1772, but Levi fell ill immediately and stayed at Fort Pitt. It is unclear whether he rejoined McClure on the mission. The two men returned to Hanover on October 2, 1773. Levi stayed involved with Wheelock and the Indian mission for a few years, but by 1776, he had assumed the pulpit at Ipswich, where he remained for the rest of his life. Levi's poetry appears at the end of Wheelock's 1771 Narrative, as well as in McClure and Parish's biography of Wheelock.
Occom, Samson
Samson Occom was a Mohegan leader and ordained Presbyterian minister. Occom began his public career in 1742, when he was chosen as a tribal counselor to Ben Uncas II. The following year, he sought out Eleazar Wheelock, a young Anglo-American minister in Lebanon, CT, in hopes of obtaining some education and becoming a teacher at Mohegan. Wheelock agreed to take on Occom as a student, and though Occom had anticipated staying for a few weeks or months, he remained with Wheelock for four years. Occom's academic success inspired Wheelock to open Moor's Indian Charity School in 1754, a project which gave him the financial and political capital to establish Dartmouth College in 1769. After his time with Wheelock, Occom embarked on a 12-year mission to the Montauk of Long Island (1749-1761). He married a Montauk woman, Mary Fowler, and served as both teacher and missionary to the Montauk and nearby Shinnecock, although he was grievously underpaid for his services. Occom conducted two brief missions to the Oneida in 1761 and 1762 before embarking on one of the defining journeys of his career: a fundraising tour of Great Britain that lasted from 1765 to 1768. During this journey, undertaken on behalf of Moor's Indian Charity School, Occom raised £12,000 (an enormous and unanticpated amount that translates roughly to more than two-million dollars), and won wide acclaim for his preaching and comportment. Upon his return to Mohegan in 1768, Occom discovered that Wheelock had failed to adequately care for his family while he was gone. Additionally, despite the vast sums of money that he had raised, Occom found himself unemployed. Wheelock tried to find Occom a missionary position, but Occom was in poor health and disinclined to leave his family again after seeing the treatment with which they had met while he was in Britain. Occom and Wheelock's relationship continued to sour as it became apparent to Occom that the money he had labored to raise would be going towards infrastructure at Dartmouth College, Wheelock's new project, rather than the education of Native Americans. After the dissolution of his relationship with Wheelock, Occom became increasingly focused on the needs of the Mohegan community and increasingly vocal in criticizing Anglo-Americans' un-Christian treatment of Native Americans. In September of 1772, he delivered his famous "Sermon on the Execution of Moses Paul," which took Anglo-American spiritual hypocrisy as one of its major themes, and which went into four printings before the end of the year. In 1773, Occom became further disillusioned when the Mason Land Case was decided in favor of the Colony of Connecticut. The details of the Mason Case are complicated, but to summarize: the Colony of Connecticut had gained control of Mohegan land early in the 18th century under very suspect circumstances, and successfully fended off the Mohegan's 70-year-long legal challenge. The conclusion of the case came as a blow to the Mohegans, and further convinced Occom of Anglo-American corruption. Along with David Fowler (Montauk Tribe), Occom's brother-in-law, and Joseph Johnson (Mohegan), Occom's son-in-law, Occom helped found Brothertown, an Indian tribe formed from the Christian Mohegans, Pequots, Narragansetts, Montauks, Tunxis, and Niantics. They eventually settled in Oneida country in upstate New York. Occom moved there with his family in 1789, spending the remaining years of his life serving as a minster to the Brothertown, Stockbridge, and Mohegan Indians. Harried by corrupt land agents, the Brothertown and Stockbridge groups relocated to the eastern shore of Lake Winnebago, though Occom died in 1792 before he could remove himself and his family there. Occom's writings and legacy have made him one of the best known and most eminent Native Americans of the 18th century and beyond.