Eleazar Wheelock, letter, to John Thornton, 1771 September 9
ms-number: 771509
abstract: Wheelock thanks Thornton for his assistance, describes the buildings and details expenses for the Charity School. He adds his hopes that Occom has reformed and can be of service again.
handwriting: Formal handwriting is not Wheelock's; it is clear and legible. The trailer appears to be in Wheelock's hand.
paper: Two small sheets are in good condition, with light staining, creasing and wear.
ink: Black.
noteworthy: This document is likely Wheelock's own copy.
signature: The signature is not Wheelock's.
---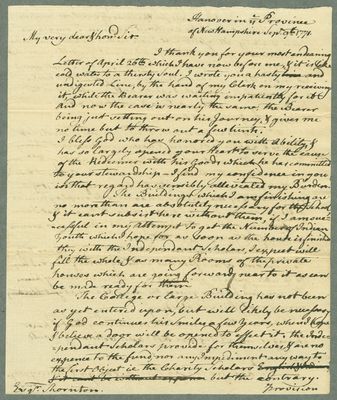 (View Page Image)
Hanover

in y

e

Province
of

New Hampshire

Sep.

t

9

th

1771.

My very dear & hon.

d

Sir.

I thank you for your most endearing
Letter of
April 26

th
which I have now before me, & it is like
cold water to a thirsty Soul. I wrote you a hasty
line
and
undigestd Line, by the hand of my Clerk on my receiving
it, while the Bearer was waiting impatiently for it
and now the case is nearly the same, the Bearer
being just setting out on his Journey, & gives me
no time but to throw out a few hints.
I bleſs God who has honored you with Ability, &
has so largely opened your Heart to serve the cause
of the Redeemer with his Goods which he has committed
to your stewardship — I find my confidence in you
in that regard has sensibly alleviated my Burden.
The Buildings which I am finishing are
no more than are absolutely neceſsary for
the School
,
& it cant subsist here without them, if I am suc=
­ceſsful in my Attempt to get the Number of Indian
Youth which I hope for as soon as the house is finished
they with the Independant Scholars, I expect will
fill the whole & as many Rooms of the private
houses which are going forward
s
near to it as can
be made ready for them
The College or large Building has not been
as yet entered upon, but will likely be neceſsary
if God continues his Smiles a few Years, when I hope
& believe a door will be opened to effect it. the Inde=
=pendant Scholars provide for themselves, & are no
expence to the fund, nor any Impediment any way to
the first Object i.e. the Charity Scholars
English & Indian
& it cant be without expence
but the contrary.
provision
⇑
[left]
Esq.

r

Thornton.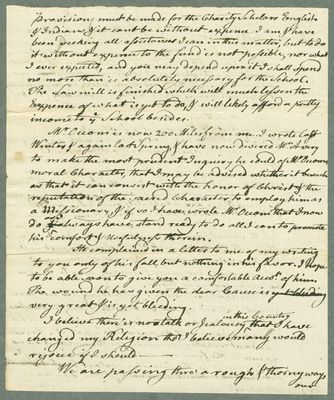 (View Page Image)
provision
s
must be made for the Charity Scholars English
& Indians, & it cant be without expence. I am & have
been
d
seeking all aſsistances I can in this matter, but to do
it without expence to the fund is not poſsible, nor what
I ever expected, and you may depend upon it I shall spend
no more than is absolutely neceſsary for
the School
.
The Saw mill is finished which will much leſsen the
Expence of what is yet to do, & will likely afford a pretty
income to
y

e

School
besides.
M.

r

Occom
is now 200 Miles from me. I wrote laſt
Winter & again last Spring, & have now desired
M.

r

Avery
to make the most prudent Inquiry he could of
M.

r

Occom
s
moral Character, that I may be advised whither it be such
as that it can consist with the honor of Christ & the
reputation of the sacred Character to employ him as
a
m
Miſsionary, & if so I have wrote
M.

r

Occom
that I now
do
&
⇑
as I
always have, stand ready to do all I can to promote
his comfort & Usefulneſs therein.
He complained in a letter to me of my writing
to you only of his fall, but nothing in his favor. I hope
to be able soon to give you a comfortable Acco.
t
of him.
The wound he has given the dear Cause is
yet bleeding
very great & is yet bleeding.
I believe there is no
[illegible]
[guess: w]
talk or Jealousy
⇑
in this Country
that I have
changed my Religion tho' I believe many would
rejoice if I should. —
We are paſsing thro' a rough & thorny way,
our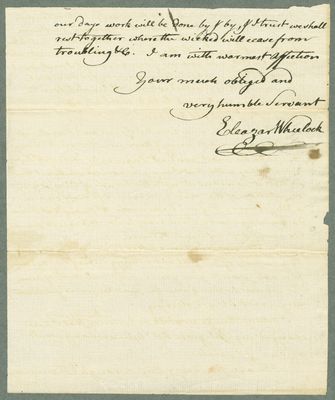 (View Page Image)
our days work will be done by & by, & I trust we shall
rest together where the wicked will cease from
troubling &c. I am with warmest Affection
Your much obliged and
very humble Servant

Eleazar Wheelock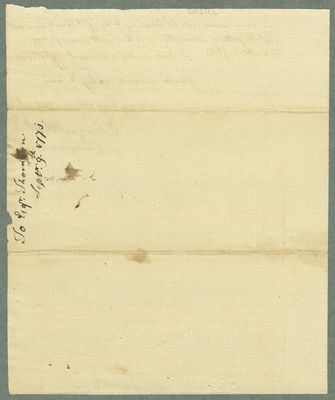 (View Page Image)
To Esq.
r
Thornton
Sept.

r

9.

th

1771
.
Moor's Indian Charity School
Moor's Indian Charity School was a grammar school for Native Americans that Eleazar Wheelock opened in North Lebanon, Connecticut in 1754. The school was named for Colonel Joshua Moor, also spelled More, who donated the land and school building. Moor's was essentially an expansion of the grammar school that Wheelock opened in 1743 to support himself during the fallout from the First Great Awakening, when Wheelock, who'd participated in itinerant ministry during the Awakening, had his salary confiscated by the colony of Connecticut. In December of that year, Samson Occom asked Wheelock to teach him as well. Wheelock's work with Occom was so successful that Wheelock decided to replicate the experiment with other Native American boys. He accepted his first Indian students in 1754, and in 1761 began taking female students as well. Wheelock believed that in time, his school would become just one part of a larger missionary enterprise. He planned to send his Anglo American and Native American students to various tribes as missionaries and schoolmasters, with explicit instructions to pick out the best students and send them back to Moor's to continue the cycle. His ultimate goal was to turn his school into a model Christian Indian town that would include farms, a college, and vocational training. However, Wheelock's grand design did not survive the decade. Wheelock lost the vast majority of his Native American students; he fought with many of the best, including Samson Occom, Joseph Johnson, David Fowler, and Hezekiah Calvin, and other former and current students accused him of subjecting Native Americans to disproportionate amounts of manual labor. In 1769, perhaps due to concerns about corporal punishment, the Oneida withdrew all their children from Moor's. When Wheelock relocated to Hanover in 1769, only two Native American students came with him, and it became clear that Wheelock's focus was on Dartmouth and that Dartmouth was for white students. After Wheelock's death in 1779, Moor's Indian Charity School receded further into the background as John Wheelock, his father's reluctant successor, stopped taking Indian students. Some Native American students were enrolled in Moor's until 1850, when the school unofficially closed.
Hanover
Hanover is a town in Grafton County, New Hampshire, which is located along the Connecticut River in the west-central area of the state, originally occupied by the Abenaki Tribe. It was chartered by Governor Benning Wentworth in 1761 as "Hannover," and four years later, European settlers arrived, mostly from the colony of Connecticut. Although heavily wooded, Hanover became an agricultural community. In 1769, Eleazar Wheelock established Dartmouth College near the Common at a village called "the Plain," a level tract of land about a mile above the River. For a few years in the 1780s, the southwest corner of the town, called "Dresden," along with several other disgruntled villages along the River who felt they were not being adequately represented in the state legislature, defected from New Hampshire and joined the independent Republic of Vermont. The village of Hanover, not to be confused with Hanover Center, another village located in the center of the township, grew up around the College and became the locus for the Presbytery of Grafton.
New Hampshire
The state of New Hampshire is in northern New England, bordered by Vermont to the west, Maine to the east, Massachusetts to the south, and Canada to the north. The Connecticut River, which begins in Canada and empties into the Long Island Sound, runs along the western border of New Hampshire and, in the colonial period, functioned as a route for trade -- both of commodities and ideas -- between southern New England and the northernmost parts of America. New Hampshire was originally inhabited by large groups of Abenakis who spoke a dialect of Algonquin distinct from New England tribes to the south, but by 1617, disease and war had brought their number to only 5,000. European fishing fleets had travelled to the coast of New Hampshire since at least 1497, but English settlement of New Hampshire formally began when Captain John Mason, Governor of Portsmouth in Hampshire, England, was granted land in the region in 1622. Settlers arrived in 1623, establishing a base near what is now Portsmouth and entering the fur, fish, and timber trade. In 1641, New Hampshire agreed to come under Massachusetts' jurisdiction, but in 1679, Charles II gave New Hampshire its own charter. From then on, the Province of New Hampshire had its own government, consisting of a royal Governor and Council and an elected House of Representatives. By the time Wheelock moved Moor's Indian Charity School to New Hampshire, the colony was experiencing unprecedented growth. English victory in the French and Indian War stabilized the region, and as a result New Hampshire's Governor Benning Wentworth began to grant hundreds of townships to new settlers, many from the colony of Connecticut. Though Wheelock considered moving Moor's Indian Charity School to several different places, he finally decided on Hanover, NH, in 1768. Because Benning Wentworth was not receptive to Wheelock and his school, it was his nephew and successor Governor John Wentworth who signed Dartmouth College's charter in 1769. In August 1770, Wheelock moved his family to New Hampshire and established Dartmouth College. Moor's and the College would exist side-by-side in Hanover for decades. Soon after Wheelock founded Dartmouth in New Hampshire, the Revolutionary War began and the colony declared its independence. While several buildings and locations around Hanover bear Occom's name, he never visited the town or the college.
Wheelock, Eleazar
Eleazar Wheelock was a New Light Congregationalist minister who founded Dartmouth College. He was born into a very typical Congregationalist family, and began studying at Yale in 1729, where he fell in with the emerging New Light clique. The evangelical network that he built in college propelled him to fame as an itinerant minister during the First Great Awakening and gave him many of the contacts that he later drew on to support his charity school for Native Americans. Wheelock's time as an itinerant minister indirectly brought about his charity school. When the Colony of Connecticut retroactively punished itinerant preaching in 1743, Wheelock was among those who lost his salary. Thus, in 1743, he began operating a grammar school to support himself. He was joined that December by Samson Occom, a Mohegan Indian, who sought out an education in hopes of becoming a teacher among his people. Occom's academic success inspired Wheelock to train Native Americans as missionaries. To that end, he opened Moor's Indian Charity School in 1754 (where he continued to train Anglo-American students who paid their own way as well as students who functionally indentured themselves to Wheelock as missionaries in exchange for an education). Between 1754 and 1769, when he relocated to New Hampshire, Wheelock trained approximately 60 male and female Native American students from nearby Algonquian tribes and from the Haudenosaunee (Iroquois) of central New York. At the same time, he navigated the complicated politics of missionary societies by setting up his own board of the Society in Scotland for Propagating Christian Knowledge, although he continued to feud with the Boston Board of the SSPCK and the London Commissioners in Boston (more colloquially called the New England Company). By the late 1760s, Wheelock had become disillusioned with the idea of Native American education. He was increasingly convinced that educating Native Americans was futile (several of his students had failed to conform to his confusing and contradictory standards), and, in late 1768, he lost his connection to the Haudenosaunee. With his inclination and ability to sponsor Native American missionaries largely depleted, Wheelock sought instead to fulfill his ultimate ambition of obtaining a charter and opening a college, which he did in 1769. To fund this new enterprise, Wheelock drew on the £12,000 that Samson Occom had raised for Moor's Indian Charity School during a two-and-a-half year tour of Great Britain (1765 to 1768). Much of this money went towards clearing land and erecting buildings in New Hampshire for the Charity School's relocation — infrastructure that also happened to benefit Dartmouth. Many of Wheelock's contemporaries were outraged by what they saw as misuse of the money, as it was clear that Dartmouth College was not intended for Indians and that Moor's had become a side project. Although Wheelock tried to maintain at least some commitment to Native American education by recruiting students from Canadian communities, the move did a great deal of damage to his public image. The last decade of Wheelock's life was not easy. In addition to the problems of trying to set up a college far away from any Anglo-American urban center, Wheelock experienced the loss of relationships with two of his most famous and successful students, Samson Occom and Samuel Kirkland (an Anglo-American protégé). He also went into debt for Dartmouth College, especially after the fund raised in Britain was exhausted.
Thornton, John
John Thornton was born in Yorkshire on April 1, 1720. As a young man, Thornton inherited money from his father Robert Thornton, who was the Director of the Bank of England, which he used to begin his career as a merchant. In 1753, Thornton married Lucy Watson, with whom he had four children. Watson had a Christianizing influence on Thornton, which ultimately led to his 1754 conversion to evangelical Anglicanism under Henry Venn, the curate of Clapham. Thornton's and Venn's sons would continue their fathers' religious traditions, going on to form the "Clapham sect," an influential group of evangelical Christians who championed social reforms. As a result of his conversion, Thornton pursued charity just as much as trade, a major part of which involved managing the English Trust that oversaw the funds Occom and Whitaker collected for Wheelock's Indian Charity School. Thornton met and hosted Occom several times during his stay in England, and eventually became the Treasurer of the Trust. After Wheelock moved the School to Hanover, however, he focused on the establishment of Dartmouth College to educate Anglo-American men as missionaries, and was accused of using the Trust's funds to this end. This shift in focus contributed to the rift that developed between Occom and Wheelock upon Occom's return to America –- a rift Thornton tried to repair. Thornton thought of Occom as an equal and, in his role as Treasurer of the Trust, often reminded Wheelock of Occom's vital role in securing the funds that made the School possible. Thornton financed Occom's further missionary activities and insured that Wheelock did not forget Occom's hard work and Christian morals. In addition, Wheelock –- who knew that Occom respected Thornton –- often called upon the merchant when he himself could not convince Occom to undertake further missionary activity. The exchanges between Wheelock and Thornton ended once Wheelock had used up the funds that Occom had raised in England, yet Occom and Thornton kept in touch up through the Revolutionary War, with Thornton remaining one of Occom's most prominent supporters. He died on November 7th, 1790 as one of the wealthiest men in England, despite giving away nearly half his salary each year. In 1828, Thornton's role in the establishment of Dartmouth was memorialized in the College's naming of Thornton Hall.
Occom, Samson
Samson Occom was a Mohegan leader and ordained Presbyterian minister. Occom began his public career in 1742, when he was chosen as a tribal counselor to Ben Uncas II. The following year, he sought out Eleazar Wheelock, a young Anglo-American minister in Lebanon, CT, in hopes of obtaining some education and becoming a teacher at Mohegan. Wheelock agreed to take on Occom as a student, and though Occom had anticipated staying for a few weeks or months, he remained with Wheelock for four years. Occom's academic success inspired Wheelock to open Moor's Indian Charity School in 1754, a project which gave him the financial and political capital to establish Dartmouth College in 1769. After his time with Wheelock, Occom embarked on a 12-year mission to the Montauk of Long Island (1749-1761). He married a Montauk woman, Mary Fowler, and served as both teacher and missionary to the Montauk and nearby Shinnecock, although he was grievously underpaid for his services. Occom conducted two brief missions to the Oneida in 1761 and 1762 before embarking on one of the defining journeys of his career: a fundraising tour of Great Britain that lasted from 1765 to 1768. During this journey, undertaken on behalf of Moor's Indian Charity School, Occom raised £12,000 (an enormous and unanticpated amount that translates roughly to more than two-million dollars), and won wide acclaim for his preaching and comportment. Upon his return to Mohegan in 1768, Occom discovered that Wheelock had failed to adequately care for his family while he was gone. Additionally, despite the vast sums of money that he had raised, Occom found himself unemployed. Wheelock tried to find Occom a missionary position, but Occom was in poor health and disinclined to leave his family again after seeing the treatment with which they had met while he was in Britain. Occom and Wheelock's relationship continued to sour as it became apparent to Occom that the money he had labored to raise would be going towards infrastructure at Dartmouth College, Wheelock's new project, rather than the education of Native Americans. After the dissolution of his relationship with Wheelock, Occom became increasingly focused on the needs of the Mohegan community and increasingly vocal in criticizing Anglo-Americans' un-Christian treatment of Native Americans. In September of 1772, he delivered his famous "Sermon on the Execution of Moses Paul," which took Anglo-American spiritual hypocrisy as one of its major themes, and which went into four printings before the end of the year. In 1773, Occom became further disillusioned when the Mason Land Case was decided in favor of the Colony of Connecticut. The details of the Mason Case are complicated, but to summarize: the Colony of Connecticut had gained control of Mohegan land early in the 18th century under very suspect circumstances, and successfully fended off the Mohegan's 70-year-long legal challenge. The conclusion of the case came as a blow to the Mohegans, and further convinced Occom of Anglo-American corruption. Along with David Fowler (Montauk Tribe), Occom's brother-in-law, and Joseph Johnson (Mohegan), Occom's son-in-law, Occom helped found Brothertown, an Indian tribe formed from the Christian Mohegans, Pequots, Narragansetts, Montauks, Tunxis, and Niantics. They eventually settled in Oneida country in upstate New York. Occom moved there with his family in 1789, spending the remaining years of his life serving as a minster to the Brothertown, Stockbridge, and Mohegan Indians. Harried by corrupt land agents, the Brothertown and Stockbridge groups relocated to the eastern shore of Lake Winnebago, though Occom died in 1792 before he could remove himself and his family there. Occom's writings and legacy have made him one of the best known and most eminent Native Americans of the 18th century and beyond.
Avery, David
David Avery was one of Wheelock's charity scholars and had a long career as a Congregationalist minister. He studied at Moor's and Yale, where he was David McClure's classmate, and received his Masters from Dartmouth in 1773. Avery went on several missions to Indian tribes before his health forced him to retire. His first mission, before his final year at Yale, was to Kanawalohale as a schoolteacher in the summer of 1768. While there, he attended the 1768 Treaty of Fort Stanwix as Wheelock's representative. After graduating, he served on Long Island around Smithtown. He was ordained August 29, 1771, at Dartmouth. Wheelock then sent him to the Oneidas for eleven months (September 1771 to August 1772), primarily to find out why the Oneidas had withdrawn their children from Wheelock's school. However, Avery's health was failing, and at some point between August 1772 and March 1773, he withdrew from Indian missionary service. In response, Wheelock charged him part of his tuition. Avery lived an exciting life after he left Wheelock's service. The Sabbath after the battle of Lexington (April 19 1775), he bade his Gageborough congregation farewell, mustered twenty men, and led them to Boston where he preached to the entire army. He enlisted as a chaplain, although he also fought in battle and served as a medic. He left the army in February 1780, and spent the rest of his life in a variety of pulpits, with a stint under the Massachusetts Domestic Missionary Society.