Eleazar Wheelock, letter, to Samson Occom, 1771 August 15
ms-number: 771465
abstract: Wheelock writes a strongly worded rebuttal of Occom's criticisms regarding Wheelock's withdrawl from Indian education.
handwriting: Document is not written in Wheelock's hand. Letter case with regard to the letter "y" is difficult to discern -- when it is in question, the transcriber has opted for lower case.
paper: Large sheet folded in half to make four pages is in good condition, with light-to-moderate creasing, staining and wear.
ink: Light brown ink is faded.
noteworthy: Postscript appears to have been added in different ink. Given the lack of an address or seal, and the fact that the document is not in Wheelock's hand, it is possible/likely that this is a copy.
events: Fundraising Tour of Great Britain
---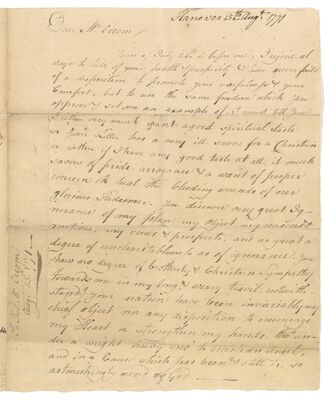 (View Page Image)
Hanover
15

th

Aug.

t

1771

Dear M.

r

Occom//

yours of
July 24.

th
is before me. I rejoice al­
ways to hear of your health & prosperity & have never faild
of a disposition to promote your usefulneſs & your
Comfort, but to use the same freedom which You
approve & set me an example of, I must tell You
I either very much want a good spiritual taste
or your Litter has a very ill savor for a Christain
or rather if I have any good taste at all, it much
savors of pride, arrogance & a want of proper
concern to heal the bleeding wounds of our
glorious Redeemer. You discover very great Ig­
norance of my plan, my object, my reasons &
motives, my views & prospects, and as great a
degree of uncharitableneſs as of ignorance. You
shew no degree of brotherly & Christain Sympathy
towards me in my long & weary travil, notwith­
stand.
g
your nation have been inv
i
ariably my
chief object, nor any disposition to encourage
my Heart or strengthen my hands, tho' un­
der a weight heavy eno' to crush an Angel,
and in a Cause which has been & still is, so
astonishingly own'd of God —
[left]
To Rev.

d

M.

r

Occom
Aug.

t

15.

th

1771 —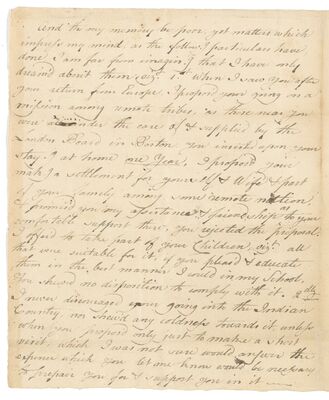 (View Page Image)
And 'tho my memory be poor, yet matters which
impreſs my mind, as the follow.
g
particulars have
done, I am far from imagin.
g
that I have only
dream'd about them viz.
t
1.
st
when I saw you after
your return from
Europe
I propos'd your going on a
miſsion among remote tribes, as those near you
were a
[illegible]
[guess: ll u]
⇑
[illegible]
nder the care of & supplied by the
London Board in Boston
. you insisted upon your
stay.
g
at home
one Year
, I propos'd your
mak.
g
a settlement for yourself &
Wife
& part
of your famely among some remote na
[illegible]
[guess:

t

]
tion,
& promis'd you my aſsistance, & friend
[illegible]
ship
⇑
as
to your
comfortable support there, You rejected the proposal.
I offer'd to take part of your Children, viz.
t
all
that were suitable for it, if you pleas'd & educate
them in the best manner I could in
my School
,
You shewed no disposition to comply with it. 2
dly
I never discouraged your going into the Indian
Country, nor shew'd any coldneſs towards it, unleſs
when you propos'd only just to make a short
visit, which I was not sure would anſwer the
expence which You let me know would be necſesary
to prepair You for & support you in it —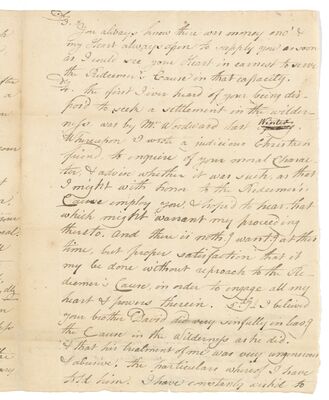 (View Page Image)
⇑
3.

dly
You always knew there was money eno' &
my Heart always open to supply you as soon
as I could see your Heart in earnest to serve
the Redeemer's Cause in that capacity.
4.
dly
the first I ever heard of your being dis­
pos'd to seek a settlement in the wilder­
neſs, was by
M.

r

Woodward
last
Spring
⇑
Winter
,
Whereupon I wrote a judicious Christain
friend, to enquire of your moral Charac­
ter, & advise whether it was such, as that
I might with honor to the Redeemer's,
Cau
[illegible]
se employ you, & hope'd to hear, that
which might warrant my proceeding
thereto. And there is noth.
g
want.
g
at this
time, but proper satisfaction that it
my be done without reproach to the Re­
deemer's Cause, in order to engage all my
heart & powers therein. 5.
[illegible]
[guess: dly]
I beleived
your brother
David
did very sinfully in leav.
g
the Cause in the wilderneſs as he did.
& that his treatment of me was very ungenerous
& abusive, the particulars whereof I have
told him. I have constantly wish'd to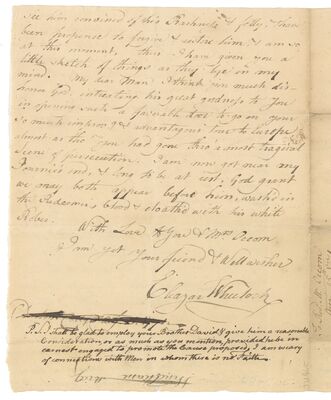 (View Page Image)
see him convinced of this Rashnesſs & folly, & have
been propense to forgive & restore him, & am so
at this moment, thus I have given you a
little sketch of things as they lye in my
mind. My dear Man, I think you much dis­
honor God, intreating his great goodneſs to You
in opening such a favorable door to go on your
so much improv.
g
& advantagous tour to
Europe
almost as tho' you had gone thro' a most tragical
Scene of persecution. I am now got near my
Journie's end, & long to be at rest, God grant
we may both appear before him, wash'd in
the Redeemer's blood & cloath'd with his white
Robes.

With Love to You & M.

rs

Occom
I am yet Your friend & Well wisher
Eleazar Wheelock
Dartmouth College

Aug.

t

15. 1771 —
P.S. I shall be glad to employ your Brother
David
& give him a reasonable
Consideration, or as much as you mention, provided he be in
earnest engaged to promote the Cause proposed. I am weary
of connections with Men in whom there is no Faith.
The Company for Propagation of the Gospel in New England and the parts adjacent in America
The Company for Propagation of the Gospel in New England and the parts adjacent in America was a missionary society active in America from 1649 until 1786. It was first called the "New England Company" in 1770. Most secondary literature uses that name for convenience and to distinguish it from other missionary societies. The company was first chartered in 1649 as the "President and Society for the Propagation of the Gospel in New England," largely in response to John Eliot's missionary efforts. After the Restoration (1660), it was rechartered as the "Company for Propagation of the Gospel in New England and the parts adjacent in America." The New England Company was very powerful and influential, in large part because it was a coalition between Anglicans and Dissenters. It supported a range of missionaries from the Mayhews to the Sergeants to Moor's alumnus Samuel Kirkland. After the Revolution, the New England Company refocused its attentions on New Brunswick and Canadian Indians. Wheelock had a very rocky relationship with the New England Company. Initially, it supported Wheelock's efforts. The Company funded Occom's education at Moor's and paid him a small salary during his time among the Montauketts. However, from 1765 onwards, its relationship with Wheelock rapidly deteriorated. The Company opposed the fundraising tour of Great Britain and went so far as to interfere with it by sending a widely circulated letter to England questioning Occom's background. The New England Company also interferred with Titus Smith's mission to Onaquaga by sending a rival missionary, Mr. Moseley, and stealing Titus' interpreter, Elisha Gunn. In 1767 it formally withdrew its financial support from Wheelock on the grounds that the fundraising tour had raised sufficient money. It is unclear what led the New England Company to suddenly change its stance towards Wheelock. Perhaps it wanted exclusive power over missionary distribution in New England, or perhaps it was thought that focusing on education over numbers in the field was counterproductive. Most secondary sources have conflated the New England Company's Boston Board and the Society in Scotland for Promoting Christian Knowledge's Boston Board, an easy mistake to make since both are sometimes referred to as the Boston Board and both vigorously opposed Wheelock. Any secondary source's statement about either should be carefully researched.
Moor's Indian Charity School
Moor's Indian Charity School was a grammar school for Native Americans that Eleazar Wheelock opened in North Lebanon, Connecticut in 1754. The school was named for Colonel Joshua Moor, also spelled More, who donated the land and school building. Moor's was essentially an expansion of the grammar school that Wheelock opened in 1743 to support himself during the fallout from the First Great Awakening, when Wheelock, who'd participated in itinerant ministry during the Awakening, had his salary confiscated by the colony of Connecticut. In December of that year, Samson Occom asked Wheelock to teach him as well. Wheelock's work with Occom was so successful that Wheelock decided to replicate the experiment with other Native American boys. He accepted his first Indian students in 1754, and in 1761 began taking female students as well. Wheelock believed that in time, his school would become just one part of a larger missionary enterprise. He planned to send his Anglo American and Native American students to various tribes as missionaries and schoolmasters, with explicit instructions to pick out the best students and send them back to Moor's to continue the cycle. His ultimate goal was to turn his school into a model Christian Indian town that would include farms, a college, and vocational training. However, Wheelock's grand design did not survive the decade. Wheelock lost the vast majority of his Native American students; he fought with many of the best, including Samson Occom, Joseph Johnson, David Fowler, and Hezekiah Calvin, and other former and current students accused him of subjecting Native Americans to disproportionate amounts of manual labor. In 1769, perhaps due to concerns about corporal punishment, the Oneida withdrew all their children from Moor's. When Wheelock relocated to Hanover in 1769, only two Native American students came with him, and it became clear that Wheelock's focus was on Dartmouth and that Dartmouth was for white students. After Wheelock's death in 1779, Moor's Indian Charity School receded further into the background as John Wheelock, his father's reluctant successor, stopped taking Indian students. Some Native American students were enrolled in Moor's until 1850, when the school unofficially closed.
Dartmouth College
Dartmouth College is small liberal arts institution in Hanover, New Hampshire. It has about four thousand undergraduate students taking courses in Arts and Sciences, and another two thousand in graduate schools in the Sciences, Comparative Literature, and Liberal Studies, as well as the Geisel School of Medicine, the Thayer School of Engineering, and the Tuck School of Business. It is a member of the Ivy League, and the ninth oldest institution of higher learning in the U.S. The charter establishing the College was signed in 1769 by John Wentworth, Royal Governor of New Hamsphire, who wanted an academy of higher learning in the colony. Its founder, Eleazar Wheelock, was a Congregational minister from Connecticut who, after his success in educating Samson Occom as a school teacher and Indian missionary in the 1740's, started Moor's Indian Charity School in 1754 to continue what he regarded as a divine mission to educate Native boys and girls to become missionaries. As the school grew, Wheelock began looking for a new location closer to Indian Country where he could expand. But in the 1760's he became disillusioned by the relative failure of his progam and began turning his attention to the education of Anglo-American men as missionaries. After a protracted search, he secured the royal charter in New Hampshire and in 1769 moved his family and base of operations to Hanover, where he established the College. It is named for William Legge, 2nd Earl of Dartmouth, who contributed to the funds raised by Occom and Whitaker on their fund-raising tour of Great Britain in 1766-68 and became a member of the London Trust that administered those funds. The College's charter announced its purpose as "the education and instruction of youth of the Indian tribes in this land [in] all parts of learning which shall appear necessary and expedient for civilizing and christianizing children of pagans…, and also of English youth and any others." But Wheelock's priorities were, in reality, the reverse. While he gave public notice in 1770 that "My Indian charity school … is now become a body corporate and politic, under the name of DARTMOUTH COLLEGE," he created this parallel structure to allow him to use the funds that were collected specifically for the education of Indians. Only around 75 Native students enrolled at the College before 1972, when it rededicated itself to educating Indians and established the Native American Studies Program. This is also the year Dartmouth went co-ed. Occom was angry and embittered at Wheelock's abandonment of his "great design," for which he had sacrificed so much. Their relations cooled after Occom's return from England, and he never visited his mentor again, or, for that matter, Dartmouth College.
London
The capital and largest city of the United Kingdom, London is located in the southeastern region of England along the Thames River. The outpost that would become London originated as a military storage post for the Romans when they invaded Britain in the year 43. It soon developed as a trading center and financial hub for Roman Britain. During a revolt against the Romans in 61, London was burned to the ground; the rebuilt town appeared in Tacitus's Annals as Londinium. With the decline of the Roman Empire in the 4th century, Londinium became a Saxon trading town. Following the Norman Conquest, London retained its central political and commercial importance. In the 14th century, under Edward II, Westminster became an administrative center and London became the capital of England. In the early 18th century, London was an important hub for evangelical Christianity and home to many influential people, like the charismatic Anglican minister, George Whitefield, who were sympathetic to Wheelock's missionary endeavors. Occom arrived in London in February 1766 on his fundraising tour for Wheelock's school and preached his first sermon at Whitefield's Tabernacle. London would be Occom's home base for the next two years, as he and Whitaker travelled throughout England and Scotland. Occom made many friends in London who would continue to support him after his break with Wheelock and the School. By the late 18th century, London had replaced Amsterdam as the center of world commerce, a role it would maintain until 1914.
Boston
The first English immigrant to settle on a peninsula in a harbor on the northeastern coast of North America the local Algonquin Indians called "Shawmet" was William Blackstone in 1629. A year later, John Winthrop arrived with a group of English Puritans and other settlers and named the area Boston after his hometown in Lincolnshire, England. The colony quickly developed representative political institutions that would help shape a democratic nation. Over the next few centuries, Boston emerged as an intellectual and educational center, and, because of its excellent harbor, became a leading commercial hub and a primary port for North America. It is the capital and largest city of the Commonwealth of Massachusetts, and the largest city in New England. Boston was the home for the Boards of Commissioners of several overseas religious societies who sent missionaries throughout the colonies in the 18th century, and was the site of many important events of the American Revolution.
Hanover
Hanover is a town in Grafton County, New Hampshire, which is located along the Connecticut River in the west-central area of the state, originally occupied by the Abenaki Tribe. It was chartered by Governor Benning Wentworth in 1761 as "Hannover," and four years later, European settlers arrived, mostly from the colony of Connecticut. Although heavily wooded, Hanover became an agricultural community. In 1769, Eleazar Wheelock established Dartmouth College near the Common at a village called "the Plain," a level tract of land about a mile above the River. For a few years in the 1780s, the southwest corner of the town, called "Dresden," along with several other disgruntled villages along the River who felt they were not being adequately represented in the state legislature, defected from New Hampshire and joined the independent Republic of Vermont. The village of Hanover, not to be confused with Hanover Center, another village located in the center of the township, grew up around the College and became the locus for the Presbytery of Grafton.
Windham
Windham is a town in Windham County in the northeastern corner of Connecticut. Historically, the area was home to the Nipmuck Indians, but when the English began to settle Connecticut in 1634, possession of what would become Windham passed to the Pequots. In 1637, following the Pequot War, the English-allied Mohegans took possession of the area and eventually sold what would become Windham County to John Winthrop Jr. in 1652. The town of Windham, named for Wyndham in England, is at the southwest corner of this land purchase and was incorporated in 1692. Eleazar Wheelock was born in Windham in 1711, the son of a prominent farming family. He lived on his family's 300-acre farm until leaving for Yale in 1729. After graduating and moving to to Lebanon, CT–-a mere 6 miles from Windham-–Wheelock often returned to his hometown to preach and do other business. When Wheelock needed support to advance his "great design," he turned to his friends in Windham, many of whom were members of the Windham Association, a group of Congregationalist ministers who examined and ordained area ministers. The Windham Association examined Occom in preparation for his ordination in 1757 at Wheelock's Lebanon home. Like Wheelock, Occom also travelled through and preached in Windham throughout his life. After a period of growth due to mills and textile factories, Windham was incorporated as a city in 1893. A village within the modern-day city of Windham still keeps its Algonquin name, Willimantic or "land of the swift running water."
Wheelock, Eleazar
Eleazar Wheelock was a New Light Congregationalist minister who founded Dartmouth College. He was born into a very typical Congregationalist family, and began studying at Yale in 1729, where he fell in with the emerging New Light clique. The evangelical network that he built in college propelled him to fame as an itinerant minister during the First Great Awakening and gave him many of the contacts that he later drew on to support his charity school for Native Americans. Wheelock's time as an itinerant minister indirectly brought about his charity school. When the Colony of Connecticut retroactively punished itinerant preaching in 1743, Wheelock was among those who lost his salary. Thus, in 1743, he began operating a grammar school to support himself. He was joined that December by Samson Occom, a Mohegan Indian, who sought out an education in hopes of becoming a teacher among his people. Occom's academic success inspired Wheelock to train Native Americans as missionaries. To that end, he opened Moor's Indian Charity School in 1754 (where he continued to train Anglo-American students who paid their own way as well as students who functionally indentured themselves to Wheelock as missionaries in exchange for an education). Between 1754 and 1769, when he relocated to New Hampshire, Wheelock trained approximately 60 male and female Native American students from nearby Algonquian tribes and from the Haudenosaunee (Iroquois) of central New York. At the same time, he navigated the complicated politics of missionary societies by setting up his own board of the Society in Scotland for Propagating Christian Knowledge, although he continued to feud with the Boston Board of the SSPCK and the London Commissioners in Boston (more colloquially called the New England Company). By the late 1760s, Wheelock had become disillusioned with the idea of Native American education. He was increasingly convinced that educating Native Americans was futile (several of his students had failed to conform to his confusing and contradictory standards), and, in late 1768, he lost his connection to the Haudenosaunee. With his inclination and ability to sponsor Native American missionaries largely depleted, Wheelock sought instead to fulfill his ultimate ambition of obtaining a charter and opening a college, which he did in 1769. To fund this new enterprise, Wheelock drew on the £12,000 that Samson Occom had raised for Moor's Indian Charity School during a two-and-a-half year tour of Great Britain (1765 to 1768). Much of this money went towards clearing land and erecting buildings in New Hampshire for the Charity School's relocation — infrastructure that also happened to benefit Dartmouth. Many of Wheelock's contemporaries were outraged by what they saw as misuse of the money, as it was clear that Dartmouth College was not intended for Indians and that Moor's had become a side project. Although Wheelock tried to maintain at least some commitment to Native American education by recruiting students from Canadian communities, the move did a great deal of damage to his public image. The last decade of Wheelock's life was not easy. In addition to the problems of trying to set up a college far away from any Anglo-American urban center, Wheelock experienced the loss of relationships with two of his most famous and successful students, Samson Occom and Samuel Kirkland (an Anglo-American protégé). He also went into debt for Dartmouth College, especially after the fund raised in Britain was exhausted.
Occom, Samson
Samson Occom was a Mohegan leader and ordained Presbyterian minister. Occom began his public career in 1742, when he was chosen as a tribal counselor to Ben Uncas II. The following year, he sought out Eleazar Wheelock, a young Anglo-American minister in Lebanon, CT, in hopes of obtaining some education and becoming a teacher at Mohegan. Wheelock agreed to take on Occom as a student, and though Occom had anticipated staying for a few weeks or months, he remained with Wheelock for four years. Occom's academic success inspired Wheelock to open Moor's Indian Charity School in 1754, a project which gave him the financial and political capital to establish Dartmouth College in 1769. After his time with Wheelock, Occom embarked on a 12-year mission to the Montauk of Long Island (1749-1761). He married a Montauk woman, Mary Fowler, and served as both teacher and missionary to the Montauk and nearby Shinnecock, although he was grievously underpaid for his services. Occom conducted two brief missions to the Oneida in 1761 and 1762 before embarking on one of the defining journeys of his career: a fundraising tour of Great Britain that lasted from 1765 to 1768. During this journey, undertaken on behalf of Moor's Indian Charity School, Occom raised £12,000 (an enormous and unanticpated amount that translates roughly to more than two-million dollars), and won wide acclaim for his preaching and comportment. Upon his return to Mohegan in 1768, Occom discovered that Wheelock had failed to adequately care for his family while he was gone. Additionally, despite the vast sums of money that he had raised, Occom found himself unemployed. Wheelock tried to find Occom a missionary position, but Occom was in poor health and disinclined to leave his family again after seeing the treatment with which they had met while he was in Britain. Occom and Wheelock's relationship continued to sour as it became apparent to Occom that the money he had labored to raise would be going towards infrastructure at Dartmouth College, Wheelock's new project, rather than the education of Native Americans. After the dissolution of his relationship with Wheelock, Occom became increasingly focused on the needs of the Mohegan community and increasingly vocal in criticizing Anglo-Americans' un-Christian treatment of Native Americans. In September of 1772, he delivered his famous "Sermon on the Execution of Moses Paul," which took Anglo-American spiritual hypocrisy as one of its major themes, and which went into four printings before the end of the year. In 1773, Occom became further disillusioned when the Mason Land Case was decided in favor of the Colony of Connecticut. The details of the Mason Case are complicated, but to summarize: the Colony of Connecticut had gained control of Mohegan land early in the 18th century under very suspect circumstances, and successfully fended off the Mohegan's 70-year-long legal challenge. The conclusion of the case came as a blow to the Mohegans, and further convinced Occom of Anglo-American corruption. Along with David Fowler (Montauk Tribe), Occom's brother-in-law, and Joseph Johnson (Mohegan), Occom's son-in-law, Occom helped found Brothertown, an Indian tribe formed from the Christian Mohegans, Pequots, Narragansetts, Montauks, Tunxis, and Niantics. They eventually settled in Oneida country in upstate New York. Occom moved there with his family in 1789, spending the remaining years of his life serving as a minster to the Brothertown, Stockbridge, and Mohegan Indians. Harried by corrupt land agents, the Brothertown and Stockbridge groups relocated to the eastern shore of Lake Winnebago, though Occom died in 1792 before he could remove himself and his family there. Occom's writings and legacy have made him one of the best known and most eminent Native Americans of the 18th century and beyond.
Woodward, Bezaleel
Bezaleel Woodward was an integral figure at Dartmouth College and the greater Hanover community; and like that of Eleazar Wheelock, Woodward's career consisted of a blend of education, religion, and local affairs. After attending Moor's and graduating from Yale in 1764, he became a preacher. Upon his return to Lebanon in late 1766, he began to hold various positions at Moor's and became the first tutor of college department in 1768. Woodward later was a professor of mathematics and natural philosophy at Dartmouth College, as well as a member and clerk of the Board of Trustees. In 1772, he solidified his connection to Wheelock even further by marrying Wheelock's daughter, Mary. Woodward also held numerous titles outside of the school. He was an elder of the Presbytery and attained multiple appointments in the local court system. A natural leader, Woodward was an influential member and clerk of several committees, representing both Hanover and the Dresden college district. He was thus a leading figure in the Western Rebellion, promoting several towns' secession from New Hampshire and union with Vermont. Although Woodward resigned from his professorship in 1778, supposedly disassociating himself from Dartmouth while he engaged in politics, it was merely a formality. Upon Wheelock's death, Woodward acted as president of the college from April to October 1779. Woodward continued to perform many of the executive tasks even after Wheelock's son and successor, John Wheelock, took over the position, and also held the late Wheelock's post of treasurer. Claiming to be finished with politics, he officially returned to Dartmouth as tutor in 1782, and performed the president's duties while Wheelock was abroad in 1782 and 1783. Nonetheless, Woodward continued to participate in local affairs — in 1783 he unsuccessfully attempted to have the New Hampshire General Assembly approve Dresden's status as a separate town; and in 1786, he became the county treasurer and register of deeds. Woodward remained a prominent figure at Dartmouth and the surrounding area throughout his life. He was, for instance, involved in the construction of Dartmouth Hall in 1784, and was part of the committee formed in 1788 to regulate the contested use of the fund raised by Occom and Whitaker in Great Britain for Moor's. Woodward died August 25, 1804, at the age of 59.
Fowler, David
David Fowler was Jacob Fowler's older brother, Samson Occom's brother-in-law, and an important leader of the Brothertown Tribe. He came to Moor's in 1759, at age 24, and studied there until 1765. While at school, he accompanied Occom on a mission to the Six Nations in 1761. He was licensed as a school master in the 1765 mass graduation, and immediately went to the Six Nations to keep school, first at Oneida and then at Kanawalohale. Fowler saw himself as very close to Wheelock, but their relationship fragmented over the course of Fowler's mission, primarily because Wheelock wrote back to Kirkland, with whom Fowler clashed, but not to Fowler, and because Wheelock refused to reimburse Fowler for some expenses on his mission (767667.4 provides the details most clearly). Fowler went on to teach school at Montauk, and played a major role in negotiations with the Oneidas for the lands that became Brothertown. He was among the first wave of immigrants to that town, and held several important posts there until his death in 1807.
Occom, Mary (née Fowler)
Mary Occom (née Fowler) was a Montaukett woman who married Samson Occom. Although information about her is limited and often comes from male, Anglo-American sources, it offers a tantalizing glimpse of her strength, as well as an alternative to the Eleazar Wheelock-centered narrative of Occom's life that often dominates the latter's biography. Mary was born into the influential Fowler family at Montauk, Long Island. She met Samson during his missionary service there (1749-1761). Mary studied at Samson's school along with her brothers David and Jacob, and was almost certainly literate. She and Samson married in 1751. Wheelock and several other Anglo-American powers opposed their union because they worried it might distract Occom from being a missionary (as, indeed, family life did), and thus many scholars have read in Samson and Mary's marriage an act of resistance against Samson's domineering former teacher. Little information about the minutiae of Mary's life survives, but existing sources speak volumes about her character and priorities. In front of Anglo-American missionaries visiting the Occoms' English-style house at Mohegan, Mary would insist on wearing Montaukett garb and, when Samson spoke to her in English, she would only reply in Montaukett, despite the fact that she was fluent in English. Mary Occom was, in many ways, Wheelock's worst fear: that his carefully groomed male students would marry un-Anglicized Indian women. It is not a stretch to imagine that Mary provided much of the incentive for Wheelock to begin taking Indian girls into his school, lest his other protégés replicate Samson's choice. Much of our information about Mary comes from between 1765 and 1768, when Samson was fundraising in Great Britain. Despite promising to care for Samson's wife and family (at the time they had seven children), Wheelock, by every objective measure, failed to do so, and Mary's complaints are well documented. Hilary Wyss reads in Wheelock's neglect (and in letters from the time) a more sinister story, and concludes that on some level Wheelock was holding Samson's family hostage, in return for Occom curtailing his political beliefs on the Mason Case. Wyss also notes Mary's remarkable survivance in this situation. Mary drew on various modes of contact, from letters to verbal communication with influential women (including Sarah Whitaker, the wife of Samson's traveling companion, and Wheelock's own daughters), to shame Wheelock into action and demand what she needed. One of the major struggles in Mary's life, and in Samson's, was with their sons. Both Aaron and Benoni failed to live up to their parents' expectations. Aaron attended, and left, Moor's Indian Charity School three times, and both Aaron and Benoni struggled with alcohol and refused to settle down. The Occom daughters did not cause similar problems. Given the nature of existing sources, little is known about Mary after Samson and Wheelock lessened their communication in 1771. Joanna Brooks has conjectured that Mary was likely influential in Samson's Mohegan community involvement later in life, for instance, in his continued ministry to Mohegan and, perhaps, his increasingly vehement rejection of Anglo-American colonial practices.
Fundraising Tour of Great Britain
After many months of planning and shifting personnel, Occom, accompanied by the minister Nathaniel Whitaker, sets sail in December 1765 for a two-and-a-half year tour of England and Scotland in order to solicit contributions to Wheelock's Indian Charity School and missionary efforts. Introduced to aristocrats and prominent clergy by the minister George Whitefield, Occom preaches many sermons, travels widely, and collects a large sum of money.