Samson Occom, letter, to Susanna Wheatley, 1771 March 5
ms-number: 771205.1
abstract: Occom writes of the dire straits his family is under from lack of provisions, and of his trust in God. His eldest son has recently died. He requests a singing book for his children.
handwriting: Handwriting is small and crowded, yet mostly clear and legible.
paper: Large sheet folded in half to make four pages has been heavily reinforced, which makes it difficult to gauge the condition of the paper. It appears to be in fair-to-poor condition, with moderate-to-heavy staining, creasing and wear. The reinforcement, which appears to be aging, is also beginning to tear at the central crease.
ink: Brown ink is dimmed by the reinforcement.
noteworthy: There is an uncharacteristically emotional trailer written by Wheelock at the top of two verso. Several modern notations have been made by unknown editors, including red-wax pencil marks and the notation, likely 19th-century, "S. Occom 1771." These edits have not been included in the transcription. An addition above the address appears to be contemporary to the letter, and is possibly a postage mark. A photocopy exists in Rauner Special Collections that appears to have been made before the paper was reinforced.
signature: The letter is signed three times, once in full after body of letter, then abbreviated after each postscript.
---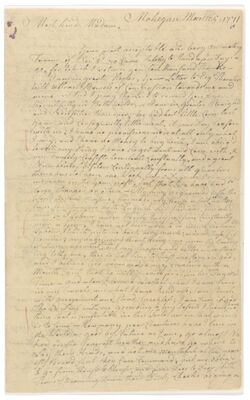 (View Page Image)
Mohegan
March 5: 1771

Most kind Madam,

Your most acceptable and very animating
Favour of
Dec

r

3

d

–70
Came Safely to Hand a few Days a
go, for which I return you ten thouſand Thanks —
I am in great Hopes, Your Letter to
Esq.

r

Thornton
will attract Bowels of Compaſsion towards me and
mine. And I pray the Lord to reward You & yours
Bountifully in Both worlds, — I am in Greater Straights
and Neceſsities than ever, we had but little Corn last
year and Conſequently little meat. it was Dry Seaſon
with us; I have no proviſsions now at all only what
I buy, and I have no Money to buy with, I am oblig'd
to Sell any thing I have to get meat and Corn with, &
my Family Conſiſts ten Souls Conſtantly, and a great
Number of Viſiters Continually from all quarters
there has not been one Week, nor 3 Days as I
[gap: worn_edge]
[guess: re‐]
member in the Year paſt, but that we have had
Some Stranger or other — My being acquainted with the
World in Some Meaſure, has made my Houſe a Sort
⇑
of
an Asy‐
lum for Strangers both English and Indians, far and
near, — I Labour under Bodily Indiſpoſiſion Conſtantly
near a Year, I have not been able to do much in hard
Labour, which puts me back very much; under theſe Dif‐
ficulties, my unbelieving Heart brings me upon the Borders
of Diſcouragement
⇑
at times
, but my Reaſon and better underſtand‐
ing tells me, this is the Time to Truſt and Hope in god,
and I believe God never made any Creature with a
Mouth, but that he will provide for it, in his
⇑
own
way and
Time — and when I Come to recollect what I have Seen
in my Travels, and what I have Read alſo, I am Struck
with amazement and Stand Speechleſs; I am Sure if god
Shou'd Deal with me according to my Deſerts I Shoud
⇑
have
no‐
thing that is Comfortable in this World nor in that which
is to Come — How many poor Creatures have I Seen in
the World as good by Nature as I am, go almoſt Na
ked in the Severeſt weather, and have no where to
Lay their Heads, and not one Mouthful of the mean
eſt Bread, that they Can Command, but are oblig'd
to go from Houſe to Houſe, and from Door to Door, with
Tears Streaming Down their Dirty Cheeks beging a
(View Page Image)
a Crum of Bread, and when they have one mouthful giv
en them, they know not who will
⇑
give
them the next, — when
I Come to Conſider how much better God has Dealt with
me, I am Astoniſh'd at my ſelf, that I have no more
Senſe of the Diſtinguiſhing Goodneſs of God to me, and to mine —
I have greateſt Reaſon to Call upon my Soul and
all that is within
⇑
me
to Bleſs and Praiſe God Night and
Day; and when I come to Conſider further, how many
Holy Souls, I mean the Children
⇑
of god
, have Sufferd, in
Times
⇑
of
Perſecution, all manner of Torments, and
Depriv'd of every Comfort in this World, Yet how
ful of Praiſes and thankſgivings were they — Yea
when I Come to trace the Son of the moſt High, from
the Manger to his Croſs, I am Struck Dumb, I am Con‐
founded, I am Aſhamed, I have no Room to open my
Mouth in a way of Complaint, I pray god to learn
me by theſe Small Tryals I meet with in the World
to Hope and Truſt in god alone, and not in the Crea‐
ture — I
⇑
Pray
god to kill me to the world, and that he woud
kill the World to me — that I may be Dead to the World
and the World to me — God has Seen fit to take away
my eldeſt Son
by Death a few weeks ago, the Lord
Sanctify this afflective Diſpenſation to me and to
mine —
my wife
is not well,
and
but the reſt of my
Family are well thro' the goodneſs of god at pre‐
ſent — I Pray God theſe may find you and yours
in Health of Body and Soul Proſperity, —
my

⇑

wife
Joins
me in Chriſtian Reſpects to you and Yours —
I am, moſt kind madam

your moſt unworthy and moſt
obliged Humble Servant
Samson Occom
PS:
Pleaſe to remember
⇑
me
to
Phillis
and the reſt of your Servants
Pray madam, what harm woud it be to Send
Phillis
to her
Native Country as a Female Preacher to her kindred,
you know Quaker women are alow'd to preach, and why
not others in an Extraordinary Caſe —
S: O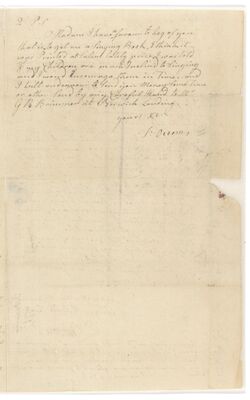 (View Page Image)
2 PS
Madam I have
⇑
a
favour to beg of you
that is, to get me a Singing Book, I think it
was Printed at
Salem
lately price, I was told
S
8 my Children are much Inclin'd to Singing
and I woud
[illegible]
Encourage them in Time, — and
I will endeavour to Send you Money Some Time
or other Send by any Careful Hand to M
r
JB Brimmer
at
Norwich Landing
yours &c
S: Occom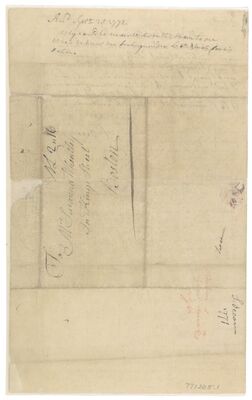 (View Page Image)
Rec
d
Sept
r
1772
why could he never write in this ſtrain to me
when he knew me ſinking under Lab
r
& trial for his
Nation.
[illegible]
[guess: NL]
2..16
To
M
rs
Susanna Wheatley
In
Kings Street
Boston
[illegible]
[guess: Lebanon]
Norwich Landing
Norwich Landing is the original name of the area around the public landing built in 1694 at the head of the Thames River in the town of Norwich, CT, to faciliate trade with England. It was a site of business and trade, also called "Chelsea Landing" and "Chelsea." Eventually, this neighborhood became the downtown area of what grew to be the city of Norwich. Because of its proximity to Lebanon, CT, where Eleazar Wheelock lived and worked, and its harbor with access to the Long Island Sound, Norwich Landing became the main point of travel for Wheelock and his associates, and visitors who frequently traveled to the area by boat.
State Street
State Street is located in the present-day financial district of Boston, Massachusetts, and is the home of several famous landmarks including the State House, the Long Wharf, and the Boston Custom House. The street was named Market Street in 1636 when Puritans settled in the area and built houses on either side of the street and fixed lines on official maps. In 1708, the town selectmen ordered that Market Street, on which the Town House was located, be called King Street. In 1784, in the aftermath of the Revolutionary War, the name was changed to State Street to symbolically cut regal ties. State (King) Street is perhaps most well known for being the location of the Boston Massacre, which occurred outside the Town House in 1770. The Wheatley family and their servants and slaves, including Phillis Wheatley, lived on King Street; correspondences between Susannah Wheatley, Phillis's mistress, and Occom were addressed to and from the Wheatley home there in 1765 and 1771.
Boston
The first English immigrant to settle on a peninsula in a harbor on the northeastern coast of North America the local Algonquin Indians called "Shawmet" was William Blackstone in 1629. A year later, John Winthrop arrived with a group of English Puritans and other settlers and named the area Boston after his hometown in Lincolnshire, England. The colony quickly developed representative political institutions that would help shape a democratic nation. Over the next few centuries, Boston emerged as an intellectual and educational center, and, because of its excellent harbor, became a leading commercial hub and a primary port for North America. It is the capital and largest city of the Commonwealth of Massachusetts, and the largest city in New England. Boston was the home for the Boards of Commissioners of several overseas religious societies who sent missionaries throughout the colonies in the 18th century, and was the site of many important events of the American Revolution.
Mohegan
Mohegan is a village in southeastern Connecticut at the site of the present-day town of Montville, and is the location of the Mohegan Indian Reservation. The village gets its name from the Mohegan Tribe, or wolf people, who split from the Pequots in the early 17th century under the leadership of the sachem Uncas. In the 1720s, the Mohegans requested the colony of Connecticut provide them with an English educator. An English minister and schoolteacher named John Mason (no relation to Captain John Mason) moved to Mohegan in order to provide English-styled education to the Mohegans, convinced his sponsors, the New England Company, to build a schoolhouse at Mohegan, which eventually served as a boarding school for other Native American children from the surrounding area. During the 17th century, the Mohegan Tribe became embroiled in a complicated controversy over control of Mohegan land — known as the Mason Land Case or, more specifically, Mohegan Indians v. Connecticut — that included the village of Mohegan. The Tribe claimed that it never authorized a transfer of their lands, held in trust by the Mason family, to the colonial government. In 1662, the colony of Connecticut was incorporated by a royal charter, which included the disputed tribal land. The land controversy was revived in 1704 when descendants of John Mason, the original trustee, petitioned the Crown on behalf of the Mohegans, but the suit was finally decided against the Tribe in 1773. Born in Mohegan, Occom became involved in the Mason Land Case and vehemently argued for the rights of the Mohegan Indians to maintain their land, opposing Eleazar Wheelock and other ministers in the area. Although Occom left Mohegan for a 12-year mission with the Montauk Indians of Long Island, he returned at the end of 1763 with his large family to build a house in Mohegan, establishing it as his base of operations. Even after the creation of the Brothertown settlement in Oneida country, for which he served as minister, Occom continued to commute back and forth from Mohegan; he didn't sell his house in Mohegan and move his family to Brothertown until 1789. Many members of his family remained in Mohegan, including his sister Lucy Tantaquidgeon, who lived there until her death at 99 in 1830.
Occom, Samson
Samson Occom was a Mohegan leader and ordained Presbyterian minister. Occom began his public career in 1742, when he was chosen as a tribal counselor to Ben Uncas II. The following year, he sought out Eleazar Wheelock, a young Anglo-American minister in Lebanon, CT, in hopes of obtaining some education and becoming a teacher at Mohegan. Wheelock agreed to take on Occom as a student, and though Occom had anticipated staying for a few weeks or months, he remained with Wheelock for four years. Occom's academic success inspired Wheelock to open Moor's Indian Charity School in 1754, a project which gave him the financial and political capital to establish Dartmouth College in 1769. After his time with Wheelock, Occom embarked on a 12-year mission to the Montauk of Long Island (1749-1761). He married a Montauk woman, Mary Fowler, and served as both teacher and missionary to the Montauk and nearby Shinnecock, although he was grievously underpaid for his services. Occom conducted two brief missions to the Oneida in 1761 and 1762 before embarking on one of the defining journeys of his career: a fundraising tour of Great Britain that lasted from 1765 to 1768. During this journey, undertaken on behalf of Moor's Indian Charity School, Occom raised £12,000 (an enormous and unanticpated amount that translates roughly to more than two-million dollars), and won wide acclaim for his preaching and comportment. Upon his return to Mohegan in 1768, Occom discovered that Wheelock had failed to adequately care for his family while he was gone. Additionally, despite the vast sums of money that he had raised, Occom found himself unemployed. Wheelock tried to find Occom a missionary position, but Occom was in poor health and disinclined to leave his family again after seeing the treatment with which they had met while he was in Britain. Occom and Wheelock's relationship continued to sour as it became apparent to Occom that the money he had labored to raise would be going towards infrastructure at Dartmouth College, Wheelock's new project, rather than the education of Native Americans. After the dissolution of his relationship with Wheelock, Occom became increasingly focused on the needs of the Mohegan community and increasingly vocal in criticizing Anglo-Americans' un-Christian treatment of Native Americans. In September of 1772, he delivered his famous "Sermon on the Execution of Moses Paul," which took Anglo-American spiritual hypocrisy as one of its major themes, and which went into four printings before the end of the year. In 1773, Occom became further disillusioned when the Mason Land Case was decided in favor of the Colony of Connecticut. The details of the Mason Case are complicated, but to summarize: the Colony of Connecticut had gained control of Mohegan land early in the 18th century under very suspect circumstances, and successfully fended off the Mohegan's 70-year-long legal challenge. The conclusion of the case came as a blow to the Mohegans, and further convinced Occom of Anglo-American corruption. Along with David Fowler (Montauk Tribe), Occom's brother-in-law, and Joseph Johnson (Mohegan), Occom's son-in-law, Occom helped found Brothertown, an Indian tribe formed from the Christian Mohegans, Pequots, Narragansetts, Montauks, Tunxis, and Niantics. They eventually settled in Oneida country in upstate New York. Occom moved there with his family in 1789, spending the remaining years of his life serving as a minster to the Brothertown, Stockbridge, and Mohegan Indians. Harried by corrupt land agents, the Brothertown and Stockbridge groups relocated to the eastern shore of Lake Winnebago, though Occom died in 1792 before he could remove himself and his family there. Occom's writings and legacy have made him one of the best known and most eminent Native Americans of the 18th century and beyond.
Wheatley, Susanna
Susanna Wheatley was the mistress of Phillis Wheatley, a slave who became famous as the as poet and the first African-American woman to be published. In 1741, Wheatley married John Wheatley, a prosperous tailor, merchant, moneylender and constable of Boston. In 1761 John purchased a young African girl who had been kidnapped from West Africa to be Susanna's servant. They named her Phillis, after the ship that transported her. As active Congregationalists, they felt it their duty to teach the girl to read the Bible. Phillis showed uncommon aptitude and was soon reading Greek and Latin as well as English. Susanna Wheatley was engaged in missionary work through correspondence (her correspondence with Occom dates from 1765), financial donations, and entertaining guests, including Presbyterian and Anglican Methodist missionaries who stayed in the Wheatley house in Boston. Phillis was allowed to mix freely with political, religious, and socially prominent guests. When she began writing poetry, often dedicated to Susanna's extended family and influential acquaintances, Susanna encouraged and promoted her through a series of drawing room performances. Not able to find a publisher in Boston, Susanna sent Phillis to England with the Wheatley son Nathaniel, where, through her connections to the evangelical George Whitefield, Phillis met Selina, Countess of Huntingdon, who became her patron, and helped publish her collection of verse in 1773. When Susanna Wheatley died in 1774 after a long illness, Phillis wrote to John Thornton, the English philanthropist and treasurer of the Trust for Wheelock's Indian School, "By the great loss I have sustain'd of my best friend, I feel like One forsaken by her parent in a desolate Wilderness." Although critics debate Phillis' status in the Wheatley home, in a letter to her friend Obour Tanner, Phillis thanked Susanna Wheatley for adopting her and treating her "more like her child than her servant."
Thornton, John
John Thornton was born in Yorkshire on April 1, 1720. As a young man, Thornton inherited money from his father Robert Thornton, who was the Director of the Bank of England, which he used to begin his career as a merchant. In 1753, Thornton married Lucy Watson, with whom he had four children. Watson had a Christianizing influence on Thornton, which ultimately led to his 1754 conversion to evangelical Anglicanism under Henry Venn, the curate of Clapham. Thornton's and Venn's sons would continue their fathers' religious traditions, going on to form the "Clapham sect," an influential group of evangelical Christians who championed social reforms. As a result of his conversion, Thornton pursued charity just as much as trade, a major part of which involved managing the English Trust that oversaw the funds Occom and Whitaker collected for Wheelock's Indian Charity School. Thornton met and hosted Occom several times during his stay in England, and eventually became the Treasurer of the Trust. After Wheelock moved the School to Hanover, however, he focused on the establishment of Dartmouth College to educate Anglo-American men as missionaries, and was accused of using the Trust's funds to this end. This shift in focus contributed to the rift that developed between Occom and Wheelock upon Occom's return to America –- a rift Thornton tried to repair. Thornton thought of Occom as an equal and, in his role as Treasurer of the Trust, often reminded Wheelock of Occom's vital role in securing the funds that made the School possible. Thornton financed Occom's further missionary activities and insured that Wheelock did not forget Occom's hard work and Christian morals. In addition, Wheelock –- who knew that Occom respected Thornton –- often called upon the merchant when he himself could not convince Occom to undertake further missionary activity. The exchanges between Wheelock and Thornton ended once Wheelock had used up the funds that Occom had raised in England, yet Occom and Thornton kept in touch up through the Revolutionary War, with Thornton remaining one of Occom's most prominent supporters. He died on November 7th, 1790 as one of the wealthiest men in England, despite giving away nearly half his salary each year. In 1828, Thornton's role in the establishment of Dartmouth was memorialized in the College's naming of Thornton Hall.
Occom, Aaron
Aaron Occom was Samson and Mary Occom's prodigal second child and oldest son. He was born in 1753, during Samson's mission to the Montauketts of Long Island. The Occoms entered Aaron in Moor's Indian Charity School when he was seven, in the hope that he would "be Brought up." However, Aaron proved ill-suited to school, and returned home in October 1761. He had two more brief stints at Moor's Indian Charity School: the first in December 1765, after Samson departed for his two-and-a-half-year fundraising tour of Great Britain, and the second in November 1766, when Mary found herself unable to control Aaron's wild behavior (which included attempting to run away with "a very bad girl" and forging store orders in Mary's name). After his last enrollment at Moor's, Aaron ran away to sea. He had returned to Mohegan by November 1768, and at age 18, he married Ann Robin. Aaron died in 1771, leaving a son also named Aaron. Samson periodically entertained the idea of apprenticing Aaron to a master, but never seems to have done so. One letter written by Aaron survives: an epistle to Joseph Johnson, another young Mohegan who studied at Moor's.
Occom, Mary (née Fowler)
Mary Occom (née Fowler) was a Montaukett woman who married Samson Occom. Although information about her is limited and often comes from male, Anglo-American sources, it offers a tantalizing glimpse of her strength, as well as an alternative to the Eleazar Wheelock-centered narrative of Occom's life that often dominates the latter's biography. Mary was born into the influential Fowler family at Montauk, Long Island. She met Samson during his missionary service there (1749-1761). Mary studied at Samson's school along with her brothers David and Jacob, and was almost certainly literate. She and Samson married in 1751. Wheelock and several other Anglo-American powers opposed their union because they worried it might distract Occom from being a missionary (as, indeed, family life did), and thus many scholars have read in Samson and Mary's marriage an act of resistance against Samson's domineering former teacher. Little information about the minutiae of Mary's life survives, but existing sources speak volumes about her character and priorities. In front of Anglo-American missionaries visiting the Occoms' English-style house at Mohegan, Mary would insist on wearing Montaukett garb and, when Samson spoke to her in English, she would only reply in Montaukett, despite the fact that she was fluent in English. Mary Occom was, in many ways, Wheelock's worst fear: that his carefully groomed male students would marry un-Anglicized Indian women. It is not a stretch to imagine that Mary provided much of the incentive for Wheelock to begin taking Indian girls into his school, lest his other protégés replicate Samson's choice. Much of our information about Mary comes from between 1765 and 1768, when Samson was fundraising in Great Britain. Despite promising to care for Samson's wife and family (at the time they had seven children), Wheelock, by every objective measure, failed to do so, and Mary's complaints are well documented. Hilary Wyss reads in Wheelock's neglect (and in letters from the time) a more sinister story, and concludes that on some level Wheelock was holding Samson's family hostage, in return for Occom curtailing his political beliefs on the Mason Case. Wyss also notes Mary's remarkable survivance in this situation. Mary drew on various modes of contact, from letters to verbal communication with influential women (including Sarah Whitaker, the wife of Samson's traveling companion, and Wheelock's own daughters), to shame Wheelock into action and demand what she needed. One of the major struggles in Mary's life, and in Samson's, was with their sons. Both Aaron and Benoni failed to live up to their parents' expectations. Aaron attended, and left, Moor's Indian Charity School three times, and both Aaron and Benoni struggled with alcohol and refused to settle down. The Occom daughters did not cause similar problems. Given the nature of existing sources, little is known about Mary after Samson and Wheelock lessened their communication in 1771. Joanna Brooks has conjectured that Mary was likely influential in Samson's Mohegan community involvement later in life, for instance, in his continued ministry to Mohegan and, perhaps, his increasingly vehement rejection of Anglo-American colonial practices.
Wheatley, Phillis
Phillis Wheatley is the first African-American woman to publish her writing. Born in West Africa around 1753, she was brought to America as a slave when she was eight. She was purchased by John Wheatley, a Boston merchant, as a servant for his wife, Susanna; they named her Phillis after the ship that transported her. The Wheatley children tutored Phillis, who was an avid student and quickly learned to read Greek and Latin classics as well as the Bible. Recognizing her abilities, the Wheatley family curtailed Wheatley's household duties and encouraged her reading. The Wheatleys supported the Revolutionary cause, as well as the same evangelical and missionary movements as Wheelock. Wheatley began writing elegies, occasional poems, and poems with religious and political themes in the Augustan style, several addressed to famous men of the time, which brought her acclaim. In 1770, she wrote a tribute to the English evangelical preacher George Whitefield, and in 1775 she wrote "To his Excellency George Washington," then general of the Continental Army, which solicited an invitation to visit him in Cambridge. Occom corresponded with Susanna Wheatley, who supported his activities, and from those letters we know that Wheatley and Occom also corresponded, as early as 1765. The only surviving letter of that correspondence, which was reprinted in several New England newspapers, is by Wheatley and dated February 11, 1774, in which she deplores the practice of slavery and points out the hypocrisy of Americans' demands for freedom. Despite her renown, Bostonians doubted that a young slave girl could write poetry, and in 1772, the Wheatleys invited a group of illustrious men to "examine" Phillis, including Reverend Charles Chauncy, John Hancock, Thomas Hutchinson, the Royal governor of Massachusetts, and his lieutenant governor, Andrew Oliver, who was also treasurer of the Boston Board of the New England Company, which funded some of Wheelock's endeavors. Not finding a publisher, she traveled to England where she was supported by the Countess of Huntingdon and the Earl of Dartmouth, a member of the English Trust that handled the funds raised for Wheelock's School by Occom. "Poems on Various Subjects Religious and Moral" appeared in 1773. Freed in 1778, Wheatley married a free black man named John Peters. They struggled with poverty, and lost two children in infancy. Shortly after Peters was imprisoned for debt in 1784, Wheatley and her third infant child died; there is evidence that she had written another volume of poetry, but it has never been found.