Samson Occom, letter, to Rev. Mr. Fish, 1770 November 16
ms-number: 770616
abstract: Occom writes he is willing to release Jacob Fowler from his employ, and let Fowler keep school at Stonington, but that the allowance for schoolmasters there is too small.
handwriting: Formal handwriting is clear and legible.
paper: Single sheet is in good-to-fair condition, with light-to-moderate staining, creasing and wear.
ink: Dark-brown.
noteworthy: There are two trailers, each in a different, unknown hand.
---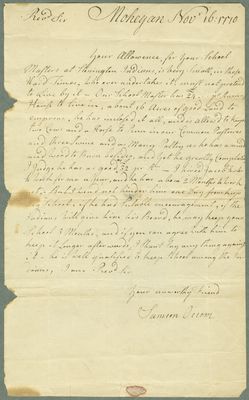 (View Page Image)
Mohegan

Nov

r

16: 1770
Rev

d

Sir

Your Allowence, for your School
Maſters at
Stonington Indians
, is very Small, in theſe
Hard Times, who ever undertakes it, muſt not pretend
to Live by it — Our School Maſter has
⇑
£
24...p
r
Anm­,
Houſe to live in, about 16 Acres of good Land to
emprove, he has incloſed it all, and is allow'd to keep
two Cows and a Horſe to Run in our Common Paſtures
and three Swine and as Many Poltry as he has a mind
and wood to Burn beſides, and Yet he greatly Complain
⇑
s
I Judge he has as good
⇑
as £
32 p
r
A.
m
— I hired
Jacob Fowler
to work for me a Year, and he has above 2 Months to work
yet,— But I woud not hinder him one Day from keep
ing School, if he had Sulable encouragement, if the
Indians will give him his Board, he may keep your
School 3 Months, and if you can agree with him to
keep it Longer after wards, I Shan't Say any thing againſt
it — he is well qualified to keep school among the In­
dians, I am Rev
d
Sir
Your unworthy Friend
Samson Occom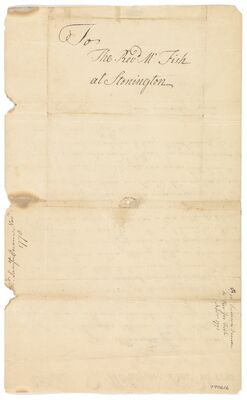 (View Page Image)
[left]
M.

r

Sam

⇑

[illegible]

ſon Occom Nov.

r


1770.
[right]
Rev

Samson Occom


to Rev

Jos Fish


Nov

r

1770
To
The Rev.
d
M
r
Fish
at
Stonington
Stonington Pequots
The Stonington Pequots (also called the Lantern Hill Pequots, Pawcatuck Pequots, or Eastern Pequots) are an Algonquian tribe in North Stonington, Connecticut. In the 1660s, after the Pequot War of the 1630s in which the English attempted to eradicate the Pequot tribe, two separate groups of survivors were allotted reservations, producing the Eastern and Western Pequot (Groton) tribes. The Stonington Pequots had limited engagement with Christianity until James Davenport, the charismatic evangelical, preached there in 1741. After his visit, large numbers of Stonington Pequots affiliated with local Anglo-American churches between 1741 and 1743. After 1743 their affiliation with formal Anglo-American churches declined, likely because Stonington Pequots elected to worship at Separate Anglo-American churches or in an indigenous congregation. Though said congregation appeared informal in Anglo-American eyes, it played host to indigenous ministers like Samuel Niles and Philip Occuish. The New England Company sponsored a school at Stonington, which was organized by Reverend Joseph Fish (an NEC affiliated minister) and staffed by Charlestown Narragansetts, including John Shattock Jr (1770) and Charles Daniels (1771-1773). Neither the Groton Pequots nor the Stonington Pequots were enthusiastic participants in the Brothertown movement (the Algonquian coalition led by Samson Occom and Joseph Johnson that immigrated to Oneida territory in 1775, and again in 1783). No Pequot participated in the initial 1775 migration attempt, but some members of each Pequot group participated in the 1783 migration. Although the Stonington Pequots have occupied their reservation continuously since the 17th century, they are currently embroiled in a lawsuit over federal recognition. They were federally recognized in 2002, but the federal government revoked their recognition in 2005, and the Stoningtons have struggled with internal disputes over legitimate membership. In 2012, they filed suit to be reinstated as a federally recognized tribe.
Mohegan
Mohegan is a village in southeastern Connecticut at the site of the present-day town of Montville, and is the location of the Mohegan Indian Reservation. The village gets its name from the Mohegan Tribe, or wolf people, who split from the Pequots in the early 17th century under the leadership of the sachem Uncas. In the 1720s, the Mohegans requested the colony of Connecticut provide them with an English educator. An English minister and schoolteacher named John Mason (no relation to Captain John Mason) moved to Mohegan in order to provide English-styled education to the Mohegans, convinced his sponsors, the New England Company, to build a schoolhouse at Mohegan, which eventually served as a boarding school for other Native American children from the surrounding area. During the 17th century, the Mohegan Tribe became embroiled in a complicated controversy over control of Mohegan land — known as the Mason Land Case or, more specifically, Mohegan Indians v. Connecticut — that included the village of Mohegan. The Tribe claimed that it never authorized a transfer of their lands, held in trust by the Mason family, to the colonial government. In 1662, the colony of Connecticut was incorporated by a royal charter, which included the disputed tribal land. The land controversy was revived in 1704 when descendants of John Mason, the original trustee, petitioned the Crown on behalf of the Mohegans, but the suit was finally decided against the Tribe in 1773. Born in Mohegan, Occom became involved in the Mason Land Case and vehemently argued for the rights of the Mohegan Indians to maintain their land, opposing Eleazar Wheelock and other ministers in the area. Although Occom left Mohegan for a 12-year mission with the Montauk Indians of Long Island, he returned at the end of 1763 with his large family to build a house in Mohegan, establishing it as his base of operations. Even after the creation of the Brothertown settlement in Oneida country, for which he served as minister, Occom continued to commute back and forth from Mohegan; he didn't sell his house in Mohegan and move his family to Brothertown until 1789. Many members of his family remained in Mohegan, including his sister Lucy Tantaquidgeon, who lived there until her death at 99 in 1830.
Stonington
Stonington is a town on the Long Island Sound by the Pawcatuck River in the southeastern corner of Connecticut. Before colonists arrived, the Algonquin-speaking Pequots who originally inhabited the area referred to it as "Mistack." In 1649, however, Europeans opened a trading house near the Pawcatuck, and in 1666 they named the town Stonington. Relations between the Pequots and colonists were tense, especially because of the 1637 massacre of Pequot Indians at nearby Mystic, CT. Eventually, settlers set aside North Stonington for the Pequots, establishing one of the earliest Indian reservations that the Pequots have continually occupied since 1670. The town grew in the years leading up to the Revolution as a result of the shipbuilding and fishing industries. Occom visited Stonington to preach, often to crowds of Pequots in North Stonington, which became its own town in 1724. Its high Pequot population led some to call North Stonington "Stonington Indian Town." Occom was acquainted with Joseph Fish, a Congregationalist minister, who in the 1760s opened a school for local Pequots and Narragansetts in Stonington. Moor's alumni John Shattock Jr. and Jacob Fowler both spent time as schoolmasters there. During the Revolutionary War, Stonington was the site where patriots successfully deterred two British naval attacks. Following the war, many Stonington Pequots, along with other New England tribes, settled in Brothertown, in central New York.
Occom, Samson
Samson Occom was a Mohegan leader and ordained Presbyterian minister. Occom began his public career in 1742, when he was chosen as a tribal counselor to Ben Uncas II. The following year, he sought out Eleazar Wheelock, a young Anglo-American minister in Lebanon, CT, in hopes of obtaining some education and becoming a teacher at Mohegan. Wheelock agreed to take on Occom as a student, and though Occom had anticipated staying for a few weeks or months, he remained with Wheelock for four years. Occom's academic success inspired Wheelock to open Moor's Indian Charity School in 1754, a project which gave him the financial and political capital to establish Dartmouth College in 1769. After his time with Wheelock, Occom embarked on a 12-year mission to the Montauk of Long Island (1749-1761). He married a Montauk woman, Mary Fowler, and served as both teacher and missionary to the Montauk and nearby Shinnecock, although he was grievously underpaid for his services. Occom conducted two brief missions to the Oneida in 1761 and 1762 before embarking on one of the defining journeys of his career: a fundraising tour of Great Britain that lasted from 1765 to 1768. During this journey, undertaken on behalf of Moor's Indian Charity School, Occom raised £12,000 (an enormous and unanticpated amount that translates roughly to more than two-million dollars), and won wide acclaim for his preaching and comportment. Upon his return to Mohegan in 1768, Occom discovered that Wheelock had failed to adequately care for his family while he was gone. Additionally, despite the vast sums of money that he had raised, Occom found himself unemployed. Wheelock tried to find Occom a missionary position, but Occom was in poor health and disinclined to leave his family again after seeing the treatment with which they had met while he was in Britain. Occom and Wheelock's relationship continued to sour as it became apparent to Occom that the money he had labored to raise would be going towards infrastructure at Dartmouth College, Wheelock's new project, rather than the education of Native Americans. After the dissolution of his relationship with Wheelock, Occom became increasingly focused on the needs of the Mohegan community and increasingly vocal in criticizing Anglo-Americans' un-Christian treatment of Native Americans. In September of 1772, he delivered his famous "Sermon on the Execution of Moses Paul," which took Anglo-American spiritual hypocrisy as one of its major themes, and which went into four printings before the end of the year. In 1773, Occom became further disillusioned when the Mason Land Case was decided in favor of the Colony of Connecticut. The details of the Mason Case are complicated, but to summarize: the Colony of Connecticut had gained control of Mohegan land early in the 18th century under very suspect circumstances, and successfully fended off the Mohegan's 70-year-long legal challenge. The conclusion of the case came as a blow to the Mohegans, and further convinced Occom of Anglo-American corruption. Along with David Fowler (Montauk Tribe), Occom's brother-in-law, and Joseph Johnson (Mohegan), Occom's son-in-law, Occom helped found Brothertown, an Indian tribe formed from the Christian Mohegans, Pequots, Narragansetts, Montauks, Tunxis, and Niantics. They eventually settled in Oneida country in upstate New York. Occom moved there with his family in 1789, spending the remaining years of his life serving as a minster to the Brothertown, Stockbridge, and Mohegan Indians. Harried by corrupt land agents, the Brothertown and Stockbridge groups relocated to the eastern shore of Lake Winnebago, though Occom died in 1792 before he could remove himself and his family there. Occom's writings and legacy have made him one of the best known and most eminent Native Americans of the 18th century and beyond.
Fish, Joseph
Joseph Fish was a moderate Congregationalist minister who held the pulpit at North Stonington, CT, from 1731 until his death in 1781. He is notable as 1) an ally of Wheelock and a member of the Connecticut Board of the Society in Scotland for Propagating Christian Knowledge, 2) a moderate in the throes of the Great Awakening, and 3) a missionary to the Pequots and Narragansetts. The first point requires no explanation; the second two are closely related. Fish graduated from Harvard in 1728 and took a temporary post at Stonington in 1731. He was so popular with the congregation that they offered him a permanent position. For the first 10 years of his ministry all was well, but the Great Awakening segmented his congregation. The problem was that Fish was not strongly opposed to or strongly in favour of the Awakening, which led his church to split into not two, but three factions. As Fish's congregation dwindled so did his salary; however, when other congregations offered him their pulpits, what was left of the North Stonington congregation interfered, jealously guarding Fish's services. In addition to his career as a minister, Fish acted as a missionary to Native Americans throughout his life. From the 1730s on, he delivered sermons to the nearby Pequots and employed a schoolmaster for them (his employees included Moor's alumni John Shattock Jr. and Jacob Fowler). In 1765, Fish also began preaching to the Charlestown Narragansetts. He secured financial support from the Boston Board of the New England Company to open a school there as well, and hired Edward Deake to fill the post. However, Fish did not get along well with the Narragansetts, who had an established indigenous ministry, led by Samuel Niles and based around separatist principles. For Bible-centric Fish, illiterate and popular Samuel Niles was a ministerial nightmare. Fish and Deake served the Narragansetts until the mid-1770s, when the tribe politely requested that they stop.
Fowler, Jacob
Jacob Fowler was a Montauk Indian whose life was dramatically shaped by Samson Occom, his brother-in-law. Occom taught Jacob when he was a child, and in 1762, Jacob followed his older brother David Fowler to Moor's. After three years he was approved as an usher in the 1765 examination, and in 1766 he went to assist Samuel Johnson at Canajoharie. He taught among the Six Nations until at least mid-1767. In early 1770, Occom procured him a job teaching at Mushantuxet through the Boston Board of the Society in Scotland for Propagating Christian Knowledge. Jacob taught and preached among the Pequots at Mushantuxet and Stonington until 1774, when Wheelock hired him to teach at Moor's, which had relocated to Hanover, NH as a complement to Dartmouth College. During this time, Jacob also assisted Joseph Johnson with efforts to rally the New England Christian tribes for a move to Oneida territory (the Brothertown Movement). By 1776, there were no Indians enrolled in Moor's and Jacob moved on to serve Governor John Trumbull of CT as a messenger to the Six Nations during the Revolution. After the Revolution, he continued organizing the Brothertown Movement and was among those who initially emigrated in 1784. He was elected clerk at Brothertown, and died sometime in the spring of 1787.