John Shattock, letter, to Eleazar Wheelock, 1770 March 26
ms-number: 770226.2
abstract: Shattock tells Wheelock that his tribe, the Narragansetts, do not wish to move to New Hampshire on account of the colder climate.
handwriting: Formal handwriting is clear and legible.
paper: Large single sheet is in good condition, with light staining, creasing and wear.
ink: Dark-brown.
---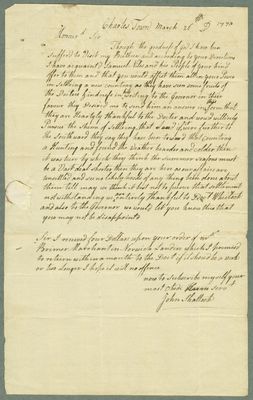 (View Page Image)
Charles Town
March 26

th

D 1770
Honour

d

Sir

Though the goodneſs of God I have been
suffer'd to Visit my Brethren and according to your Directions
I have acquaint'd
Samuel Niles
and his People of your kind
offer to them and that you would aſſist them all in your Power
in Settleing a new countray as they have seen some fruits of
the Docters kindneſs in
⇑
his
writing to
the Governor
in their
favour they Desired me to send him an answer in
⇑
this
form that
they are Heartyly thankful to the Docter and wou'd willinly
Pursue the Sheme of Settleing that Land if
⇑
it
were further to
the Southward they say they have been toward that Countray
a Hunting and found the Weather hearder and colder then
it was here by which they think the Summer Seaſons must
be a Vast deal shorter then they are here as our affairs are
unsettled and see no likely-hoods of any thing been done about
them till may we think it best not to pusue that settlement
notwithstanding we
⇑
are
entirely thankful to
Doct Wheelock
and also to the
Governor
we would let you know this that
you may not be disappoint'd
Sir I received four Dollars upon your order of
m

r


Brimer
Marchant in
Norwich Landin
which I promis'd
to return with in a month to the Doct if it should be a week
or two Longer I hope it will no offence
now to Subscribe myself your
most Obedi Hum serv

t



John Shattock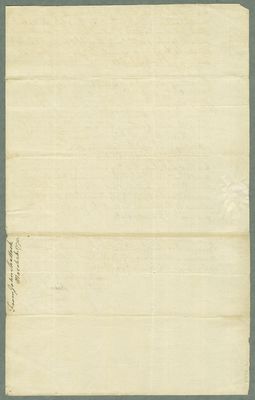 (View Page Image)
From
John Shattock
March 26. 1770.
Narragansett Tribe
The Narragansetts are an Algonquian tribe based in Southern Rhode Island. Narragansett students (including the Simons, the Shattocks, and the Secutors) attended Eleazar Wheelock's Moor's Indian Charity School, and Charlestown, RI, was also one of the seven communities that participated in the Brothertown movement (the pan-Algonquian coalition organized by former Moor's students). The Narragansetts were recognized in the 18th-century for their indigenous Christian Separatism, and a Separatist congregation under the leadership of Samuel Niles commanded much of the Tribe's spiritual life from the 1740s onward. While Separatism is an imprecise word, it generally denotes congregations that formally separated from Congregationalist churches and were characterized by an increased emphasis on charismatic Christianity. Samuel Niles was an illiterate preacher who had himself been ordained by lay persons (thus breaking with the formal laying on of hands by an ordained person that created a theoretical chain from the Apostles to contemporary clergy). The congregation's practices and theology diverged from the Anglo-American norm in meaningful ways, which shocked many Anglo-American observers but also gave the Narragansetts the autonomy needed to expel Rev. Joseph Fish, a New England Company (NEC) sponsored minister, and Edmund Deake, the schoolmaster who accompanied him, in 1776. Like other New England tribes, the Narragansetts struggled with land dispossession. In this case, the sachem and colony cooperated with one another to the Tribe's disadvantage: the sachem family, the Ninigrets, had tied themselves closely to the colony of Rhode Island when they converted to the Anglican Church in 1727. They adopted a lavish English lifestyle and funded it by selling off tribal land. By the 1760s, land sales were a massive problem, and the anti-sachem party began trying to put a halt to them. Narragansetts with powerful connections, including former Moor's students, appealed to Eleazar Wheelock and Sir William Johnson and, in 1767, secured a temporary halt to land sales through the intervention of NEC treasurer Andrew Oliver. The next year, Tobias and John Shattock traveled to London to appeal to the privy council for a permanent solution; however, Tobias died of smallpox, and John failed. Sachem Thomas Ninigret died in 1769, and the Tribe solved the land sales problem by abolishing the office of sachem in the 1770s. The Narragansetts continued to struggle with the state of Rhode Island after the Revolution. Rhode Island unilaterally (and illegally) dissolved the Narragansett's tribal standing in 1880, but the Narragansetts maintained tribal structures and, as much as possible, residence on their territory. They were officially re-recognized in 1983.
Norwich Landing
Norwich Landing is the original name of the area around the public landing built in 1694 at the head of the Thames River in the town of Norwich, CT, to faciliate trade with England. It was a site of business and trade, also called "Chelsea Landing" and "Chelsea." Eventually, this neighborhood became the downtown area of what grew to be the city of Norwich. Because of its proximity to Lebanon, CT, where Eleazar Wheelock lived and worked, and its harbor with access to the Long Island Sound, Norwich Landing became the main point of travel for Wheelock and his associates, and visitors who frequently traveled to the area by boat.
Charlestown
Charlestown is located in Washington County in southwestern Rhode Island along the Block Island sound. For thousands of years before European settlement, the area was inhabited by Native Americans who lived by hunting, fishing and agriculture. When the English dissenter, Roger Williams, fled Massachusetts Bay in 1636 and stepped ashore in what would become the Plantation of Providence, he was welcomed by Canonicus, sachem of the Narragansett Indians. From Canonicus, Williams purchased a large tract of land that included the settlement of Misquamicut, which would become the site of an English settlement named Charlestown after King Charles II. It was incorporated in 1783. After the Great Swamp Fight in which the United Colonies massacred many Narragansetts — and hunted down and killed or enslaved those who escaped — 500 survivors (from a pre-war population of 5,000) signed a 1682 peace treaty and received permission to join with the Eastern Niantic tribe, which had remained neutral throughout the war and had a small reservation near Charlestown. Settlers continued to acquire land from the Naragansetts, and by 1880, the tribe ceased to exist as a legal entity. A portion of tribal lands were returned to Narragansett ownership in 1978 by the courts and state legislation, and the tribe was officially recognized in 1983. Charlestown is the present-day headquarters of the Narragansett Tribe and the location of their reservation.
Shattock, John Jr.
John Shattock Jr. was a Narragansett council member and schoolmaster. Along with his brother Tobias, he briefly attended Moor's from December 1766 to the fall of 1767. Like many Moor's students, John and Tobias came from a prominent family: their father was John Shattock Sr., a Narragansett lay minister. Tobias and John Jr. received their basic education from Edward Deake at Charlestown, and then attended Moor's until they withdrew late in 1767 to try to prevent Narragansett land sales. The Narragansett sachems had run up massive debt over the course of the 18th century, and were trying to sell Narragansett land to the colony of Rhode Island to settle them, while much of the Narragansett Tribe opposed this course of action. John Jr. and Tobias took the lead in recruiting powerful Anglo-American allies for the Tribe, including Andrew Oliver, Sir William Johnson, George Whitefield, and Eleazar Wheelock. With these men's help, John Jr. and Tobias were able to secure a halt to land sales and plan a trip to London to plead their case before the Privy Council. They departed in January 1768 and arrived at Edinburgh on April 15, where they both fell ill with smallpox. John survived, but Tobias died on May 6th. John continued on to London, but failed in his appeal. He returned to the colonies where he took an active role in Narragansett leadership. He considered urging his tribe to move to Oneida territory, and even talked with Wheelock about relocating the Tribe to the upper Connecticut River, in New Hampshire territory (the Tribe decided it would be too cold there). In 1770, John briefly taught the Lantern Hill Pequots in North Stonington, CT before he died of consumption that December.
Wheelock, Eleazar
Eleazar Wheelock was a New Light Congregationalist minister who founded Dartmouth College. He was born into a very typical Congregationalist family, and began studying at Yale in 1729, where he fell in with the emerging New Light clique. The evangelical network that he built in college propelled him to fame as an itinerant minister during the First Great Awakening and gave him many of the contacts that he later drew on to support his charity school for Native Americans. Wheelock's time as an itinerant minister indirectly brought about his charity school. When the Colony of Connecticut retroactively punished itinerant preaching in 1743, Wheelock was among those who lost his salary. Thus, in 1743, he began operating a grammar school to support himself. He was joined that December by Samson Occom, a Mohegan Indian, who sought out an education in hopes of becoming a teacher among his people. Occom's academic success inspired Wheelock to train Native Americans as missionaries. To that end, he opened Moor's Indian Charity School in 1754 (where he continued to train Anglo-American students who paid their own way as well as students who functionally indentured themselves to Wheelock as missionaries in exchange for an education). Between 1754 and 1769, when he relocated to New Hampshire, Wheelock trained approximately 60 male and female Native American students from nearby Algonquian tribes and from the Haudenosaunee (Iroquois) of central New York. At the same time, he navigated the complicated politics of missionary societies by setting up his own board of the Society in Scotland for Propagating Christian Knowledge, although he continued to feud with the Boston Board of the SSPCK and the London Commissioners in Boston (more colloquially called the New England Company). By the late 1760s, Wheelock had become disillusioned with the idea of Native American education. He was increasingly convinced that educating Native Americans was futile (several of his students had failed to conform to his confusing and contradictory standards), and, in late 1768, he lost his connection to the Haudenosaunee. With his inclination and ability to sponsor Native American missionaries largely depleted, Wheelock sought instead to fulfill his ultimate ambition of obtaining a charter and opening a college, which he did in 1769. To fund this new enterprise, Wheelock drew on the £12,000 that Samson Occom had raised for Moor's Indian Charity School during a two-and-a-half year tour of Great Britain (1765 to 1768). Much of this money went towards clearing land and erecting buildings in New Hampshire for the Charity School's relocation — infrastructure that also happened to benefit Dartmouth. Many of Wheelock's contemporaries were outraged by what they saw as misuse of the money, as it was clear that Dartmouth College was not intended for Indians and that Moor's had become a side project. Although Wheelock tried to maintain at least some commitment to Native American education by recruiting students from Canadian communities, the move did a great deal of damage to his public image. The last decade of Wheelock's life was not easy. In addition to the problems of trying to set up a college far away from any Anglo-American urban center, Wheelock experienced the loss of relationships with two of his most famous and successful students, Samson Occom and Samuel Kirkland (an Anglo-American protégé). He also went into debt for Dartmouth College, especially after the fund raised in Britain was exhausted.
Wentworth, John
Sir John Wentworth was the last of the Royal Governors of the Province of New Hampshire. He served as governor from 1767-1775, succeeding his uncle Benning Wentworth. He also shares a name with his grandfather, John Wentworth (1671-1730), who served as Lieutenant-Governor of the Province of New Hampshire from 1717-1730. During his tenure, Wentworth worked to develop the interior of New Hampshire through the creation of the five original counties, the granting of tracts of land and the building of roads between the seacoast and the Connecticut River. He also secured the land and signed the charter for Dartmouth College in 1769. Wentworth remained loyal to the crown throughout his time in office. The increasing tensions created by his loyalist sentiments in the years leading up to the American Revolution eventually ended his reign as governor in 1775. Wentworth was later appointed Lieutenant-Governor of Nova Scotia.