Levi Frisbie, letter, to Eleazar Wheelock, 1769 December
ms-number: 769690
abstract: Frisbie requests to be allowed to leave his mission and return to college.
handwriting: Formal handwriting is clear and legible.
paper: Single medium-sized sheet is in good condition, with light staining, creasing and wear.
ink: Dark-brown ink is lightly faded in spots.
---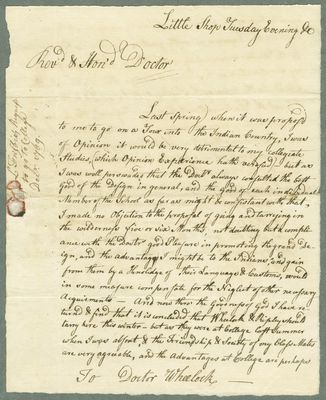 (View Page Image)
Little Shop

Tuesday Evening &c

Rev'

d

& Hon'

d

Doctor//

Last Spring when it was propoſd
to me to go on a Tour into the Indian Country, I was
of Opinion it would be very detrimental to my collegiate
Studies, (which Opinion Experience hath verefied ) — but as
I was well perswaded that the
Doct

r
always conſulted the beſt
Good of the Deſign in general, and the good of each individual
Member of
the School
as far as might be conſistant with that,
I made no Objection to the propoſal of going and tarrying in
the wilderneſs five or six Months, not doubting but a compli‐
ance with the
Doctr

s
's good Pleaſure in promoting the grand De‐
ign, and the advantag
[illegible]
[guess: es]
I might be to the Indians, and gain
from them by a Knoledge of their Language & Customs, would
in some meaſure compenſate for the Neglect of other neceſsary
Acquirments— And now thro' the Goodneſs of God I have re‐
turnd & find that it is concluded that
Wheelock
&
Ripley
should
tarry here this winter — but as they were at College laſt Summer
when I was abſent, & the Friendship & Society of my Claſs Mates
are very agreeable, and the Advantages at College are perhaps
⇑
[bottom]
To

Doctor Wheelock

—
[left]
L Friſbie

's Requeſt
to go to College
Dec.

r

1769.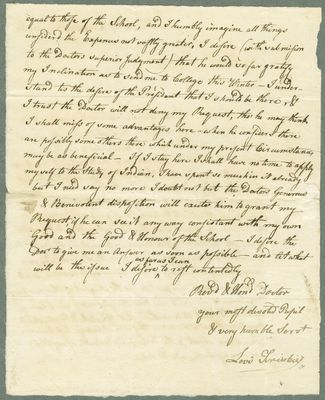 (View Page Image)
equal to thoſe of
the School
, and I humbly imagine all things
conſiderd the Expences not vaſtly greater, I deſire (with submiſsion
to the
Doctor
s superior Judgment) that he would so far gratify
my Inclination as to send me to College this Winter — I under‐
stand tis the deſire of
the Preſident
that I should be there, &
I trust the
Doctor
will not deny my Request, tho' he may think
I shall miſs of some advantages here — when he conſiders there
are poſsibly some others there which under my preſent Circumstances
may be as beneficial — If I stay here I shall have no time to apply
myself to the study of Indian, I have spent so much in it already —
but I need say no more I doubt not but the
Doctor
s Generous
G
& Benevolent dispoſition will excite him to grant my
Request, if he can see it any way conſistant with my own
Good and the Good & Honour of the
School
— I deſire the
Doc

r
to give me an Anſwer as soon as poſsible — and let what
will be the iſsue I deſire
⇑
as far as I can
to reſt contentedly
Rev

d

& Hon

d

Doctor
your moſt devoted Pupil
& very humble Serv

t
Levi Frisbie
Moor's Indian Charity School
Moor's Indian Charity School was a grammar school for Native Americans that Eleazar Wheelock opened in North Lebanon, Connecticut in 1754. The school was named for Colonel Joshua Moor, also spelled More, who donated the land and school building. Moor's was essentially an expansion of the grammar school that Wheelock opened in 1743 to support himself during the fallout from the First Great Awakening, when Wheelock, who'd participated in itinerant ministry during the Awakening, had his salary confiscated by the colony of Connecticut. In December of that year, Samson Occom asked Wheelock to teach him as well. Wheelock's work with Occom was so successful that Wheelock decided to replicate the experiment with other Native American boys. He accepted his first Indian students in 1754, and in 1761 began taking female students as well. Wheelock believed that in time, his school would become just one part of a larger missionary enterprise. He planned to send his Anglo American and Native American students to various tribes as missionaries and schoolmasters, with explicit instructions to pick out the best students and send them back to Moor's to continue the cycle. His ultimate goal was to turn his school into a model Christian Indian town that would include farms, a college, and vocational training. However, Wheelock's grand design did not survive the decade. Wheelock lost the vast majority of his Native American students; he fought with many of the best, including Samson Occom, Joseph Johnson, David Fowler, and Hezekiah Calvin, and other former and current students accused him of subjecting Native Americans to disproportionate amounts of manual labor. In 1769, perhaps due to concerns about corporal punishment, the Oneida withdrew all their children from Moor's. When Wheelock relocated to Hanover in 1769, only two Native American students came with him, and it became clear that Wheelock's focus was on Dartmouth and that Dartmouth was for white students. After Wheelock's death in 1779, Moor's Indian Charity School receded further into the background as John Wheelock, his father's reluctant successor, stopped taking Indian students. Some Native American students were enrolled in Moor's until 1850, when the school unofficially closed.
Frisbie, Levi
Levi Frisbie was a very intelligent and unreligious charity scholar. He came to Wheelock with substantial schooling already, and after a few months at Moor's, Wheelock sent him on to Yale. There, Frisbie excelled academically. However, he never wanted to be a missionary. He arrived at Moor's sometime during April of 1767, and by May 5, he was already writing Wheelock asking to be released from missionary obligations. While at Yale, this trend continued: Levi went so far as to confess to Wheelock that he was not even a church member. Although he was not passionate about Scripture, he was quite the classicist. Under the name Philo Musae, he would write Wheelock long chains of heroic couplets styled on epic about the Indian mission. In 1769, Levi went on his first mission (a short stint to the Oneidas). Shortly thereafter, Wheelock pulled Levi out of Yale to help make up Dartmouth's first class. Levi graduated in 1771, and was ordained with David McClure in May 1772. He and McClure set out on a mission on June 19, 1772, but Levi fell ill immediately and stayed at Fort Pitt. It is unclear whether he rejoined McClure on the mission. The two men returned to Hanover on October 2, 1773. Levi stayed involved with Wheelock and the Indian mission for a few years, but by 1776, he had assumed the pulpit at Ipswich, where he remained for the rest of his life. Levi's poetry appears at the end of Wheelock's 1771 Narrative, as well as in McClure and Parish's biography of Wheelock.
Wheelock, Eleazar
Eleazar Wheelock was a New Light Congregationalist minister who founded Dartmouth College. He was born into a very typical Congregationalist family, and began studying at Yale in 1729, where he fell in with the emerging New Light clique. The evangelical network that he built in college propelled him to fame as an itinerant minister during the First Great Awakening and gave him many of the contacts that he later drew on to support his charity school for Native Americans. Wheelock's time as an itinerant minister indirectly brought about his charity school. When the Colony of Connecticut retroactively punished itinerant preaching in 1743, Wheelock was among those who lost his salary. Thus, in 1743, he began operating a grammar school to support himself. He was joined that December by Samson Occom, a Mohegan Indian, who sought out an education in hopes of becoming a teacher among his people. Occom's academic success inspired Wheelock to train Native Americans as missionaries. To that end, he opened Moor's Indian Charity School in 1754 (where he continued to train Anglo-American students who paid their own way as well as students who functionally indentured themselves to Wheelock as missionaries in exchange for an education). Between 1754 and 1769, when he relocated to New Hampshire, Wheelock trained approximately 60 male and female Native American students from nearby Algonquian tribes and from the Haudenosaunee (Iroquois) of central New York. At the same time, he navigated the complicated politics of missionary societies by setting up his own board of the Society in Scotland for Propagating Christian Knowledge, although he continued to feud with the Boston Board of the SSPCK and the London Commissioners in Boston (more colloquially called the New England Company). By the late 1760s, Wheelock had become disillusioned with the idea of Native American education. He was increasingly convinced that educating Native Americans was futile (several of his students had failed to conform to his confusing and contradictory standards), and, in late 1768, he lost his connection to the Haudenosaunee. With his inclination and ability to sponsor Native American missionaries largely depleted, Wheelock sought instead to fulfill his ultimate ambition of obtaining a charter and opening a college, which he did in 1769. To fund this new enterprise, Wheelock drew on the £12,000 that Samson Occom had raised for Moor's Indian Charity School during a two-and-a-half year tour of Great Britain (1765 to 1768). Much of this money went towards clearing land and erecting buildings in New Hampshire for the Charity School's relocation — infrastructure that also happened to benefit Dartmouth. Many of Wheelock's contemporaries were outraged by what they saw as misuse of the money, as it was clear that Dartmouth College was not intended for Indians and that Moor's had become a side project. Although Wheelock tried to maintain at least some commitment to Native American education by recruiting students from Canadian communities, the move did a great deal of damage to his public image. The last decade of Wheelock's life was not easy. In addition to the problems of trying to set up a college far away from any Anglo-American urban center, Wheelock experienced the loss of relationships with two of his most famous and successful students, Samson Occom and Samuel Kirkland (an Anglo-American protégé). He also went into debt for Dartmouth College, especially after the fund raised in Britain was exhausted.
Wheelock, Rodulphus
Ralph Rodulphus Wheelock was Wheelock's oldest son and heir apparent. While Wheelock believed that Ralph showed great aptitude for the "Indian business," others saw Ralph as arrogant and abrasive. He also suffered from epilepsy, which seriously impeded his ability to work. He died in Hanover as an invalid under almost constant care and guardianship. Wheelock's struggle to accept his son's illness and his son's struggle to overcome it provide an undercurrent for some of the stranger events in the history of Moor's Indian Charity School and Dartmouth College. Ralph grew up surrounded by and dedicated to Indian education, but also with an inflated sense of Wheelock's, and his own, importance, which stayed with him for much of his life. Joseph Brant recounts a telling anecdote: Ralph once ordered William Major, Sir William Johnson's son, to saddle his horse on the grounds that he was the son of a gentleman and William Major was not. Ralph was unable to finish coursework at the College of New Jersey, which he attended from 1761-1763, although he graduated from Yale in 1765. He made three tours of the Six Nations (in 1766, 1767, and 1768), assisting ministers in bringing back children and negotiating with tribes. He taught at Moor's for two years, and was briefly considered as a companion for Occom on the Fundraising Tour. Wheelock formally named him as his heir in the 1768 draft of his will. However, Wheelock's reliance on Ralph brought disastrous consequences for the school. In the spring of 1768, Wheelock sent Ralph to the Onondagas and Oneidas to negotiate about schoolmasters and missionaries. Once there, Ralph managed to offend the assembled chiefs beyond repair. Ralph blamed his failure on Kirkland, and it was not until 1772 that Wheelock learned the truth of the matter. It is likely that Ralph's conduct influenced the Oneidas' decision to pull their children out of Moor's later in 1768: Wheelock himself implied as much in his 1771 Journal. By the early 1770s, Wheelock had realized that Ralph was never going to take over Dartmouth College. In a later will, Wheelock provided Ralph with £50 per annum for his care, to be paid out by the College, and stipulated that his other heirs should look after his oldest son. Because Ralph was unable to serve as Wheelock's heir, the presidency of the College passed to John Wheelock, a soldier who had no theological training or desire to run a college.
Ripley, Sylvanus
Sylvanus Ripley was a charity scholar at Moor's Indian Charity School who became one of Dartmouth College's first professors and Eleazar Wheelock's son-in-law. After a brief stint at Moor's proper, Ripley entered Yale in 1768. He undertook several short missions to the Canadian tribes in the early 1770s to seek out a new source of Native American students for Wheelock. His longest mission, from May to September of 1772, garnered 10 students from Kahnawake, the Catholic Canadian settlement. Ripley was an important figure in Dartmouth's early history: in addition to serving as preceptor of Moor's from 1775 until 1779, he was a tutor at Dartmouth from 1772 until 1782, a trustee of Dartmouth from 1775 until 1787, and the College's professor of divinity from 1782 until 1787 (sources differ as to whether Ripley was ever formally ordained). He was also very involved in the political conflicts that characterized the town's early history. Ripley died in 1787, at age 37, after being thrown from a sleigh.