Moses Peck, letter to Eleazar Wheelock, 1769 August 29
ms-number: 769479
abstract: Peck writes a conversational letter to inform Wheelock of his progress in locating some books, and to express his happiness with Kirkland's progress among the Oneidas.
handwriting: Handwriting is largely clear and legible.
paper: Single sheet is in good condition, with light creasing and wear. Much of the seal remains.
ink: Black-brown.
---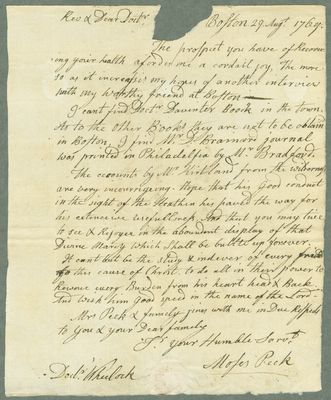 (View Page Image)
Boſton.
29. Aug.

t

1769.

Rev & Dear Doct.

r



The proſpect you have of Recover=
=ing your health afordes me a cordail joy, The more
so as it increaſsis my hopes of another interview
wath my worthy friend at
Boſton
in
I cant find Doct.
r
Davinter
Book in the town.
As to the Other Books they are not to be obtain'
d
in
Boſton
, I find M,
r
D.
r
Brainard
journal
was printed in
Philadelfia
by M.
r
Bradford,
The accounts by M.
r
Kirtland
from the wilderneſs
are very incourrigeing. Hope that his good conduct
in the sight of the Heathen his pave'd the way for
his extenceive usefullneſs, And that you may tive
to see & Rejoyce in the aboundent display of that
Divine Marcy which Shall be
[illegible]
[guess: bulte ]
up forever.
It cant but be the study & indever of every
[illegible]
[illegible]
[guess: friend]
of
to this cause of Christ to do all in their power to
Remove every Burden from his heart head & Back.
And wish him good speed in the name of the Lord—
Mrs.
Peck
& famely jines with me in Due Reſpects
to you & your Dear famely
S.

r

your Humble Serv:

t



 

Moſes Peck


Doct.

r

Wheelock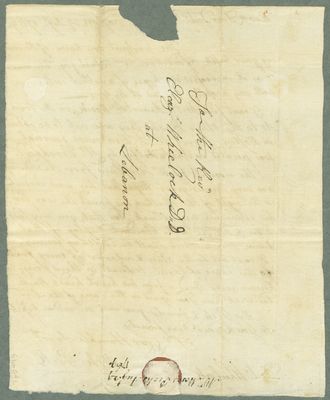 (View Page Image)
Mr.
Moses Peck
's
Aug.

t

29
1769
.
To the Rev
d
Eleaz.

r

Wheelock
D.. D.
at
Lebanon
Boston
The first English immigrant to settle on a peninsula in a harbor on the northeastern coast of North America the local Algonquin Indians called "Shawmet" was William Blackstone in 1629. A year later, John Winthrop arrived with a group of English Puritans and other settlers and named the area Boston after his hometown in Lincolnshire, England. The colony quickly developed representative political institutions that would help shape a democratic nation. Over the next few centuries, Boston emerged as an intellectual and educational center, and, because of its excellent harbor, became a leading commercial hub and a primary port for North America. It is the capital and largest city of the Commonwealth of Massachusetts, and the largest city in New England. Boston was the home for the Boards of Commissioners of several overseas religious societies who sent missionaries throughout the colonies in the 18th century, and was the site of many important events of the American Revolution.
Lebanon
Lebanon is a town located in the state of Connecticut southwest of the town of Hartford. The land that became Lebanon was inhabited at least 10,000 years ago based on the archeological record. By the 1600s, the land was permanently inhabited by the Mohegan Indians, who used the area primarily for hunting. Lebanon was officially formed in 1700 when English settlers consolidated a number of land tracts, including several land grants by the Connecticut General Assembly and lands purchased from the Mohegans. However, these purchases were controversial. In 1659, the Mohegans entrusted their reserve land to Major John Mason, and in the following year, Mason transferred this land to the Connecticut colonial government with the understanding that there would be enough land left for the Mohegans to farm. The Mohegans claimed that they never authorized a transfer to the colonial government and only Mason's heirs were entrusted with their land. In 1662, Connecticut, which included the Mohegan land that had been entrusted to the Masons, was incorporated by a royal charter. Based on this charter, the colony argued that the land was now the property of the government. In 1687, the colony began granting the Mohegan land to townships, and in 1704 the Masons petitioned the Crown on behalf of the Mohegans, claiming that such transfers of land to townships were illegal. Between the years of 1705 and 1773 legal disputes and controversies persisted, finally ending in a verdict by the Crown against the Mohegans. In 1755, Wheelock received property and housing in Lebanon that he would use as his house and school. While Lebanon was originally incorporated as a part of New London County in 1700, in 1724 it became a part of New Windham, before once again becoming a part of New London County in 1826. Lebanon was central to the American Revolution with half of its adult population fighting for the colonists and hundreds of meetings convened in the town for the revolutionary cause.
Peck, Moses
Watchmaker Moses Peck took collections for Occom, and Wheelock had an account with him that involved shipping items to Lebanon and debits/credits for funding Occom. It is possible that Peck was Occom's credit source in Boston. He was enthusiastic about and involved in the Indian education mission, and offered Wheelock advice about how to deal with Anglicans. Wheelock had Peck print his brief defense of Occom to counter the London Society's rumors. Peck paid to send his son Elijah to school with Wheelock, although Elijah eventually failed his graduation examinations.
Wheelock, Eleazar
Eleazar Wheelock was a New Light Congregationalist minister who founded Dartmouth College. He was born into a very typical Congregationalist family, and began studying at Yale in 1729, where he fell in with the emerging New Light clique. The evangelical network that he built in college propelled him to fame as an itinerant minister during the First Great Awakening and gave him many of the contacts that he later drew on to support his charity school for Native Americans. Wheelock's time as an itinerant minister indirectly brought about his charity school. When the Colony of Connecticut retroactively punished itinerant preaching in 1743, Wheelock was among those who lost his salary. Thus, in 1743, he began operating a grammar school to support himself. He was joined that December by Samson Occom, a Mohegan Indian, who sought out an education in hopes of becoming a teacher among his people. Occom's academic success inspired Wheelock to train Native Americans as missionaries. To that end, he opened Moor's Indian Charity School in 1754 (where he continued to train Anglo-American students who paid their own way as well as students who functionally indentured themselves to Wheelock as missionaries in exchange for an education). Between 1754 and 1769, when he relocated to New Hampshire, Wheelock trained approximately 60 male and female Native American students from nearby Algonquian tribes and from the Haudenosaunee (Iroquois) of central New York. At the same time, he navigated the complicated politics of missionary societies by setting up his own board of the Society in Scotland for Propagating Christian Knowledge, although he continued to feud with the Boston Board of the SSPCK and the London Commissioners in Boston (more colloquially called the New England Company). By the late 1760s, Wheelock had become disillusioned with the idea of Native American education. He was increasingly convinced that educating Native Americans was futile (several of his students had failed to conform to his confusing and contradictory standards), and, in late 1768, he lost his connection to the Haudenosaunee. With his inclination and ability to sponsor Native American missionaries largely depleted, Wheelock sought instead to fulfill his ultimate ambition of obtaining a charter and opening a college, which he did in 1769. To fund this new enterprise, Wheelock drew on the £12,000 that Samson Occom had raised for Moor's Indian Charity School during a two-and-a-half year tour of Great Britain (1765 to 1768). Much of this money went towards clearing land and erecting buildings in New Hampshire for the Charity School's relocation — infrastructure that also happened to benefit Dartmouth. Many of Wheelock's contemporaries were outraged by what they saw as misuse of the money, as it was clear that Dartmouth College was not intended for Indians and that Moor's had become a side project. Although Wheelock tried to maintain at least some commitment to Native American education by recruiting students from Canadian communities, the move did a great deal of damage to his public image. The last decade of Wheelock's life was not easy. In addition to the problems of trying to set up a college far away from any Anglo-American urban center, Wheelock experienced the loss of relationships with two of his most famous and successful students, Samson Occom and Samuel Kirkland (an Anglo-American protégé). He also went into debt for Dartmouth College, especially after the fund raised in Britain was exhausted.
Brainerd, David
David Brainerd was a Presbyterian missionary who became a New Light martyr and inspired Wheelock to work for Native American education. He was the older brother of the longer-lived but lesser-known John Brainerd, who provided Wheelock with his first Native students. In the early 1740s, David got caught up in the New Light tide at Yale, and was subsequently expelled for describing men in positions of authority as unsaved. Because ministers to English congregations had to have a degree from Harvard or Yale, David became a missionary to Native Americans instead. His missions attracted substantial attention, and in 1744 the Newark Presbytery ordained him so that he could receive funding from the Society in Scotland for Propagating Chrisitian Knowledge (SSPCK). Between April 1743 and November 1746, when he became too ill to serve, David conducted missionary efforts among various tribes in the mid-Atlantic region, most notably in New Jersey. After his death from tuberculosis in 1747, David became something of a martyr. New Light Congregationalists, especially, saw David's expulsion from Yale as unjust and his commitment to Native Americans as divine. In 1749, Jonathan Edwards published a biography of David together with David's diary, and the text quickly became part of the New Light canon. Education was central to David Brainerd's ministry, and he was among Wheelock's several inspirations. In 1745, Brainerd sent Wheelock a copy of his journal.
Kirkland, Samuel
Samuel Kirkland (b. Kirtland) was Eleazar Wheelock's most famous Anglo American student. He conducted a 40-year mission to the Oneidas and founded Hamilton College (established in 1793 as Hamilton Oneida Academy). Kirkland won acclaim as a missionary at a young age by conducting an adventurous and risky mission to the Senecas, the westernmost of the Haudenosaunee (Iroquois) Six Nations. After his year and a half among them, which was well publicized by Wheelock, he was ordained and sent as a missionary to the Oneidas under the auspices of the Connecticut Board of the Society in Scotland for Propagating Christian Knowledge. He spent most of the rest of his life serving the Oneidas as a minister. Kirkland's sincere devotion to serving as a missionary was excellent publicity for Wheelock's program, but it also brought the two men into conflict. Wheelock became jealous of Kirkland when the school's British benefactors began urging Wheelock to make Kirkland his heir, and Kirkland, meanwhile, was upset that Wheelock had failed to provide him with sufficient supplies on his mission — a complaint that he was unafraid to publicize (and that almost all of Wheelock's other students shared). The breaking point came in 1770, when Kirkland split from Wheelock's Connecticut Board and affiliated with the New England Company, a missionary society that had abruptly turned against Wheelock in 1765. Wheelock and Kirkland briefly made up in 1771, but their relationship quickly dissolved into further acrimony. Although Kirkland spent most of his life as a missionary to the Six Nations, he generally held disparaging views of Native Americans. He did not approve of Wheelock's plan to educate Indians as missionaries, and was haughty towards the Moor's alumni that worked with him (notably David Fowler, Joseph Johnson, and Joseph Woolley). Prior to the Revolution, Kirkland had been stringent in his refusals to take Oneida land, even when offered to him. The Revolution seems to have shifted his loyalties from the Oneidas to local Anglo Americans. Kirkland served as a chaplain in the American army and was instrumental in convincing the Oneidas to remain neutral (or, more accurately, to side with the Americans). At one point he was the chaplain with General Sullivan's army, the force sent to ransack Seneca and Cayuga territory in 1779. It is unclear what emotions this aroused in Kirkland, who had served the Senecas less than 15 years earlier, yet after the war, Kirkland freely engaged in Oneida dispossession. Along with James Dean, another Wheelock alumnus with close ties to the Oneidas, Kirkland played a pivotal role in urging the Oneidas to sell land illegally to the state of New York. The land deals that resulted gave Kirkland the property, financial capital, and connections to establish Hamilton Oneida Academy. The last decades of Kirkland's life were difficult. He found himself in a three-way battle with Samson Occom and John Sergeant Jr., who were also ministers in Oneida territory, for the hearts and minds of their congregations; he was fired as a missionary in 1797, although he continued to serve sans salary; one of his son's business enterprises failed, leaving Kirkland nearly destitute; and two of his three sons died unexpectedly. Hamilton Oneida Academy, like Moor's Indian Charity School, largely failed at its goal of educating Indians, and in 1812, four years after Kirkland's death, it was re-purposed as Hamilton College, a largely Anglo-American institution. At some point in the mid-to-late 18th century, Kirkland changed his name from Kirtland, although the reasons for this are uncertain.
Peck, Elizabeth (née Townsend)