David Avery, letter to Eleazar Wheelock, 1769 June 26
ms-number: 769376
abstract: Avery writes from Yale about the conversion of fellow students. He adds a postscript regarding Wheelock's son John.
handwriting: Formal handwriting is clear and legible. The trailer is in an unknown hand.
paper: Single large sheet folded in half to make four pages is in good condition, with light-to-moderate staining, creasing and wear. The seal is intact.
ink: Brown.
---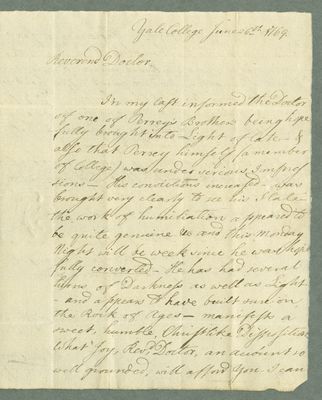 (View Page Image)
Yale College
June 26

th

1769.


Reverend Doctor,

In my laſt informed the
Doctor
of one of
Perrey's
Brother's being hope
­fully brought into Light of late — &
alſo that
Perrey
himſelf (a member
of
College
) was under serious Impreſ
­sions — His convictions increaſed — was
brought very clearly to see his State —
the work of humiliation appeared to
be quite genuine &c and this
Monday
Night will be week since he was hope
­fully
converted
— He has had several
turns of Darkneſs as well as Light
— and appears to have built sure on
the Rock of Ages — manifeſts a
sweet, humble, Chriſtlike Diſpoſition.
What Joy, Rev,
d
Doctor, an account so
well grounded, will afford You — I can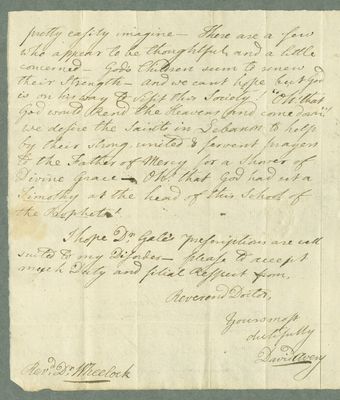 (View Page Image)
pretty eaſily imagine — There are a few
who appear to be thoughtful and a little
concerned — God's Children seem to renew
their Strength — and we cant hope but God
is on his way to Viſit this Society! "Oh! that
God would Rend the Heavens and come down"!
we deſire the Saints in
Lebanon
to help
by their strong, united & fervent prayers
to the Father of Mercy for a Shower of
Divine Grace — Oh! that God had set a
Timothy
at the head of this
School
of
the
Prophets
!
I hope D,
r
Gale's
preſcriptions are well
suited to my Diſorder— pleaſe to accept
m
y
uch Duty and filial Reſpect from,



 

Reverend Doctor,


 

Yours moſt


 

dutifully



 

David Avery


Rev,

d

D,

r

Wheelock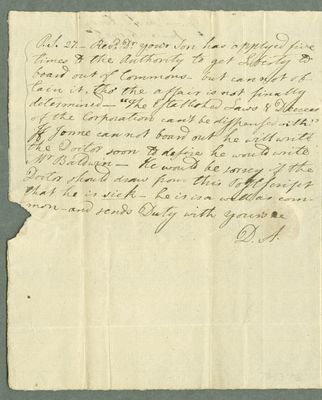 (View Page Image)
P. S.
27.
— Rev,
d
D,
r
your Son
has applyed five
times to the Authority to get Liberty to
board out of Commons— but can not ob­
tain it, tho' the affair is not finally
determined — "The Eſtablished Laws &
Decrees
of the Corporation can't be diſpenſed with."
If
Jonne
can not board out he will write
the
Doctor
soon to deſire he would write
M

r

Baldwin
— He would be sorrey if the
Doctor should draw from this Poſtſcript
that he is
sick
— he is is a well as com­
mon — and sends Duty with your's
[gap: blotted_out]
[guess: & ]
c
D.A.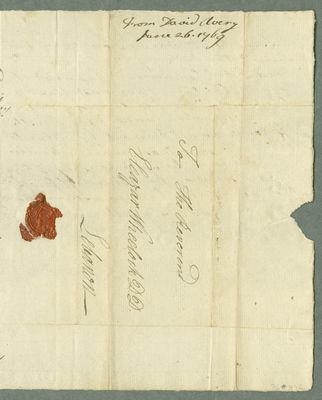 (View Page Image)
From
David Avery
June 26. 1769
To The Reverend
Eleazar Wheelock D. D.
Lebanon
—
Yale University
Yale University is a private research university and member of the Ivy League located in New Haven, CT. It was founded in nearby Saybrook in 1701 by a group of 10 Congregationalist ministers from Harvard, who felt their alma mater had become too liberal in terms of church polity. They established the "Collegiate School," whose mission was to educate men for public service, and ministers in theology and the sacred languages, in the hopes the school would maintain Puritan religious orthodoxy. Chartered by the Colony of Connecticut, Yale is the third oldest institution of higher education in the US. It moved to New Haven in 1716 and in 1718 was renamed "Yale College" in recognition of a gift from Elihu Yale, a Welsh merchant and philanthropist who had made his fortune in trade through the East India Company. In 1777, the College's curriculum began to incorporate humanities and sciences, and during the 19th century it established graduate and professional courses, awarding the first doctoral degree in the US in 1861, and becoming a university in 1887. Today, the undergraduate school is called "Yale College." From its inception, Yale was committed to training Christian missionaries. During the first Great Awakening, Yale graduates missionized Indian tribes in the Northeast and mid-Atlantic; in the Second Great Awakening in the 19th century, Yale missionaries travelled world-wide. Many Yale graduates, some associated with Wheelock, who graduated in 1733, became missionaries. The best-known of these include: Jonathan Edwards (Yale MA 1720), who missionized to the Stockbridge Indians; David Brainerd, who had to leave Yale because of illness and died young, but whose diary inspired many to missionary work; John Sergeant (Yale MA 1729), whose outline for an Indian boarding school influenced Wheelock; John Brainerd (Yale MA 1746) who continued the work of his brother David. Other associates of Wheelock who graduated from Yale, such as James Davenport, a notorious itinerant preacher (who converted Occom), and Benjamin Pomeroy, a life-long friend and colleague, became caught up in the New Light revivalism of the 1740s. Their "enthusiasm" did not necessarily sit well with their alma mater; President Clap refused to allow Wheelock to preach at Yale in 1742, at the height of the revivals. Still, Wheelock had strong connections with the school. During the 1740s and 1750s, to help support his growing family, Wheelock prepared young men, including Occom, to enter Yale (In 1744, Wheelock took Occom to see the commencement exercises, but Occom did not matriculate because of severe eye strain). The initial curriculum at Dartmouth College was closely modeled on Yale's.
Lebanon
Lebanon is a town located in the state of Connecticut southwest of the town of Hartford. The land that became Lebanon was inhabited at least 10,000 years ago based on the archeological record. By the 1600s, the land was permanently inhabited by the Mohegan Indians, who used the area primarily for hunting. Lebanon was officially formed in 1700 when English settlers consolidated a number of land tracts, including several land grants by the Connecticut General Assembly and lands purchased from the Mohegans. However, these purchases were controversial. In 1659, the Mohegans entrusted their reserve land to Major John Mason, and in the following year, Mason transferred this land to the Connecticut colonial government with the understanding that there would be enough land left for the Mohegans to farm. The Mohegans claimed that they never authorized a transfer to the colonial government and only Mason's heirs were entrusted with their land. In 1662, Connecticut, which included the Mohegan land that had been entrusted to the Masons, was incorporated by a royal charter. Based on this charter, the colony argued that the land was now the property of the government. In 1687, the colony began granting the Mohegan land to townships, and in 1704 the Masons petitioned the Crown on behalf of the Mohegans, claiming that such transfers of land to townships were illegal. Between the years of 1705 and 1773 legal disputes and controversies persisted, finally ending in a verdict by the Crown against the Mohegans. In 1755, Wheelock received property and housing in Lebanon that he would use as his house and school. While Lebanon was originally incorporated as a part of New London County in 1700, in 1724 it became a part of New Windham, before once again becoming a part of New London County in 1826. Lebanon was central to the American Revolution with half of its adult population fighting for the colonists and hundreds of meetings convened in the town for the revolutionary cause.
Avery, David
David Avery was one of Wheelock's charity scholars and had a long career as a Congregationalist minister. He studied at Moor's and Yale, where he was David McClure's classmate, and received his Masters from Dartmouth in 1773. Avery went on several missions to Indian tribes before his health forced him to retire. His first mission, before his final year at Yale, was to Kanawalohale as a schoolteacher in the summer of 1768. While there, he attended the 1768 Treaty of Fort Stanwix as Wheelock's representative. After graduating, he served on Long Island around Smithtown. He was ordained August 29, 1771, at Dartmouth. Wheelock then sent him to the Oneidas for eleven months (September 1771 to August 1772), primarily to find out why the Oneidas had withdrawn their children from Wheelock's school. However, Avery's health was failing, and at some point between August 1772 and March 1773, he withdrew from Indian missionary service. In response, Wheelock charged him part of his tuition. Avery lived an exciting life after he left Wheelock's service. The Sabbath after the battle of Lexington (April 19 1775), he bade his Gageborough congregation farewell, mustered twenty men, and led them to Boston where he preached to the entire army. He enlisted as a chaplain, although he also fought in battle and served as a medic. He left the army in February 1780, and spent the rest of his life in a variety of pulpits, with a stint under the Massachusetts Domestic Missionary Society.
Wheelock, Eleazar
Eleazar Wheelock was a New Light Congregationalist minister who founded Dartmouth College. He was born into a very typical Congregationalist family, and began studying at Yale in 1729, where he fell in with the emerging New Light clique. The evangelical network that he built in college propelled him to fame as an itinerant minister during the First Great Awakening and gave him many of the contacts that he later drew on to support his charity school for Native Americans. Wheelock's time as an itinerant minister indirectly brought about his charity school. When the Colony of Connecticut retroactively punished itinerant preaching in 1743, Wheelock was among those who lost his salary. Thus, in 1743, he began operating a grammar school to support himself. He was joined that December by Samson Occom, a Mohegan Indian, who sought out an education in hopes of becoming a teacher among his people. Occom's academic success inspired Wheelock to train Native Americans as missionaries. To that end, he opened Moor's Indian Charity School in 1754 (where he continued to train Anglo-American students who paid their own way as well as students who functionally indentured themselves to Wheelock as missionaries in exchange for an education). Between 1754 and 1769, when he relocated to New Hampshire, Wheelock trained approximately 60 male and female Native American students from nearby Algonquian tribes and from the Haudenosaunee (Iroquois) of central New York. At the same time, he navigated the complicated politics of missionary societies by setting up his own board of the Society in Scotland for Propagating Christian Knowledge, although he continued to feud with the Boston Board of the SSPCK and the London Commissioners in Boston (more colloquially called the New England Company). By the late 1760s, Wheelock had become disillusioned with the idea of Native American education. He was increasingly convinced that educating Native Americans was futile (several of his students had failed to conform to his confusing and contradictory standards), and, in late 1768, he lost his connection to the Haudenosaunee. With his inclination and ability to sponsor Native American missionaries largely depleted, Wheelock sought instead to fulfill his ultimate ambition of obtaining a charter and opening a college, which he did in 1769. To fund this new enterprise, Wheelock drew on the £12,000 that Samson Occom had raised for Moor's Indian Charity School during a two-and-a-half year tour of Great Britain (1765 to 1768). Much of this money went towards clearing land and erecting buildings in New Hampshire for the Charity School's relocation — infrastructure that also happened to benefit Dartmouth. Many of Wheelock's contemporaries were outraged by what they saw as misuse of the money, as it was clear that Dartmouth College was not intended for Indians and that Moor's had become a side project. Although Wheelock tried to maintain at least some commitment to Native American education by recruiting students from Canadian communities, the move did a great deal of damage to his public image. The last decade of Wheelock's life was not easy. In addition to the problems of trying to set up a college far away from any Anglo-American urban center, Wheelock experienced the loss of relationships with two of his most famous and successful students, Samson Occom and Samuel Kirkland (an Anglo-American protégé). He also went into debt for Dartmouth College, especially after the fund raised in Britain was exhausted.
Baldwin, Ebenezer
Ebenezer Baldwin was born in Norwich, Connecticut, on July 3, 1745, to Captain Ebenezer Baldwin and Bethiah Barker. He attended Yale College, graduating in 1763, and served as a clergyman and tutor there. In this capacity, Baldwin instructed, observed, and examined several of Wheelock's students. David McClure reports to Wheelock in 1767 that his former Moor's students are well-liked and excelling at Yale, and specifically mentions Levi Frisbee, whom, he notes, Baldwin advised to study the works of Horace and Homer. Evidently, Baldwin had some say over boarding at Yale; David Avery writes to Wheelock in 1769 that Wheelock's son John may ask Wheelock to write to Baldwin regarding his boarding status at Yale. Baldwin was supportive and had respect for Wheelock. In 1770, he was ordained as pastor of the First Church of Christ in Danbury, and in 1776, he entered the army as a chaplain. When he fell ill during the Revolutionary War, he returned to Danbury, where he died on October 1, 1776. His brother Simeon Baldwin was a member of the US House of Representatives and a judge.