Jacob Johnson, letter, to Eleazar Wheelock, 1768 December 28
ms-number: 768678.1
abstract: Johnson avows that his conduct at the Fort Stanwix Congress was unimpeachable, that he has been working alongside Kirkland, and that he hopes to see Wheelock and report in-person on the Congress.
handwriting: Handwriting is informal, yet mostly clear and legible.
paper: Large sheet folded in half to make four pages has been reinforced, which makes it difficult to gauge condition; it appears to be in good condition, with light staining, creasing and wear.
ink: Black ink is dimmed somewhat by the reinforcement.
noteworthy:  The trailer beneath the address on two verso is in Wheelock's hand; the other trailer is in an unknown hand. An unknown editor has added the note "Ind Mis" in pencil after the latter trailer. This note has not been included in transcription.
---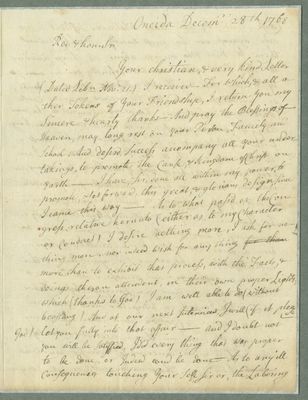 (View Page Image)
Oneida
Decem.

r

28

th

1768

Rev & hon Sr

Your christian, & very kind Letter
(Dated
Leb

n
Nov.

r

21
—) I received — For which, & all o‐
ther Tokens of your Friendship, I return you my
Sincere & hearty thanks — And pray the Bleſsings of
Heaven, may long rest on your Perſon, Family, and
school
: And deſird ſucceſs accompany all your under‐
takings, to promote The Cauſe, & kingdom of Chriſt on
Earth — I have, ſir, done all within my power, to
promote, & set forward, this great, & glorious deſign, ſince
I came this way — As to what paſs'd at the Con‐
greſs relative herunto (either as to my Character
or Conduct) I deſire nothing more, I ask for no‐
thing more, nor indeed wish for any thing
for than
more than to exhibit that proceſs, with the Facts, &
doings theron attendent, in their own proper Lights;
which (thanks to God) I am well able to do (without
boaſting) And at our next Interview, I will (if it plea
⇑
[below]
ſe
⇑
[left]
God
) let you fully into that affair — and I doubt not
you will be satiſfied, I did every thing that was proper
to be done, or Indeed coud be done — As to any ill
Conſequences touching your selfe, ſir or, the Laboring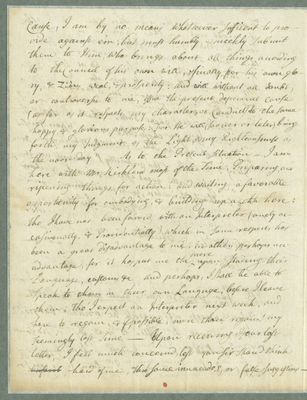 (View Page Image)
Cauſe, I am by no means whatsoever ſufficent to pro‐
vide againſt 'em; but muſt humbly, & meekly ſubmit
them to Him, who brings about all things according
to the Councel of his own will, & finally for his own glo‐
ry, & Zio'ns weal, & proſperity: and
[illegible]
will without all doubt,
or controverſie to me, iſſue the preſent dependent cauſe
(as far as it reſpects my character, or Conduct) to the ſame
happy, & glorious purpoſes: "For He will (ſooner or later) bring
forth my Judgment as the Light, & my Righteouſneſs as
the noon day" As to the Preſent ſituation — I am
here with
Mr Kirkland
moſt of the Time; Preparing, and
ripening things for action: and waiting a favorable
opportunity for embodying, & building up a ch-h here:
Tho I have not been favord with an Interpreter (onely oc‐
caſionally, & Providentially) which in ſome respects has
been a great diſadvantage to me, in others perhaps an
advantage, for it has put me the
⇑
more
upon ſtudeing their
Language, cuſtoms &c and perhaps, I ſhall be able to
speak to them in their own Languge, before I leave
them; Tho' I expect an Interpreter next week, and
hope to regain, & if poſsible, more than regain my
seemingly loſt Time —
[illegible]
Upon receiving your laſt
letter, I felt much concernd, leſt you ſir ſhoud think
unprob
hard of me, thro' ſome innuendo's, or falſe ſuggeſtions —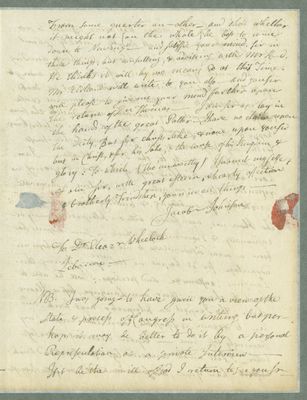 (View Page Image)
From some quarter an-other — and tho't whether
it might not (on the whole) be beſt to come
down to
New Eng

d
and ſatiſfie your mind, ſir in
theſe things; but conſulting, & adviſeing with
Mr K–d
,
He thinks it will by no means do at this Time.
Mr Kirtland
will write to you alſo — and you ſir
will pleaſe to give me your mind farther upon
the return of
D

n

Thomas
— I am ſir as Clay in
the hands of the great Potter — I have no cla
[illegible]
im upon
The Deity, But for chriſts ſake; & none upon you ſir
but in Chriſt, & for his ſake, & the cauſe of his Kingdom, &
glory: To which (Tho' unworthy) I ſubmit myſelfe;
& am ſir, with great eſteem, & hearty affection
& brotherly Frindship,
yours in all things —
Jacob Johnſon
To
D

r

Eleaz

r

Wheelock
Lebanon
—
NB. I was going to have given you a view of the
state & proceſs of y
e
Congreſs in writeing but per‐
haps it may be better to do it by a perſonal
Repreſentation at a private Interview —
If it be the will of God I return to ſee you ſ
r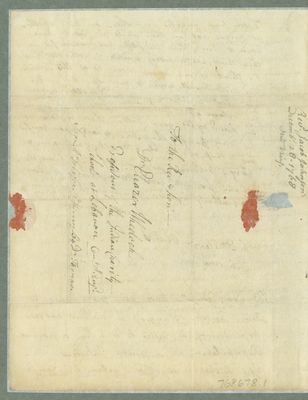 (View Page Image)
Rev.

d

Jacob Johnſon's
Decemb.

r

28. 1768
To the Rev & hon.
d
—
D

r

Eleazer Wheelock
Preſident of the
Indian Charity —
school
at
Lebanon
Con.

t

N. Eng.

d
From
M.

r

Johnſon
Miſsionary By
D

n

Thomas
.
Moor's Indian Charity School
Moor's Indian Charity School was a grammar school for Native Americans that Eleazar Wheelock opened in North Lebanon, Connecticut in 1754. The school was named for Colonel Joshua Moor, also spelled More, who donated the land and school building. Moor's was essentially an expansion of the grammar school that Wheelock opened in 1743 to support himself during the fallout from the First Great Awakening, when Wheelock, who'd participated in itinerant ministry during the Awakening, had his salary confiscated by the colony of Connecticut. In December of that year, Samson Occom asked Wheelock to teach him as well. Wheelock's work with Occom was so successful that Wheelock decided to replicate the experiment with other Native American boys. He accepted his first Indian students in 1754, and in 1761 began taking female students as well. Wheelock believed that in time, his school would become just one part of a larger missionary enterprise. He planned to send his Anglo American and Native American students to various tribes as missionaries and schoolmasters, with explicit instructions to pick out the best students and send them back to Moor's to continue the cycle. His ultimate goal was to turn his school into a model Christian Indian town that would include farms, a college, and vocational training. However, Wheelock's grand design did not survive the decade. Wheelock lost the vast majority of his Native American students; he fought with many of the best, including Samson Occom, Joseph Johnson, David Fowler, and Hezekiah Calvin, and other former and current students accused him of subjecting Native Americans to disproportionate amounts of manual labor. In 1769, perhaps due to concerns about corporal punishment, the Oneida withdrew all their children from Moor's. When Wheelock relocated to Hanover in 1769, only two Native American students came with him, and it became clear that Wheelock's focus was on Dartmouth and that Dartmouth was for white students. After Wheelock's death in 1779, Moor's Indian Charity School receded further into the background as John Wheelock, his father's reluctant successor, stopped taking Indian students. Some Native American students were enrolled in Moor's until 1850, when the school unofficially closed.
Oneida
Oneida is a city in Madison County located at the geographical center of New York state. Before European settlement of the area, the Oneida Tribe, one of the Six Nations of the Haudenosaunee (Iroquois) Confederacy, inhabited a large territory adjacent to nearby Oneida Lake. Around 1533, they built their first village on the south shore of the lake, at or near the mouth of Oneida Creek. At the end of the 17th century, this area began suffering raids by parties from the French colony of Quebec, in a battle to control the fur trade. In 1696, Oneida village was burned by the French. As a result, the Oneidas moved their chief village east of the original site, called Old Oneida, to a new site called Kanawalohale, also known as Oneida Castle, which was fortified by tall palisades and a moat. This is the site of the present-day village of Oneida Castle, a small hamlet west of the city of Oneida in the northwest corner of the town of Vernon. When used in Occom Circle documents, the place name "Oneida" usually refers to the territory inhabited by the Tribe east of Oneida Lake, but can also refer specifically to Oneida Castle. Although the Oneidas sided with the patriots during the Revolutionary War, much of their territory was sold or appropriated by the state of New York. In 1790, the first European settlers moved into the area of Old Oneida village, and the district began to expand. In the 1830s, the state built a feeder from Oneida Creek through the present city site to provide water for the new canal system, which enabled canal boats to ship freight into the town. Eventually, the railroad came through the town and helped with its expansion. This led to the incorporation of the Village of Oneida in 1848 and the establishment of the Town of Oneida in 1896. The town was chartered as the City of Oneida in 1901, and with two more railroad lines transecting the area, it became a thriving manufacturing center for the first half of the 20th century.
Lebanon
Lebanon is a town located in the state of Connecticut southwest of the town of Hartford. The land that became Lebanon was inhabited at least 10,000 years ago based on the archeological record. By the 1600s, the land was permanently inhabited by the Mohegan Indians, who used the area primarily for hunting. Lebanon was officially formed in 1700 when English settlers consolidated a number of land tracts, including several land grants by the Connecticut General Assembly and lands purchased from the Mohegans. However, these purchases were controversial. In 1659, the Mohegans entrusted their reserve land to Major John Mason, and in the following year, Mason transferred this land to the Connecticut colonial government with the understanding that there would be enough land left for the Mohegans to farm. The Mohegans claimed that they never authorized a transfer to the colonial government and only Mason's heirs were entrusted with their land. In 1662, Connecticut, which included the Mohegan land that had been entrusted to the Masons, was incorporated by a royal charter. Based on this charter, the colony argued that the land was now the property of the government. In 1687, the colony began granting the Mohegan land to townships, and in 1704 the Masons petitioned the Crown on behalf of the Mohegans, claiming that such transfers of land to townships were illegal. Between the years of 1705 and 1773 legal disputes and controversies persisted, finally ending in a verdict by the Crown against the Mohegans. In 1755, Wheelock received property and housing in Lebanon that he would use as his house and school. While Lebanon was originally incorporated as a part of New London County in 1700, in 1724 it became a part of New Windham, before once again becoming a part of New London County in 1826. Lebanon was central to the American Revolution with half of its adult population fighting for the colonists and hundreds of meetings convened in the town for the revolutionary cause.
Connecticut
Connecticut is a state in southern New England that borders Massachusetts to the north and the Long Island Sound to the south. Its name is derived from the Algonquian "Quonehtacut," meaning "long river," referring to the Connecticut, which runs from the border with Canada into the Long Island Sound. The area was originally inhabited by Algonquian-speaking Pequots, Mohegans, and Quinnipiacs. European settlers took advantage of tribal divisions to establish dominance in the region. Dutch explorer Adrian Block sailed up the Connecticut River in 1614, establishing an active Dutch trading post at what is now Hartford. English claims to Connecticut began in 1630, but settlement truly began when Thomas Hooker, a Congregationalist minister now known as "The Father of Connecticut," left Boston to found Hartford in 1636. Hartford became the center of the Colony of Connecticut, which did not receive its charter until 1662 when Governor John Winthrop, Jr. secured it from Charles II. In 1665, the Colony of New Haven, established in 1638 by the Puritan minister John Davenport, joined the Colony of Connecticut under this charter. Early settler relations with local Indians were tense, and encouraged the New England colonies of Massachusetts Bay, Plymouth, Connecticut, and New Haven to unify as the "United Colonies" or "New England Confederation" and fight together, with Indian allies, in the Pequot War and again in King Philip's (Metacom's) War. These wars helped establish a specifically Connecticut and specifically American identity; the latter drove the colony to join the rebellion against Britain in 1776. Occom, born into a Mohegan household in Connecticut, was closely associated with the Colony and retained strong ties to the region throughout his life. He converted to Christianity in 1743 when the Great Awakening spread through Connecticut, and inspired Wheelock's Indian Charity School, which was founded in Lebanon, CT in 1754. He also became involved in the Mason Land Case, a long-standing dispute over the ownership of reserve Mohegan lands in Connecticut. Wheelock also had strong ties to Connecticut, moving his Indian Charity School only when the colony would not grant it a charter.
Johnson, Jacob W.
After graduating from Yale in 1740, Jacob Johnson studied theology, became a New Light preacher, and undertook some missionary work among the Mohawks. He was a very radical New Light: he believed in visions and dream interpretation, called himself a seer and, later in life, wore a girdle of hair in imitation of John the Baptist. From 1749 until 1772, he served as the minister at Groton, CT, and remained active in Native American missionary efforts. In the fall of 1768, Jacob Johnson went on a brief domestic fundraising tour with Joseph Johnson (perhaps intended to echo Occom and Whitaker's tour of Britain, 1765-1767). Jacob Johnson is best remembered for his conduct at the Fort Stanwix Treaty of 1768, an enormously important treaty at which the Haudenosaunee (Iroquois) sold a large amount of land, most of it belonging to other tribes, to the British, represented by Sir William Johnson. The treaty also resolved a contested boundary between Connecticut and Pennsylvania in Pennsylvania's favor. Jacob Johnson was not Wheelock's first choice of delegate. However, after several others declined the post, he was chosen to accompany David Avery, then on a mission at nearby Canajoharie. At the gathering, Jacob Johnson engaged in at least four points of serious contention. First, he strongly urged the Haudenosaunee not to sell their land, in direct contradiction of Sir William Johnson and the British Crown's wishes. Second, he then urged them to sell their land — but only to Wheelock for the use of the Indian Charity School. Third, he tried to interrupt efforts to settle the PA/CT boundary, because he was involved with the interested CT party (called the Susquehanna Company). Fourth, he refused to drink to the king's health, and gave a bizarre toast calling into question the justice of the monarchy. In the volatile climate leading up to the Revolution, none of his actions went over well. In the aftermath of the Treaty, Wheelock tried to distance himself from Jacob Johnson's actions, but Wheelock's relationship with Sir William Johnson still fell apart. (F.C. Johnson, Jacob Johnson's great-grandson and biographer, has argued that it is unfair to hold Jacob Johnson wholly responsible for these events, as Wheelock and Sir William Johnson diverged on many important political and religious issues). After the Fort Stanwix Treaty, Jacob Johnson accompanied Kirkland on a mission to the Mohawks and Oneidas that lasted until April 1769. He was relatively proficient in the Mohawk (and, thus, Oneida) language, and made a valuable missionary. Like many other missionaries employed by Wheelock, Native-American and Anglo-American alike, Jacob Johnson disagreed with Wheelock about the financial compensation for his mission, and their relationship seems to have disintegrated at this point. In 1772, Johnson was dismissed from his post at Groton. He then resumed his involvement with Connecticut efforts to settle Pennsylvania territory, and became the first minister of Wilkes-Barre, PA, a Connecticut settlement in the contested region (now Wyoming County, PA). He remained there for the rest of his life, excepting a brief period during the Revolution when he sought refuge in CT (1778-1781).
Wheelock, Eleazar
Eleazar Wheelock was a New Light Congregationalist minister who founded Dartmouth College. He was born into a very typical Congregationalist family, and began studying at Yale in 1729, where he fell in with the emerging New Light clique. The evangelical network that he built in college propelled him to fame as an itinerant minister during the First Great Awakening and gave him many of the contacts that he later drew on to support his charity school for Native Americans. Wheelock's time as an itinerant minister indirectly brought about his charity school. When the Colony of Connecticut retroactively punished itinerant preaching in 1743, Wheelock was among those who lost his salary. Thus, in 1743, he began operating a grammar school to support himself. He was joined that December by Samson Occom, a Mohegan Indian, who sought out an education in hopes of becoming a teacher among his people. Occom's academic success inspired Wheelock to train Native Americans as missionaries. To that end, he opened Moor's Indian Charity School in 1754 (where he continued to train Anglo-American students who paid their own way as well as students who functionally indentured themselves to Wheelock as missionaries in exchange for an education). Between 1754 and 1769, when he relocated to New Hampshire, Wheelock trained approximately 60 male and female Native American students from nearby Algonquian tribes and from the Haudenosaunee (Iroquois) of central New York. At the same time, he navigated the complicated politics of missionary societies by setting up his own board of the Society in Scotland for Propagating Christian Knowledge, although he continued to feud with the Boston Board of the SSPCK and the London Commissioners in Boston (more colloquially called the New England Company). By the late 1760s, Wheelock had become disillusioned with the idea of Native American education. He was increasingly convinced that educating Native Americans was futile (several of his students had failed to conform to his confusing and contradictory standards), and, in late 1768, he lost his connection to the Haudenosaunee. With his inclination and ability to sponsor Native American missionaries largely depleted, Wheelock sought instead to fulfill his ultimate ambition of obtaining a charter and opening a college, which he did in 1769. To fund this new enterprise, Wheelock drew on the £12,000 that Samson Occom had raised for Moor's Indian Charity School during a two-and-a-half year tour of Great Britain (1765 to 1768). Much of this money went towards clearing land and erecting buildings in New Hampshire for the Charity School's relocation — infrastructure that also happened to benefit Dartmouth. Many of Wheelock's contemporaries were outraged by what they saw as misuse of the money, as it was clear that Dartmouth College was not intended for Indians and that Moor's had become a side project. Although Wheelock tried to maintain at least some commitment to Native American education by recruiting students from Canadian communities, the move did a great deal of damage to his public image. The last decade of Wheelock's life was not easy. In addition to the problems of trying to set up a college far away from any Anglo-American urban center, Wheelock experienced the loss of relationships with two of his most famous and successful students, Samson Occom and Samuel Kirkland (an Anglo-American protégé). He also went into debt for Dartmouth College, especially after the fund raised in Britain was exhausted.
Thomas
Thomas was an essential figure in Oneida Christianity and an important ally for Samuel Kirkland. While it is unclear when he converted to Christianity, by the 1750s he was preaching and leading services at Kanawalohale. By all accounts, he was a compelling speaker and talented at rendering Christian theology in terms compatible with Oneida cosmology. Thomas was instrumental in supporting Kirkland's mission: he often protected the Anglo-American missionary and helped him translate his ideas more effectively. Thomas also played an important role in the history of Moor's. His daughter, Hannah, was a student there, and in July 1768 he visited her. He returned the following January to pull her out of school following her mother's death, and he took the remaining five Oneida children with him. Later statements by Oneida chiefs (reported to Kirkland and David Avery) made clear that a large part of the Oneidas' reason for withdrawing their children was Wheelock's harsh discipline. Thomas was also present for Ralph Wheelock's 1768 outburst at Onaquaga, and was Avery's 1772 source for what had taken place there. Despite his disagreements with Wheelock, Thomas continued to support Kirkland's mission. Thomas was killed by British troops in 1779 while on a diplomatic visit to the Mohawks at Kahnawake (a site across the St. Lawrence River from Montreal). His murder gave the Oneidas yet another reason to side with the colonists during the Revolution.
Kirkland, Samuel
Samuel Kirkland (b. Kirtland) was Eleazar Wheelock's most famous Anglo American student. He conducted a 40-year mission to the Oneidas and founded Hamilton College (established in 1793 as Hamilton Oneida Academy). Kirkland won acclaim as a missionary at a young age by conducting an adventurous and risky mission to the Senecas, the westernmost of the Haudenosaunee (Iroquois) Six Nations. After his year and a half among them, which was well publicized by Wheelock, he was ordained and sent as a missionary to the Oneidas under the auspices of the Connecticut Board of the Society in Scotland for Propagating Christian Knowledge. He spent most of the rest of his life serving the Oneidas as a minister. Kirkland's sincere devotion to serving as a missionary was excellent publicity for Wheelock's program, but it also brought the two men into conflict. Wheelock became jealous of Kirkland when the school's British benefactors began urging Wheelock to make Kirkland his heir, and Kirkland, meanwhile, was upset that Wheelock had failed to provide him with sufficient supplies on his mission — a complaint that he was unafraid to publicize (and that almost all of Wheelock's other students shared). The breaking point came in 1770, when Kirkland split from Wheelock's Connecticut Board and affiliated with the New England Company, a missionary society that had abruptly turned against Wheelock in 1765. Wheelock and Kirkland briefly made up in 1771, but their relationship quickly dissolved into further acrimony. Although Kirkland spent most of his life as a missionary to the Six Nations, he generally held disparaging views of Native Americans. He did not approve of Wheelock's plan to educate Indians as missionaries, and was haughty towards the Moor's alumni that worked with him (notably David Fowler, Joseph Johnson, and Joseph Woolley). Prior to the Revolution, Kirkland had been stringent in his refusals to take Oneida land, even when offered to him. The Revolution seems to have shifted his loyalties from the Oneidas to local Anglo Americans. Kirkland served as a chaplain in the American army and was instrumental in convincing the Oneidas to remain neutral (or, more accurately, to side with the Americans). At one point he was the chaplain with General Sullivan's army, the force sent to ransack Seneca and Cayuga territory in 1779. It is unclear what emotions this aroused in Kirkland, who had served the Senecas less than 15 years earlier, yet after the war, Kirkland freely engaged in Oneida dispossession. Along with James Dean, another Wheelock alumnus with close ties to the Oneidas, Kirkland played a pivotal role in urging the Oneidas to sell land illegally to the state of New York. The land deals that resulted gave Kirkland the property, financial capital, and connections to establish Hamilton Oneida Academy. The last decades of Kirkland's life were difficult. He found himself in a three-way battle with Samson Occom and John Sergeant Jr., who were also ministers in Oneida territory, for the hearts and minds of their congregations; he was fired as a missionary in 1797, although he continued to serve sans salary; one of his son's business enterprises failed, leaving Kirkland nearly destitute; and two of his three sons died unexpectedly. Hamilton Oneida Academy, like Moor's Indian Charity School, largely failed at its goal of educating Indians, and in 1812, four years after Kirkland's death, it was re-purposed as Hamilton College, a largely Anglo-American institution. At some point in the mid-to-late 18th century, Kirkland changed his name from Kirtland, although the reasons for this are uncertain.