John Thornton, letter to Eleazer Wheelock, 1768 October 11
ms-number: 768561
abstract: Thornton touches on financial matters and assures Wheelock that the Trust in England is ready to stand by him. He also notes his good opinion of Occom.
handwriting: Formal handwriting is stylized, yet clear and legible.
paper: Large sheet folded in half to make four pages is in good condition, with light-to-moderate staining, creasing and wear.
ink: Dark-brown.
---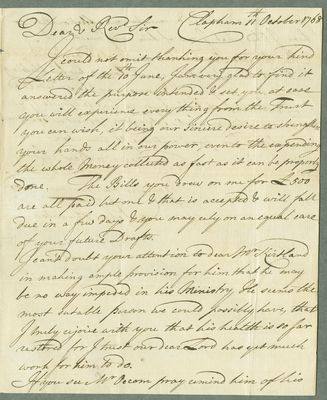 (View Page Image)
Clapham
11

th

October 1768

Dear & Rev

d

Sir

I could not omit thanking you for your kind
Letter of the
10

th

June
, I am very glad to find it
answered the purpose intended & set you at ease
you will experience everything from
the Trust
you can wish, it being our sincere desire to strengthen
your hands all in our power, even to the expending
the whole money collected as fast as it can be properly
done. The Bills you drew on me for £500
are all paid but one & that is accepted & will fall
due in a few days & you may rely on an equal care
of your future Drafts.
I can't doubt your attention to dear
M

r

Kirtland
in making ample provision for him that he may
be no way impeded in his Ministry He seems the
most sutable person we could possibly have, that
I truly rejoice with you that his health is so far
restored for I trust our dear Lord has yet much
work for him to do.
If you see
M

r

Occom
may pray remind him of his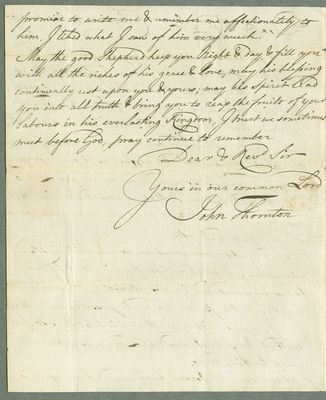 (View Page Image)
promise to write me & remember me affectionately to
him. I liked what I saw of him very much.
May the good Shepherd keep you Night & day & fill you
with all the riches of his grace & love, may his bleſsing
continually rest upon you & yours; may his Spirit lead
you into all truth & bring you to reap the fruits of your
labours in his everlasting Kingdom, I trust we sometimes
meet before God, pray continue to remember



 

Dear & Rev

d

Sir


 

Yours in our common Lord
John Thornton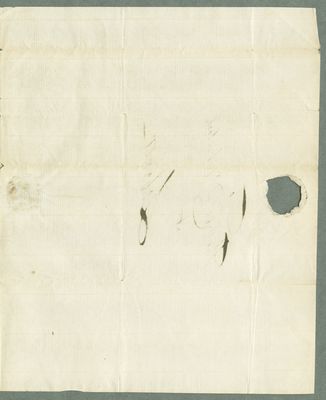 (View Page Image)
Blank page.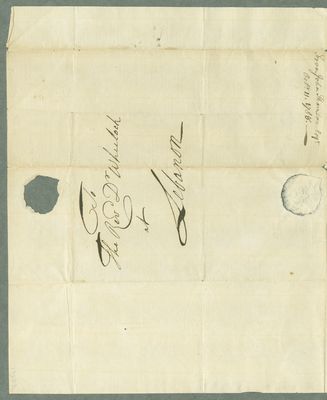 (View Page Image)
From
John Thornton Esq.

r
Oct.

r

11. 1768.
—
To
The Rev
d
D

r

Wheelock
at
Lebanon
Trust in England
The Trust in England was an organization formed in 1766 to safeguard money raised by Samson Occom and Nathaniel Whitaker on their fundraising tour of Great Britain. Initially, no trust had been planned, but less than a year into their trip, Occom and Whitaker had raised so much money it became clear that a trust was necessary to keep the money raised reputable and thus protect the images of those involved. On November 28, 1766, a trust was formed consisting of William Legge (the Earl of Dartmouth), Baron Smyth, John Thornton, Samuel Roffey, Charles Hardey, Daniel West, Samuel Savage, Josiah Robarts, and Robert Keen. These men all had prominent public reputations, and by association provided a guarantee that funds would be used for the purposes for which they had been given. All told, Occom and Whitaker raised nearly £10,000 (not including £2,000 in Scotland, which was put under the control of the Society in Scotland for Propagating Christian Knowledge), a far greater sum than initially projected. The amount raised attracted intense public scrutiny and, given that its members had tied their reputations to the money's collection and maintenance, the trust became enormously concerned with how Wheelock would employ it. Despite a minor scandal involving an impolitic and ultimately abandoned plan to transmit funds to America by buying trade goods and selling them at a profit, Wheelock and the English Trust managed to avoid any serious breach until March 1770, when Wheelock informed the men in England that he had obtained a charter for Dartmouth College. Wheelock had tried to get a charter for Moor's Indian Charity School in Connecticut throughout the late 1750s and early 1760s, and there were two components to his plan: he wanted to move the school to a place where he could have room to expand, and he wanted to obtain a charter to open a college. The English Trust supported the first goal, but not the second, as a charter would interfere with its control of the funds. Wheelock was determined to have his charter, however, and when the time came, he told the English Trust only about his plan to move. The trust helped Wheelock select New Hampshire as the site for his relocation, but it did not learn about the charter -- granted by New Hampshire governor John Wentworth, with whom Wheelock had been secretly negotiating -- until more than three months after it had been issued. Adding insult to injury, Wheelock, without consultation, named the college after Lord Dartmouth, informing the man himself after the fact. (After the charter was issued, Dartmouth never wrote to Wheelock again.) The members of the English Trust were outraged; to placate them, Wheelock made superficial motions to keep Moor's and Dartmouth separate, though in practice the institutions were one and the same. Despite its displeasure, the English Trust continued to honor Wheelock's requests for money until 1775, when the fund ran out. It also drew from the fund to support Occom, whom it believed Wheelock had mistreated, and Kirkland, whom it saw as more faithful to the design of Christianizing Indians than Wheelock. Once the fund ran out, Thornton and Savage continued to provide Wheelock with some financial assistance when he found himself in debt.
Clapham
A district in southwest London, England, in the Borough of Lambeth, known for its large green space, Clapham Common. Originally a Saxon village, it began to grow in the late 17th century as refugees poured in from the Great Plague of London in 1665 and the Great Fire of 1666. By the late 18th century, it became a fashionable location for the rich, who wanted to live in a rural setting close to the amenities of the city.
Lebanon
Lebanon is a town located in the state of Connecticut southwest of the town of Hartford. The land that became Lebanon was inhabited at least 10,000 years ago based on the archeological record. By the 1600s, the land was permanently inhabited by the Mohegan Indians, who used the area primarily for hunting. Lebanon was officially formed in 1700 when English settlers consolidated a number of land tracts, including several land grants by the Connecticut General Assembly and lands purchased from the Mohegans. However, these purchases were controversial. In 1659, the Mohegans entrusted their reserve land to Major John Mason, and in the following year, Mason transferred this land to the Connecticut colonial government with the understanding that there would be enough land left for the Mohegans to farm. The Mohegans claimed that they never authorized a transfer to the colonial government and only Mason's heirs were entrusted with their land. In 1662, Connecticut, which included the Mohegan land that had been entrusted to the Masons, was incorporated by a royal charter. Based on this charter, the colony argued that the land was now the property of the government. In 1687, the colony began granting the Mohegan land to townships, and in 1704 the Masons petitioned the Crown on behalf of the Mohegans, claiming that such transfers of land to townships were illegal. Between the years of 1705 and 1773 legal disputes and controversies persisted, finally ending in a verdict by the Crown against the Mohegans. In 1755, Wheelock received property and housing in Lebanon that he would use as his house and school. While Lebanon was originally incorporated as a part of New London County in 1700, in 1724 it became a part of New Windham, before once again becoming a part of New London County in 1826. Lebanon was central to the American Revolution with half of its adult population fighting for the colonists and hundreds of meetings convened in the town for the revolutionary cause.
Thornton, John
John Thornton was born in Yorkshire on April 1, 1720. As a young man, Thornton inherited money from his father Robert Thornton, who was the Director of the Bank of England, which he used to begin his career as a merchant. In 1753, Thornton married Lucy Watson, with whom he had four children. Watson had a Christianizing influence on Thornton, which ultimately led to his 1754 conversion to evangelical Anglicanism under Henry Venn, the curate of Clapham. Thornton's and Venn's sons would continue their fathers' religious traditions, going on to form the "Clapham sect," an influential group of evangelical Christians who championed social reforms. As a result of his conversion, Thornton pursued charity just as much as trade, a major part of which involved managing the English Trust that oversaw the funds Occom and Whitaker collected for Wheelock's Indian Charity School. Thornton met and hosted Occom several times during his stay in England, and eventually became the Treasurer of the Trust. After Wheelock moved the School to Hanover, however, he focused on the establishment of Dartmouth College to educate Anglo-American men as missionaries, and was accused of using the Trust's funds to this end. This shift in focus contributed to the rift that developed between Occom and Wheelock upon Occom's return to America –- a rift Thornton tried to repair. Thornton thought of Occom as an equal and, in his role as Treasurer of the Trust, often reminded Wheelock of Occom's vital role in securing the funds that made the School possible. Thornton financed Occom's further missionary activities and insured that Wheelock did not forget Occom's hard work and Christian morals. In addition, Wheelock –- who knew that Occom respected Thornton –- often called upon the merchant when he himself could not convince Occom to undertake further missionary activity. The exchanges between Wheelock and Thornton ended once Wheelock had used up the funds that Occom had raised in England, yet Occom and Thornton kept in touch up through the Revolutionary War, with Thornton remaining one of Occom's most prominent supporters. He died on November 7th, 1790 as one of the wealthiest men in England, despite giving away nearly half his salary each year. In 1828, Thornton's role in the establishment of Dartmouth was memorialized in the College's naming of Thornton Hall.
Wheelock, Eleazar
Eleazar Wheelock was a New Light Congregationalist minister who founded Dartmouth College. He was born into a very typical Congregationalist family, and began studying at Yale in 1729, where he fell in with the emerging New Light clique. The evangelical network that he built in college propelled him to fame as an itinerant minister during the First Great Awakening and gave him many of the contacts that he later drew on to support his charity school for Native Americans. Wheelock's time as an itinerant minister indirectly brought about his charity school. When the Colony of Connecticut retroactively punished itinerant preaching in 1743, Wheelock was among those who lost his salary. Thus, in 1743, he began operating a grammar school to support himself. He was joined that December by Samson Occom, a Mohegan Indian, who sought out an education in hopes of becoming a teacher among his people. Occom's academic success inspired Wheelock to train Native Americans as missionaries. To that end, he opened Moor's Indian Charity School in 1754 (where he continued to train Anglo-American students who paid their own way as well as students who functionally indentured themselves to Wheelock as missionaries in exchange for an education). Between 1754 and 1769, when he relocated to New Hampshire, Wheelock trained approximately 60 male and female Native American students from nearby Algonquian tribes and from the Haudenosaunee (Iroquois) of central New York. At the same time, he navigated the complicated politics of missionary societies by setting up his own board of the Society in Scotland for Propagating Christian Knowledge, although he continued to feud with the Boston Board of the SSPCK and the London Commissioners in Boston (more colloquially called the New England Company). By the late 1760s, Wheelock had become disillusioned with the idea of Native American education. He was increasingly convinced that educating Native Americans was futile (several of his students had failed to conform to his confusing and contradictory standards), and, in late 1768, he lost his connection to the Haudenosaunee. With his inclination and ability to sponsor Native American missionaries largely depleted, Wheelock sought instead to fulfill his ultimate ambition of obtaining a charter and opening a college, which he did in 1769. To fund this new enterprise, Wheelock drew on the £12,000 that Samson Occom had raised for Moor's Indian Charity School during a two-and-a-half year tour of Great Britain (1765 to 1768). Much of this money went towards clearing land and erecting buildings in New Hampshire for the Charity School's relocation — infrastructure that also happened to benefit Dartmouth. Many of Wheelock's contemporaries were outraged by what they saw as misuse of the money, as it was clear that Dartmouth College was not intended for Indians and that Moor's had become a side project. Although Wheelock tried to maintain at least some commitment to Native American education by recruiting students from Canadian communities, the move did a great deal of damage to his public image. The last decade of Wheelock's life was not easy. In addition to the problems of trying to set up a college far away from any Anglo-American urban center, Wheelock experienced the loss of relationships with two of his most famous and successful students, Samson Occom and Samuel Kirkland (an Anglo-American protégé). He also went into debt for Dartmouth College, especially after the fund raised in Britain was exhausted.
Kirkland, Samuel
Samuel Kirkland (b. Kirtland) was Eleazar Wheelock's most famous Anglo American student. He conducted a 40-year mission to the Oneidas and founded Hamilton College (established in 1793 as Hamilton Oneida Academy). Kirkland won acclaim as a missionary at a young age by conducting an adventurous and risky mission to the Senecas, the westernmost of the Haudenosaunee (Iroquois) Six Nations. After his year and a half among them, which was well publicized by Wheelock, he was ordained and sent as a missionary to the Oneidas under the auspices of the Connecticut Board of the Society in Scotland for Propagating Christian Knowledge. He spent most of the rest of his life serving the Oneidas as a minister. Kirkland's sincere devotion to serving as a missionary was excellent publicity for Wheelock's program, but it also brought the two men into conflict. Wheelock became jealous of Kirkland when the school's British benefactors began urging Wheelock to make Kirkland his heir, and Kirkland, meanwhile, was upset that Wheelock had failed to provide him with sufficient supplies on his mission — a complaint that he was unafraid to publicize (and that almost all of Wheelock's other students shared). The breaking point came in 1770, when Kirkland split from Wheelock's Connecticut Board and affiliated with the New England Company, a missionary society that had abruptly turned against Wheelock in 1765. Wheelock and Kirkland briefly made up in 1771, but their relationship quickly dissolved into further acrimony. Although Kirkland spent most of his life as a missionary to the Six Nations, he generally held disparaging views of Native Americans. He did not approve of Wheelock's plan to educate Indians as missionaries, and was haughty towards the Moor's alumni that worked with him (notably David Fowler, Joseph Johnson, and Joseph Woolley). Prior to the Revolution, Kirkland had been stringent in his refusals to take Oneida land, even when offered to him. The Revolution seems to have shifted his loyalties from the Oneidas to local Anglo Americans. Kirkland served as a chaplain in the American army and was instrumental in convincing the Oneidas to remain neutral (or, more accurately, to side with the Americans). At one point he was the chaplain with General Sullivan's army, the force sent to ransack Seneca and Cayuga territory in 1779. It is unclear what emotions this aroused in Kirkland, who had served the Senecas less than 15 years earlier, yet after the war, Kirkland freely engaged in Oneida dispossession. Along with James Dean, another Wheelock alumnus with close ties to the Oneidas, Kirkland played a pivotal role in urging the Oneidas to sell land illegally to the state of New York. The land deals that resulted gave Kirkland the property, financial capital, and connections to establish Hamilton Oneida Academy. The last decades of Kirkland's life were difficult. He found himself in a three-way battle with Samson Occom and John Sergeant Jr., who were also ministers in Oneida territory, for the hearts and minds of their congregations; he was fired as a missionary in 1797, although he continued to serve sans salary; one of his son's business enterprises failed, leaving Kirkland nearly destitute; and two of his three sons died unexpectedly. Hamilton Oneida Academy, like Moor's Indian Charity School, largely failed at its goal of educating Indians, and in 1812, four years after Kirkland's death, it was re-purposed as Hamilton College, a largely Anglo-American institution. At some point in the mid-to-late 18th century, Kirkland changed his name from Kirtland, although the reasons for this are uncertain.
Occom, Samson
Samson Occom was a Mohegan leader and ordained Presbyterian minister. Occom began his public career in 1742, when he was chosen as a tribal counselor to Ben Uncas II. The following year, he sought out Eleazar Wheelock, a young Anglo-American minister in Lebanon, CT, in hopes of obtaining some education and becoming a teacher at Mohegan. Wheelock agreed to take on Occom as a student, and though Occom had anticipated staying for a few weeks or months, he remained with Wheelock for four years. Occom's academic success inspired Wheelock to open Moor's Indian Charity School in 1754, a project which gave him the financial and political capital to establish Dartmouth College in 1769. After his time with Wheelock, Occom embarked on a 12-year mission to the Montauk of Long Island (1749-1761). He married a Montauk woman, Mary Fowler, and served as both teacher and missionary to the Montauk and nearby Shinnecock, although he was grievously underpaid for his services. Occom conducted two brief missions to the Oneida in 1761 and 1762 before embarking on one of the defining journeys of his career: a fundraising tour of Great Britain that lasted from 1765 to 1768. During this journey, undertaken on behalf of Moor's Indian Charity School, Occom raised £12,000 (an enormous and unanticpated amount that translates roughly to more than two-million dollars), and won wide acclaim for his preaching and comportment. Upon his return to Mohegan in 1768, Occom discovered that Wheelock had failed to adequately care for his family while he was gone. Additionally, despite the vast sums of money that he had raised, Occom found himself unemployed. Wheelock tried to find Occom a missionary position, but Occom was in poor health and disinclined to leave his family again after seeing the treatment with which they had met while he was in Britain. Occom and Wheelock's relationship continued to sour as it became apparent to Occom that the money he had labored to raise would be going towards infrastructure at Dartmouth College, Wheelock's new project, rather than the education of Native Americans. After the dissolution of his relationship with Wheelock, Occom became increasingly focused on the needs of the Mohegan community and increasingly vocal in criticizing Anglo-Americans' un-Christian treatment of Native Americans. In September of 1772, he delivered his famous "Sermon on the Execution of Moses Paul," which took Anglo-American spiritual hypocrisy as one of its major themes, and which went into four printings before the end of the year. In 1773, Occom became further disillusioned when the Mason Land Case was decided in favor of the Colony of Connecticut. The details of the Mason Case are complicated, but to summarize: the Colony of Connecticut had gained control of Mohegan land early in the 18th century under very suspect circumstances, and successfully fended off the Mohegan's 70-year-long legal challenge. The conclusion of the case came as a blow to the Mohegans, and further convinced Occom of Anglo-American corruption. Along with David Fowler (Montauk Tribe), Occom's brother-in-law, and Joseph Johnson (Mohegan), Occom's son-in-law, Occom helped found Brothertown, an Indian tribe formed from the Christian Mohegans, Pequots, Narragansetts, Montauks, Tunxis, and Niantics. They eventually settled in Oneida country in upstate New York. Occom moved there with his family in 1789, spending the remaining years of his life serving as a minster to the Brothertown, Stockbridge, and Mohegan Indians. Harried by corrupt land agents, the Brothertown and Stockbridge groups relocated to the eastern shore of Lake Winnebago, though Occom died in 1792 before he could remove himself and his family there. Occom's writings and legacy have made him one of the best known and most eminent Native Americans of the 18th century and beyond.