David Avery, letter, to Eleazar Wheelock, 1768 June 13
ms-number: 768363.2
abstract: Avery writes that he is about to open his school with 16 students, and that Wheelock should expect a letter from Aaron Kinne as well.
handwriting: Formal handwriting is clear and legible.
paper: Single medium-sized sheet folded in half to make four pages is in good condition, with minor creasing, staining and wear.
ink: Dark-brown ink bleeds through the paper.
noteworthy: This letter is written to Wheelock on the same day as Aaron Kinne's (manuscript 768363.1); both, presumably, were delivered by Joseph Johnson. It is uncertain to whom Avery refers when he mentions "the Queen" and "the girls," and so they have been left untagged; however, they are possibly Molly Brant -- Brant was William Johnson's consort -- and their children. The paper on which the letter is written appears to have been used for scratch paper as well; random words are written on the address page.
---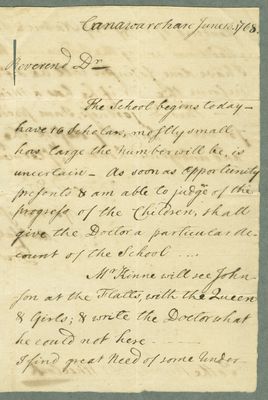 (View Page Image)
Canawarohare
June 13. 1768.

Reverend D

r



The School begins today —
have 16 Scholars, moſtly small —
how large the number will be, is
uncertain — As soon as Opportunity
preſents & am able to judge of the
progreſs of the Children, shall
give the Doctor a
particular
Ac­
­count of the School ....
M

r

Kinne
will see
John­
­ſon
at the
Flatts
, with the Queen
& Girls; & write the Doctor what
he could not here — — —
I find great Need of some under­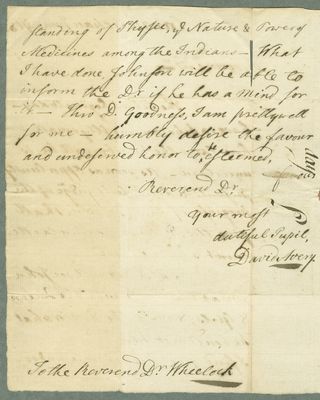 (View Page Image)
ſtanding of Phyſic, y
e
Nature & Power of
Medicines among the Indians — What
I have done,
Johnſon
will be able to
inform the D.
r
if he has a mind for
it — Thro' D. Goodneſs, I am pretty well
for me — humbly deſire the favour
and undeſerved honor to
⇑
be
eſteemed,
Reverend D.
r
your moſt
dutiful Pupil,
David

Avery
.
To the Reverend
D.

r

Wheelock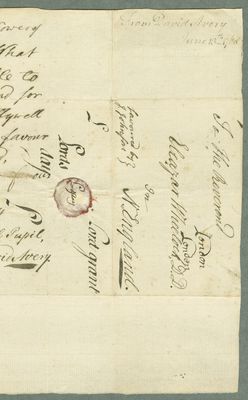 (View Page Image)
From
David Avery
June 13...

th

1768
To The Reverend
London
London
Eleazar Wheelock
, D. D.
In
N.

England
.
⇑
[left]
favoured by}
⇑
[left]
J. Johnſon}
L Lord grant
Lordſday
Lords
day
⇑
[bottom]
favour
⇑
[bottom]
[illegible]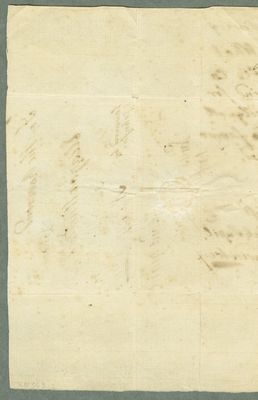 (View Page Image)
Blank page.
German Flatts
German Flatts is located in upper Mohawk Valley on the south side of the Mohawk River in Herkimer County, New York. The Oneidas had settled this land for centuries before Palatine German immigrants, for whom the town is named, settled there in the 1720s. The Palatines were granted leases from Governor Burnet to purchase land from the Haudenosaunee (Iroquois) in 1723. The Germans and Oneidas sustained excellent relations and had both a trading and military alliance (and even had several inter-marriages). When the French and Indian War began, the German Flatts settlers and the Oneidas agreed to maintain peace and neutrality. Both the Palatines and the Oneidas resented nearby Fort Herkimer, believing it made the area a military target. The French refused to accept the neutrality of the Indians and Germans at German Flatts, and in 1757, the French and their Indian allies attacked a Palatine settlement in German Flatts with the help of a few Oneidas who succumbed to pressure from the French. The Germans could not defend themselves (40 were killed and 150 were taken captive back to New France), and the French and their Indian allies burned much of German Flatts. After the French and Indian War, the Germans and Haudenosaunee renewed their trading relationship and maintained peace throughout the 1760s. In two separate letters in September 1761, Wheelock refers to a July 7, 1761 letter from Occom, written from German Flatts, reporting his kind reception by the Six Nations. Wheelock also recounts a July 7th letter from General Johnson from German Flatts written by two Mohawk boys whom the General recommends as interpreters or missionaries for the Indian Charity School. In a 1767 letter to Robert Keen, Wheelock quotes letters from Samuel Kirtland that express the lack of provisions due to years of poor crops. In 1778 during the American Revolution, the Loyalists and Mohawks, led by Joseph Brant, attacked German Flatts, and residents withdrew to Fort Herkimer. While the majority of the Haudenosaunee sided with the British, the Oneidas supported the colonists in the Revolution.
Kanawalohale
Kanawalohale was a village located in the present-day town of Vernon in central New York state. In the 18th century, it was an Oneida village located about 60 miles west of the Mohawk village Canajoharie. Because the village's name was similar to the Mohawk village of Canajoharie, many sources conflate the two. Founded in the mid-18th century, Kanawalohale was made up of a cluster of about 40 homes along the Oneida Creek, south of Oneida Lake. The name means head on a post in reference to an enemy soldier's skull displayed in the village. In 1765, David Fowler established an Indian school in Kanawalohale, where Wheelock's son, Ralph, worked. Between the years of 1765 and 1767, Kanawalohale hosted many of Wheelock's missionaries including Samuel Kirkland, Joseph Johnson, David Avery, and Aaron Kinne. The Indians of Kanawalohale used their relationship with missionaries such as Kirkland to gain prestige over the formerly central Oneida village, Old Oneida. Kirkland often wrote in his journal about the dialogues he had with the Indians at Kanawalohale, who refused to receive his teachings silently. The Christian Indian population grew throughout the 1760s with at least 200 Indians attending church in the village. In 1780, Joseph Brant, a Mohawk allied with the British, led a war party against the revolting colonists, with whom the Oneidas had allied, that destroyed the Oneida village of Kanawalohale. This area is known today as Oneida Castle.
London
The capital and largest city of the United Kingdom, London is located in the southeastern region of England along the Thames River. The outpost that would become London originated as a military storage post for the Romans when they invaded Britain in the year 43. It soon developed as a trading center and financial hub for Roman Britain. During a revolt against the Romans in 61, London was burned to the ground; the rebuilt town appeared in Tacitus's Annals as Londinium. With the decline of the Roman Empire in the 4th century, Londinium became a Saxon trading town. Following the Norman Conquest, London retained its central political and commercial importance. In the 14th century, under Edward II, Westminster became an administrative center and London became the capital of England. In the early 18th century, London was an important hub for evangelical Christianity and home to many influential people, like the charismatic Anglican minister, George Whitefield, who were sympathetic to Wheelock's missionary endeavors. Occom arrived in London in February 1766 on his fundraising tour for Wheelock's school and preached his first sermon at Whitefield's Tabernacle. London would be Occom's home base for the next two years, as he and Whitaker travelled throughout England and Scotland. Occom made many friends in London who would continue to support him after his break with Wheelock and the School. By the late 18th century, London had replaced Amsterdam as the center of world commerce, a role it would maintain until 1914.
Avery, David
David Avery was one of Wheelock's charity scholars and had a long career as a Congregationalist minister. He studied at Moor's and Yale, where he was David McClure's classmate, and received his Masters from Dartmouth in 1773. Avery went on several missions to Indian tribes before his health forced him to retire. His first mission, before his final year at Yale, was to Kanawalohale as a schoolteacher in the summer of 1768. While there, he attended the 1768 Treaty of Fort Stanwix as Wheelock's representative. After graduating, he served on Long Island around Smithtown. He was ordained August 29, 1771, at Dartmouth. Wheelock then sent him to the Oneidas for eleven months (September 1771 to August 1772), primarily to find out why the Oneidas had withdrawn their children from Wheelock's school. However, Avery's health was failing, and at some point between August 1772 and March 1773, he withdrew from Indian missionary service. In response, Wheelock charged him part of his tuition. Avery lived an exciting life after he left Wheelock's service. The Sabbath after the battle of Lexington (April 19 1775), he bade his Gageborough congregation farewell, mustered twenty men, and led them to Boston where he preached to the entire army. He enlisted as a chaplain, although he also fought in battle and served as a medic. He left the army in February 1780, and spent the rest of his life in a variety of pulpits, with a stint under the Massachusetts Domestic Missionary Society.
Wheelock, Eleazar
Eleazar Wheelock was a New Light Congregationalist minister who founded Dartmouth College. He was born into a very typical Congregationalist family, and began studying at Yale in 1729, where he fell in with the emerging New Light clique. The evangelical network that he built in college propelled him to fame as an itinerant minister during the First Great Awakening and gave him many of the contacts that he later drew on to support his charity school for Native Americans. Wheelock's time as an itinerant minister indirectly brought about his charity school. When the Colony of Connecticut retroactively punished itinerant preaching in 1743, Wheelock was among those who lost his salary. Thus, in 1743, he began operating a grammar school to support himself. He was joined that December by Samson Occom, a Mohegan Indian, who sought out an education in hopes of becoming a teacher among his people. Occom's academic success inspired Wheelock to train Native Americans as missionaries. To that end, he opened Moor's Indian Charity School in 1754 (where he continued to train Anglo-American students who paid their own way as well as students who functionally indentured themselves to Wheelock as missionaries in exchange for an education). Between 1754 and 1769, when he relocated to New Hampshire, Wheelock trained approximately 60 male and female Native American students from nearby Algonquian tribes and from the Haudenosaunee (Iroquois) of central New York. At the same time, he navigated the complicated politics of missionary societies by setting up his own board of the Society in Scotland for Propagating Christian Knowledge, although he continued to feud with the Boston Board of the SSPCK and the London Commissioners in Boston (more colloquially called the New England Company). By the late 1760s, Wheelock had become disillusioned with the idea of Native American education. He was increasingly convinced that educating Native Americans was futile (several of his students had failed to conform to his confusing and contradictory standards), and, in late 1768, he lost his connection to the Haudenosaunee. With his inclination and ability to sponsor Native American missionaries largely depleted, Wheelock sought instead to fulfill his ultimate ambition of obtaining a charter and opening a college, which he did in 1769. To fund this new enterprise, Wheelock drew on the £12,000 that Samson Occom had raised for Moor's Indian Charity School during a two-and-a-half year tour of Great Britain (1765 to 1768). Much of this money went towards clearing land and erecting buildings in New Hampshire for the Charity School's relocation — infrastructure that also happened to benefit Dartmouth. Many of Wheelock's contemporaries were outraged by what they saw as misuse of the money, as it was clear that Dartmouth College was not intended for Indians and that Moor's had become a side project. Although Wheelock tried to maintain at least some commitment to Native American education by recruiting students from Canadian communities, the move did a great deal of damage to his public image. The last decade of Wheelock's life was not easy. In addition to the problems of trying to set up a college far away from any Anglo-American urban center, Wheelock experienced the loss of relationships with two of his most famous and successful students, Samson Occom and Samuel Kirkland (an Anglo-American protégé). He also went into debt for Dartmouth College, especially after the fund raised in Britain was exhausted.
Kinne, Aaron
Aaron Kinne was a Congregationalist minister and scholar who, like Titus Smith and Theophilus Chamberlain, worked as a missionary for Wheelock after graduating from Yale. After his 1765 graduation, he taught and studied at Moor's for a year before making two trips as a missionary in 1766: one to Maine to report on the local Indian tribes, and one to the Oneidas, the latter being cut short by poor health. He returned in the summer of 1768 to substitute for Samuel Kirkland. Kinne was ordained in 1770 and became the minister of the Congregationalist church at Groton, Connecticut, where he served until he was dismissed in 1798. He also became a prolific scholar, and during the Revolution, served as chaplain to American troops, including those massacred at the Battle of Fort Griswold. After dismissal from Groton, Kinne lived in a variety of locations in New England and was sporadically employed as a missionary. He died in Ohio while visiting one of daughters.
Johnson, Joseph
Joseph Johnson was a Mohegan who studied at Moor's Indian Charity School and became one of the most important organizers of the Brothertown Movement (a composite tribe composed of Christian members of seven Southern New England Algonquian settlements). He was a prolific writer and his papers are relatively well-preserved. Johnson's writing is especially noteworthy for his skillful use of Biblical allusion and his awareness of the contradiction that he, as an educated Native American, presented to white colonists. Johnson arrived at Moor's in 1758, when he was seven years old, and studied there until 1766, when he became David Fowler's usher at Kanawalohale. He continued teaching in Oneida territory until the end of 1768, when Samuel Kirkland sent him home in disgrace for drunkeness and bad behavior. After a stint teaching at Providence, Rhode Island, and working on a whaling ship, Johnson returned to Mohegan in 1771 and became a zealous Christian. He opened a school at Farmington, CT, in 1772, for which he seems to have received some minimal support from the New England Company. From his base at Farmington, he began organizing Southern New England Algonquians for the Brothertown project. The goal was to purchase land from the Oneidas, the most Christianized of the Six Nations, and form a Christian Indian town incorporating Algonquian and Anglo-American elements. Johnson spent the rest of his short life garnering necessary support and legal clearance for the Brothertown project. Johnson died sometime between June 10, 1776 and May 1777, at 25 or 26 years old, six or seven years before Brothertown was definitively established in 1783. He was married to Tabitha Occom, one of Samson Occom's daughters. She lived at Mohegan with their children even after Brothertown's founding, and none of their children settled at Brothertown permanently. Like most of Wheelock's successful Native American students, Johnson found that he could not satisfy his teacher's contradictory standards for Native Americans. Although Johnson's 1768 dismissal created a hiatus in their relationship, Johnson reopened contact with Wheelock after his re-conversion to a degree that other former students, such as Samson Occom, David Fowler, and Hezekiah Calvin, never did.